Private tour in the Rijksmuseum, Amsterdam, by a gifted art historian
New! Better menu and upgraded web page: Click here.
Sophisticated, lucid and in-deph Rijksmuseum tour of History, Art History and Architecture. Private visits. Corporate events.
Escorted Academic tour by scholar-lecturer, art historian Drs. Kees Kaldenbach*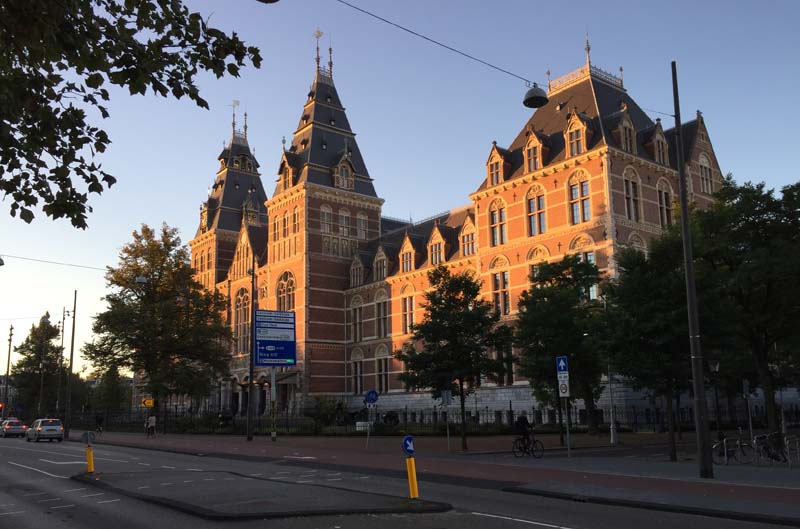 Rijksmuseum, 30 september 2015. Photo K. Kaldenbach.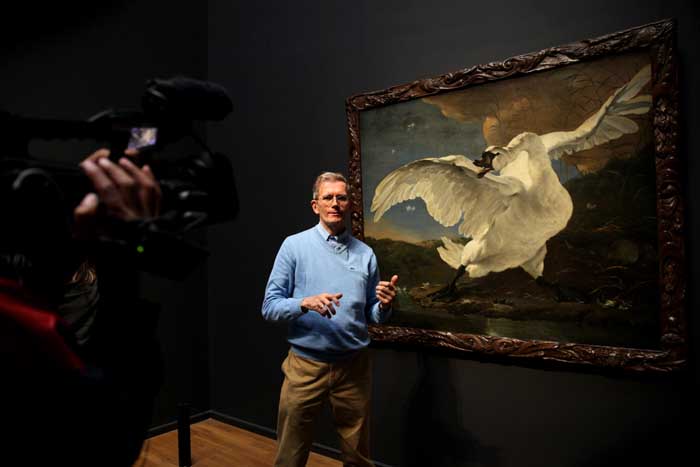 The Swan by Asselijn. One of the earliest purchases by the Rijksmuseum. Photo by Yuichi Nara, 2013
===
"Dear Kees,
Phenomenal! Touring with you was like being friends with the top curator of a major art museum.
Your mountain of knowledge allowed you to zig and zag with our questions and flow seamlessly back into your captivating analysis.
Thank you for engaging each and every family member. It was a delight to be with you, and we feel lucky to have had the experience.
Sincerely,
Leigh and Daniel Levine and family, march 2018."
===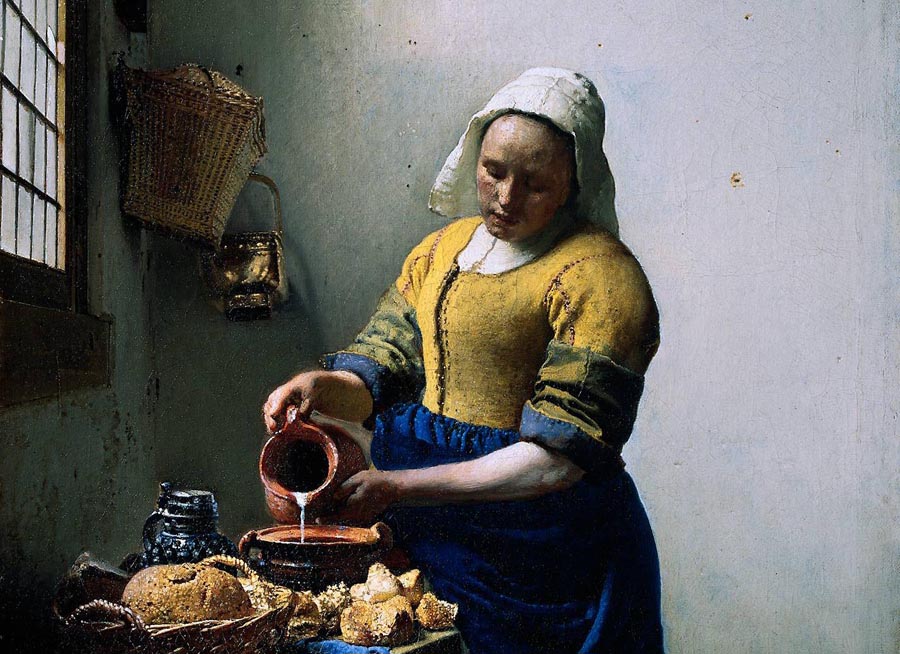 Come visit the Rijksmuseum Amsterdam, Holland and enjoy its outstanding 17th century Dutch master paintings,and also its Delftware and exquisite doll's houses with leading Vermeer specialist and art expert Drs Kees Kaldenbach. Arriving at at 8.59 am with his VIP pass, you are first in front of the museum's four Vermeer paintings. Kaldenbach believes in a question and answer approach in the time-honored style of Socrates, allowing the client to discover the painting step-by-step.

Rijksmuseum with Children.
With me you get a Fast track entry in ALL Amsterdam museums. Avoid spending time waiting in museum queues. Enter the museums together with an art historian.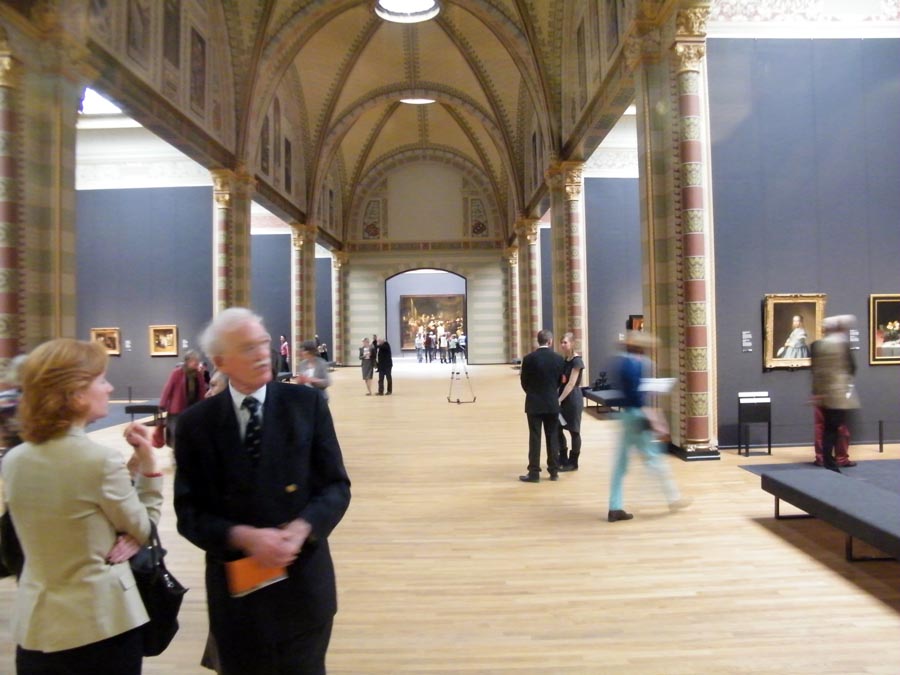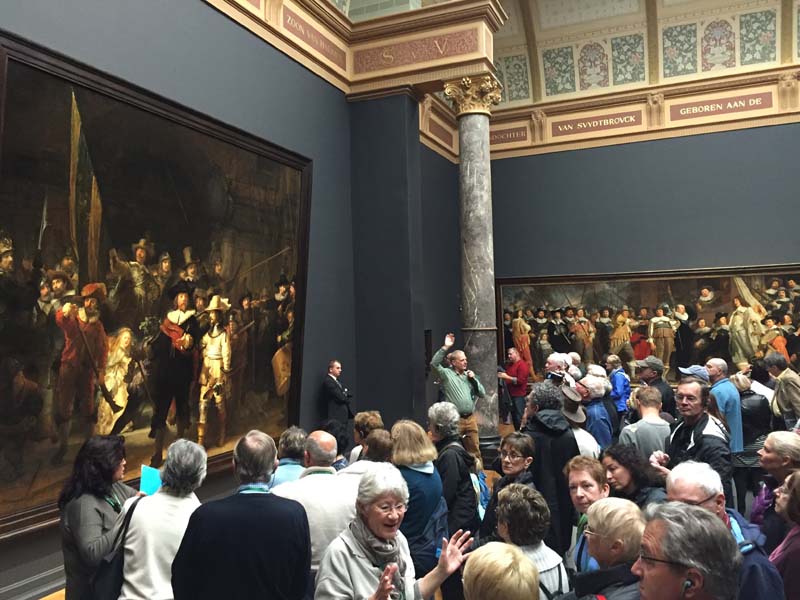 Getting there after 9.30 or 10 gives you this maddening crowd.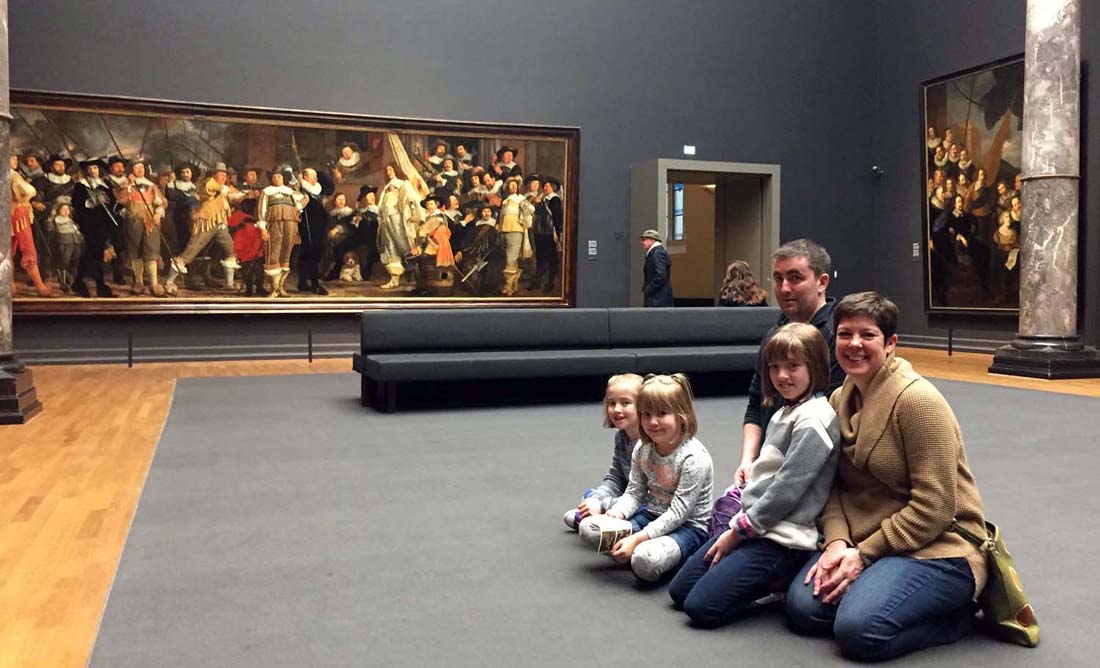 In front of the Night Watch. Entering in tthe VIP mode at 9 AM with me gives you this situation!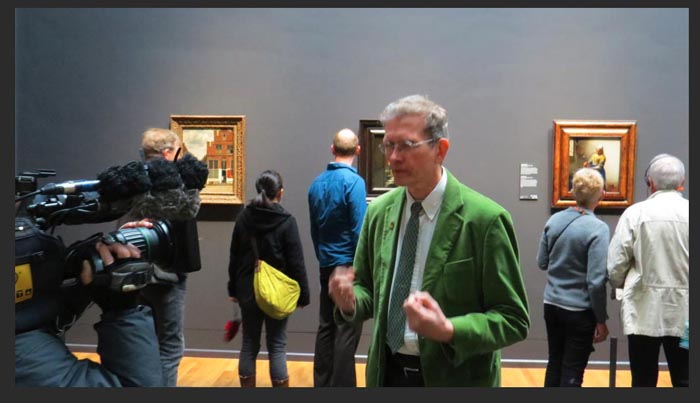 BBC television: The madness of Vermeer - Secret lives of the artists. Interviewer Andrew Graham -Dixon. Now on Youtube. At the exact time of 35 minutes, 39 seconds the interviewer interviewer Andrew Graham-Dixon parks the bike and enters my home… what you do not see in the image is the rest of the crew: lights, sound, cameraman, continuity, the director… and the item was surprisingly filmed at my home in one take. Thanks to Andrew's quality of asking the right questions at the right moment. Beforehand I had to clean up my desk, though.
One best ways of stimulating enhanced seeing and of the in-depth teaching I go for, is to show how Vermeer manipulated and altered elements of his compositions to suit expressive power. He also successfully manipulates the viewers mind and ways of seeing. Vermeer & perception
Below is just a small example I presented during a conference in Dublin: On the Officer and the Laughing Girl (Frick Gallery, New York City) Vermeer manipulated the coloring of the wall map by Van Berkenrode.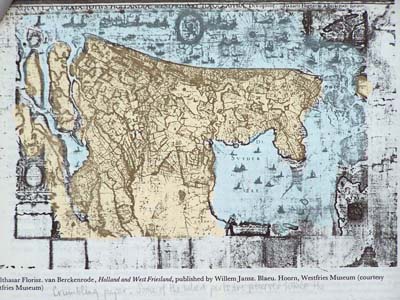 Left: as it should be, Sea = blue. But Vermeer chose another representation: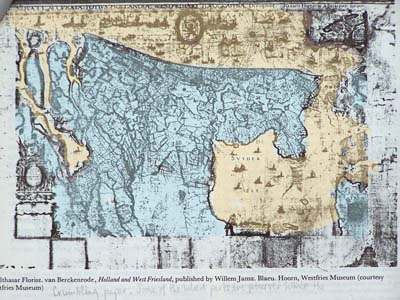 Above: as he actually colored it to improve a calm blending in with the background. The usual color key, blue = water was reversed by Vermeer to suit his artist's needs. This kind of toying with vision is key to reading and understanding Vermeer.
If you join me to The Hague we will also discuss the Girl with the Pearl Earring and tell the story of the purchase and how it got to be this famous, as the Mona Lisa of the North.
The View of Delft, on which I did my 1980's research, deserves and in-depth discussion. See View of Delft, an analysis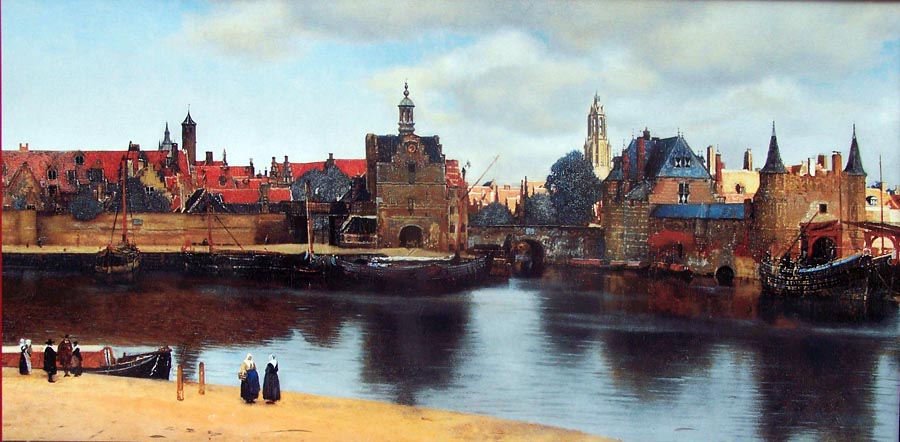 July 2013: Ricardo N and his wife Francis S. live in New York City and are full-time NYC art aficianados, travelling the world and visiting most of the fine art centers in Europe.
In June-July 2013 they toured for three full days with Drs Kees Kaldenbach.
Ricardo: "I would rate you as terrific. It is a great treat being with you - You saved my life in showing me the Mauritshuis collection - I thought it was completely closed!"
Francis N.: "Kees is outstanding... he has a very rare gift among any the great number of professional tour guide we met in our lifetime... in presenting a deep and very specific art history knowledge, and in combining this with passion and and easy going presentation.
My husband and I have spent our lives in the art world of NYC and the West Coast. We have rarely met such a wonderful guide. Kees is an outstanding fountain of visual knowledge and historic insight. He truly is top class within the field of Western art history!"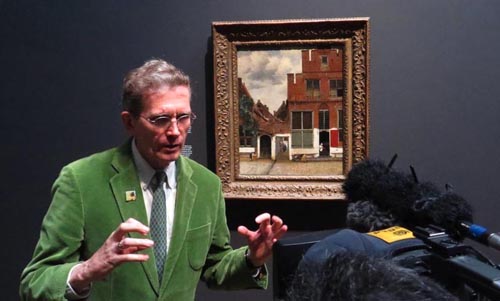 Foto: Yuichi Nara
Rijksmuseum tour. The glorious national collection.
Sneak Preview Rijksmuseum reopens
Fast track entry in ALL Amsterdam museums. Avoid spending time waiting in museum queues. Enter the museums together with me.
Vermeer lectures and tours.
See Dali's opinion of Vermeer.
Vermeer and Neuroscience / Opthalmology.
Rembrandt tours incl the Maria Trip portrait.
English article on key portrait of Uytenboogaard.
Dutch/NL text Uytenboogaerd, Dutch .
See all 330 Rembrandt paintings in full size reproductions, in about 2 hours in the Magna Plaza building behind the Royal Palace/Town Hall
The exquisite Fritz Mannheimer desk by Roentgen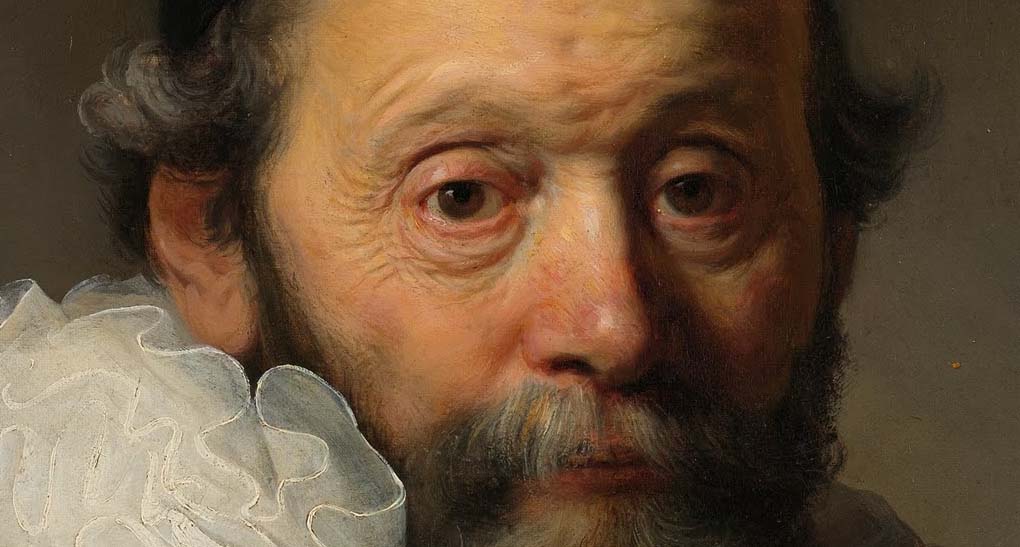 Detail of the Wtenboogaerd portrait by Rembrandt, with the story of serious conflicts in faith, almost turning into a civil war in The Republic and the assasination of a soft-spoken political leader. Full story in Uytenboogaard.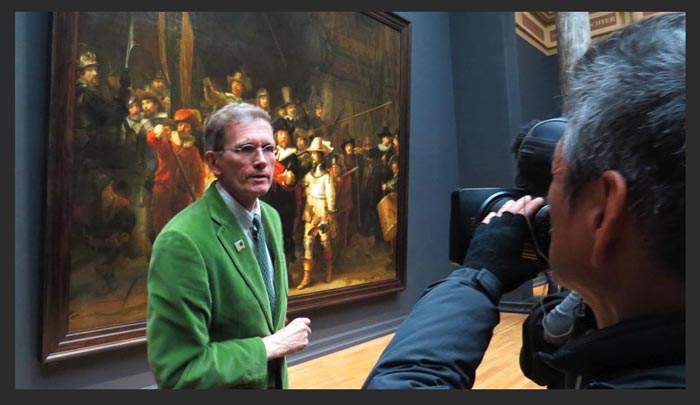 A TV lecture in front of the Night watch.
2013: BBC shoot in Rijksmuseum, Amsterdam.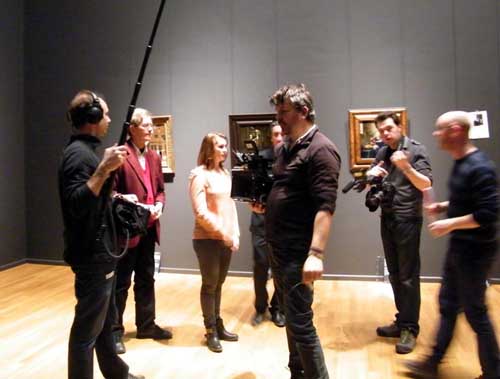 BBC 4 TV programme shoot in the Rijksmuseum, Amsterdam, March 28, 2013 just before the formal opening. Kaldenbach in red jacket. Behind the middle cameraman interviewer Andrew Graham-Dixon. The film director approaching from the right.
In the middle: daughter Suzanne, who has not been there for 12 years, Kees Kaldenbach and interviewer Andrew Graham-Dixon.
A presentation of just before the opening week after the 10 year museum restoration by Andrew Graham-Dixon. I was there on-camera with my daughter and we were filmed, but in the final edit - alas - we did not make it in the documentary.
..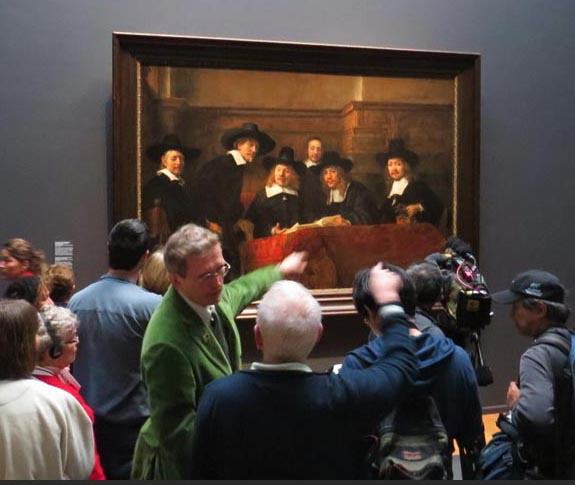 Rembrandt: Lecture in front of the Masters of the cloth guild.
Rembrandt walks. And Rembrandt lectures and museum visits. See how Rembrandt rapidly evolved from his age of 20, working in the style of his teacher Lastman to age 22, showing influence of Caravaggio and finally to age 24 in which he painted the majestic Jeremiah. See how he climbed the career ladder in ten years from 1632 to 1642 and then tumbled down, being pushed away by society. How he became an unfriendly, anti-social recluse and yet gave the world astounding psychological insights - in the characters he painted and etched: traders, family portraits, and in scenes from the bible and history books.

In the middle: one of the all-time public favourites: the winter landscape with ice skating by Avercamp. Above that, one of my personal favourites, a still life painting by Torrentius, admonishing the viewer to temper feelings. This by a painter who was exceeded all social, religious and and sexual bounds and was incarcerated. After which he was spirited away to England to work for the English King. This round wooden panel is branded on the reverse with 'CR' = Charles Rex = King Charles I.

Vermeer! Four spectacular paintings by Vermeer in Amsterdam, and if we travel on three more in The Hague. Each one a treasure of artistry, painters craft and psychology.
Come see how intelligent and yet mysterious his paintings are painted and composed - and understand why Vermeer has now become the number one championed painter in Dutch art history. In museums around the world the sum total is only 36 Vermeer paintings. Vermeer lectures and tours. See Dali's opinion of Vermeer. Theses on Vermeer and Neuroscience / Opthalmology.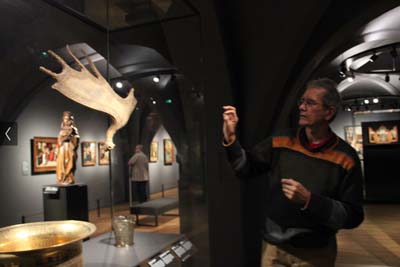 This is the elk's antler. A first class museum story containing Charlemagne's son, a funerary chapel in Metz, the French revolution, the Russian revolution, Mr Mannheimer the jewish art collector, the Nazis and an unappreciated gift to the museum in 1952. Wow!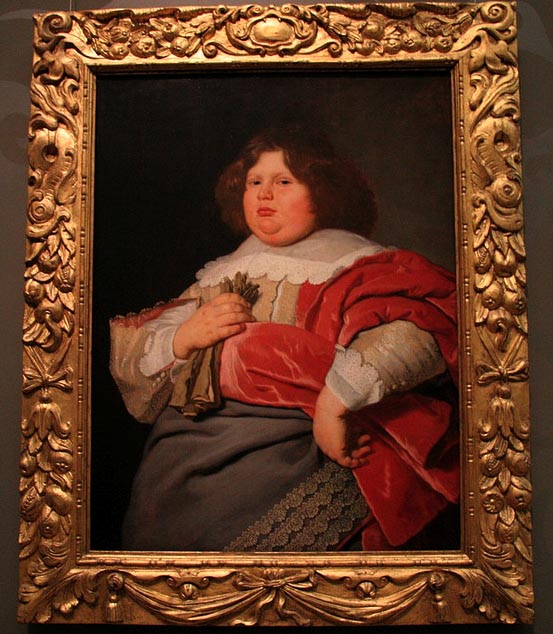 Above: Lute player, by Judith Leyster, one of the few female painters, student of Frans Hals. Pretty good.
To the right: the famous poster child: portrait of Fat boy Bicker by Van der Helst.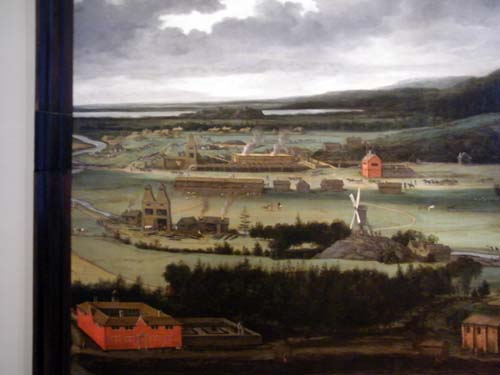 The steel works / iron factory in Sweden, owned run by the Dutch Trip family - who sold cannon and other weaponry to just about anyone who was willing to pay hard cash. Including the then current enemies of the Republic. Sounds familiar? The King of Sweden allowed them to run this plant in repayment of a huge loan, the king being very fond of warfare. Sounds also familiar?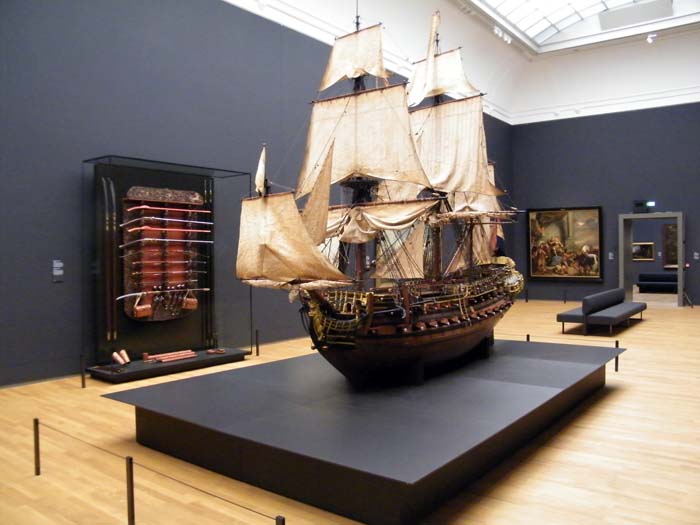 An impressive model of the William Rex, a mighty Dutch man-o-war, with a length of 460 cm, and 410 cm high. Built 1697-98 for the Admiralty in Zeeland, just south of the province of Holland. At that time the Dutch and English were reigned by William (yes the one of William and Mary). Their protestant Glorious Revolution of 1688 was an incredible feat of military operations, sly statecraft and orchestrated PR actions. After that point the English were capable of building sleeker, faster warships. Many more ship models exhibited in the Rijksmuseum basement.
2013: a BBC4 shoot in Rijksmuseum, with the author.
BBC 4 TV programme shoot with Kaldenbach in the Rijksmuseum, Amsterdam, March 28, 2013 just before the formal opening. Aired April 15. Kaldenbach in red jacket. Behind the middle cameraman interviewer Andrew Graham-Dixon. The director approaching from the right.
In the middle: daughter Suzanne, who has not been there for 12 years, Kees Kaldenbach and BBC interviewer Andrew Graham-Dixon.
First photos on top show the Japanese TV crew I worked with a bit later on.
As a result of 10 months of archival study: these articles were published on 12 November, 2014
Full Mannheimer article 9200 words, without notes, or a separate PDF included with 130 notes.
A nasty article on Mannheimer in the German Army Magazine Signal, 1940
Mannheimer buying from Russian museums, who were forced to sell by order of Stalin
Mannheimer art as Jewish property
Mannheimer art distributed in Dutch museums (outside the Rijksmuseum)
Mannheimer art collection, nearly entirely perished in the London Blitz
Mannheimer art in museums outside Holland
Notes in Dutch: diverse aantekeningen in het Rijksarchief
An exquisite fold-out desk by Roentgen
VOC. When we walk in the area of Dam square and Oude Hoogstraat we will discuss how the United East India Company (VOC) was created, starting modern capitalism and the stock market as we know it now.
Right opposite the Rijksmuseum (exit in front) is the highest concentration of antique stores on Spiegelgracht and Spiegelstraat, For a quick and superior lunch bite excellent soups are in Soup enzo, located on Spiegelstraat and also on the block of the Rembrandt House, on Jodenbreestraat.
Bookings through my office.
Spotting the Rich & Famous inhabitants in the Golden Age.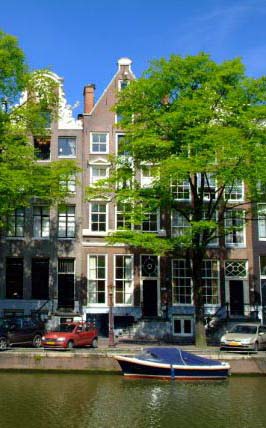 Amsterdam is the capital of The Netherlands. The beauty of the city center is the result of many centuries of careful city planning. It boasts the most wonderfully preserved group of canals and ancient canal houses found anywhere in the world. In the center we find the headquarters of the United East India Company, pivot of international trade and source of great wealth in the 17th century. Dutch painter Rembrandt, prince of painters, and prolific etcher, draughtsman also made his home here and catered to the wealthy merchants.
A number of important museums including the Rijksmuseum and the Van Gogh museum are also located here. A dozen of other museums are well worth visiting, including the Rembrandt house.
On Dam square, from which this town on the Amstel river originally got its name, is the former Town Hall, now Royal Palace. Next to it stands the late mediaeval New Church, now mainly serving as an exhibition hall. A five-minute walk going east takes us to the large Old Church in the middle of the Red Light District.
As a reference manual I use a number of hand books, including the famous d'Ailly historical handbook during the Amsterdam walks.

As an art historian based in Amsterdam, The Netherlands, I can meet you in Amsterdam for a personalized guided tour of art museums and the historic center. Great Amsterdam tours!

Together we will experience the beauty and history. Enjoy yourself and learn about history while strolling and discussing the country's history, art and culture. In doing so, we may touch a number of bases - spanning not only fine art and architecture but also the city's history and current social issues. See client testimonials.

Read a biography.

Starting at your hotel I will take you on a wonderful private cultural walking tour of your choice. My guided itinerary offers you accessable informative conversation in English, Dutch, or German (my French and Italian are more limited).

See Amsterdam in 1842 (Map with dots indicating where the high and mighty lived in Amsterdam, in the seventeenth century)

---

You may also arrange this VIP treatment for business contacts or friends. Our cultural tour organisation office will take care of a unique and memorable experience.

Drs. Kees Kaldenbach is your private "scholar-lecturer on culture tours" *.

*Martha Gellhorn, Travels with Myself and another, p. 182.

Drs. Kaldenbach is chairman of the Circle of Academic Tour Guides of the Netherlands and Flanders (CATON)

---

Please contact me for time and fees of the tailor-made tour you ar interested in.

These tailor made tours are available upon request - please contact me to book a date. Minimum group size: 1 person. Maximum group size is limited to about 10 persons. With a megaphone I can also manage larger groups on the streets.

---

Complete Listing of tours

Photo by Dick Martin.

Visit a large architectural cultural site on Amsterdam at Startamsterdam.com

Old maps on http://watwaswaar.nl

www.thingstodoinamsterdam.co.uk

---

Endorsements

The Rijksmuseum has done me the honor of linking the main Rijksmuseum site to my website. Start at www.rijksmuseum.nl and select Collection. Then choose 'Digital Collaboration' and the 'Digital Vermeer House'.

I conduct Rembrandt walks in Amsterdam for the Netherlands Bureau of Tourism, London and New York City offices. Their clients include important journalists.

The travel site www.luxurytraveler.com has devoted a main feature to my tours and walks.

Read further client testimonials.

---

Research presented in November 2014 about Mannheimer: he almost bought the best Vermeer: The Art of Painting (now in Vienna)

---
About Drs. Kees Kaldenbach:
Read a biography.
Drs. Kees Kaldenbach has been featured in television and radio documentaries, including BBC2 TV, NTV Japan, Danish TV and Radio Netherlands World Service. In July 2004 he was interviewed about Delft artists by Tetsuya Tsuruhara for the leading Japanese newspaper The Yomiuri Shimbun. In 2004 and 2005 he acted in an advisory role to additional BBC teams. Kaldenbach has written extensively on Vermeer and 17th century Delft, on Vincent van Gogh and on other art history topics.
Drs. Kees Kaldenbach is your private "scholar-lecturer on culture tours".
Further information is available on his encyclopedic web site: www.johannesvermeer.info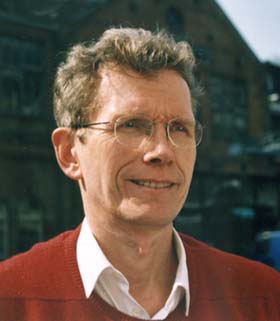 Contact information:
Drs. Kees Kaldenbach , kalden@xs4all.nl
Haarlemmermeerstraat 83 hs
1058 JS Amsterdam
The Netherlands
telephone 020 - 669 8119 (from abroad NL +20 - 669 8119)
cell phone 06 - 2868 9775 (from abroad NL +6 - 2868 9775)
Reaction, questions? Read client testimonials.

Open seven days a week.

Member of the VVV Tourist information and the Amsterdam Chamber of Commerce (Kamer van Koophandel).

Email responses and bookings to art historian Drs. Kees Kaldenbach.

This page forms part of the 2000+ item Vermeer web site at www.xs4all.nl/~kalden

Launched April 2013. Updated April 2019.