Rembrandt's Portrait of Johannes Wtenbogaert / Uytenbogaert : its historical value, provenance, auction policy, auction price, acquisition story and present status.
by Drs. Kees Kaldenbach,
art historian, Amsterdam.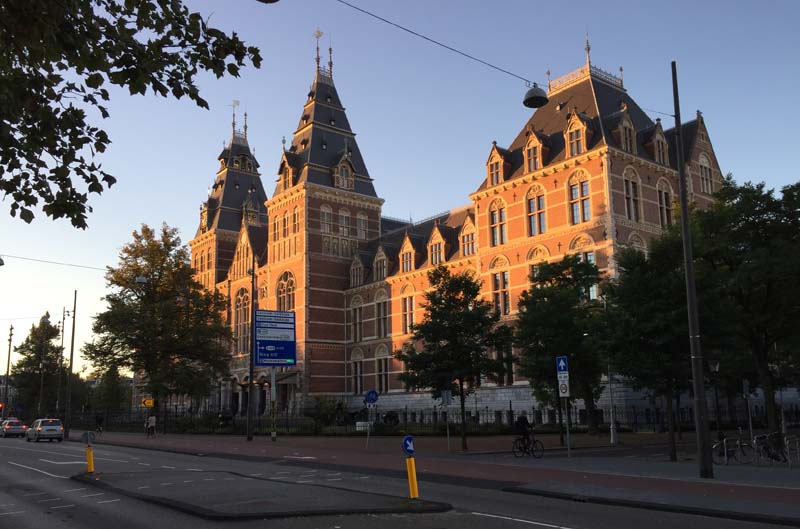 Rijksmuseum, 30 september 2015. Photo C. Kaldenbach.
Go to Dutch version
Deutsche fassung.
Velasquez-Pareja-restoration booklet.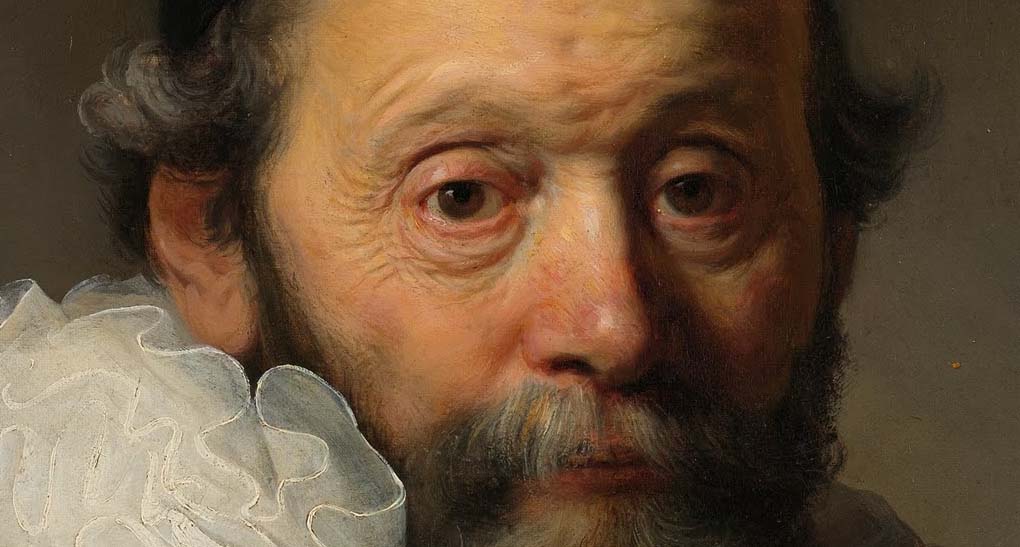 This article will touch upon Rembrandt's Portrait of Johannes Wtenbogaert : its historical value, provenance, auction policy, auction price, acquisition and present status.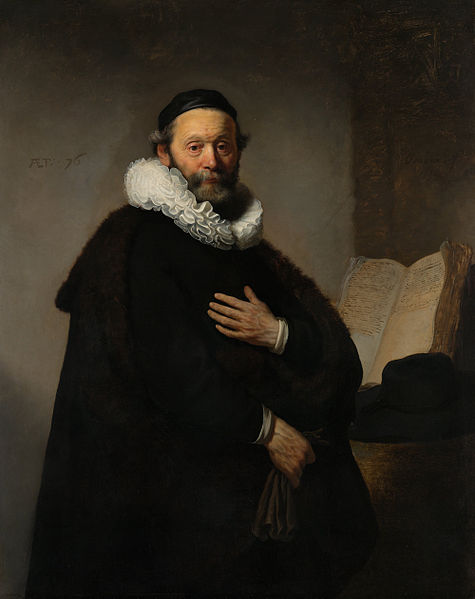 In 1633 Rembrandt painted the fabulous Portrait of Johannes Wtenbogaert (aka Uytenbogaert / Uitenbogaert / Uyttenboogaard (1557-1644)). He was the foremost clergyman of the moderate group of Protestants who followed the tolerant tenets of Jacobus Arminius. Together with the Rembrandt's portrait of Jan Six, (see detail to the right) it is now regarded as one of the best, most moving and important portraits that Rembrandt ever painted.
This article will discuss an overview of its historical value, provenance, auction policy, auction price, acquisition and present status.
A fierce theological battle raged in Holland after 1600 between hard-liners and moderates about the question as to whether the human soul was immediately pre-destined at conception for heaven or hell. In 1610, Wtenbogaert wrote the Remonstrantie, a theological text intended to promote tolerance and to further reconciliation on this religious theme. His ideas were adopted by a group who labelled themselves Remonstrants.
The leader in this fierce theological fight was clergyman Jacobus Arminius. He theorized that there might be a possibility for the soul to ascend to heaven for the individual believer, if they prayed to God following the tenets of the 'true' Christian faith, led an ethical life and atoned for their sin. This was more or less in line with Roman Catholic tenets, and the Calvinist Protestants believed the opposite. Thus, at that time the Remonstrants were seen as enlightened moderates in comparison to the majority of strict Calvinists who claimed that the path of the soul was entirely preordained by God; predestined forever at conception.
In 1626, after Prince Maurice's death, it became possible for Wtenbogaert to quietly return, settling in The Hague to the great joy of his followers. Abraham Recht (1588-1664), a fierce promoter of Remonstrantism, was one of them. Wtenbogaert noted in his diary on 13 April 1633, when travelling to Amsterdam for just one (!) day of sitting: "portrait painted by Rembrandt for Abr. Anthonisz [Recht]". Recht, a wealthy Remonstrant congregation member, had ordered the painting from Rembrandt for an unknown sum of money and placed this portrait at his home in Watergraafsmeer, just outside Amsterdam to the south-east. When it was later inherited, the portrait was valued at 40 guilders (equalling about 40 days of income for an unskilled worker in those days).

In the 1820s the painting was sold to Baron Meyer de Rothschild in England, and later became property of the Earl of Roseberry.
Nearly a century later, in 1903, the Dutch church historian Bruno Tideman visited the Earl's country home and collection in England. Tideman recognized the painting as the portrait of Wtenbogaert /Uytenbogaert and published his findings.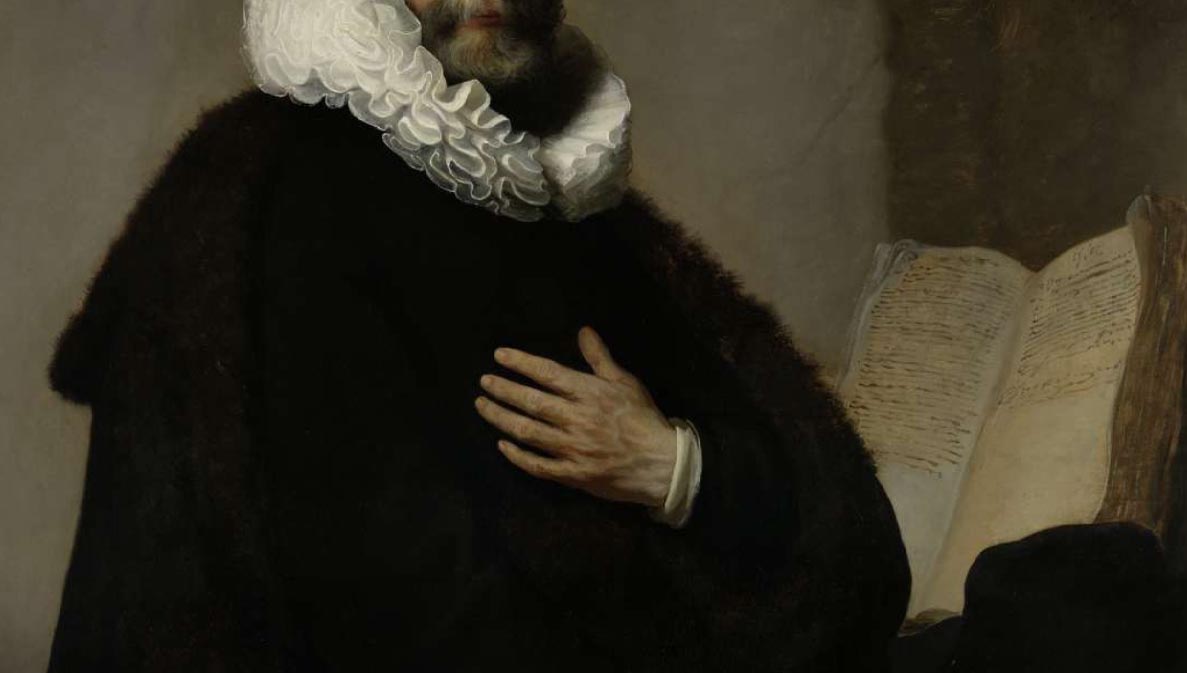 In 1992 the then owner, the Earl of Roseberry and Midlothian, was strapped for cash, and decided to auction this painting off. It was even temporarily shipped to the Sotheby's branch in Amsterdam for several days so that potential buyers and Rijksmuseum art specialists could view it. Although superficially yellowed and dirty, it was considered a fine painting, exceedingly important as an example of an important portrait from the 1630s and exquisitely important for Dutch national and religious history.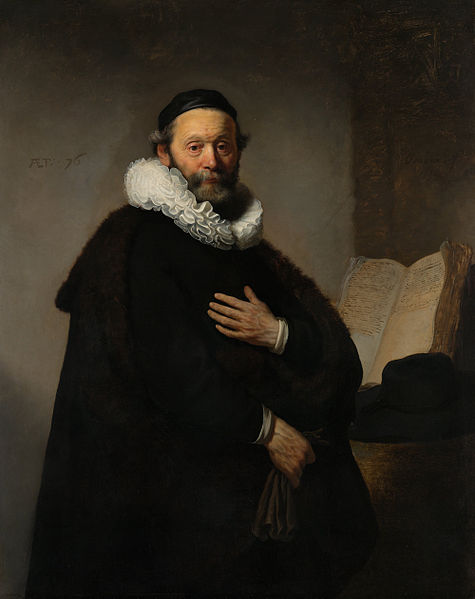 There was just one hurdle: art prices had boomed. The coffers of the Rijksmuseum were empty as a rather expensive but very bland and homely Rembrandt portrait of a female from the 1630s had recently been bought: Haesje Claes.
It appeared as if the Wtenbogaert painting, so important both for national and art history, a unique meeting of foremost Dutch painter with foremost Dutch Protestant minister, was about to be lost for the Netherlands, and would wind up somewhere else abroad.
During the July 1992 sale in London the painting was sold for the sum of 4.18 million GBP, the sum of 13.5 million Dutch guilders including the Sotheby premium. In Euros, introduced ten years later, the price would have been E 6.14 million. The portrait had been purchased by a two-man team: art dealer Otto Naumann and collector-cum-art dealer Alfred Bader from Milwaukee, Wisconsin, in the US, the latter having putting up the capital. Two days later they secretly offered to sell it to the Rijksmuseum for an undisclosed price, which after many months of talks, bickering and negotiations was finally set in December 1992 at about 17 million guilders.

The Dutch Ministry of Culture allotted the sum of 9 million guilders and the remainder had to be filled partly by dipping heavily into the Rijksmuseum's future annual acquisition budget of 300.000 guilders.
Frantically, a series of other funds and donors were sought. It is said that large funds were offered by wealthy Remonstrant individuals, foremost by the chairman of the Rijksmuseum Foundation. According to the weekly magazine De Groene, Queen Beatrix of the House of Orange, had secretly supported and championed this funding drive among the financial elite, perhaps as a very belated "so sorry – we wish to be making up" for the Oldenbarneveldt decapitation by her forefather Prince Maurice.
The price increased from 13.5 to 17 million guilders - or was it perhaps even more? One source in the Vrij Nederland weekly magazine even put the final price at F 17.929.000, - in December 1992 – because of an unfortunate exchange rate. A simple calculation shows that the temporary owners did extremely well, earning 4.5 or perhaps even close to 5.5 million guilders in the course of some 6 months time.
The Dutch press had a field day. Art dealer Cramer wrote in the NRC newspaper that the procedure had been mangled and the original owner had been duped out of serious money by underhand sale, grossly contravening the British laws on auctions.

On the Rijksmuseum web site (2012) the credit line sais: Purchase on December 1, 1992 by Vereniging Rembrandt, with support of the Prins Bernhard Fonds, the VSBfonds, de Rijksmuseum-Foundation, The State of the Netherlands and private donors.
One of the private donors is highlighted in Van Os' autobiographical text: In a fund raising drive lasting a number of months the royal sum of 1 Million Dutch guilders was collected, whereas two million were needed to fill the gap. Then a notary public called to say that one remonstrant lady who wished to remain unknown had put forward the missing one million guilders: "Do you wish to receive it on three bank transfers or in one transfer?". Flowers were sent to her house.
In the Corpus of Rembrandt paintings (written by the Rembrandt Research Project) the painting was partly ascribed to Rembrandt. Its dirty condition was noted, and there were question marks as to who painted the hands. Centuries of grime, tobacco smoke and yellowed varnish marred the portrait and had dulled it. During the initial cleaning of the top layers, a terrifically exciting period and the first step in the restoration process, Martin Bijl phoned the then director, Henk van Os, and yelled: "Henk, we were right!" Beautiful cool gray paint layers reappeared from within the brown-yellow layers of nicotine and varnish.
Some ten years later, in 2012, after the dust has settled, the portrait of Wtenbogaert remains one of the truly exquisite gems in the Amsterdam Rijksmuseum. It is large, regal and authoritative. We can almost read Wtenbogaert's mind. Or can we?

There is a school of thought among art historians who claim that looking at old paintings with the mindsets of 21st century psychology is forbidden. One should only attempt to read and measure paintings with tools (books, language, associations, frameworks, and framing) from that day and age. The question is: can we? Can we switch off that deep soul-searching psychological way of reading any human face, especially those painted by Rembrandt? Is psychological reading part of our age-old human DNA instead of being a specific 20th or 21st century form of cultural programming? Why do some Rembrandt portraits and his self-portraits touch us so deeply? Henk van Os writes: "Rembrandt does not elevate you, but he helps makes visible the depth of your feelings and provides consolation" (p. 88).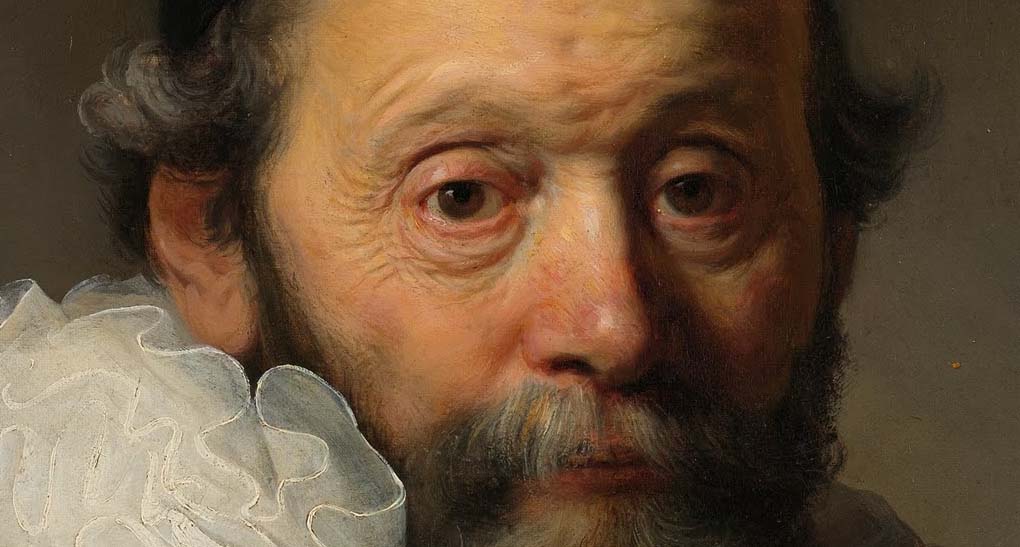 The Wtenbogaert / Uytenbogaert face still radiates liveliness, sadness, after a lifetime of turmoil, at the age of 76. It almost speaks to the viewer with an expression of quiet acceptance in the sitter's intelligent, soft, moist and perhaps wise eyes. These eyes were painted in one day of sitting and therefore shows the wet-in-wet blurring of the various folds of ageing human flesh. Later on, perhaps after some days or weeks of drying time, sharp individual hairs of beard and moustache were added for crispness.
The two very weakly painted hands remain a vexing problem. Did Rembrandt have an off day - or did he have an assistant finish it off? According to an article dating from 1994 in the Bulletin Rijksmuseum (3) Rembrandt, after finishing the head, made changes to the body and objects and then asked a student to finish the painting.
Nevertheless, Wtenbogaert's portrait is one of the most moving works of art in the Amsterdam Rijksmuseum. It is, I think, one of the best of Rembrandt's portraits ever made, his incredible inheritance to mankind, and a reminder of how a theological controversy spun wildly out of control and was barely contained in Holland.
= = = = = = = = = = =
Notes:
1) Newspaper clippings about the acquisition this painting are in the Rijksmuseum curatorial folder. These clippings often bear the name of the newspaper or magazine but not the exact dates.
2) Henk van Os: 'Zien is genoeg', uitgeverij Balans, Amsterdam, 2005, p. 83-99.
3) Rembrandt, Portret van Johannes Wtenbogaert, verwerving en restauratie, door Martin Bijl, Manja Zeldenrust, Wouter Kloek, in: Bulletin Rijksmuseum, Vol. 42, 1994/4, p. 327-333. (This is an article about the purchase and restoring.)
4) Rijksmuseum Bulletin provide 4 sources:
Vol 40 (4) 1992 , pp. 327-333 : authors Bijl , Zeldenrust and Kloek : on acquisition and restoration. The painting was rather negatively discussed in the Corpus . It was for sale for Dfl 18 million . An anonymous gift of f 1 million followed a year later. As a first smoke grime was removed , and then the varnish was removed . Enthusiastic about face, collar , jacket .
Vol 40 (4) 1992 , pp. 343-345 : author H. W. Os : How the painting came back in the Netherlands. He describes the expectation that it would cost f 20 Million , and how the painting was purchased by Neumann / Bader for $ 10 million without consulting the Rijksmuseum and soon thereafter offered to the museum, further, that in one of the private (Rijksmuseum ?) Funds a reservation a large amount had $ reserved. The Rijksmuseum eventually paid 17 million F with later additions of a large number of gifts.
Vol 40 (4) 1992 , pp. 346-352 : author Wouter Kloek : Description before restoration .
Vol 42 (4) 1994 , pp. 334-346 : author S.A.C. Dudok van Heel, on the Remonstrant world of Rembrandt, riot at Herengracht 211 , spelling of name should be: Wtenbogaert .
==================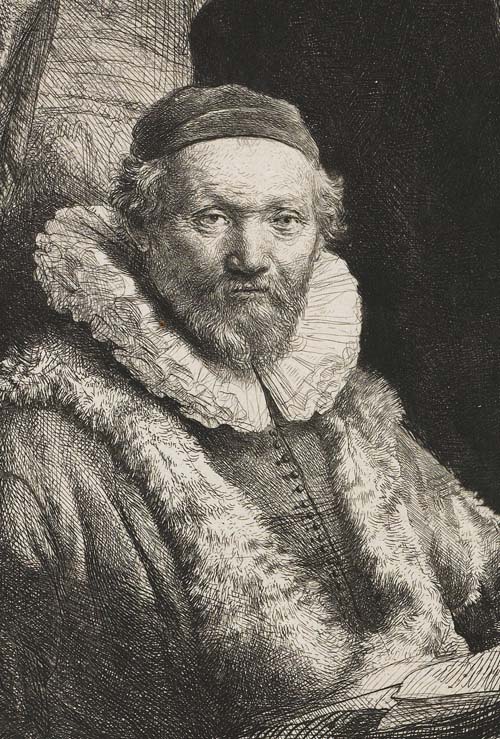 Rembrandt made this etching of Wtenbogaert (RP-P-OB-561, detail) two years later, in 1635. Generally, ordering an etching from Rembrandt was many times more expensive than ordering a painting. I do not know whether in this case the preacher himself did the ordering and payment.
Exhibited 2013-2014 in "Vormen van verdraagzaamheid" about Faces of Tolerance.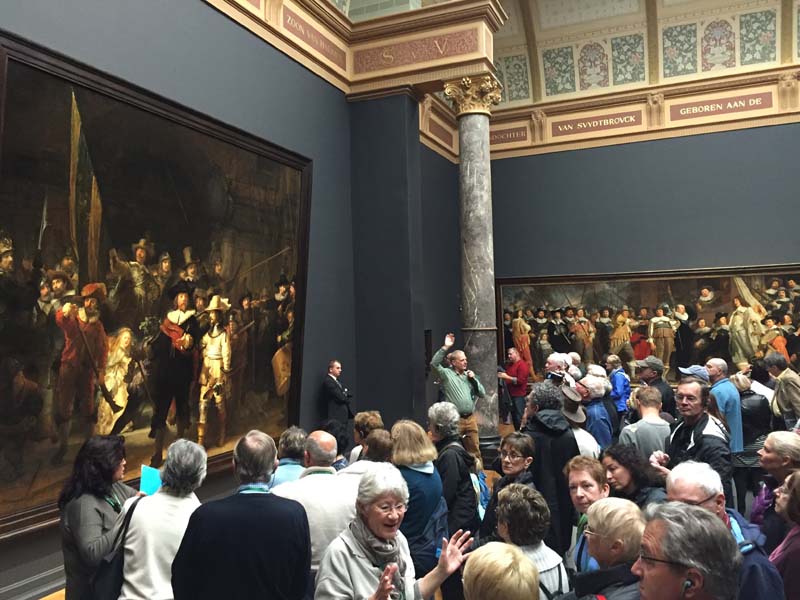 Getting there after 9.30 or 10 gives you this maddening crowd. Arrive early!
Come visit the Rijksmuseum Amsterdam, Holland and enjoy its outstanding 17th century Dutch master paintings, its Delftware and exquisite doll's houses with leading Vermeer specialist and art expert Drs Kees Kaldenbach. Arriving at at 8.59 am with his VIP pass, you are first in front of the museum's four Vermeer paintings. Kaldenbach believes in a question and answer approach in the time-honored style of Socrates, allowing the client to discover the painting step-by-step. After, move on to the Rembrandt in the Rijksmuseum's Gallery of Honour; standing directly before superb Rembrandts in the Rijksmuseum. See his brush strokes and imagine yourself standing just in back of the great master. His late style shows wild, expressive brushwork and ability to penetrate the human soul.
In the room with early Rembrandts, discover how the painter reached mastery within just a few years after turning 20. In the afternoon, after lunch - or another day - see the Rembrandt House Museum and explore where Rembrandt's masterpieces were painted. There are tables full of paint pigments and canvases of different kinds. You can see how he splurged on art objects as props.
A day trip is also possible to the Royal Collection Mauritshuis, in The Hague, preferably arriving there at opening time (10 am) to be able to admire the museum's three superb Vermeers and all Rembrandts.

Would you like to enter the Rijksmuseum at exactly 9 AM, bypassing all waiting lines and standing in a virtually empty museum ? Ask me to be your guide!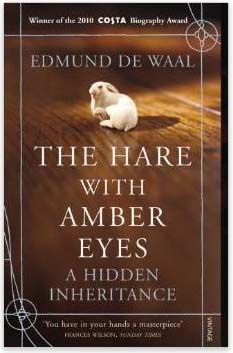 ..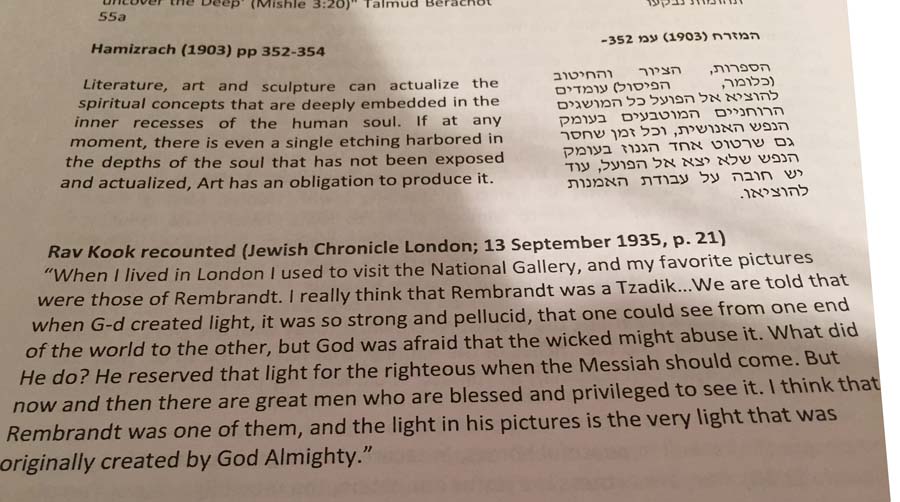 From: Edmund de Waal, The Hare with Amber Eyes, A Hidden Inheritance, 2011.

On Kaldenbach as an art guide:
July 2013: Ricardo N and his wife Francis S. live in New York City and are full-time NYC art aficianodos, travelling the world and visiting most of the fine art centers in Europe.
In June-July 2013 they toured for three full days with Drs Kees Kaldenbach.
Ricardo: "I would rate you as terrific. It is a great treat being with you - You saved my life in showing me the Mauritshuis collection - I thought it was completely closed!"
Francis N.: "Kees is outstanding... he has a very rare gift among any the great number of professional tour guide we met in our lifetime... in presenting a deep and very specific art history knowledge, and in combining this with passion and and easy going presentation.
My husband and I have spent our lives in the art world of NYC and the West Coast. We have rarely met such a wonderful guide. Kees is an outstanding fountain of visual knowledge and historic insight. He truly is top class within the field of Western art history!"

Fast track entry in ALL Amsterdam museums. Avoid spending time waiting in museum queues. Enter the museums together with me.
A presentation of just before the opening week after the 10 year museum restoration by Andrew Graham-Dixon. I was there on-camera with my daughter and we were filmed, but in the final edit - alas - we did not make it in the documentary.
BBC 4 TV programme shoot in the Rijksmuseum, Amsterdam, March 28, 2013 just before the formal opening In the middle: daughter Suzanne, who has not been there 12 years, Kees Kaldenbach and interviewer Andrew Graham-Dixon.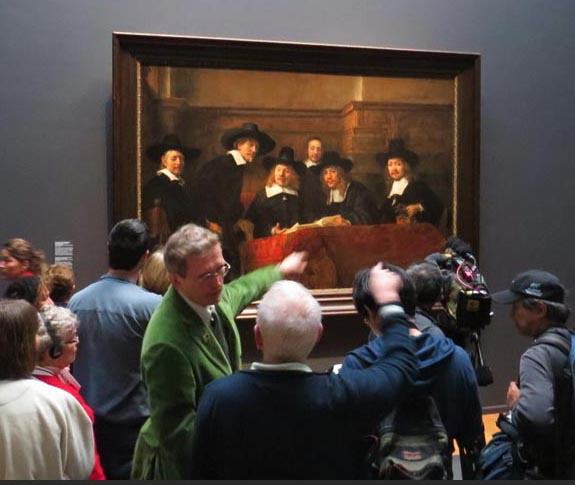 With Japanse TV crew, April 2013.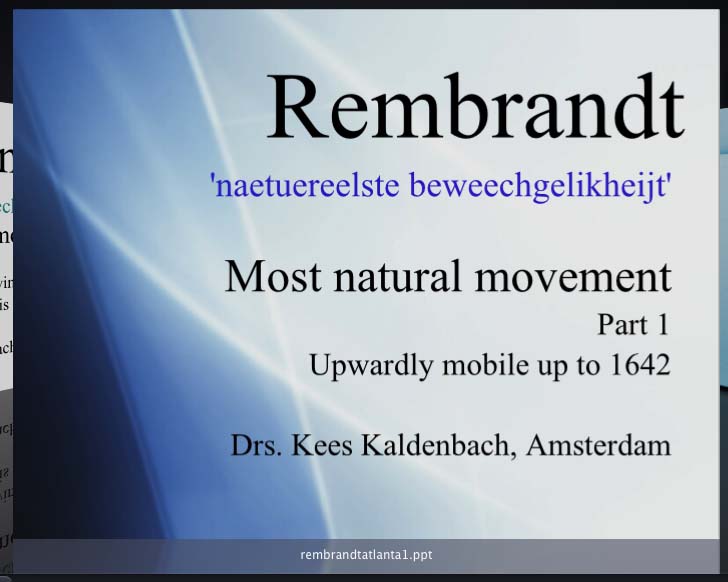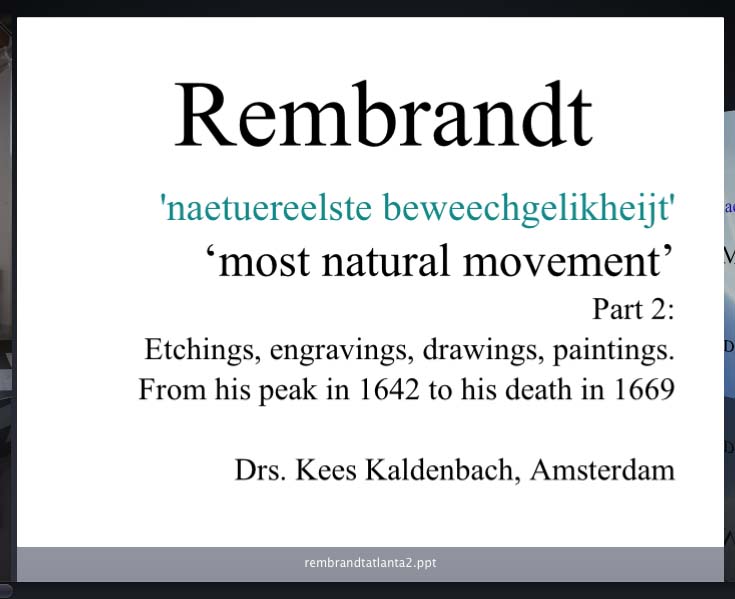 I am prepared to give this set of two powerpoint presentation lectures. A while back, I presented it at Atlanta, Georgia, at the Oglethorpe University.

Rijksmuseum tour. The glorious national collection.
More photos of the art works here
Sneak Preview Rijksmuseum reopens
Vermeer lectures and tours.
See Dali's opinion of Vermeer.
Vermeer and Neuroscience / Opthalmology.
Rembrandt tours incl the Maria Trip portrait.
English article on key portrait of Uytenboogaard.
Dutch/NL text Uytenboogaerd, Dutch .
See all 330 Rembrandt paintings in full size reproductions, in about 2 hours in the Magna Plaza building behind the Royal Palace/Town Hall
When in amsterdam you have the incredible choice of three Rembrandt experiences:
1) Some of the best and grandest real Rembrandt paintings in the Rijksmuseum.
2) Experiencing Rembrandthuis, the home he lived and worked in, with some great paintings and numerous etchings.
3) Seeing all 330 Rembrandt paintings in the Magna Plaza building behind the Royal Palace/Town Hall
====================
More on various books:
Adriaen Coorte, by Quentin Buvelot, book & exhibition catalogue.
De Grote Rembrandt, door Gary Schwartz, boek.
Geschiedenis van Alkmaar, boek.
Carel Fabritius, Tentoonstellingscatalogus.
Frans van Mieris, Tentoonstellingscatalogus.
From Rembrandt to Vermeer, Grove Art catalogue, book.
Vermeer Studies, Congresbundel.
C. Willemijn Fock: Het Nederlandse interieur in beeld, boek.
Het Huwelijksgeschenk (1934), boek over de egoïstische vrouw, die haar luiheid botviert.
Zandvliet, 250 De Rijksten van de Gouden Eeuw , boek + nieuwe stippenplattegrond!
Ik doe wat ik doe, teksten van Lennaert Nijgh , boek + cd
Het Rotterdam Boek, boek.
Bouwen in Nederland 600 - 2000, boek.
Hollandse Stadsgezichten/ Dutch Cityscape, exhib. cat.
Zee van Land / over Hollandse Polders (NL) boek
Sea of Land / about Dutch Polders (English) book
A full article on the large portrait of the marvellous preacher Uytenboogaard.
Artikel over Uytenboogaerd, Nederlandse versie.
Geert Grote en het religieuze Andachtsbild

TEFAF 2008 art fair
====================
TOURS with the author: Menu of tours
A visit to the Rijksmuseum.

Rembrandt House

We may go over to the Rembrandthuis, the house in which he lived with Saskia and in which his children were born. The interior has been re-constituted based on the inventory list of his bankruptcy. It feels like walking into his studio and sale rooms, as if the great master has just walked out on doing some business and left you there to roam about on your own. On the top floor one can stand face to face with a good series of the actual etchings.
What sets Rembrandt apart from other artists like Duerer, Lucas van Leiden, Elsheimer? How fine or bold are Rembrandts results in the etching and engraving lines? Learn how to see and appreciate how he employed these fine or bold lines in the etching and engraving in order to get the 'Most natural movement'?

A bit of social history and the personal history will also serve to put Rembrandt in perspective. Was he really a cantankerous SOB who alienated the wealthy patrons after 1642, the year of the Nightwatch?
I will be there to assist you in viewing and I will help you to hone your own way of seeing. Art appreciation in front of the real thing.

---
Full web site, 2000+ pages:
Research presented in November 2014 about Mannheimer: he almost bought the best Vermeer: The Art of Painting (now in Vienna)
---
Click for Nederlands/Dutch.
Drs. Kees Kaldenbach has been featured in television and radio documentaries, including BBC2 TV, NTV Japan, Danish TV and Radio Netherlands World Service. In July 2004 he was interviewed about Delft artists the Nishinippon (Japan, 2012) and by Tetsuya Tsuruhara for the leading Japanese newspaper The Yomiuri Shimbun. In 2004 and 2005 he acted in an advisory role to additional BBC teams. Kaldenbach has written extensively on Vermeer and 17th century Delft, also on Vincent van Gogh and on other art history topics.
---
Drs. Kees Kaldenbach will be your private "scholar-lecturer on culture tours".*
*Martha Gellhorn, Travels with Myself and another, page 182.
It is a rare and unique privilege that the Rijksmuseum has linked from the main Rijksmuseum site to my site. Start at www.rijksmuseum.nl and select Collection, after which you choose Digital Collaboration and the Digital Vermeer House.
Drs. Kaldenbach is chairman of the Circle of Academic Tour Guides of the Netherlands and Flanders (CATON)
---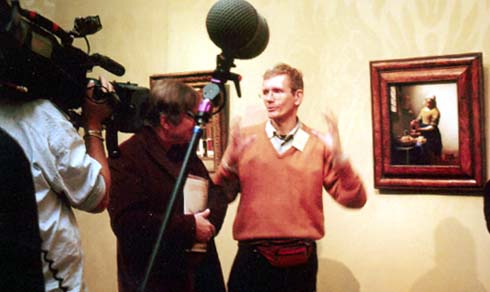 Read client referrals and testimonials.
Spotting the Rich & Famous inhabitants in the Golden Age

---
Optional added items

a) the Rembrandt House, Amsterdam, for an in-deph guided tour.

b) the Rembrandt City Walk and Public speaking engagements

c) the Royal Collection The Mauritshuis Museum in The Hague, which houses several renowned Rembrandt paintings, including his 'Anatomical Lesson of Dr Tulp'. Vermeer paintings may also be discussed there.
Practical matters
Read a biography.
---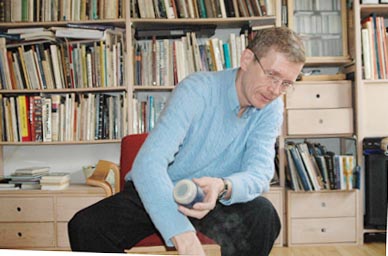 Menu of tours
Photo by Dick Martin.
---
---
Reaction, questions? Read client testimonials.

Drs. Kees Kaldenbach, art historian, kalden@xs4all.nl Haarlemmermeerstraat 83hs, 1058 JS Amsterdam (near Surinameplein, ring road exit s106, streetcar tram 1 and 17).

Telephone 020 669 8119; cell phone 06 - 2868 9775.

Open seven days a week.

Amsterdam Chamber of Commerce (Kamer van Koophandel) number of Johannesvermeer.info / Lichaam & Ziel [ Body & Soul] is 3419 6612.

E mail esponses and bookings to art historian Drs. Kees Kaldenbach.

This page forms part of the 2000+ item Vermeer web site at www.xs4all.nl/~kalden

Launched December 17, 2012. Update 17 februaty 2017