Private Lectures
& Private Guided Vermeer Art Tour
by Vermeer specialist Drs Kees Kaldenbach
New! Better menu and upgraded web page: Click here.
See all 7 famous Vermeer paintings in Holland in a new light!
Imagine being the privileged guest of honour at the home of the accomplished art historian Kees Kaldenbach. While sipping a fragrant cup of coffee or tea, you listen to his personalized (private or small-group) lecture and discussion on the astounding visual wonders that the Delft painter Johannes Vermeer has bestowed upon us.
Afterwards, a short ride by taxi or tram takes us to the nearby Rijksmuseum (additional entry fee). In the museum I will quietly point out and explain the visual wonders of Vermeer's technique; contents, brushstrokes, details, composition, colour.
You may also arrange this VIP treatment for business contacts or friends. Lectures (in Dutch, English or German + translations into Japanese or Chinese) are given in plain, accessible language. Thus you will be the beneficiary of exciting tailor-made education during your travels.
Fast track entry in most Amsterdam museums. Avoid spending time waiting in museum queues. Enter the museums together with me.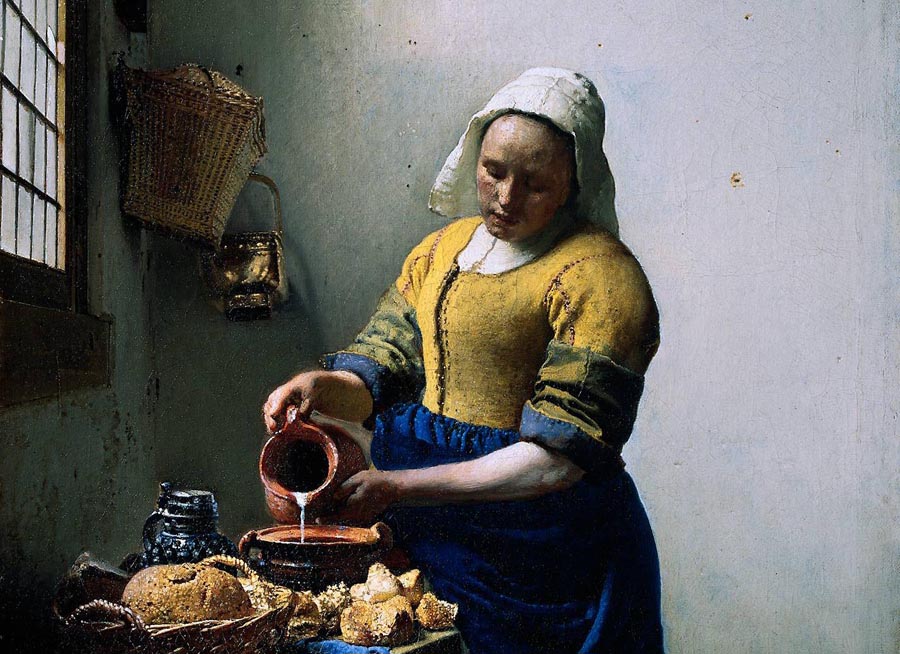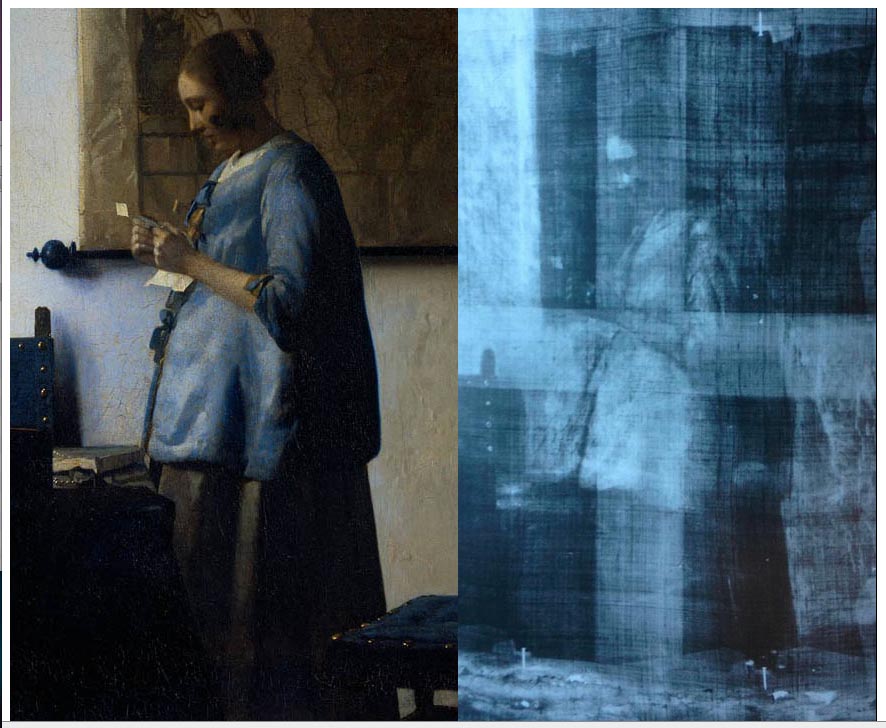 Above to the left the Lady in Blue BEFORE cleaning. Note the amount of discoloration on the surface. To the right an X-ray showing that her pajama flared our way more at her back side. We will discuss this anomaly.
BBC television: The madness of Vermeer - Secret lives of the artists. Interviewer Andrew Graham -Dixon. Now on Youtube. At the exact time of 35 minutes, 39 seconds the interviewer Andrew Graham-Dixon parks the bike and enters my home. What you do not see in the movie is the rest of the crew: lights, sound, cameraman, continuity, the director. The item was surprisingly filmed at my home in one take. Thanks to Andrew's quality of asking the right questions at the right moment. Beforehand I had to clean up my desk, though.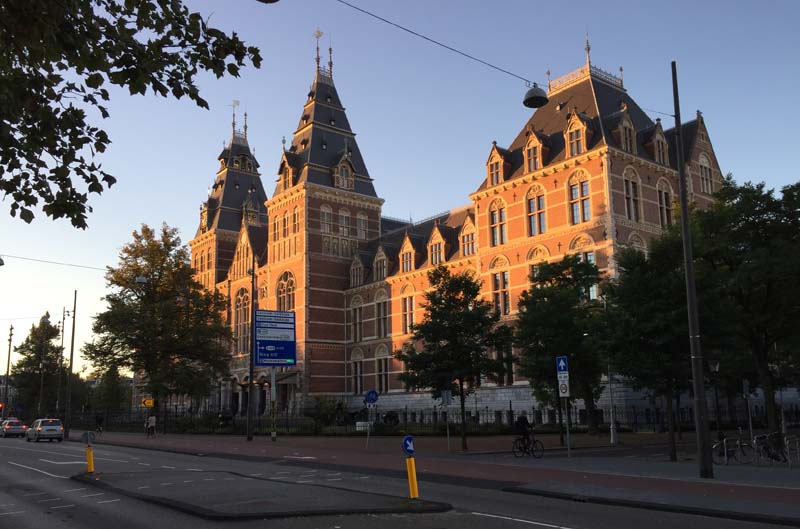 Rijksmuseum, 30 september 2015, morning light. Photo Kees Kaldenbach.
Vermeer, Allegory of Catholic Faith (NYC)
Research presented in November 2014 about Mannheimer: he almost bought the best Vermeer: The Art of Painting (now in Vienna)
Van Gogh museum tours
Rembrandt tours
Read client testimonials.
Vermeer tours Chinese version.
German language as well: Man spricht auch Deutsch
Programme of Tours, Menu in Chinese
A side trip to The Hague and Delft:
Among the most treasured museums in the world is the Mauritshuis. Relatively small in size, the museum is like a jewel box, and its holdings include important paintings by the Dutch masters Vermeer, Rembrandt, Hals, Steen, Potter and many others. In that sense it can be compared to teh Frick Collection in New York City. Below the situation of the Mauritshuis after the 2014 renovation and expansion.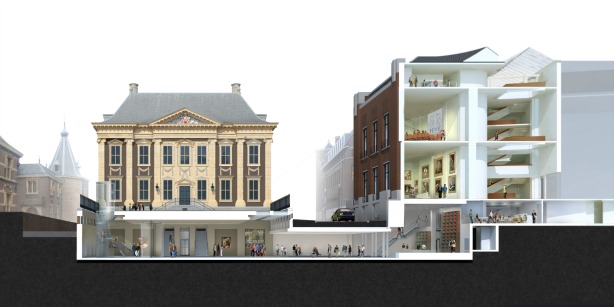 In circles of art historians specializing in Dutch Seventeenth Century art, I am considered one of the key Vermeer experts and specialists worldwide, having done important ground breaking research and having published many findings in print and online. View of Delft, an analysis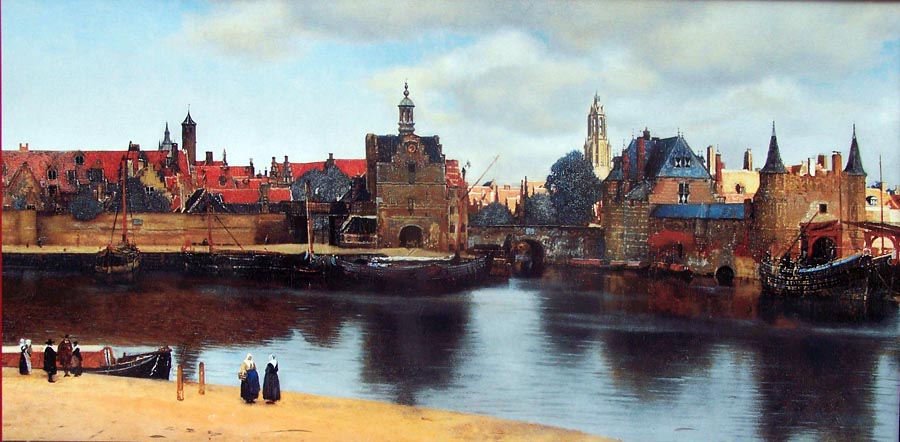 One best ways of stimulating enhanced seeing and of the in-depth teaching I go for, is to show how Vermeer manipulated and altered elements of his compositions to suit expressive power. He also successfully manipulates the viewers mind and ways of seeing. Vermeer & perception
Below is just a small example I presented during a conference in Dublin: On the Officer and the Laughing Girl (Frick Gallery, New York City) Vermeer manipulated the coloring of the wall map by Van Berkenrode.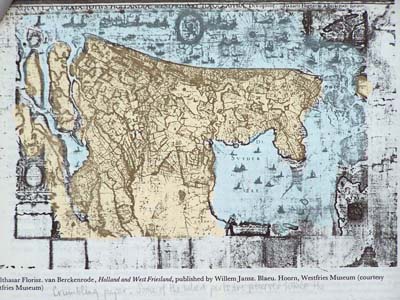 Left: as it should be, Sea = blue. But Vermeer chose another representation: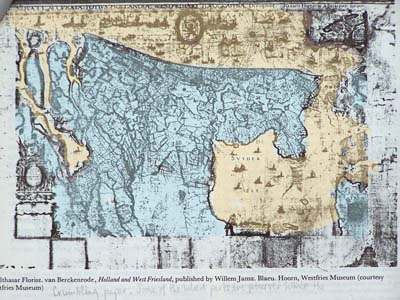 Above: as he actually colored it to improve a calm blending in with the background. The usual color key, blue = water was reversed by Vermeer to suit his artist's needs. This kind of toying with vision is key to reading and understanding Vermeer.
We will also discuss the Girl with the Pearl Earring and tell the story of the purchase and how it got to be this famous, as the Mona Lisa of the North.
The View of Delft, on which I did my 1980's research, deserves and in-depth discussion. See View of Delft, an analysis

Would you like to enter the Rijksmuseum at exactly 9 AM, bypassing all waiting lines and standing in a virtually empty museum ? Ask me to be your guide!
Below some images from Amsterdam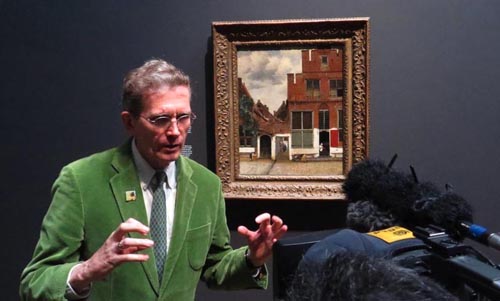 Rijksmuseum, April 2013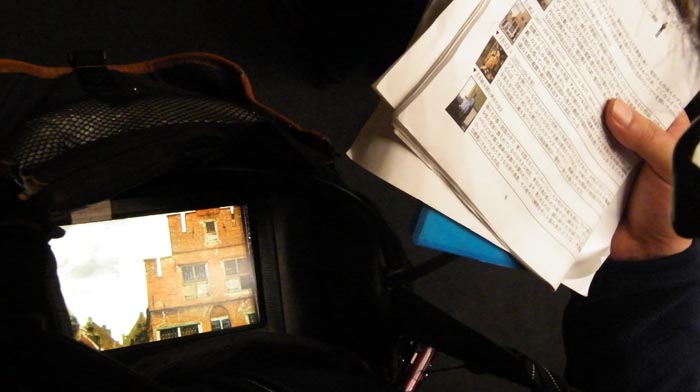 Monitor held by the TV director.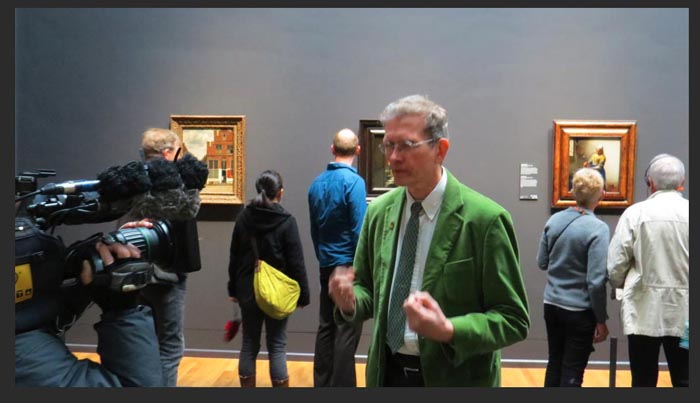 Photos above, 2013 by Yuichi Nara.
---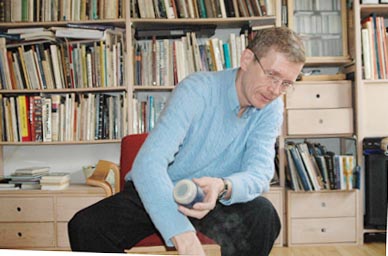 Complete Listing of tours
Photo by Dick Martin.
It is a rare and unique privilege that the Rijksmuseum has linked from the main Rijksmuseum site to my site. Start at www.rijksmuseum.nl and select Collection, after which you choose Digital Collaboration and the Digital Vermeer House.
---
Total time of this Vermeer tour: about 2 1/2 hours

Lecture at my home:1 hour.

Transport to the Amsterdam museum: 1/2 hour

Museum: about 1 hour ; I will bypass the waiting line.

This lecture is available on times which we mutually agree, 7 days a week. Pre-bookings are required.

Minimum: 1 person. Also for business contacts, VIPs and visiting dignitaries.

Maximum: Groups will be limited to 6-8 persons. Price per person is lower in a larger group.

Tours about architecture may take place in larger groups, up to about 15.
Optional programmes.
An additional option (perhaps on another day) is a visit to the Royal Collection The Mauritshuis Museum in The Hague, which houses several other renowned Vermeer paintings, including his famous 'Girl with the Pearl Earring' and 'View of Delft'.
The Hague is easy to reach with public transport, by train. I can join you from your hotel or from the Amsterdam train station. Various other options are open to you: a) You can hire a car and drive it yourself, and I will join you starting in Amsterdam and will advise you about the best route. b) We can hire a professional taxibus service at around E 70 per hour for about 4 to 5 hours. On top of that you will pay me as the specialist guide. This is the more expensive option.
---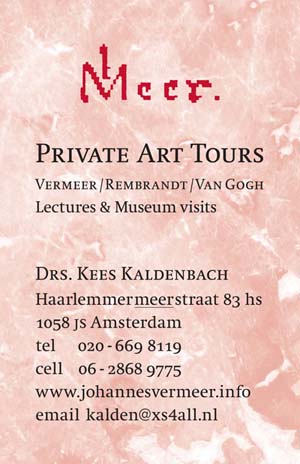 About Art Historian Drs. Kees Kaldenbach.
Drs. Kees Kaldenbach has been featured in television and radio documentaries, including BBC2 TV, NTV Japan, Danish TV DKR and the Radio Netherlands World service. In July 2004 he was interviewed about Delft artists by Tetsuya Tsuruhara for the leading Japanese newspaper The Yomiuri Shimbun. In 2004 and 2005 he acted in an advisory role to additional BBC teams. Kaldenbach has written extensively on Vermeer and 17th century Delft.
Further information is available on his web site: www.johannesvermeer.info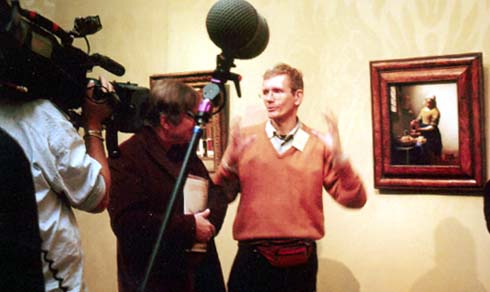 See the TV programme on Dutch national TV on Kees Kaldenbach as masseur and art historian.
---
Drs. Kees Kaldenbach is your private "scholar-lecturer on culture tours".*
*Martha Gellhorn, Travels with Myself and another, page 182.
---
Map of Haarlemmermeerstraat, Amsterdam. Please note this tricky situation: there is another street in town that sounds almost the same: Haarlemmerstraat. You need to go to my street, Haarlemmermeerstraat. Take tram 2 to Hoofddorpplein square or tram 1 to Suriname plein square.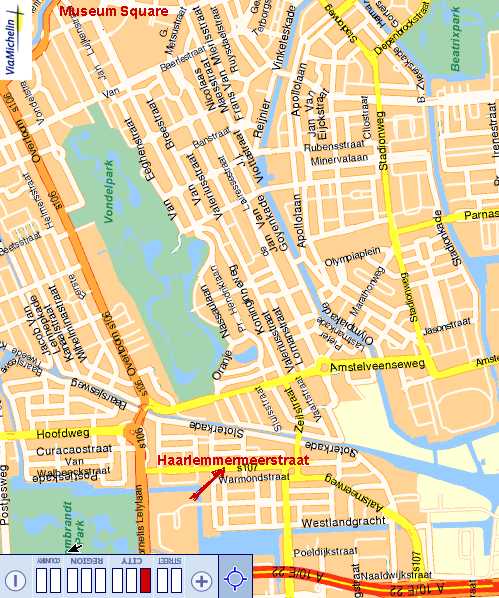 Contact information:

Drs. Kees Kaldenbach

Haarlemmermeerstraat 83 hs

1058 JS Amsterdam

The Netherlands

telephone 020 - 669 8119 (from abroad NL +20 - 669 8119)

cell phone 06 - 2868 9775 (from abroad NL +6 - 2868 9775)

How to get there:

- by car: ring road exit S 106 towards the centre, then 1st to the right (paid parking)

- by trams 1 and 17; exit at Surinameplein

- by tram 2; exit Hoofddorpplein.

From the museum square it takes a 10-minute tram ride.

From Museum square by foot through the Vondelpark it is a 20-30 min walk.
Email kalden@xs4all.nl
Read client testimonials.
---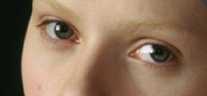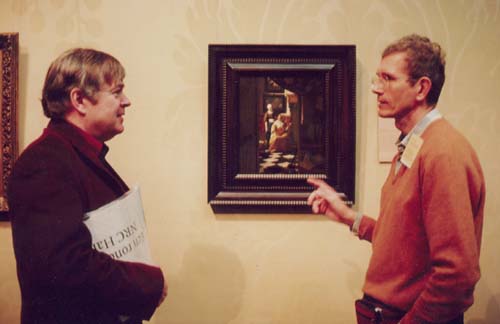 What if you have already seen the Rijksmuseum Vermeer paintings and wish to understand more? The next day - or yet another day which fits your travel schedule - we could have another lecture in my salon or back garden on the series of paintings in the Royal Collection in The Hague, among which is the famous Girl with the Pearl Earring. After this home lecture we will take either a train ride or a ride in my small car to the Royal Collection of Paintings, Mauritshuis, The Hague. At the Mauritshuis I will provide some subdued pointers on ways of seeing and understanding. Lecture time between 1 and 2 hours. Travel time 1 hour each way in good road traffic. Mauritshuis time inside about 1 hour to 1.5 hrs.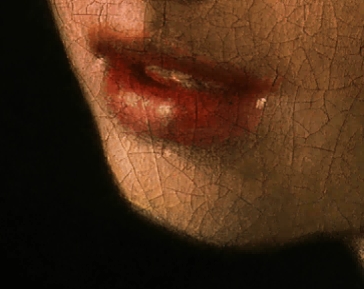 To the right: Before restoration.
After restoration is below. Spot the differences.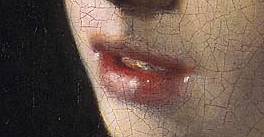 ---
In an added third leg of the Vermeer tour to The Hague you may also seek my company when we walk in the historic city of Delft where I could show you the fabric of seventeenth century life and art - see Delft Artists and Patrons in the yellow menu. Travel time 1 hour in good road traffic. Delft walking tour about 1 to 2 hours.
Research presented in November 2014 about Mannheimer: he almost bought the best Vermeer: The Art of Painting (now in Vienna)
---
Endorsements
I perform art walks for the Netherlands Bureau of Tourism, London Office and New York City office. The clients they serve are often top ranking journalists.
The magazine www.luxurytraveler.com has devoted a main feature to my tours and walks.
Reaction, questions? Drs. Kees Kaldenbach, art historian and Vermeer specialist, kalden@xs4all.nl Haarlemmermeerstraat 83hs, 1058 JS Amsterdam (near Surinameplein, ring road exit s106, streetcar tram 1 and 17).

Telephone 020 669 8119; cell phone 06 - 2868 9775.

Open seven days a week.

Member of VVV Amsterdam Tourist info and the Amsterdam Chamber of Commerce.

E mail esponses to art historian Drs. Kees Kaldenbach.

This page forms part of the 2000+ item Vermeer web site at www.xs4all.nl/~kalden

Launched April 15, 2004. Updated 17 july 2016.
Read client testimonials.
Complete Listing of tours