Testimonials, credentials, accolades, referrals & third party endorsements about Drs. Kaldenbach art education programmes, in-depth museum visits and day trips by a seasoned art professional
Lectures, Guided Travel and Museum Visits with Vermeer specialist Drs. Kees Kaldenbach


Drs Kees Kaldenbach has been selected as the top tour guide in Amsterdam by American Express in their exclusive Centurion Class program. Centurion Card members hold the famous 'Black Card'.
Drs Kees Kaldenbach is one of the few award winning art guides worldwide and has worked with many TV crews.

===
"Dear Kees,
Phenomenal! Touring with you was like being friends with the top curator of a major art museum.
Your mountain of knowledge allowed you to zig and zag with our questions and flow seamlessly back into your captivating analysis.
Thank you for engaging each and every family member. It was a delight to be with you, and we feel lucky to have had the experience.
Sincerely,
Leigh and Daniel Levine and family, march 2018."
===

2017: Kees Kaldenbach is one of the most exceptional museum guides we have encountered in many decades of travel. He has a remarkable ability to enable the viewer to understand how it is the viewing certain paintings greatly enriches one's life. Kees joined us for 3 days. The first was to the Rijksmuseum, the second the to the Van Gogh Museum, and the third to the Hague to visit the Mauritshuis and Gemeentemuseum. All three experiences were most memorable. He has a rare ability to convey vast scholarly knowledge in a way that is immediate and compelling.
Peter V Colorado

Customer response, October 2017: My wife and I engaged Kees for an all-day visit to the Kroller - Muller museum (it was an amazing day). We were so happy with him that we asked him to show us the Vermeers and other outstanding Dutch artwork at the Rijks Museum. Kees has an extraordinary depth of knowledge, his English was perfect, he conveyed his expertise in an entertaining fashion, was a pleasant companion, and did a great job optimizing our experience based upon our interests and time we had available. We have had many guides around the world (including a number of art experts), but none were better than Kees.

2017: We spent several hours with Kees Kaldenbach. We traveled to Rotterdam (for personal historical reasons) by train for the day. Strong ability to convey the history of Amsterdam and the Netherlands along with hearing his perspective on Amsterdam today. Had a wonderful walking tour, boat ride and art museum visit with Kees. I don't think I will every go to an art museum again without having a guide like Kees - he made the art accessible and the history come alive. Highly recommend him for an art, architecture and/or history tour. Traveled with our 17 year old son who thoroughly enjoyed him.
jolie

2016: Kees arranged a day trip for me to view the Deltaworks this week. He did a great deal of research on this enormous project by The Netherlands that spanned 40 years to hold back the sea. I contracted with Kees to spent a half day walking the city of Amsterdam and enjoyed his great knowledge and obvious love of the city. Can't wait to bring back my wife to enjoy Kees and North Holland again. Tim


2016: Drs. Kees Kaldenbach is a renaissance man and scholar - his tour of the Rijksmuseum was one of the best museum tours i have ever had and i have toured museums with guides for years. what makes him special is that he not only has studied the works and can address any spontaneous questions but he also knows how to read his audience. He is the first guide that I have had that realized when i was tired and could use a cup of coffee before i had to ask - wow! We booked a 3 hour private tour of the Rijksmusem to help the children learn about Dutch art and history in a more interactive manner than an acoustic guide and I can not wait to return and have him teach us about Van Gogh. This is a gem of a tour - you will not be disappointed!!
Brenda

"Kees Kaldenbach accompanied a Samuel Courtauld Society visit to Amsterdam and Haarlem in May 2017, to support a Professor from The Courtauld Institute of Art. His organisation was extremely efficient. He was well-informed about the history and culture of the Netherlands across all historical periods, communicating a wealth of up-to-date information in a lively and accessible way." -> May, 2017. Response written by Michael Sherry, Head of Communications, Samuel Courtauld Society, after a 4 day trip with Patrons and Staff. The Samuel Courtauld Society is the world's foremost art history university (alumni are found as directors in foremost art institutes worldwide) as well as presenting a collection of fine art in their London, England museum.

Kees Kaldenbach was brilliant. I'm sure that he could have given us a dozen different tours of the Rijksmuseum, given the breadth of the collection. But, he asked our interests and tailored a brilliant and insightful tour to our principal interests. Response after Tour, 29 March 2017. Barbara S. (Museum Docent), Tennessee USA.

Dear Kees,
Many thanks for your recent tour of the Rijksmuseum. You have a profound knowledge of the paintings which we saw and communicated that knowledge in a lively and enlightening manner. You brought out many fascinating details which most would overlook. The tour was a memorable event and a high spot of our trip to the Netherlands.
Sincerely,
Ben Wells
Houston, Texas
24 may, 2017.

My husband and I took a guided tour of the Rijksmuseum with Kees. It was fantastic. He is a fount of knowledge and insight. I am an artist and Kees happily tailored our visit to the art we were interested in exploring. A highlight was our in-depth discussion of Vermeer and his paintings. Kees is a Vermeer scholar and we had fun discussions about the paintings and Vermeer's technique. I highly recommend Kees for any guided art-focused tour. JD
JD Hansen, Sculptor, California.

Kees Kaldenbach. He is one of the few guides in Europe that I am confident can provide you with the kind of experience you have got used to with me. Like me he is wildly overqualified to be a guide and should be doing something else. That is his secret.
You must book him to take you around the Rijksmuseum and the Van Gogh museum. He will tell you you have to start early. Do it! He's worth whatever his fee is! Trust me on this!

Gabe, high level art history guide.

October 2016: A tour [in Delft] with Kees Kaldenbach is a true discovery!
As an art historian who works as a guide, I wanted to increase my knowledge about the city of Delft.
A walk Kees showed his work is invaluable! Kees knows all places in the city related to the life of Johannes Vermeer, as the history of numerous historic buildings and monuments. His vivid way of speaking and his enthusiasm have created three amazing and very instructive hours in this beautiful city!
His private art tour is highly recommended for (art) historians, but also for all those interested in history, art, culture and Dutch heritage.
Anja Ourikh.

A Rijksmuseum tour with the Brian M family:
August 2016. We would be very pleased to write our comments. I wanted to also send a note of thanks. You had a magical way of bringing the paintings to life and creating an interesting story that left us wanting more. You made a significant impact on Hannah. She shared at dinner tonight that she misses you. We are retelling stories already. Thank you again
Brian

September 2016: A message from Simon M.
Also great to meet you and again our thanks for a wonderful day in Amsterdam with you, especially getting to know Vermeer with your amazing knowledge...we foun d it all quite fescinating. Thank you.
Hope we can do it again in the not too distant future. Kind regards, Simon

June, 2016. VIP clients from Los Angeleas and London responded: "Dear Kees, Deborah and I are back in Los Angeles and recollect our recent trip with pleasure. In particular we are grateful for your great company and wise insights into art and society in Amsterdam. You were a wonderful guide. Amsterdam is vivid in our memories. We have you to thank for that. All best, David & Deborah"

June, 2016:
Hi Kees, I was with Nick Gordon's Academy Travel group in May (...) when you took us through the Rijksmuseum
and The Mauritshuis. Thanks again for your knowledgable and entertaining guiding through these two fantastic museums. Regards, Keith


September, 2015: "A fantastic tour, Kees. You did the Annales School of social history [as in storytelling with social history] proud with your multilevel and pinpointed details that helped illuminate and inform what we were looking at (and, likely, not really seeing until you pointed this or that out). Thanks again for a memorable morning."

Dave (writer and artist-painter).


16 July 2015. Two senior radio journalists from Australia, Jane and Peter visited the Rijksmuseum, Amsterdam for 3 full hours (with a small coffee break in the middle).
Jane: "You are a natural teacher." Peter: "These were the very best three hours spent by me in any museum or gallery in my entire lifetime."

9 July 2016. Financial advisor Bruce invited 3 friends to enjoy a 2 hour Rijksmuseum visit. We went into the lesser known areas first to beat the crowds... and discussed the Vermeer paintings at the very end. The group of 4 listening in grew from 4 to 10 to 30 to 40. At the end, those eavesdropping gave a round of warm applause. A number of them wanted to have my business card.


March, 2015. After visiting Mauritshuis and Gemeentemuseum, The Hague....


Thank you for the perfect outing. All generations were happy. Our message: "We had a very enjoyable and thought provoking 4 hours travelling the centuries of Dutch Art in the company of the extremely knowledgeable, personable and efficient guide. His dry sense of humour added an extra touch of fun. Thanks." We are now back in Brussels full of great memories. Abigail.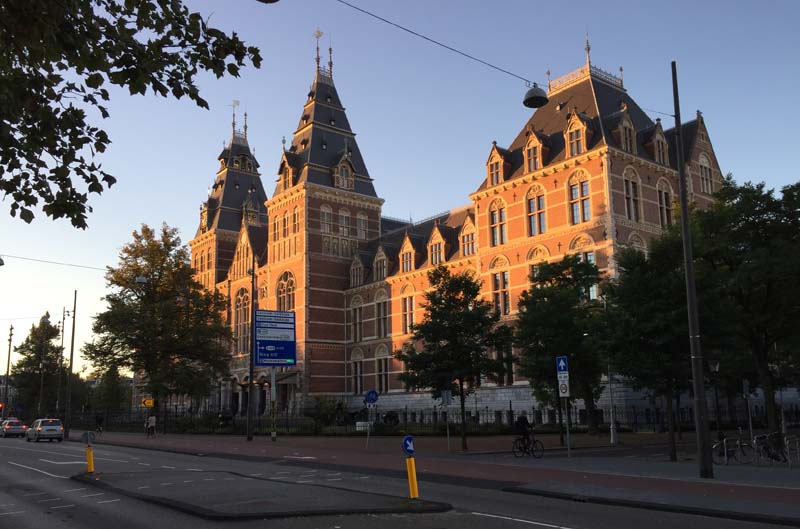 Rijksmuseum, 30 september 2015. Photo K. Kaldenbach.

November, 2014
I just wanted to thank you so much for the wonderful time you gave the three of us in the Rijksmuseum last Monday morning; it was the highlight of our five days for all of us and really enlightening. I am so glad that you advised us to meet early and that we were able to gaze at the Vermeers without too many other people. We spent some more time in the C17th century galleries, went to CoBrA for lunch and sat in the warm sunshine, then went back in for another hour.
Jenny (a teacher from England, and her two friends)



I apologize for my tardiness in thanking you for your excellent guidance in Amsterdam. It was not only a welcome sight to visit the housing developments, but the information you
provided was also an important part of the visit.

Seldom does one have the opportunity of combining both aspects with someone who proves to be so knowledgeable and experienced.

Thank you also for the material you provided, which I have looked over and over, combining it with personal research on many projects and firms.

I do hope to be able to carry out a second visit with your valuable orientations.

Best regards,

Professor Carlos Morales (Professor of Architecture); together we did a Dockland Revitalization tour, on Java + KNSM islands.
July, 2014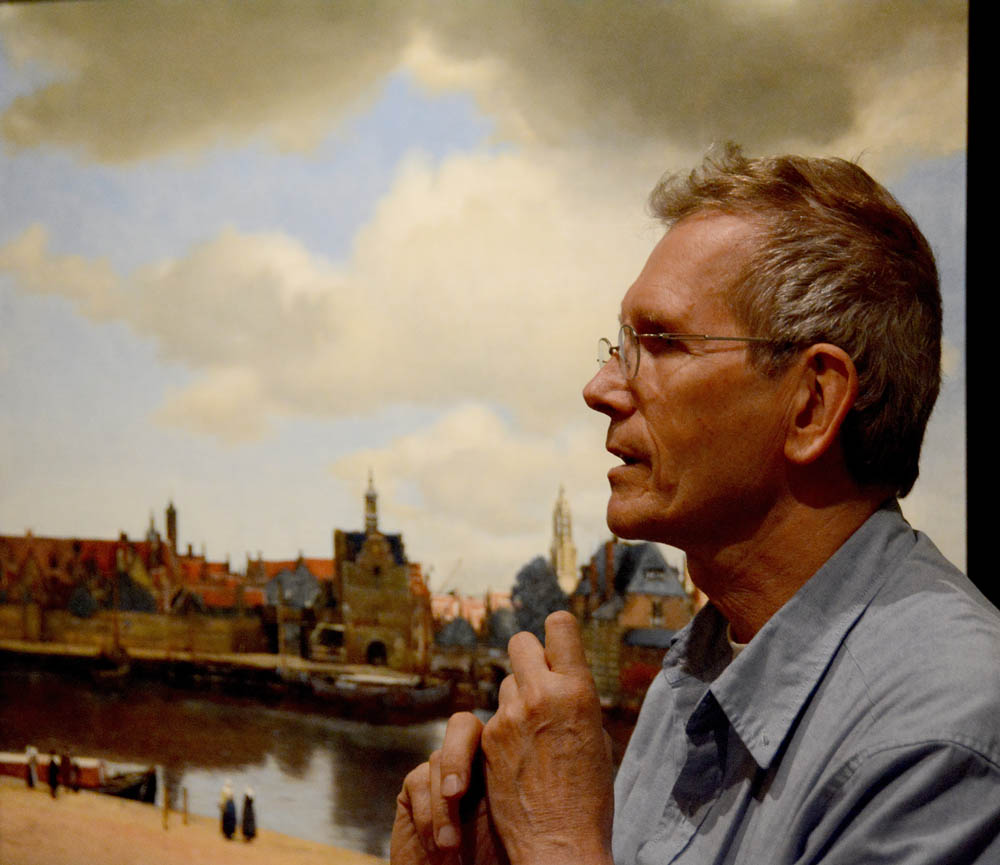 drs Kees, Dewald and I wish to thank you for a extremely interesting, thought provoking and most enjoyable Tuesday. We appreciate your time and all your effort.
Orpie, from South Africa.

June, 2014: "Drs. Kees....Just want to thank you for a wonderful 2 days in Amsterdam. Sheila and I thoroughly enjoyed the time we spent with you. Your insight and knowledge truly enriched the experience. Feel free to use us as a reference if the need arises.
Regards, Jay and Sheila Luber."

June 2014: A group tour of 8 U.S. adults, very knowledgeable about fine art. During the last hour, Kaldenbach asked the client: "Are you happy with this tour?" The client, Mr O'Neill answered: "I am extatic. We'll come back to you another year!"

June 2014: Ralph & Sharon from Australia are among those rare Australians who are into art, not natural beauty. They have hired hundreds of tour guides all over the world.
At the end of two days of in-depth touring in Amsterdam museums, Ralph told me: "Must admit, you are the very best guide in my entire life." We looked into each other's eyes and shook hands on that.

July 2013: Ricardo N and his wife Francis S. live in New York City and are full-time NYC art aficianados, travelling the world and visiting most of the fine art centers in Europe.
In June-July 2013 they toured for three full days with Drs Kees Kaldenbach.
Ricardo: "I would rate you as terrific. It is a great treat being with you - You saved my life in showing me the Mauritshuis collection - I thought it was completely closed!"
Francis N.: "Kees is outstanding... he has a very rare gift among any the great number of professional tour guide we met in our lifetime... in presenting a deep and very specific art history knowledge, and in combining this with passion and and easy going presentation.
My husband and I have spent our lives in the art world of NYC and the West Coast. We have rarely met such a wonderful guide. Kees is an outstanding fountain of visual knowledge and historic insight. He truly is top class within the field of Western art history!"

British Army General Mike Tennant, together with his wife Jaquie Tennant and four friends attended my home lecture in May 2013, followed by a one-hour Rijksmuseum visit. "They too, plus Mr. and Mrs. Brown, also much enjoyed your talk and guidance in front of the pictures." written by Rupert Wyndham, Board of Governors secretary.

August 2012:
A two-family team of 9 persons enjoyed a 3 day intensive Amsterdam programme with architecture, monuments, museums, walks, ships, etc. This tour was well prepared with about 8 phone calls and by shuttling a MS-Word file to and fro, polishing the plan throughout many stages.
"Dear Kees- On behalf of all of us, many, many thanks for the wonderful tour of historic Amsterdam. We were collectively overwhelmed by the beauty and cultural abundance. Thank-you for everything! Best, Cynthia Curry and family and friends!!!"

September, 2012. Kees,
Thank you so very much for your wonderful lecture and museum tour while we were in Amsterdam. You certainly provided a wealth of information and insight that added so much to our experience. I wish you all the best in the future.
Warm Regards,
Paula Aultz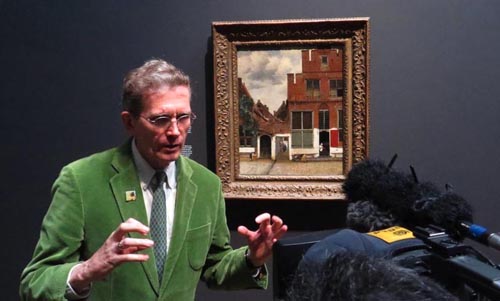 Rijksmuseum, just after re-opening, April 2013
April, 2012:
Drs. Kees was an outstanding private guide that really gave us a unique insight of the art and artist through fascinating and entertaining stories. He also gave good insight on the architecture of amsterdam, also through unique stories. He has a great passion for art, history, and architecture. Highly recommend: two half days to see the majority of highlights.
Stephen and Kimberly Landaal
Flint, Michigan USA
August 2010:
"You are a sensational guide!" Statement by Lois, at age 70+, a very seasoned VIP worldwide traveler - always hiring the best of the best.

May 17, 2011. Dean Dalton traveled with a group of 7 wealthy people and arranged many months ahead for the Best of the Best in hotels, food, transportation, music and fine art guides. The tour agent wrote to me: "All fascinated and very impressed." Dean Dalton, tour leader, published this at http://www.deandaltontours.com/travel-day/70
"Today Kees, our art historian guide took us to the Rijksmuseum to see the highlights of the Dutch Golden Age: Vermeer, Jan Steen, Frans Hals, and Rembrandt. to name only the most important of the lot. A world-renowned Vermeer specialist, he offered unique insights into Vermeer's The Kitchen Maid (1658-60) and The Little Street (cc. 1658). For the connoisseurs and beyond, Kees's lecture on the Dutch masterpieces was fascinating. We left the museum feeling fortunate to have had such a scholarly yet personable guide at our disposal."

Steven Dalgleish, 2011: "Drs Kees Kaldenbach is one of Amsterdam`s most respected Art historians and leading personal tour organisers for all those discerning visitors interested in exploring the fabulously rich cultural variety and heritage that the city has to offer - Kees offers 48 different tours, all of which delve deeply into the very fabric of what makes the city tick in a highly informative and entertaining fashion - To view the wide variety of tours available and to see why Kees is so popular with tourists and visiting TV documentary companies alike."

Having given a tour specifically on the Dutch term 'gezelligheid' (= warmth, cosyness) to journalist Chris Colin, the latter wrote this article about his insights: http://www.afar.com/afar/going-dutch?page=3


Dear Drs. Kees: "I cannot thank you enough for opening our eyes to the wonders of your lovely country and the 3 greatest museums in the Netherlands. You not only told us how Vermeer must have used the Camera Obscura as a tool to paint his masterpieces, you allowed us "an actual glimpse into the Camera Obscura" where everything is more clear and a bit brighter as you taught us to view the Vermeer's, Rembrandt's and indeed all art with a more practiced eye!
Thank you again, for making our journey a once in a lifetime experience and for your sense of humor and professionalism which contributed to everyone's enjoyment and 100% pure fun.
We traveled on to the Mauritshuis at De Hague and did indeed view the "Girl with the Hollow Silver Ball Earring" as well as "View of Delft". For a few minutes, we considered traveling to Delft to compare the picture with today's Delft, but were soon advised of the unsuitability of this venture....the city cannot accommodate a coach as it's lanes are too narrow and, of course, the time constraints. Perhaps next time.
Best regards to you and yours,
Debra Roberts
Trip Chairman
Antique Study Club of Tulsa, OK. May 2, 2010

January. 2010

I wanted to thank you for your helpful support during our tour to Amsterdam. Our whole family appreciated the effort you put into assisting us plan our visit, and the special knowledge and enthusiasm you imparted to us during our tour. I know my Mom appreciated your thoughtfulness in helping her navigate the many crowds, and your insights into the art. We all could tell of your affection for Amsterdam. We could not have had a better associate to guide us through the Rijksmuseum and Van Gogh museums. The way you presented the life and art of the Dutch Masters, and the short life of Vincent Van Gogh brought those artists to life. It was special educational opportunity, and one I know would be rare to find elsewhere. Again, thank you for making our visit to Holland a special highlight of our Baltic trip.
Best regards. John Shlaes "

2009
Dear Drs Kaldenbach... "Am still glowing from our voyage and in reviewing some of the people we met, like cream, you came to the top.
We were so pleased to have the opportunity to have such a well planned day with such a knowledgeable person. Wish we had more time and want to thank you again for your gracious and artful guidance.

With warmest regards, Jacquie Littlefield", summer 2009

2007.
Drs. Kees Kaldenbach,
We wanted to express our gratitude for the insightful lectures you gave on Rembrandt at Oglethorpe University Museum of Art in honor of our celebrating his 400th Birthday with the special exhibition: "Sordid and Sacred: the beggars in Rembrandt's etchings".
Your skillful presentations captivated our record-breaking audience. These fine lectures were able to be appreciated on several levels from novice to professional. Your lectures have a rare quality of being soundly based on your thorough study of Rembrandt, mixed with your keen, first-hand observation and your quick, fluid creative assessments and solutions to visual questions.
Above all you are highly attentive to your audience by involving them into your lecture.
Thank you again for your visit.

Respectfully yours,


Lloyd Nick
Director
Oglethorpe University Museum of Art
4484 Peachtree Road NE
Atlanta, GA 30319

Summer, 2007. My husband and I travel the world to stay alive -- to see with new eyes and stretch our minds. We love museums and fine food, sometimes stopping at out of the way Michelin-starred restaurants. With Drs. Kees Kaldenbach we had the best of both worlds. During the day we took a car trip to the Kröller-Möller sculpture garden and fine art museum, where we would certainly have missed the hidden staircase leading into the astonishing Jean Dubuffet's Jardin d'Email without him. Inside the museum, he gave us a humanities course on Impressionist painting, our favorite kind of art. Later that day we drove to a picture-perfect village between Utrecht and Amsterdam, boasting a fine restaurant with one Michelin star, and there the three of us enjoyed an exquisite meal to end a perfect day.
To fully enjoy Holland, you need a guide like Drs. Kaldenbach.
Ambassador
Julia Chang Bloch
President
US-China Education Trust
Washington, DC , USA

December, 2008. Dear Kees, I just wanted to thank you for a most memorable day. Your insight to Vincent's art and mind were very enriching. You are a great host and guide. I will always remember this day and speak often about you and our trip to the museum.
Thank you once again.
Glenn Messineo/NYC, - who came with a group of friends.

For Berendsohn Aktiengesellschaft I was asked to organize a full afternoon walking in Haarlem for a group of 40 employees, with me overseeing three other guides. Afterwards, Kathrin Uhde, Board assistant wrote:
"Dear Mr. Kaldenbach, On behalf of all our guests we would like to thank you and your guides for the interesting and informative walking tour through Haarlem on June 1st, 2007. Our guests enjoyed the stroll very much indeed. Moreover we want to thank you personally for the most effective and perfect organization. Everything worked out very well and it was a great pleasure to cooperate with you. For the future we wish you and your team a lot of success and all the very best. And it goes without saying that we would contact you again for any similar event as above.
Best regards
Kathrin Uhde
Assistenz Vorstand Vertrieb International
Berendsohn Aktiengesellschaft"

Ms Luly Wang is a higly respected fashion designer. She took a one-person tour of two Amsterdam museums.
Drs. Kaldenbach,
"What a lovely time I had. It was my 1st time in Amsterdam and your art tour was the highlight.
It enriched my experience and my visit very much. I learned great insight and has inspired me in my designs.
I especially loved your inside stories on each of the artists. Things I could only learn from a personal art historian.
thank you.
Best regards.
Luly Yang"
www.lulyyang.com

Testimonial, December 2006 by Mr Jeff Caruso, an estate developer from Maryland, USA. We went for a private car ride along the public housing developments set up during the last 30 years in Amsterdam, on Kadijk, Java, KNSM, and IJburg islands. Then as a topping on the cake we had a short Van Gogh and a Vermeer + Rembrandt tour.

"Drs. Kees, Typically when I review art, I am impressed with its sheer beauty, its value or the reputation of the artist. I wanted to express my gratitude to you for sharing the artist's feelings, the phase of the artist's life and explaining how this was expressed in their art. Your in-depth study of shadows, lighting and subtle objects in the paintings made my time in the museum exponentially better. I will be able to take what I've learned to enjoy other works of art in the future.
Thank you
I also appreciate the architectural tour you developed knowing we are builders by trade." Greetings, Jeff.

Spring, 2008. Dear Kees,
Thanks again for opening our eyes to the world of art during the three days we were in Amsterdam. We came to you as novices and left feeling like we knew a thing or two, excited about what we had seen and already plotting out where in the US we can go to follow up on what we saw and learned. Your knowledge and articulate explanations were first rate, and on top of that you are a fun person to be around. We really enjoyed our time together.
Sincerely,
Rose (getting towards age 50) and Eliana (age 19) Ritts
Chapel Hill, NC

March, 2007. Mr Barry Karp is director of a travel agency which selects and publishes the most excellent shoretrips for discerning cruise line travellers sailing oceans and ports. Barry and his wife found, researched and vetted my services in Amsterdam and stated that they were positively blown from their feet. In a prior meeting, Barry described himself in a self-depreciating way as a cultural Neanderthal man and he doubted whether any art historian could get through to him. I took up the direct challenge the next day in the Rijksmuseum. This is what he reported afterwards:

"I always doubt my ability to understand the intellect of an art expert, thus usually I am my own guide through the museums of Europe that are necessary stops [in my research travels]. I relented this time to take my visit to the Rijksmuseum with Drs. Kaldenbach - as the challenge of understanding the nuances of the Vermeer's work seem impossible - and I wanted to prove it. I was so wrong.

The simplicity and directness of our conversations as we stood in front of what I now know were perfection in painting were stimulating and informative. It was really an eye-opening experience. The worst part, of course, is that I now want to be able to look at the reproduction titled 'Love Letter' every day."

Testimonial, June 2006, by Jeroen, a Dutch art historian already steeped in Rembrandt. His wife presented him with a guided tour through the blockbuster Rembrandt-Caravaggio show as an anniversary present. Sais Jeroen:

"There are enough art tour guides who can relay dry facts. In the Amsterdam canal boats they have by now been replaced by taped voices. For someone like me, who already knows many facts, Kees Kaldenbach adds just those elements, which make a tour a real success: opinon and passion. To talk with Kees about Rembrandt and Caravaggio, to hear his specific angle and really talk in-depth is pure pleasure - while in the meantime he is honing your way of seeing. We have had a delicious afternoon. Jeroen."

In Dutch "Gidsen die alleen feiten overbrengen zijn er genoeg. In boten in Amsterdam zijn ze inmiddels vervangen door bandjes. Voor iemand die veel feiten al kent, voegt Kees Kaldenbach precies die dingen toe die de tour tot een succes maken: een mening en passie. Samen met Kees over Rembrandt en Caravaggio discussieren, zijn specifieke invalshoek horen en daar dan uitgebreid over praten - terwijl hij je ook tussendoor nog beter leert kijken - is een genot. Wij hebben een heerlijke middag gehad." Jeroen.

Testimonial, April 2006, after a Rembrandt walk for a group of Dutch Mayors and Aldermen:

"We truly enjoyed our outing to Amsterdam. The atmosphere was quite sociable, which was induced in part by the great weather. However, it was also caused by the enthousiastic way in which you told us relevant information on Amsterdam, and specifically about Rembrandt. Everyone has made a number of new discoveries in the town of Amsterdam which for most of us was already familiar. Especially a number of specific locations like Hotel de Doelen were really appreciated. Thanks!"

Alderman Jaap Lodders, Lelystad Council.

April 2006. ,
Thanks again for the excellent experience you
provided as our guide for the Van Gogh Museum and
Rijksmuseum collections. As I look at the art
postcards and the DVD of the Rembrandt/Caravaggio
exhibition I brought home, I realize how much
more insight and information I gained by viewing
these glorious paintings under your tutelage.
Best wishes,
Laura Tietz
Healdsburg, California

March 2006. "You made it possible for my husband, Phil and I to expand our knowledge of Rembrandt, Caravaggio, Van Gogh, as well as Vermeer's works during our first visit to Amsterdam.
The kind invitation to your home for an appetizer lecture layed the foundation for the art we were to see at the Rijksmuseum and the Van Gogh museum.
Your interesting website, graphs, prints, and art books that you shared were resourceful. We felt your interest in our
understanding of art helped you design a personal guided tour that accommodated our goals for the day together.
We look forward to meeting and learning from you in the future but would appreciate a map to your home posted on the on your
website. Sincerely, Kim, Master Docent, Toledo Museum Of Art ; and Philip, Financial Consultant."



December 2005.

"Dear Kees, Your two day service was the best present my husband and I had for the holidays. The museums are amazing, but overwhelming. Your thoughtful, guided experience gave an order to the works of art and allowed us to focus on expanding our knowledge and love of art. We went back to the Rijks museum the next day and will go back again and again. I have a better sense of who the artists really are and now look at their works with a 'different eye.
I had been to Amsterdam 14 years ago, but feel I truly saw it for the first time walking with you trough the streets and viewing the Masters with your guidance.
Again, thank you and I look forward to recommending your services to my travel agent and friends.
Kindest regards, Linzie."

PS: You were just the best, so wonderful and easy to get along with. Thanks!

November 18, 2005 by Ruth, an executive museum director from New York State. "Kees has allowed us a window into the wonderful world of art and ideas. His ability to interpret masterpieces with such profound sincerity is amazing. We will remember his words long after our visit to Amsterdam." Dec. 4 2005: "Gary and I are telling everyone how fortunate we were to have you as our guide! What a fantastic trip."

---

November 2005 by David Deutsch, a lawyer from California, USA, who was accompanied by the fine art painter Gary Stutler: "We found to our delight that Mr. Kaldenbach possesses an enormous breadth of cultural, biographical, architectural, and historical knowledge, which he uses to effectively place the viewed artwork into a sharp context. By sharing this knowledge with visitors like us, we are permitted to enjoy an unrivaled perspective into not only the art, but also into the artist and his or her times."

---

July 2005 by Tracy from Texas: "In the Rijksmuseum I totally fell for Vermeer. His art works blew my mind. When just by chance I picked up the Private Art Tours flyer back at my hotel, I was really interested in these tours but I was also at first a bit apprehensive. Would Drs. Kees Kaldenbach turn out to be a knowledgeable but mumbling academic scholar, or a scholar who would shower me with heaps of arcane data and information which would go way over my head? Instead he turned out to be wonderful... a lucid and well-versed art history scholar who was able to present his deep academic knowledge in clear layman terms. I enjoyed his museum lecture so much because I felt I was in the company of someone of the stature of the great TV programme presenters on the story of science, art and history. Thanks a million! Tracy, USA."

---

Testimonial, June 2005. Professor Ron Harrison from South Africa has been lecturer on fine art, teaching from the 1960's onwards. He booked a Guided Art Tour in the Rijksmuseum and wrote (in a kind letter dated June 7): "..you drew my attention to various aspects of Vermeer painting that I found really interesting".



Yesterday I received some greetings from the USA and my guests said: "Thank you so much for the fabulous tour of Amsterdam! The museum was incredible, the canal ride relaxing and enjoyable, the food fantastic, the architecture amazing and the red light district interesting.The tour guide was the best I've ever had."
You did a great job!
Thank you again and hope to be able to book you for another guide tour one time. Kind regards,

Tina Fisseler

---

Testimonial, May 2005 by Arlene, a retired school teacher and John, an investor from the USA. Arkene and John picked up a "Private Art Tour" flyer in their hotel and immediately made phone enquiries. Two days later, when the trip to The Hague and Delft was over, they said: "This is probably the most intense museum experience we have ever had. It is uncanny how you are able to see paintings and probe into deep questions and explain stylistic qualities. It has been such a pleasure to meet you and within these few hours we have come to know so much about your life and about your artistic views. Thanks for sharing this. Meeting you was a true privilege."

---

Testimonial, March 2005. Five members of the Gerhardt family, USA enjoyed a lecture at home, and took a train ride to The Hague and Delft for museum visits and walks.

"Dear Drs. Kaldenbach, Just a brief "thank you" for your enlightening lecture, visit to the Vermeer paintings at the Mauritshuis in The Hague and the tour of the town of Delft. The entire family enjoyed it immensely. As you could tell, the "Vermeer Day" was one of the highlights of the trip. Gaining an appreciation of the artist through your lecture and then being with you in front of the paintings, gave new insight into the artist, his techniques and style. The added learning experience of the Delft tour brought new understanding to the era and the man. Thanks again for a wonderful day. Sincerely, Bob Gerhardt."

"I doubt if any of us ever again will experience such a fantastic museum experience as you provided. Your enthusiasm for and appreciation of the Vermeer paintings brought into focus the true greatness of his work." Sue Gerhardt in a letter dated May 4, 2005.

---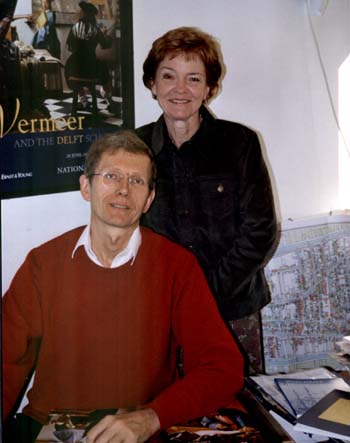 October 2004.
Phyllis experienced the Vermeer Lecture and museum visit and wrote:
"Bill and I both want to thank you for truly an unforgettable experience! Neither one of us knew what to expect, but I suspected that whatever the end result would be, that at least I would come out from it knowing more about Vermeer than when I went into it. We only spent a short time with you, but not only did we gain a better understanding of Vermeer's artistic techniques, we also gained some insight into his life and the time period, giving us even more of an appreciation for his art. I know full well why you have developed this passion for Vermeer, and I'm so thankful that you've chosen to share it with others, even those of us who are not art historians!
You are a national treasure, Kees!"
---
I had a GREAT time and was impressed with the depth and breadth of your knowledge about Rembrandt and Amsterdam. Thanks. Bruce F.
---
2013: BBC shoot in Rijksmuseum, Amsterdam.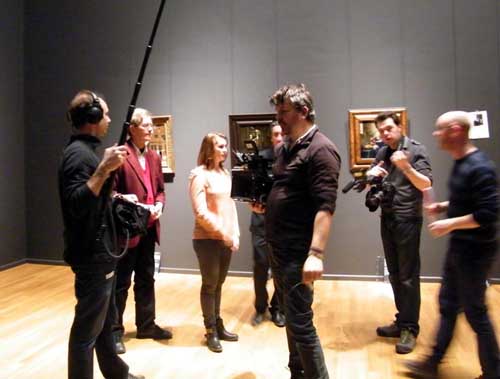 BBC 4 TV programme shoot in the Rijksmuseum, Amsterdam, March 28, 2013 just before the formal opening. Kaldenbach in red jacket. Behind the middle cameraman interviewer Andrew Graham-Dixon. The director approaching from the right.
BBC television: The madness of Vermeer - Secret lives of the artists. Interviewer Andrew Graham -Dixon. Now on Youtube. At the exact time of 35 minutes, 39 seconds the interviewer interviewer Andrew Graham-Dixon parks the bike and enters my home… what you do not see in the image is the rest of the crew: lights, sound, cameraman, continuity, the director… and the item was surprisingly filmed at my home in one take. Thanks to Andrew's quality of asking the right questions at the right moment. Beforehand I had to clean up my desk, though.
https://www.youtube.com/watch?v=3uxsgEZfbaQ


....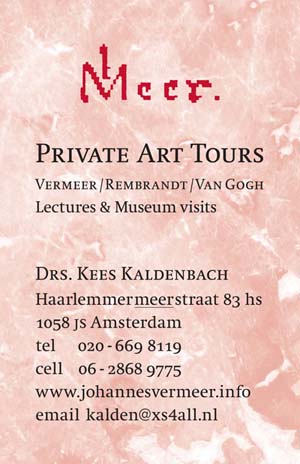 OPEN A PROFOUND WINDOW ON ART: Drs. Kees Kaldenbach will become your private "scholar-lecturer on culture tours".*
*Martha Gellhorn, Travels with Myself and another, page 182.
Rijksmuseum: It is a rare and unique privilege that the Amsterdam Rijksmuseum has linked from the main Rijksmuseum site to my site. Start at www.rijksmuseum.nl and select Collection, after which you choose Digital Collaboration and the Digital Vermeer House.
---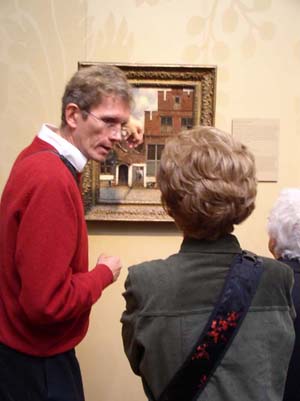 Reaction, questions? Read the Vermeer lecture and Museum visit page.
Drs. Kees Kaldenbach, art historian and Vermeer specialist, kalden@xs4all.nl Haarlemmermeerstraat 83hs, 1058 JS Amsterdam (near Surinameplein, ring road exit s106, streetcar tram 1 and 17).
Read a biography.
Drs. Kaldenbach is chairman of the Circle of Academic Tour Guides of the Netherlands and Flanders (CATON)
Telephone 020 669 8119; cell phone 06 - 2868 9775.
Open seven days a week.
Accepts Iris cheque vouchers, issued by the VVV Amsterdam Tourist Office. Member of the Amsterdam Chamber of Commerce.
E mail esponses to art historian Drs. Kees Kaldenbach.
This page forms part of the 2000+ item Vermeer web site at www.xs4all.nl/~kalden
=====
Launched April 15, 2004. Last update June 29. 2016.
April 2011. Kaldenbach is recipient of the WikiDelft prize. Clipping from Haagsche Courant

Drs. Kees Kaldenbach has been featured in television and radio documentaries, including BBC2 TV, NTV Japan, Danish TV and Radio Netherlands World Service. In July 2004 he was interviewed about Delft artists the Nishinippon (Japan, 2012) and by Tetsuya Tsuruhara for the leading Japanese newspaper The Yomiuri Shimbun. In 2004 and 2005 he acted in an advisory role to additional BBC teams. Kaldenbach has written extensively on Vermeer and 17th century Delft, also on Vincent van Gogh and on other art history topics.
Research presented in November 2014 about Mannheimer: he almost bought the best Vermeer: The Art of Painting (now in Vienna)
---
Map of Haarlemmermeerstraat, Amsterdam. Please note this tricky situation: there is another street in town that sounds almost the same: Haarlemmerstraat. You need to go to my street, Haarlemmermeerstraat. Take tram 2 to Hoofddorpplein square or tram 1 to Suriname plein square.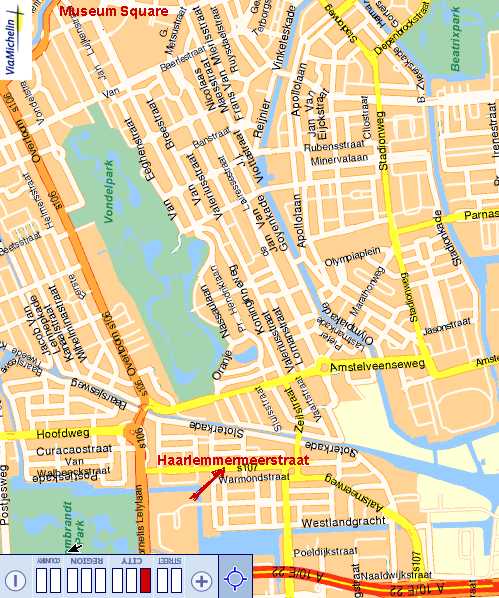 ---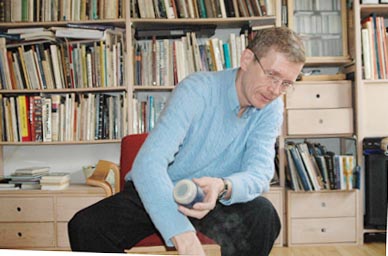 Menu of tours
Photo by Dick Martin.

---