Biography of Drs. Kees Kaldenbach
specialist in Dutch Culture, Dutch art, Museums, Dutch institutions
Johannes Vermeer, Rembrandt and Vincent van Gogh.

Lecturing in front of the View of Delft by Vermeer.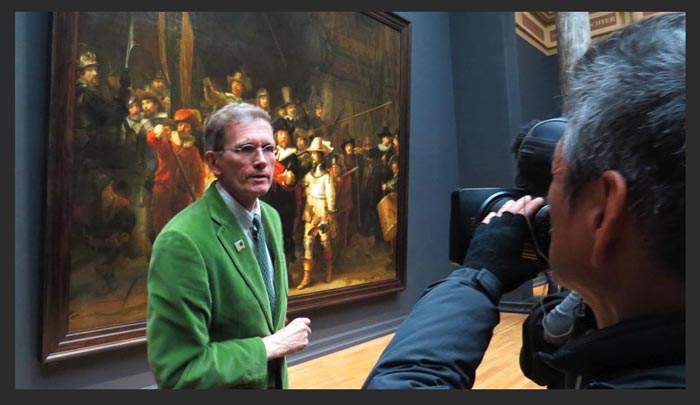 Art historian Drs. Kees Kaldenbach lives and works in Amsterdam and is specialized in European art. As a teacher and public educator he uses lectures and online multimedia technology to present a rich tapestry of image information on European art history both for the public at large and for fellow art historians.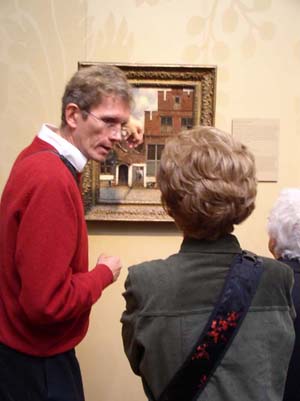 He has published widely and has written and designed an important website (2000+ items) on the art of the 17th century Dutch painter Johannes Vermeer, as well as on other Delft artists: www.johannesvermeer.info.
As a leading expert Kees has collaborated in fine arts television programs by networks such as BBC2, BBC3, BBC4, CNN, DKR Denmark, NPS Dutch TV, NTV Japan. He has also worked with radio programme makers (RNW Radio Holland). Kaldenbach has also written and published books and many articles on the history of art.
He is Patron of the Rijksmuseum, Amsterdam. Therefore has privileged access with his clients - bypassing waiting lines. He also has VIP passes for other museums (except for Anne Frank House).
With his Amsterdam-based company Private Art Tours, starting in the year 2000, Kees has lectured a great number of art tours to groups ranging from 1 to 10 persons. He has also successfully addressed larger audiences.
Keesí main topics of discussion are the Dutch painters Johannes Vermeer, Rembrandt van Rijn and Vincent van Gogh. He has also spoken on the topics of Dutch urban architecture and the history of local institutions in historic Dutch and Flemish towns ranging from Enkhuizen in the north to Rotterdam in the south of The Netherlands and Ghent-Bruges in Belgium.
Specialized in European museum visits. Also in Germany and Austria.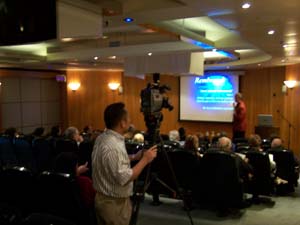 Kees Kaldenbach is a learned and enthusiastic speaker who has a great capacity to share his deep passion for art history with others. His background as a teacher allows him to present complex ideas in terms that anyone can understand. In addition, his expertise in digital technology has led to a teaching position in summer programs for Emerson College, a Boston, MA-based multimedia university. From 2008 - 2010 he presented lecture series on various cultural destinations as an Enrichment Speaker on ships of the Celebrity cruiselines. Some of these lectures attracted an audience of over 500 to 1000 persons.
In March, 2011 Drs. Kaldenbach was awarded the WikiDelft award for excellence. See newspaper clipping below.
Drs. Kaldenbach is the chairman of the 'International Circle of Academic Tour Guides' (CATON). He is also an active member of the Golden Age Circle of the University of Amsterdam, a multidisciplinary study group and think tank.
See the author's homepage and list of publications. Currently he is a visiting member of the University of Amsterdam's Gouden Eeuw Colloquium [Golden Age Colloquium] which meets monthly for lectures. He was also supporting member of the Historians of Netherlandish Art (HNA), a member of the Consortium for Art and Architectural Historians (CAAH), a member of the Association for Art History (AAH) and a member of the International Society For Mathematical And Computational Aesthetics (ISMCA).
From time to time he carries out freelance research in Dutch archives for third parties.
Read a bio text written by another editor.
Research presented in November 2014 about Mannheimer: he almost bought the best Vermeer: The Art of Painting (now in Vienna)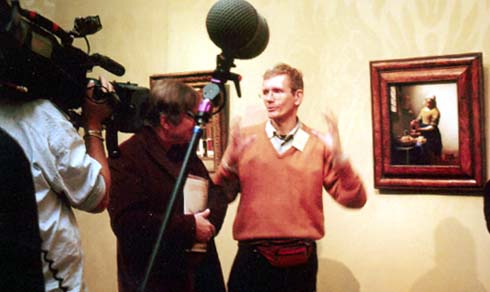 See the television programme on Dutch national TV on Kees Kaldenbach as a masseur and art historian, NPS Nederland 2, Saturday, 25 November 2006.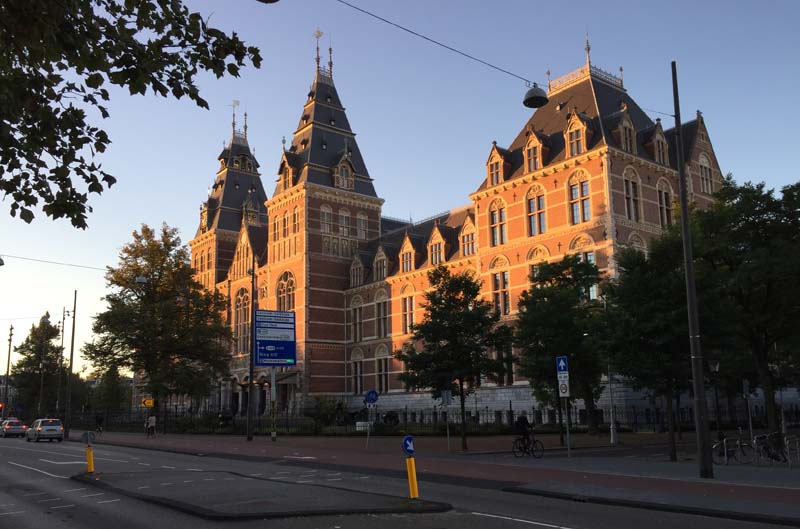 Rijksmuseum, 30 september 2015. Photo C. Kaldenbach.

Would you like to enter the Rijksmuseum at exactly 9 AM, bypassing all waiting lines and standing in a virtually empty museum ? Ask me to be your guide!

July 2013: Ricardo N and his wife Francis S. live in New York City and are full-time NYC art aficianados, travelling the world and visiting most of the fine art centers in Europe.
In June-July 2013 they toured for three full days with Drs Kees Kaldenbach.
Ricardo: "I would rate you as terrific. It is a great treat being with you - You saved my life in showing me the Mauritshuis collection - I thought it was completely closed!"
Francis N.: "Kees is outstanding... he has a very rare gift among any the great number of professional tour guide we met in our lifetime... in presenting a deep and very specific art history knowledge, and in combining this with passion and and easy going presentation.
My husband and I have spent our lives in the art world of NYC and the West Coast. We have rarely met such a wonderful guide. Kees is an outstanding fountain of visual knowledge and historic insight. He truly is top class within the field of Western art history!"

---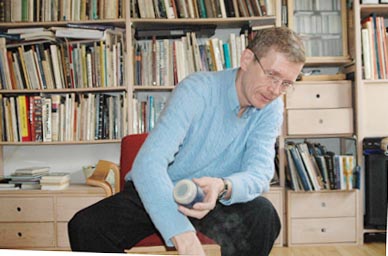 Full Menu of tours
Photo by Dick Martin.
---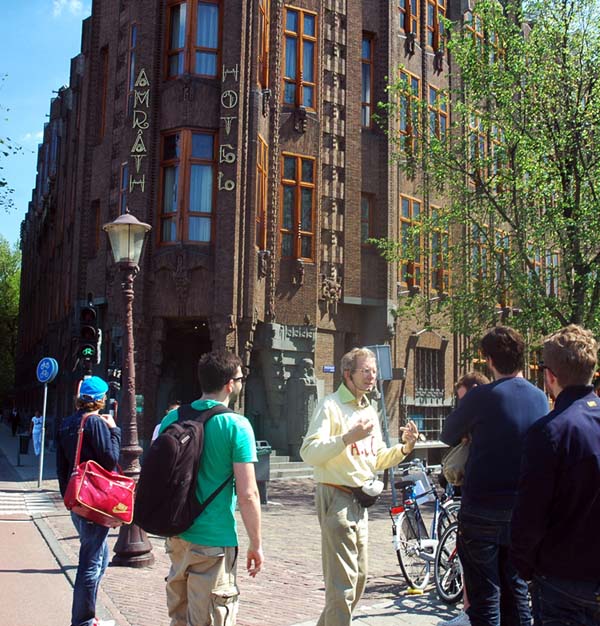 Art and architecture tour, summer 2011
My home: Location in Amsterdam, Map showing the Haarlemmermeerstraat, Amsterdam. You need to go to the Haarlemmermeerstraat. Please take tram 2 to the Hoofddorpplein stop, or Trams 1 or 17 to the Surinameplein stop.
Please note: there is another street in Amsterdam with a similar name, the Haarlemmerstraat, which is located near Central Station.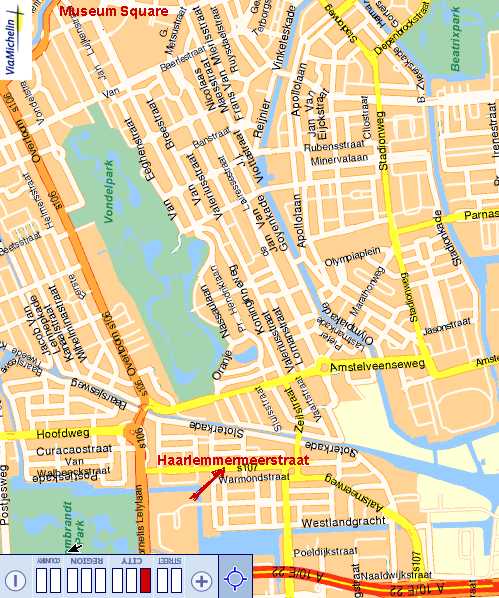 On art historian Drs. Kees Kaldenbach.

Endorsements

It is a rare and unique privilege that the Rijksmuseum has linked from the main Rijksmuseum site to this website.

Kaldenbach conducts Amsterdam Rembrandt walks for the Netherlands Bureau of Tourism, London and New York City offices. The clients they serve are often top-ranking journalists.

The magazine www.luxurytraveler.com devoted a main feature to Kees' tours and walks.

In March, 2011 Drs. Kaldenbach was awarded the WikiDelft award for excellence.
Contact info:

Drs. Kees Kaldenbach

Haarlemmermeerstraat 83 hs

1058 JS Amsterdam

The Netherlands

Email:kalden@xs4all.nl

Telephone: 020 - 669 8119 (from abroad NL +20 - 669 8119)

Cell phone: 06 - 2868 9775 (from abroad NL +6 - 2868 9775)
Updated September 29, 2014. Updated June 9, 2016.
---
April 2011. Kaldenbach is recipient of the WikiDelft prize. Clipping from the newspaper Haagsche Courant