Private Lectures for VERMEER lovers searching for deep knowlege
and for those interested in neuroscience / opthalmology / vision therapy / visual perception.
A Private Guided Vermeer Art Tour and made-to-measure lecture, worldwide.
by Vermeer specialist and lecturer Drs Kees Kaldenbach
Plan A. Deepen your education and insight... see all 7 famous Vermeer paintings in Holland in a new light!
Plan B. Travel abroad with Drs Kaldenbach to New York City - or worldwide any other city with a Vermeer painting. I have studied all 36 paintings in the course of my career and can tell you about their qualities and position within Vermeers life and work. Vienna (Wien), Dresden, London, Paris! - - - Such a delectable experience.
Read client testimonials.
Vermeer tours Chinese version.
In English. German/ Deutsch
Research presented in November 2014 about Mannheimer: he almost bought the best Vermeer: The Art of Painting (now in Vienna)
Vermeer painted in a slow and careful way, producing about two paintings in one full year. Worldwide there are only 36 paintings by Johannes Vermeer of Delft.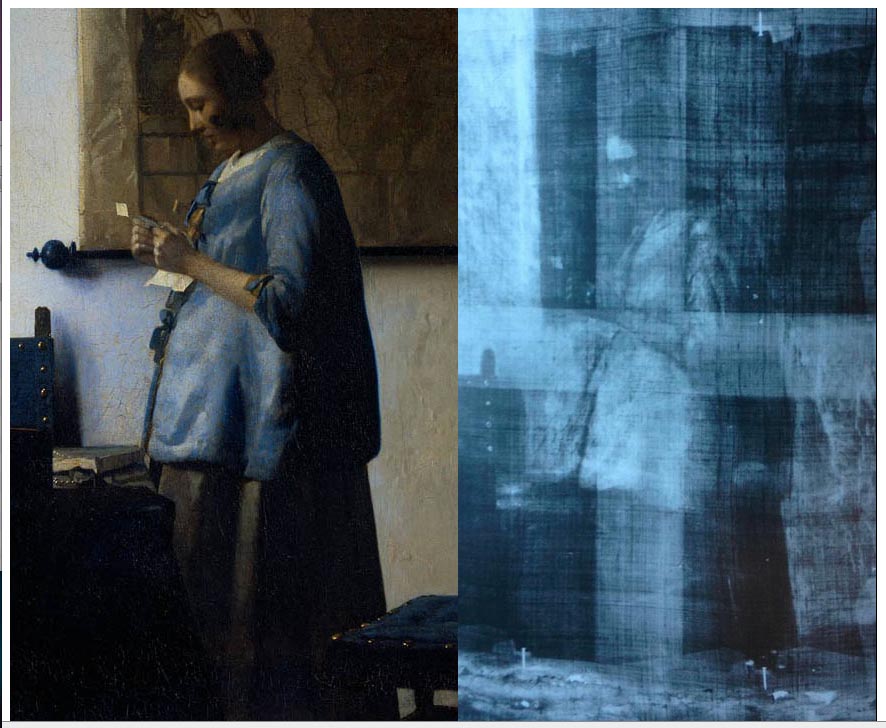 Some people have fallen in love with the magic and radiation of Vermeer paintings and have decided to travel the whole world, from Boston to Dresden and from Dublin to Washington DC, crisscrossing the earth. Arguably the best ones are on show in Vienna, Amsterdam and The Hague. This kind of mesmerized fan tour and pilgrimage is quite feasible as virtually all paintings are now located in public collections and can be seen during opening times after purchasing the entrance ticket.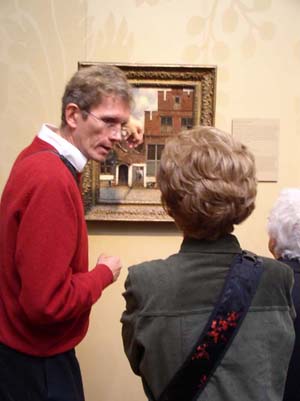 Do you recognize a work from his youthful style, when Vermeer was around twenty in 1653? Or is it in fact a late work like the one in Dublin?
Standing in front of a real Vermeer painting... what do you actually see and what do you fully appreciate? Do you see the technical wizardry in the way he used paint, in layer upon layer of glazes, with light bouncing between these layers? Did he use wet-in-wet, of wet-on-dry on a given part of the painting?
What can be recognized within the picture, what is the story, the psychology and which physical objects can be distinguished? What is the level of reality? How does this "photographic reality" relate to his list of private goods, which he left after his death in 1675? Many viewers have the idea that what Vermeer shows us are views of his own private home with marble floors and all. In fact, what he sometimes does is painting fancy rooms, upgrading the interior by filling it with luxury items not belonging to him: musical instruments, architectural details...

And what about he meaning of objects and scenes, according what we think now and according to available knowledge from current books from his day and age... what would the meaning be of the scenes depicted by Vermeer according to those contemporary sources?
Do you actually recognize the fullness of artistic choices and visual tricks he put in it to elevate a painting into a work of great art?
If you do, viewing can become a thrill of a lifetime.

If you find you are slightly lacking in all that, you may immerse yourself in serious art books and come up for air after two months of reading. You may also read the novel Girl with the Pearl Earring and not know how many factual misconceptions it contains. Alternatively you may click widely on Internet and see what you get in terms of knowledge, information, fancy theories and misinformation.
Finally you can request a specialist to stand next to you and see what knowledge and passion may yield. In order to really "get it", it may take a specialist to learn how to fully see and appreciate. I am that kind of art historian.

Biography.
Art historian Drs. Kees Kaldenbach has published widely and has designed a major 2000+ item web site on the art of Johannes Vermeer and other Delft artists. He has a great capacity to share with others his deep passion for art history while sharing ways of heightened perception. Let's go to museums together!
= = = =
Vermeer lovers: let's say you are completely smitten by Vermeer as so many art lovers are. You wish to see, to enjoy and to understand his paintings. I will be your private teacher and your guide in vision.
I will show you how the composition works, the color, the contents, the meaning, and how Vermeer plays with your vision system, how Vermeer is both feeding it and derailing it from time to time.
This program is fit for opthalmologists, optometrists, opticians, orthoptic specialists and those interested in the fields of opthalmology, optometry, optics, orthoptics. I have studied books and articles in this field by Ramachandran and others.
Vermeer specialist Drs Kaldenbach has published another essay on Vermeer & cognitive science, neuroscience & perception. About 21.000 words, previously unpublished.
http://kalden.home.xs4all.nl/verm/vermeerperception1.html
Plan A. In Amsterdam, Holland. Imagine being the privileged guest of honour at the home of art historian Kees Kaldenbach. While sipping a fragrant cup of coffee or tea, you listen to his personalized (private or small-group) lecture and discussion on the astounding visual wonders that the Delft painter Johannes Vermeer has bestowed upon us. Afterwards, a short ride by private car or tram takes us to the nearby Rijksmuseum (additional entry fee). In the museum I will quietly point out and explain the visual wonders of Vermeer's technique; contents, brushstrokes, details, composition, colour. Please note due to construction work the Rijksmuseum is open and only shows its highlights up to 2012.
Plan B. Worldwide. I will meet you anywhere in Western Europe or in the USA, give private lectures and then join you to the local art collections with a Vermeer. I have had lecturing experience for large audiences, having performed lectures with powerpint images in universities and on major cruise ships.
You may also arrange this VIP treatment for your circle of specialists, business contacts or friends. Lectures are given in plain, accessible language (Drs Kaldenbach is fluent in Dutch, English or German). Thus you will be the beneficiary of exciting tailor-made education during your studies and travels.
BBC television: The madness of Vermeer - Secret lives of the artists. Interviewer Andrew Graham -Dixon. Now on Youtube. At the exact time of 35 minutes, 39 seconds the interviewer interviewer Andrew Graham-Dixon parks the bike and enters my home… what you do not see in the image is the rest of the crew: lights, sound, cameraman, continuity, the director… and the item was surprisingly filmed at my home in one take. Thanks to Andrew's quality of asking the right questions at the right moment. Beforehand I had to clean up my desk, though.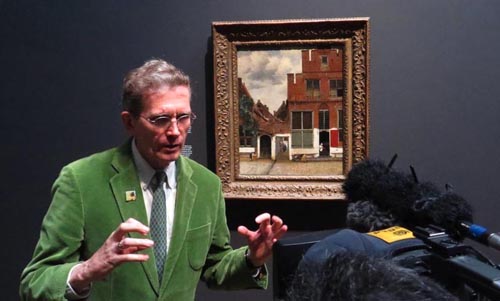 Rijksmuseum, April 2013
---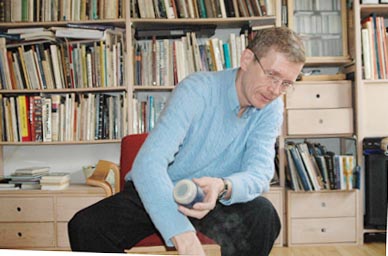 Complete Listing of tours
Photo by Dick Martin.
It is a rare and unique privilege that the Rijksmuseum has linked from the main Rijksmuseum site to my site. Start at www.rijksmuseum.nl and select Collection, after which you choose Digital Collaboration and the Digital Vermeer House.
---
Total time of this Vermeer tour: about 2 1/2 hours

Lecture at my home:1 hour.

Tram ride to the Amsterdam museum: 1/2 hour

Museum: about 1 hour ; I can bypass the waiting line.

This lecture is available on times which we mutually agree, 7 days a week. Pre-bookings are required.

Minimum: 2 persons.

Maximum: Groups will be limited to 6-9 persons. Price per person is lower in a larger group.

Tours about architecture may take place in larger groups, up to about 20.
Optional programmes.
An additional option (perhaps on another day) is a visit to the Royal Collection The Mauritshuis Museum in The Hague, which houses several other renowned Vermeer paintings, including his famous 'Girl with the Pearl Earring' and 'View of Delft'.
This will be a train ride at 40% rebate.
---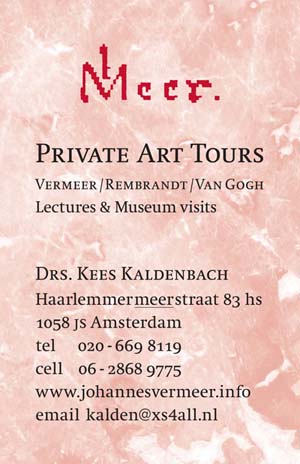 About Art Historian Drs. Kees Kaldenbach.
Drs. Kees Kaldenbach has been featured in television and radio documentaries, including BBC2 TV, NTV Japan, Danish TV DKR and the Radio Netherlands World service. In July 2004 he was interviewed about Delft artists by Tetsuya Tsuruhara for the leading Japanese newspaper The Yomiuri Shimbun. In 2004 and 2005 he acted in an advisory role to additional BBC teams. Kaldenbach has written extensively on Vermeer and 17th century Delft.
Further information is available on his web site: www.johannesvermeer.info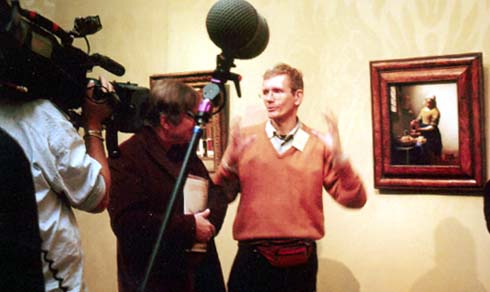 See the TV programme on Dutch national TV on Kees Kaldenbach as masseur and art historian.
---
Drs. Kees Kaldenbach is your private "scholar-lecturer on culture tours".*
*Martha Gellhorn, Travels with Myself and another, page 182.
---
Map of Haarlemmermeerstraat, Amsterdam. Please note this tricky situation: there is another street in town that sounds almost the same: Haarlemmerstraat. You need to go to my street, Haarlemmermeerstraat. Take tram 2 to Hoofddorpplein square or tram 1 to Suriname plein square.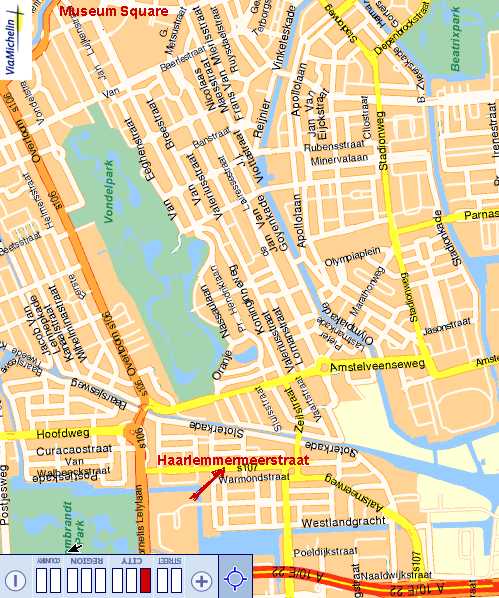 Contact information:

Drs. Kees Kaldenbach

Haarlemmermeerstraat 83 hs

1058 JS Amsterdam

The Netherlands

telephone 020 - 669 8119 (from abroad NL +20 - 669 8119)

cell phone 06 - 2868 9775 (from abroad NL +6 - 2868 9775)

How to get there:

- by car: ring road exit S 106 towards the centre, then 1st to the right (paid parking)

- by trams 1 and 17; exit at Surinameplein

- by tram 2; exit Hoofddorpplein.

From the museum square it takes a 10-minute tram ride.

From Museum square by foot through the Vondelpark it is a 20-30 min walk.
Email kalden@xs4all.nl
Read client testimonials.
---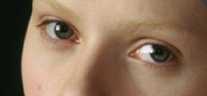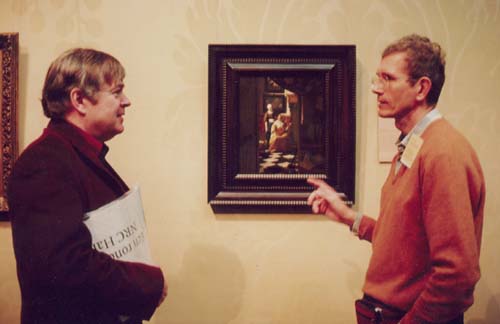 What if you have already seen the Rijksmuseum Vermeer paintings and wish to understand more? The next day - or yet another day which fits your travel schedule - we could have another lecture in my salon or back garden on the series of paintings in the Royal Collection in The Hague, among which is the famous Girl with the Pearl Earring. After this home lecture we will take either a train ride or a ride in my small car to the Royal Collection of Paintings, Mauritshuis, The Hague. At the Mauritshuis I will provide some subdued pointers on ways of seeing and understanding. Lecture time between 1 and 2 hours. Travel time 1 hour each way in good road traffic. Mauritshuis time inside about 1 hour to 1.5 hrs.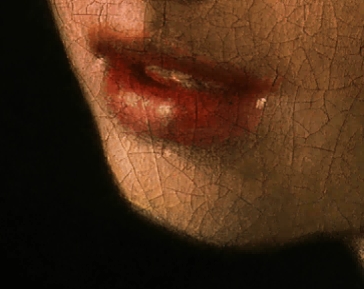 To the right: Before restoration.
After restoration is below. Spot the differences.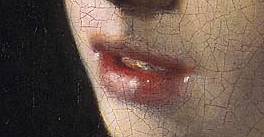 ---
In an added third leg of the Vermeer tour to The Hague you may also seek my company when we walk in the historic city of Delft where I could show you the fabric of seventeenth century life and art - see Delft Artists and Patrons in the yellow menu. Travel time 1 hour in good road traffic. Delft walking tour about 1 to 2 hours.
---
Endorsements
It is a rare and unique privilege that the Rijksmuseum has linked from the main Rijksmuseum site to my site. Start at www.rijksmuseum.nl and select Collection, after which you choose Digital Collaboration and the Digital Vermeer House.
I perform art walks for the Netherlands Bureau of Tourism, London Office and New York City office. The clients they serve are often top ranking journalists.
The magazine www.luxurytraveler.com has devoted a main feature to my tours and walks.
Reaction, questions? Drs. Kees Kaldenbach, art historian and Vermeer specialist, kalden@xs4all.nl Haarlemmermeerstraat 83hs, 1058 JS Amsterdam (near Surinameplein, ring road exit s106, streetcar tram 1 and 17).

Telephone 020 669 8119; cell phone 06 - 2868 9775.

Open seven days a week.

Member of VVV Amsterdam Tourist info and the Amsterdam Chamber of Commerce.

E mail esponses to art historian Drs. Kees Kaldenbach.

This page forms part of the 2000+ item Vermeer web site at www.xs4all.nl/~kalden

Updated 18 July 2016.
Read client testimonials.
Complete Listing of tours
======== Links ===========
2013: BBC shoot in Rijksmuseum, Amsterdam.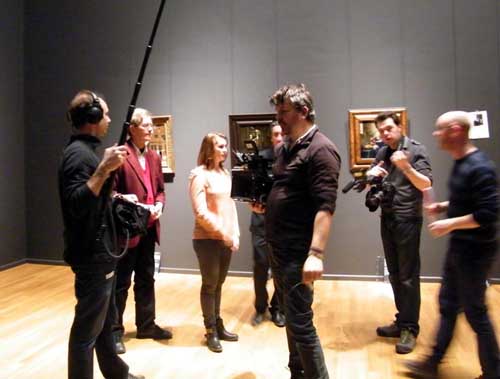 BBC 4 TV programme shoot in the Rijksmuseum, Amsterdam, March 28, 2013 just before the formal opening. Kaldenbach in red jacket. Behind the middle cameraman interviewer Andrew Graham-Dixon. The director approaching from the right.
In the middle: daughter Suzanne, who has not been there 12 years, Kees Kaldenbach and interviewer Andrew Graham-Dixon.
Research presented in November 2014 about Mannheimer: he almost bought the best Vermeer: The Art of Painting (now in Vienna)