Welcome!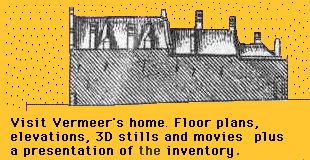 Visit the Vermeer house: Click on each room.
Menu version in the Dutch language.
Did Catharina Bolnes elope with Johannes Vermeer in 1653?
Welcome message in MP3; 50 points to you for spotting the error.
Take a video walk in the Vermeer house
Albert Blankert video welcomes you to this site.
Cynthia Schneider on Vermeer as an Ambassador
What is our mission?
Where is the Vermeer house located?
The complete Vermeer inventory
A 3 minute lightning visit
A Dutch Traffic Board information panel in Delft
Tantalizing missing objects not listed in the Vermeer Inventory
Play the Vermeer House game
MP3 music composed in Vermeer's Delft.
Read about the technical reconstruction
Architectural analysis by Zantkuijl
A critique by Glaudemans
Zantkuijl - Warffemius controversy on architecture discussed by Philip Steadman
Know all there is to know about love, sex and marriage in 17th C Holland
Discover all about 17th century pregnancy and birth with Hpolland's first team of professional midwives
Go to school with the Vermeer kids
This internet site was inaugurated during a Grand Opening ceremony
A programme about this Digital Vermeer House has been shown on BBC-2
Read Philip Angel, a contemporary Leiden writer on art theory and practice, 1642
Links to other sites.

Next to the dropdown box is a GO button.
NEW IN 2012: A computerized master - student - spouse relationship in Dutch Art http://burckhardt.ic.uva.nl/ecartico/persons/index.php
---
This page forms part of a large encyclopedic site on Delft. Research by Drs. Kees Kaldenbach (email). A full presentation is on view at johannesvermeer.info.
Launched December, 2002; Last update March 1, 2017.
Back to the Welcome page: click Welcome.