2003 Aerial View from the site of the present day church building on the site of the Vermeer house
Photo pointing north, taken from a high window of the Maria van Jesse church, during restoration, June 2003. For restoration purposes the stained glass windows were replaced by clear glass. High scaffolding was built within the church. Photo copyright © Kees Kaldenbach, 2003.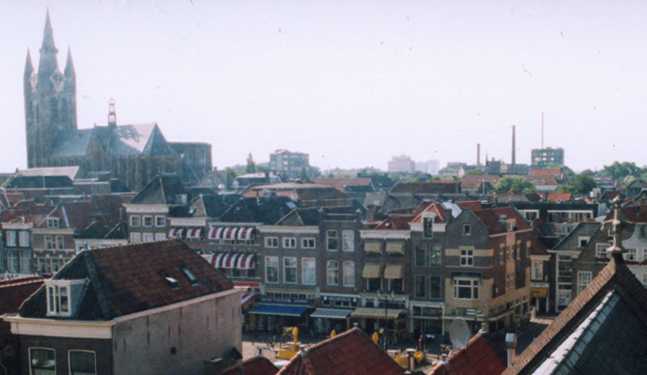 Towards the left hand top of this photo you see the Old Church. At the right hand bottom of this photo you see the light coloured line of the rooftop, part the church building. It forms part of the 19th century Maria van Jesse church building now precisely occupying the space of the former Vermeer house. Immediately to the left you see the open space of the Market square. To the far left is the Town hall, to the far left the New Church - both outside the photo. The former Mechelen House is now an open space.
Photo below: Aerial view of Markt square in Delft, photographed in 1923 during a late afternoon on a bright winter's day, as can be seen from the trees and the shadows. The camera is looking towards the south. Photo from the author's collection, also published in Exhibition Catalogue Vermeer & the Delft School. Copyright KLM Aerocarto, Arnhem.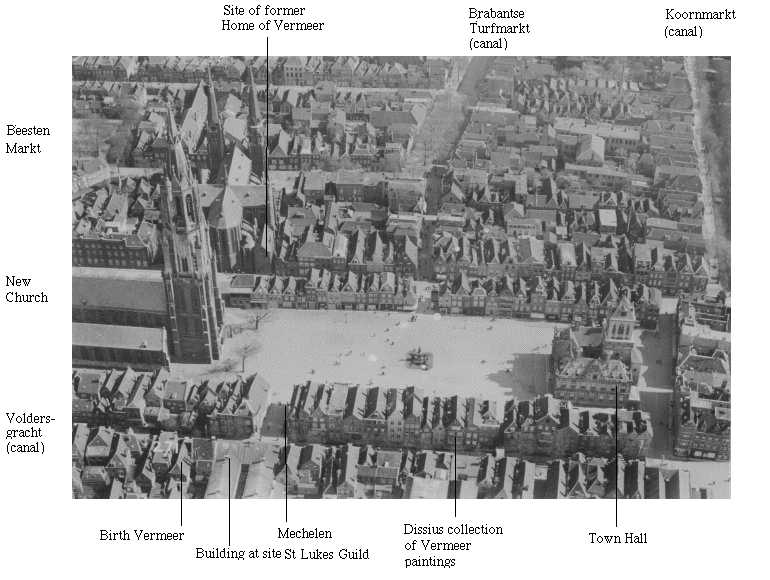 ---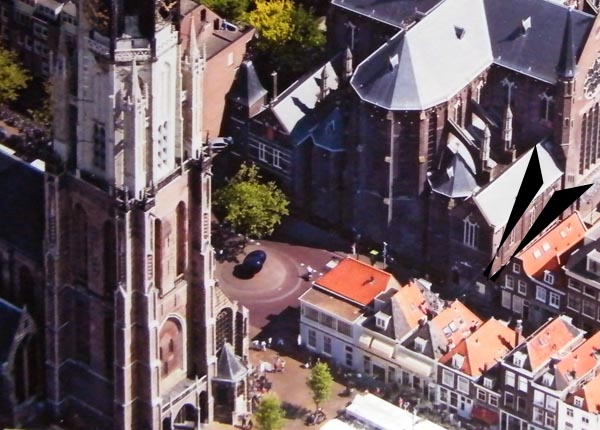 Photo from the book about Delft from the air: 'Delft vanuit de lucht' Published by RoVorm Uitgevers. See arrow.
This page forms part of a large encyclopedic site on Vermeer and Delft. Research by Drs. Kees Kaldenbach (email). A full presentation is on view at johannesvermeer.info.
Launched December, 2002; Last update March 2, 2017.
Back to the Welcome page: click Welcome.