Grand Opening, At Home with Johannes Vermeer
After Johannes Vermeer's death in 1675 a full inventory was made of his household objects. This inventory listed not only Vermeer's possessions, but also specified all the rooms in his house by name. The original Vermeer house was torn down in the nineteenth century to make room for a large church.
With the expert assistance of an architectural historian it has now become possible to create a full architectural plan and representation of the Vermeer House. A 'Digital Johannes Vermeer House' has also been built from these plans.
The entire project is available here on the Internet; the 3D architectural recreation of the building as well as over 150 illustrated household objects. The Rijksmuseum, Amsterdam have provided research facilities and offered abundant image material for the site. (photo's Kees Kaldenbach).
Switching a new web site on is usually just a technical non-event. However, in this case press and some 280 visitors witnessed the Grand Opening of this web site. This Grand Opening has taken place on January 17, 2003 in the Delft church which now occupies the original site of the Vermeer House.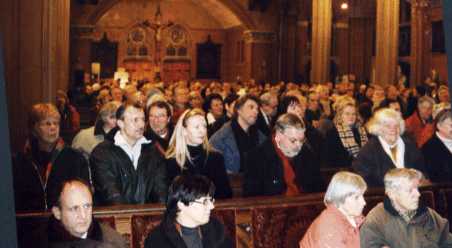 Visitors listen to architect Zantkuijl's speech during Grand Opening of the Digital Vermeer House.
- Grand Opening Digital Vermeer home
Click here for large photo of the opening speech.
The audience listened to explanations by Kees Kaldenbach (creator and art historian), and Henk Zantkuijl (restoration architect, emeritus assistant professor TU Delft, involved in the restoration of Rembrandt house, Amsterdam). The site was then assessed by author Dr. Albert Blankert (author of many Vermeer books) who gave his laudatory speech.
Research facilities and image material have been kindly provided by the Rijksmuseum, Amsterdam. Allan Kuiper (industrial designer and Internet designer) worked miracles with the navigator and the 3D movies.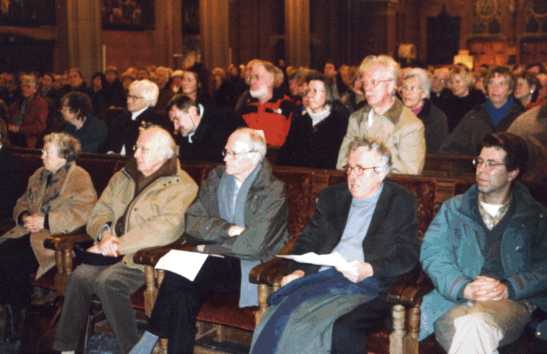 Front row, from left to right: Ms _?__ , Mr. Henk Zantkuijl, Wim Weve, Albert Blankert, Marten Jan Bok.
- Chamber Music by Camerata Vermeer
Camerata Vermeer then played a selection of Triumph of Peace, Thalia's Garden of Delight, Dances in A major by the Delft composer Dirck Scholl, who published this material in Delft in 1678. Specialists state that this is the only remaining published sheet music from Vermeer's age in Delft. The following Camerata Vermeer musicians have performed: Theo Muller, Franc Polman and Pieter Affourtit (violin), Cassandra Luckhardt (viola da gamba), Tilman Gey (clavichord). Plans for making a music CD are in progress.
A number of years ago another chamber music group, Boumeester Consort played two suites out of this series of dances by Dirck Scholl. They were performed on April 1, 1990 in Studio BFO, Hilversum, The Netherlands. The violins were also tuned in "scoloratura". Listen to this 11 minute MP3 file!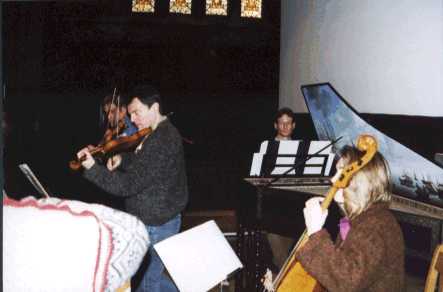 Camerata Vermeer plays works by Delft composer Dirck Scholl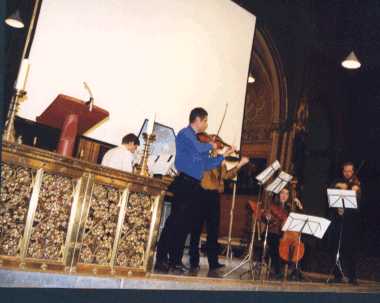 Chamber orchestra Camerata Vermeer directed by Theo Muller (in blue shirt) playing in front of the 3 x 4 meter projection screen.
- Glass of Wine
The Glass of Wine reminds us of the wonderful Vermeer painting, now in Berlin. Our guests also ate quite a bit of finger food.
- Exit
Exit via de 'flower chamber' at Oude Langendijk, exactly the spot of the front part of the Vermeer house.
---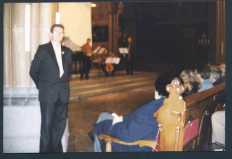 Ver

Programme details
Friday afternoon Januari 17, 2003
16.30 Entry by front gate of Maria van Jesse church at Burgwal, Delft.

16:45 Official Digital Vermeer House Opening by restoration architect ir. Henk Zantkuijl. He explains his method of architectural re-creation.

16:55 Opening of the Digital Vermeer House with image projections. Presentation (by video beamer) of the Digital Vermeer home by the makers of the Digital Vermeer House, art historian drs. Kees Kaldenbach and ir. Allan Kuiper, 3D, navigator and internet-builder. Comparison with colour slide-projection of Vermeer interior paintings.

17:25 Afterword by dr. Albert Blankert (author of standard books on Vermeer)

17:30 Closing remarks by mr. Jan Somers, second chairman of the Roman Catholic Church board Maria van Jesse.

17:40 Camerata Vermeer performs works by the Delft composer Dirck Scholl

17:55 Glass of wine [non-alcoholoc drinks are available]

18:15 Exit via Oude Langendijk "flower chamber", exacty at the spot of the front part of the Vermeer home.
Sponsors: Johnny van Haeften Ltd. London ; Delftsche Courant ; Rijksmuseum, Amsterdam.
---
This Internet project switched on January 17, 2003 was developed by art historian Kees Kaldenbach.
This page forms part of a large encyclopedic site on Delft. Research by Drs. Kees Kaldenbach (email). A full presentation is on view at johannesvermeer.info.
Launched December, 2002; Last update March 1, 2017.
Back to the Welcome page: click Welcome.