Fifteen children born to Johannes Vermeer and Catharina Bolnes. Seventeenth century Doll showing a naked child
To the right: Children's doll showing a naked child, from the Dunois dolls house. 17th century.
By proxy this object stands for the fifteen children born to Johannes Vermeer and Catharina Bolnes, an interfaith marriage. Their recorded names are:
Maria Vermeer (born ca. 1654 - d. after 1713) married teh silk merchant Johannes Cramer. They had children.
Elisabeth Vermeer (ca. 1657 - bef. 1713)
Cornelia Vermeer ( 1659- 1660)
Aleydis Vermeer ( 1660- 1749) became a lay nun, and was robed in black silk. She lived as though she was a beguin (begijn) nun.
Beatrix Vermeer ( 1661- bef. 1702) got herself a daughter named Elizabeth Catherina Hosperius / Hopperius who possibly was related to Pieter Corstiaensz Hopprus who leased the Flying Fox inn to Vermeers father.
Johannes Vermeer [jr] (ca. 1663). Beneficiary of trust fund and in 1689 a feudal inheritance. Married c. 1687 with Maria Anna Frank. In 1688 they got a son named Johannes Antonius [jr-jr] who was raised by his aunt Maria in Delft and this Johannes Antonius never learnt how to write. Jan jr. likely lived as a notary in Brugge, Belgium.
Gertruyd Vermeer ( 1664- after 1713). Sickly child.
Franciscus Vermeer (circa 1664 - after 1708). Was he master surgeon ? (see Internet source below). Married Maria de Wee c. 1690.
Catherina Vermeer ( c. 1665- after 1713)
Ignatius Vermeer ( 1672 - 1713) became master surgeon in Charlois near Rotterdam
'an [unnamed] child of Vermeer' (1674 - 1678-80) It was born between July and September 1674 (see Montias 1989, 234)
Three other Vermeer's children were buried by Catharina and Vermeer in 1667, 1669, 1673. One other child born 1672 died in or after 1713. The one born 1674 died in 1678.
At Vermeers death eleven children were recorded as being alive.
Sources: Montias and the site http://www.alweer-een-vermeer.nl/Johannes_Vermeer/Nieuw2005/Sphinx/KWSJOH.HTM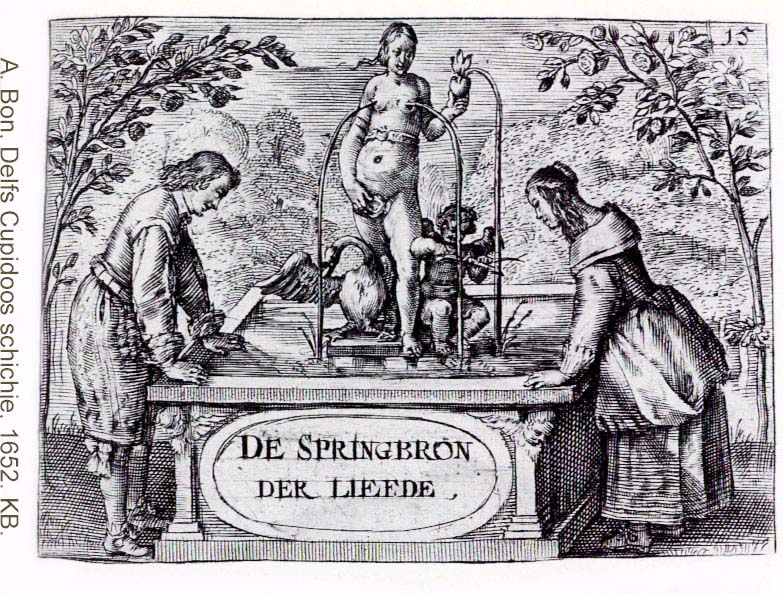 His wife Catherina thus gave birth fifteen times, which was an extraordinary large number. The kids who made it through infancy went to school. A number of them died young ; see text on burials. Kept on living at Oude Langendijck. Between 1681-84 she moved with her remaining eight children to Breda where she received an annuity from a family fund.
Read about breast feeding and mothers milk.
There was domestic violence as well as Catherina's brother Willem Bolnes misbehaved in an appalling manner.
A number of first names strongly point at sympathy for Roman Catholic faith and culture. There was not much birth control in the Vermeer household. Nevertheless men and women, if they chose to do so, could do birth control by obtaining certain herbs from the apothecary. "If the apothecary would not provide certain herbs, a lot of children would be born." [ Dutch:"Waerder inde apteeck gheen heymelick cruytt, wat zouder menigh kinnercken comen uyt"] was a naughty rhyme once written by a citizen. (Ach lieve tijd, Delft, 1995, p. 12).
Catharina died on the very last days of 1687 having just appointed a new guardian for her children. This guardian was a notary Hendrick ter Beek van Coesfelt in The Hague. She must have had reasons to remove the former guardian appointee, which is one of the few strong decisions she had ever taken in her life. Her relatives could afford to pay twelve pallbearers. By then she had still five children under 25 who were still unmarried. Catherina died in Delft during a visit to her daughter Maria Vermeer and Johannes Cramer at their house the Blue Hand on Verwersdijk.
Note: Rijksmuseum inventory number RBK 14656-148 10973-2H1. Photo Copyright Rijksmuseum Foundation. The Rijksmuseum has graciously assisted in this project Digital Home of Johannes Vermeer. The author was given permission to make a selection in the vast photo archive and this material has been made available by the Rijksmuseum.
List of children cited from Montias Vermeer and his milieu, a Web of Social History, Princeton University Press, Princeton 1989, chart no 1 toward the end of the book.
This object gives a proxy image of the young Vermeer children ; dolls were not part of the Vermeer-inventory as listed by the clerk working for Delft notary public.
This page forms part of a large encyclopedic site on Vermeer and Delft. Research by Drs. Kees Kaldenbach (email). A full presentation is on view at johannesvermeer.info.
Launched December, 2002; Last update March 2, 2017.
Back to the Welcome page: click Welcome.