An office of a Notary Public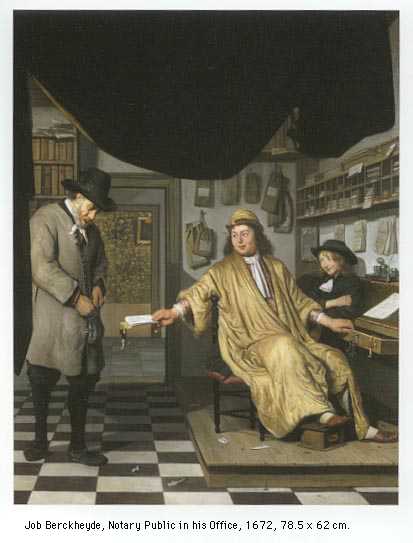 Office interior of a Notary Public, painted by Job Berckheyde (1630-1693), canvas 78,5 x 62 cm., dated 1672. Berckheyde was contracted as a court painted at the court of the Elector Palatine or "Pfaltzgraf". Painting in collection Art dealer Richard Green, Londen (as Michiel van Musscher).
Both the seated Notary and his standing assistant are on a wooden platform which protects them against dampness, cold and draughts. He has a foot stove under his right hand foot and wears a Japanese style chamber gown or "Japonse rok", a padded chamber coat which was considered informal dress ; all of this indicates a scene in a cold season.
At he wall of the office are textile bags, each bearing a paper label. On top and towards the left hand side are planks with mighty registry books.
In front of the notary public we notice, starting at the top, the following items: Books and stacks of paper, a wall cabinet with 31 pigeon holes. Underneath are bundles of paper on strings. These papers are in current use and have been - as the Dutch expression goes "made hanging on - "aanhangig gemaakt". Next we notice a tin ink stand with inkwell and sand. Finally we see a lectern and at knee-height a locked drawer from which the notary has retrieved a document. The standing adult assistant opens his satchel.
Go to the full Menu of art history tours.
Note: Pijzel-Dommisse, 2000, p. 53. C Willemijn Fock, 2001, p. 153.
The Vermeer-inventory was listed by the clerk working for Delft notary public J. van Veen. He made this list on February 29, 1676, in the Thins/Vermeer home located on Oude Langendijk on the corner of Molenpoort. The painter Johannes Vermeer had died there at the end of December 1675. His widow Catherina and their eleven children still lived there with her mother Maria Thins.
This page forms part of a large encyclopedic site on Vermeer and Delft. Research by Drs. Kees Kaldenbach (email). A full presentation is on view at johannesvermeer.info.
Launched December, 2002; Last update March 2, 2017.
Back to the Welcome page: click Welcome.