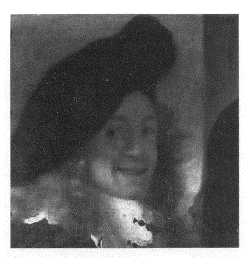 JV4

Right: Detail of The Procuress, Dresden, showing a possible self portrait.

Johannes Vermeer (1632-1675). For his consecutive homes see V1 - V5. For the locations of the two townscape paintings see St1 - St2. Catharina Bolnes (c. 1632-1688) married Vermeer in 1653. Their first address is unknown, however on 27 December 1660 they lived on Oude Langendijk, in a house on the eastern corner of Molenpoort, now named Jozefstraat.

Situated in the 'papists corner', the house labeled Serpent was owned by Catharina's mother Maria Thins. This - see architectural analysis- is where most of Vermeer's paintings were created and many of their children were born. Housemaid Tanneke Everpoel (shown in The Milkmaid?) also lived there in the early 1660's. This house was demolished in 1834, early the nineteenth century. A large Roman Catholic church now stands on the site on the corner of Oude Langendijk and Jozefstraat.

In 2018, the archival researcher H.G. Slager claimed that Vermeer lived here initially, but moved to the house on the opposite side of the same alley, in the house labeled Trapmolen. See http://www.essentialvermeer.com/history/vermeers-house-revisited-slager.pdf

Frame maker Anthony van der Wiel was Vermeer's brother in law.

Did Vermeer have a harpsichord in this house? I think not. A harpsichord made by Ruckert, Antwerp was locally available, see the professional musician Dirk Jansz. Scholl (1641-1727).

Signatures of the married couple on December 14, 1655. Delft archives.
During a dispute over attribution Vermeer was called up as connoisseur - see Johannes Jordaens.
Houbraken misses the chance of his lifetime by only mentioning Vermeer in passing in Book 1 page 236.
[More on Johannes Vermeer, see Vermeer 1, Vermeer 2, Vermeer 3, Vermeer 4, Vermeer 5]
In Delft we find Vermeer paintings in the private art collections of Pieter Claesz van Ruijven, Hendrick Ariaensz. van Buyten, Johannes de Renialme, Cornelis van Assendelft, Cornelis de Helt and Gerard van Berckel.
Note. Montias 1993, page 311, note 20. On Everpoel see Montias 1993, p. 216. Arnold Houbraken, De groote Schouburgh der Nederlantsche Konstschilders en Schilderessen, The Hague 1752 [2nd ed.] Book 1, page 136.
This page forms part of a large encyclopedic site on Delft. Research by Drs. Kees Kaldenbach (email). A full presentation is on view at johannesvermeer.info.
Launched 16 February 2001; Last update March 1, 2017.