JV5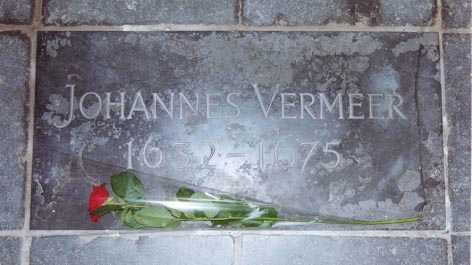 Vermeer died on Oude Langendijk and was buried on 16 December 1675 in the Oude Kerk (Old Church) on Oude Delft. The present day commemorative stone is a modern product and dates from the twentieth century. When I visited the grave one afternoon in the summer of 2001, this single red rose was resting on it. A worthy tribute. Photos by the author.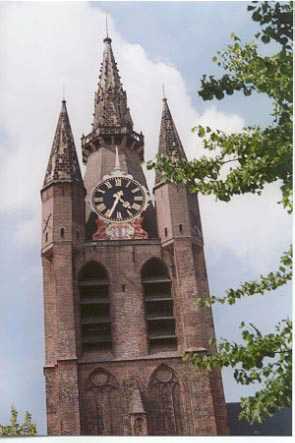 As a result of archival research by Van Peer, who found an entry about the actual row and grave number, the present day commemorative stone is located on the actual site.
When the inventory of Vermeer's atelier - see architectural analysis- was drawn up on 29 Feb. 1676 all the paintings by Vermeer and paintings by others (Vermeer was a painting dealer as well) were estimated at 500 guilders. Van Leeuwenhoek managed some of his financial affairs on behalf of the city of Delft. Widowed, Catharina and her children moved to a small home on Verwersdijk.
For Vermeer's consecutive homes see Johannes Vermeer, Vermeer 1, Vermeer 2, Vermeer 3, Vermeer 4, Vermeer 5. For the locations of the two townscape paintings see St1 - St2.
In Delft we find Vermeer paintings in the private art collections of Pieter Claesz van Ruijven, Hendrick Ariaensz. van Buyten, Johannes de Renialme, Cornelis van Assendelft, Cornelis de Helt and Gerard van Berckel.
This page forms part of a large encyclopedic site on Delft. Research by Drs. Kees Kaldenbach (email). A full presentation is on view at johannesvermeer.info.
Launched 16 February 2001; Last update March 1, 2017.