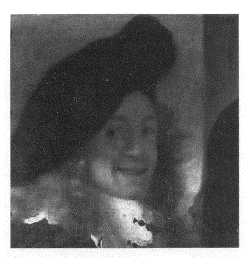 JV3
Right: Detail of The Procuress, Dresden, showing a possible self portrait.
In 1641, on April 23 Vermeer's father, Reynier Jansz. Vermeer/ Vos bought the large and heavily mortgaged Mechelen inn on Markt square. Like all the neighboring houses, the back facade of Mechelen drops straight into the waters of the Voldersgracht (see aerial photo, 1923). From the back one could see the Guild of St. Luke situated just across the Voldersgracht. To the side of Mechelen inn a narrow alley led via a small bridge up to the front door of the Guild building.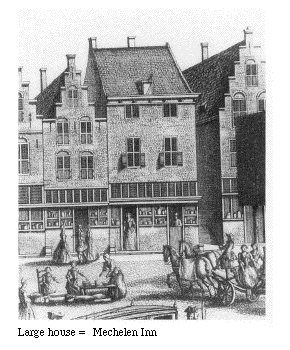 Johannes Vermeer lived in his father's house, the Mechelen inn from 1641 on. He moved to another town as a painter's apprentice (ca. 1645/1647) as upon return in Delft he had to pay 6 guilders, not 3 guilders which would have been the case if he were fully trained within Delft. He developed as a history, townscape and genre painter.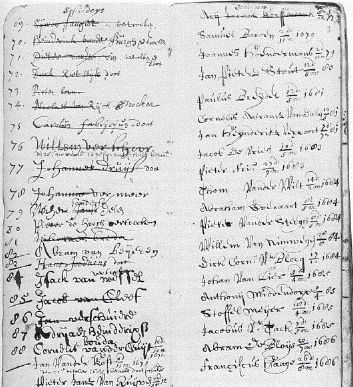 Vermeer entered the Guild in 1653. It is possible that he still lived in the Mechelen Inn some time before 1660 at the latest. Sadly this building was demolished in 1885, resulting in the present vacant lot next to Markt number 52.
Influences on Vermeer are many. He was a crack in observing qualities of light, did not care about what he knew but focused on the effects which he empirically observed.... he incorporated and purified traditions and interior genre scene conventions developed by a wide array of artists inside and outside Delft...
A key question is whether he actually saw and studied works by De Jongh, Brekelenkam, Houckgeest, De Witte, Van Vliet, Sorgh, Koedijk, Maes, Ter Borch, Van den Eeckhout, Dou, Van Mieris, etc etc.
Vermeer was superb in reaching a sense of calm and equilibrium in composition and subject matter, a high key of light, wonderful perspective realism, wonderful representation of materials in surface and sheen.
In Delft we find Vermeer paintings in the private art collections of Pieter Claesz van Ruijven, Hendrick Ariaensz. van Buyten, Johannes de Renialme, Cornelis de Helt and Gerard van Berckel.
Note. Research by Montias. The amount of f 12,- was paid by those incoming Masters born and trained outside Delft. f 6,- was paid by those Masters born in Delft but trained elsewhere. f 3,- was paid by those Delft Masters who were trained by their father in Delft The sale of this house is reprinted in Montias 1989, p. 329, doc. 324 and p. 333, doc 340.
Johannes Vermeer (1632-1675). For his consecutive homes see Johannes Vermeer, Vermeer 1, Vermeer 2, Vermeer 3, Vermeer 4, Vermeer 5]. For the locations of his two townscape paintings see St1 - St2.

Signatures of the couple on December 14, 1655. Delft archives.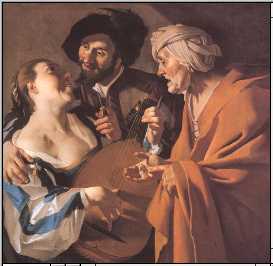 One of the paintings probably owned by Vermeer is this Procuress by Dirck van Baburen. It is shown hanging on the wall within the Vermeer painting 'Concert' from the Isabella Stewart Gardner Museum in Boston (still reported as stolen in 2002).
This page forms part of a large encyclopedic site on Delft. Research by Drs. Kees Kaldenbach (email). A full presentation is on view at johannesvermeer.info.
Launched 16 February 2001; Last update March 1, 2017.