This is Chapter 2: Medical Massage / Physiotherapy

==========

2b Best Practices, the masseur's (m / f) point of view in the field of Medical Massage / Physiotherapy.

In general the complete description here recently noted in sport massage applies.
The existing taboo against sexual contact will be heavily experienced by the medical practitioner (m / f) in this field since the Hippocratic Oath is in force, and moreover the code of conduct of doctors and all other agreed rules. An erotic moment or a liaison between medical staff and client during the period of treatment belongs to the great taboos, and leads to serious problems, so the handbrake is firmly drawn and all lights are on red.

For doctors there are few limitations in the technique of touch; if there is medical necessity they can enter their own finger in client's cavities, mouth, anus or vagina to touch these parts. In medical training there is a glaring shortage of women who want to serve as a voluntary model for teaching the art of medical touch.
During their schooling, physicians learn about the danger of transference and countertransference, patients who fall in love, etc.


box frame =======================


Medical touch in historical perspective

Historical perspective shows the opposite of restraint, because for many centuries there was a lot more leeway. From the late Middle Ages to about 1900 the male physician could and did administer medical vaginal massage to a tense woman.
This was the medical thinking: If she was hysterical, the Hyster, or uterus had an off moment, and according to the prevailing view was walking about within the female abdomen. Vaginal massages were also prescribed for unhappy, lonely, neglected or stressed women, up to the point of manually generating an orgasm. This treatment was common and was so time-consuming that the male doctor experienced it as a humdrum job; in the eighteenth century it was passed up to the midwife, who thus also treated non-pregnant women.
From about 1870 consumer magazines in England, France and the USA showed and advertised for a multitude of medical massage vibrators and other devices that were intended for use in the privacy of the bedroom.
This historical perspective aside – the current taboo on sexual relations in the medical world regarding sexuality is strong.

======================= End box ========


2c From the viewpoint of the client in the field of Medical Massage / Physiotherapy.

Clients, both men and women should be able to rely on a neutral attitude and neutral actions of a doctor and a nurse. Eros remains a powerful force. The Medical Board is there to deal with reported excesses.

However, in stories and erotic daydreams there is ample room for the night nurse, her gentle and kind services to hospitalized, injured patients.
Especially in a lazaret situations with men slowly recover from illness or injury strong sexual desire will 'raise its ugly head'. See also numerous examples in novels, movies, cartoons, jokes.

Definition (repeated text)

2. Medical Massage / Physiotherapy

Much of the above in chapter 1 also applies to medical massage / physiotherapy. Even more than the above sport massage, medical massage / physiotherapy is geared to aid in recovery from injuries, dysfunction or discomfort. This type of massage helps to eliminate or reduce for example; stiffness, cramps, limited movement, all of which cause difficulty in daily life and welfare. Sometimes medical massage/ physiotherapy is also aimed at reducing pain, such as in triggerpoint therapy.
In medical massage, of course a great deal of very specific modern Western medical knowledge is included.
The medical practitioner/physiotherapist knows exactly which treatments can be performed in a given situation. Experts speak of "indicated actions". The opposite are called contra-indications, actions not recommended or prohibited in a given situation; as in edema, early pregnancy in women, varicose veins, damaged skin, skin diseases.

The term "'energy" is used in physiotherapy, as in sport massage.
In the Netherlands as in Belgium, the professional qualifications of the medical massage practitioner and the profession of physiotherapist are fully regulated by law; the training is also formally organized.

In this article, medical massage is ranked by the author as follows:

Fig. 2. Medical Massage and Physiotherapy.
X axis: high for social acceptance
Y axis: high for "garage job"
Z axis: low to transcendence (flight of the soul).


===

Notes:

30. Something else might be going on according to the Dutch press. Sources in Amsterdam speak of other activities in the back room and/or laundering dirty money. The author is neutral in this respect. A Dutch 2011 book focuses on illegal trafficking in human beings, also in the sex trade. Martijn Roessingh, Perdiep Ramesar, Slaven in de polder. Hoe sekswerkers, schoonmakers en seizoensarbeiders worden uitgebuit, Amsterdam, 2011. Chapter 6 is about massage salons and how the grey area between massage and sex is hard to patrol by the police force due to manpower shortages. The authors observe that staff in the Chinese salons may sometimes cross the line to sex - whereas in the Thai salons giving a happy-end hand job is not seen by the staff as real sex. .

====

Note added after publication date: Extra literature. Thomas J.A. Terlouw, 'Introduction and development of medical gymnastics in The Netherlands in the nineteenth Century' in Thomas A Terlouw, red./ ed. Geschiedenis van de fysiotherapie gezien door andere ogen, Amsterdam, 2004, p. 39-66.

Table of contents

0a) Abstract and Introduction chapter

0b) Definitions of the following six kinds of massage

1) Sport massage / Swedish massage

2) Medical Massage / Physiotherapy

3) Chinese / Japanese rub massage and pressure point massage

5) Erotic Massage - and finally

6) Tantric massage ; thesis; conclusions.

For each field I present these sections: Brief descriptions, Best practices, Perceptions, Schematic map.

Published 2012. See Dutch version.

Menu of Special massages

Read client reports

Give a massage gift certificate

This is in English. Click for an Dutch version, Version Française.

Photos: Jeroen Leclercq, www.hollandfoto.com.






Reaction, questions?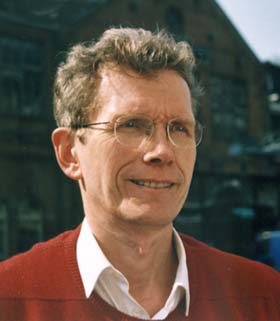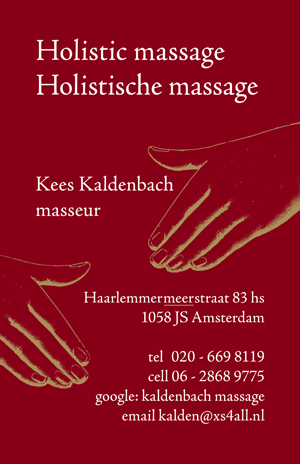 Center for Applied Massage Art - Kees Kaldenbach, kalden@xs4all.nl. Haarlemmermeerstraat 83 hs, 1058 JS Amsterdam (near Surinameplein, ring road exit s106, tram 1 and 17). Telephone 020 669 8119; cell phone 06 - 2868 9775. Open seven days a week.
Masseur Kees Kaldenbach is collaborating with a number of masseurs and masseuses in Amsterdam. He is also active as a masseur in the finest and most luxurious hotels.
I give this massage at various addresses: at my home address (see above), or atyour own home or at your hotel.
Lichaam & Ziel [Body & Soul] is registered at the Amsterdam Chamber of Commerce, number 3419 6612.






--- === --- news flash --- === --- 0 --- === --- news flash --- === ---
Psychological Bulletin, January 2004 highlights
MASSAGE THERAPIY AGAINST DEPRESSION
Psychologists at Illinois University have researched effectiveness of massage therapy. A series of visits to the masseur may reduce depression, anxiety and pain. Even single visits may help alleviating anxiety and pain and may reduce hypertension and a high heart rate.
Psychological Bulletin, January 2004