Massage option list. 49 Massages Amsterdam, Holland by masseur Drs. Kees Kaldenbach.

Menu of various special massage options

This is in English. Go to

Deutsche version.

July 2016: "I really enjoyed my holistic massage from Kees. Complete relaxation and serenity." Kerry R.

------ Open seven days a week between 09:00 and 21:00 hours -------

Below a short example of Neck - Shoulder - Back massage, January, 2013.

For bookings please give us a call or contact kalden@xs4all.nl Please specify your personal needs, date, time AND please provide THE TELEPHONE NUMBERS of both your mobile telephone and hotel. Discretion guaranteed. Our company is stable and trustworthy - that is why we have long standing contracts with VISA, Mastercard and American Express.

Money Back Guarantee: In case of cancellation during the first 15 minutes of the session, your money is returned in full.

We believe in being in the here-and-now and pleasure, as in the full indulgence of appetite or passion.
Massage of the body as a whole, or massage of specific body parts:
Holistic massage
Esalen massage
Neck massage
Shoulder massage
Foot massage
Scalp massage
Soft belly massage
Sacred massage
Hotstone massage
Touching trauma, for countering effects of mental trauma by minimal touch, dressed on table, going through body experience (an area of Rebalancing).
Jet lag soft pressure point therapy on lymph points
Couples massage with 1 or 2 masseurs
Massage for pain therapy, fighting pain all over the body:
Muscle knot massage
4 hands, 6 hands
Regular massages by Kees plus an extra female or male masseuse:
Four hands generally
Asian flavour with Kees and Maryanne
Massage and subtle healing with Alya
Going to heaven with Maryanne & Alya
Massage with a two-female team consisting of two masseuses is possible too. Four hands on your body!
Kees & Hansi as all-male team, 4 hand massage for a man or woman
Regular massage also for gay and lesbian clients (non-erotic)
Sitting on a chair, lightly dressed:
Chair massage
Oriental: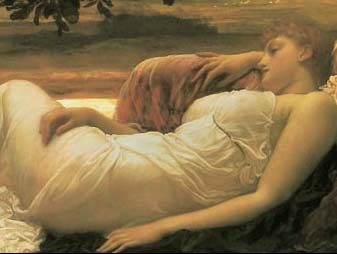 Massage in the realm of Eros Click here - or click on photo
Javanese-Indonesian-Chinese style massage by Hansi
Indonesian-Moluccan massage by Simon
Spiritual massage
Sensual massage
Oriental / Osho massage
Carezza massage
Energetical massage
Transformational massage
Fu Jing Tao, The Way of Calm Caress
Indonesian Java massage with Hansi
New Age massage
Massage inspired by Biodanza
Oxytocin and other hormones via massage
For special interest groups:
After incest / sexual violence therapeutic healing with touch & massage
painbody release massage (Eckhard Tolle)
classes for a two-person private massage
bachelorette party.
Ladies massage
pregnancy and baby massage
four Hands massage
Man to Man massage, non-erotic
Massage by one of my female students in Slovenia and in Triest (Italie)
Massage Where?
These high quality, upmarket massages take place
- in my own home practice, Haarlemmermeerstraat 83hs, off Surinameplein, Amsterdam.
- at your own private home or
- in your Amsterdam hotel room.
Bookings and cancellations
Bookings can be done by phone. Emails are also welcome, please please WITH your cell phone numbers.
Cancellations more than 24 hrs before the agreed date and time result in no payment.
Cancellations less than 24 hrs before the agreed date and time result either in a re-scheduling within 1 months time (this is my preference) or in a claim for 60% payment for the agreed sum of the missed appointment by masseur Kees Kaldenbach.
_________________________________
Masseur in action: Photo gallery by Jeroen Leclercq
TV programmes:
Kees double performance as Art Historian & Masseur 9 minute (Movie, English dubbing)
Kees in dubbelportret als Kunsthistoricus & Masseur (9 min. Windows media) + Kees idem (9 min. iPhone Movie)
Programme on Dutch national TV on Kees Kaldenbach as masseur and art historian. Programme Vals Plat van NPS, Nederland 2, Saturday November 25, 2006.
Another program on Dutch national TV in Man bijt Hond, January 2011.
Healing power?
Read client reports
Give a massage gift certificate
Go to the Dutch version. Version Française. Deutsche version.
Many more testimonials.
A masseur from Indonesia, Simon Uneputty.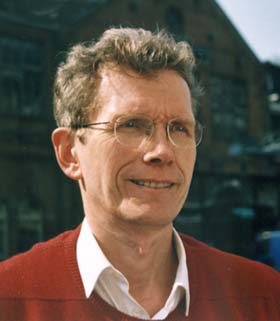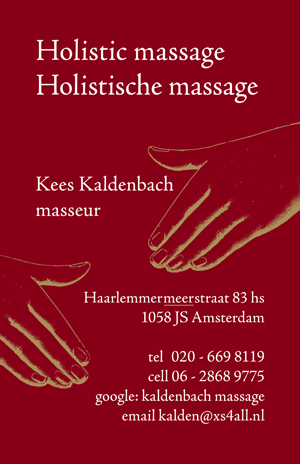 Reaction, questions?
Center for Applied Massage Art - Kees Kaldenbach, kalden@xs4all.nl. Haarlemmermeerstraat 83 hs, 1058 JS Amsterdam (near Surinameplein, ring road exit s106, tram 1 and 17). Telephone 020 669 8119; cell phone 06 - 2868 9775. Open 7 days a week.
I give this massage at various addresses: at my home address (see above), or alternatively at your own home or at your hotel.
Masseur Kees Kaldenbach is collaborating with a number of masseurs and masseuses in Amsterdam. He is also active as a masseur in the finest and most luxurious hotels.
Lichaam & Ziel [Body & Soul] is registered at the Amsterdam Chamber of Commerce.
Deutsche version.
For prices please call or email me.
A client bringing in a new customer gets a one time E 10,- rebate.






Kees double performance as Art Historian & Masseur 9 minute (Movie, English dubbing)






A bit of cool philosophy inspired by Wilhelm Reich
Priscilla Kapel: 'The Body Says Yes : Muscle Testing Tunes into your Body's Needs' 1981.
"The human body has been cherished since time immemorial...
--- === --- news flash --- === --- 0 --- === --- news flash --- === ---
Psychological Bulletin, January 2004 highlights
MASSAGE THERAPIY AGAINST DEPRESSION
Psychologists at Illinois University have researched effectiveness of massage therapy. A series of visits to the masseur may reduce depression, anxiety and pain. Even single visits may help alleviating anxiety and pain and may reduce hypertension and a high heart rate.
From: Psychological Bulletin, January 2004