Chair massage

at your home, in your office, outdoors, business to business
for relaxing and refueling
---
---




This is in English. Click for a Nederlandse / Dutch version. Version Française.
Menu of special massages
Read client testimonials
Give a massage gift certificate
See Akademie voor Massage en Beweging www.akademie.nl and a certificate.
Employers Dutch Tax information - Dutch text.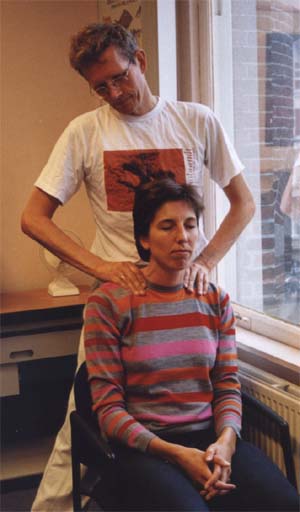 Chair massage brings you a fine blissful moment of peace, concentration and renewal of energy. It is a nice, quiet and simple alternative for those who cannot make time for a full body massage on a massage table. A chair massage actually takes place while being lightly dressed, sitting straight up on a simple kitchen chair.
This chair massage is largely limited to the head - including the forehead and the front of the face, the facial muscles, even very lightly touching the eye balls if you allow it, then the jaws, the scalp region and the wonderfully sensitive ridge at the back connecting to the neck muscles. Furthermore I will use my full hands in order to give attention to the back of the neck in order to work the neck and shoulder muscles and their great fixing points. I use a straight chair - thus not a forward leaning chair in order to reach these points. With the client sitting upright in a straight chair I am able to remain in full eye contact
An additional back massage may start at the neck and slowly follows the spine down to the middle.
Massage works by the quiet, healing power of human touch. Touch forms the most direct contact without words between one human being and the next - and it does influence the well-being not only of the skin itself, but of the whole human being. Thus massage yields a miraculous healing power. Treating disabled people is no problem. Yet I will not treat serious medical conditions as I am trained as masseur, not as a licensed physiotherapist.
The session takes about 20 to 30 minutes. Perhaps you wish to experience a renewal of energy? Do you wish to give your colleagues at work a treat this week? You may call on me!
Open seven days a week. Lichaam & Ziel [ Body & Soul] is the name of my massage company; I can receive here at home or visit you in the Amsterdam area. Clients are requested to sign a Medical Release Form.
Employers Dutch Tax information - Dutch text.
New! After booking two paid sessions, a company in the not-for-profit sector is entitled to 1 series of chair massages a year (of up to 7 persons, 20 min) for half price, provided a permanent one-year link is placed on the company web site to this site.
Photo above: Jeroen Leclercq, www.hollandfoto.com.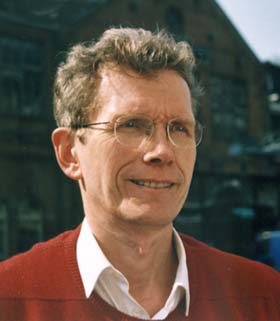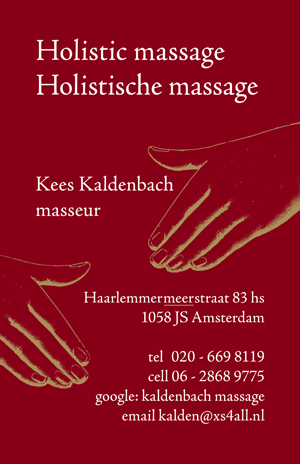 Reaction, questions? Center for Applied Massage Art - Kees Kaldenbach, kalden@xs4all.nl Haarlemmermeerstraat 83hs, 1058 JS Amsterdam (near Surinameplein, ring road exit s106, tram 1 and 17). Telephone 020 669 8119; cell phone 06 - 2868 9775. Open seven days a week.
I give this massage at various addresses: at your job address, at my home address (see above), or at the Beautylinks multi-professional beauty center, address Leidsekade 101, just off Leidseplein, or alternatively at your own home or at your hotel.
Masseur Kees Kaldenbach is collaborating with a number of masseurs and masseuses in Amsterdam. He is also active as a masseur in the finest and most luxurious hotels.
Amsterdam Chamber of Commerce (Kamer van Koophandel) number of Lichaam & Ziel [ Body & Soul] is 3419 6612.
See Akademie voor Massage en Beweging www.akademie.nl