B
COMPLETE BOOK on Vermeer of Delft & the 17th Century city of Delft
Western art history and social history by Vermeer specialist, art historian Drs. Kees Kaldenbach, Amsterdam.
Chapters:
0) Introduction
1) The fortified City of Delft
2) Artisans and the Guild of St Luke
3) Science and Technology in Delft
4) Vermeers Private House
5) Women - Courtship - Music
6) Beer - Bread - Markets
7) Hidden Corners in Delft
8) Selected Bibliography


Chapter 6
Beer, Bread, Markets & Alcohol in Delft
This chapter focuses on food and markets in Delft, past and present. We notice bread as the staple diet for the Vermeer family in the final lean years from 1672 to 1675 and we discuss one baker who accepted Vermeer paintings instead of the money owed him.
Food could be bought fresh almost daily, and we discuss the regular markets both in the days of Vermeer and in the present time. Beer was the usual drink, as water, be it from the kitchen pump, well or canal was unsafe to drink. We discuss the social difference between beer and wine consumers, a class distinction reflected in Vermeer paintings. Beer was the typical drink in brothel scenes, the intake associated with the lowering of inhibitions, of carnal life, while wine is often shown in a refined interior.
Finally we point at wonderful places to drink and eat in this present-day student town of Delft.
Daily Bread for Fourteen Hungry Mouths
Johannes Vermeer and his wife Catharina raised an uncommonly large family. Eleven of their children survived their father when Vermeer died suddenly in 1675. Having to feed all of these hungry mouths presented major problems for the family from 1672 onward, when the trade in luxury goods collapsed as foreign troops threatened all the borders of the Republic. In the Vermeer family, bread then became the staple food. It was a common item in most Delft households. Bread was freshly baked every day by local bakers, from flower milled in windmills high up on the Delft ramparts or windmills in the polders just outside the city.
In order to provide balanced nourishment, bread was often combined with dairy products. Dutch polder lands grew excellent grass for herding cows with a high yield in milk, whereas those soggy lands would have been less cost-effective for growing grain. Thus for economic reasons cows were herded and much of the grain consumed in the Republic was imported from the north-eastern Europe, especially from Poland and other countries in the Baltic region. There is still a canal in Delft named the Koornmarkt (Grain Market), where sixteenth century beer brewers received and stored vast quantities of grain.
Hendrick Ariaensz van Buyten (1632-1701) was a master baker at the pinnacle of his career when he became one of the headmen or syndics of the Bakers' Guild in 1668. Among his real estate investments was The Golden Cup, a house at Koornmarkt 31. Baker Hendrick van Buyten had inherited family wealth, which gave him financial leeway to extend time on cashing in a few of his bills here and there, being aware that biding his time might pay off in the end. The diplomat and art connoisseur Balthasar de Monconys may have visited this 'boulanger' in 1663 to see a single Vermeer, featuring one lady, and according to his diary the painting was said to be worth an astounding 600 'livres' (guilders).
By the mid-1670's the Vermeers were serious bread consumers. Bread, having become their staple food in times of limited income, sold for about 8 stuivers a piece. Van Buyten had generously delivered two to three years worth of bread to the Vermeer family for total sums of 617 and 109 guilders. Thus the total debt was a staggering amount of 726 guilders, the equivalent to more than 8,000 pounds of bread. In 1676, just after Vermeer had passed away, the baker agreed to settle these two hefty bills in exchange for the delivery of two Vermeer paintings.
===== box =====
The Baker's Vermeer Collection
The baker's proud collection of Vermeers, known to us from his death inventory made in 1701, included a single figure playing the 'cytar', which probably is the Guitar Player (Kenwood House, London) and the Lady and Maidservant which may be identified as either the middle period one in the Frick Collection or the late period one in Dublin. He also owned a fine collection of paintings by other Delft masters, including a group of three paintings by Van Asch. One of these Van Asch paintings may be featured as a painting-within-a-painting in the background of the Guitar Player.
====== end=====
======== boxed text =======
Bread pudding
On the Milkmaid by Vermeer (Rijksmuseum, Amsterdam), we see a sturdy housemaid preparing an oven dish made with bread and milk, and knowing her way around in the kitchen, she must be adding some eggs as well for good measure.
It is a winter scene, which we can gather from the presence of the foot warmer on the floor. The maid is heavily dressed in chamois-leather and wool, the colors of her clothes showing the Vermeer triple chord of red, yellow and blue. The kitchen is a bit chilly indeed as a corner of one of the small windowpanes is missing and a cold wind is blowing in. This bit of reality gives Vermeer a virtuoso chance of expressing his awareness of the effects of grayish glass and pure daylight, its characteristic colors, the intensity and its behavior of light and shade as it streams in through the panes. Seventeenth century painters would have call this awareness of interdependent color values, 'houding', value relationship.
The bread on the table gives Vermeer another chance to show off his excellence in painting still lives, extolling the powdery hard crustiness. The way in which the image is stippled gives the bread an almost three-dimensional quality. There are also some circles of confusion, effects of optical images of bright sources normally seen in a camera obscura a little out of focus, pointing at metal or wet surfaces in bright sunlight. Vermeer transposed this strange effect not only in the bread but also in the woman's face.
===== box ======
Milkmaid Bread Pudding Recipe
This recipe could well be the Milkmaid's method for making bread pudding.
1-1/2 cups bits of broken stale bread
3-4 cups heated milk
3 eggs
1/2 cup sugar
1/4 teaspoon salt
1/2 teaspoon cinnamon
1/4 teaspoon ground nutmeg
1/2 cup seedless raisins
Soak the stale bread in milk for one hour. Beat the eggs. Gradually add in sugar, salt, cinnamon, nutmeg and raisins. Mix the egg mixture with the milk-soaked bread. Pour into a baking dish and set this in a larger pan of hot water. Bake at 350 degrees for 45 - 50 minutes.
One remaining questions is how this over dish could have been successfully cooked in the Vermeer house on an open fire in the kitchen. In the 1676 Vermeer inventory no separate stove or oven was listed.
Spices made available throuth the Dutch United India Company, VOC.
==== end box ====
The Milkmaid is doing the family service by making use of leftover bread, to create a delightful warm desert.
The maid herself, if identical here with Tanneken Everpoel, was so well liked that she was listed as a beneficiary in one of the wills of Maria Thins. She had stood her ground and testified bravely against Willem Bolnes, Catharina's violent brother (See chapter 4 ).
The antithesis of the busy maid is the Vermeer painting known from an ancient inventory as a 'Drunken maid asleep at a table'. It is a morality play on what a maid should not be doing.
Market Day
Several times a week the Vermeer family would shop for foodstuffs at local markets. These markets provided Delft burghers with fresh produce from local vegetable fields, and diary products. In the Dutch Republic, as well as in England, vegetable gardening and dairy farming had risen to highly professional levels and formed the major source of regular income for farmers. In the Golden Age, Dutch farmers had thus turned their work from homesteading into a profitable market-oriented business enterprise whereas elsewhere in rural Europe, farming had often remained a subsistence activity.
Especially in summer and fall, fresh vegetable and fruit crops were abundantly available for city families, and this time of plenty was used for stocking up the larder. The storage of food for a longer period was a matter of household craft, tradition, pride and expertise. Various preservation techniques were used: curing, smoking, salting, sugaring, drying or conserving food in glass pots after boiling. The exquisite dolls houses in the Rijksmuseum, Amsterdam show this element of household affairs in rows of pots and glass jars stored in the basement room. Stocks that could be kept for a number of months in the basement were onions, cabbages, carrots and turnips.
Foods were first prepared and preserved in the kitchen and then stored in a basement. The Vermeer home had such a cool storage place where barrels and vats were kept meticulously closed to keep insect and rodents out. In the Vermeer house cooking was done in the upper kitchen and re-heating of leftovers in the lower kitchen.
Housewives enjoyed independence and quite some leeway in arranging day-to-day family finances and household affairs. Major daily market shopping was perhaps done by Tanneke Everpoel, the maid, as well as Catharina in her role as mother and housewife. Some additional shopping may have also been done at times by the powerful matron of the house, Catherina's mother Maria Thins and finally by Vermeer. Normally, shopping was done in a market bucket or market bag, an early form of shopping bag.
Delft markets
Fish
Just behind the Town Hall, sweet water fish and river fish was sold on Nieuwstraat, and sea fish at Hippolytusbuurt canal where the small transport boats could moor. As if time has stood still for five centuries, river and sea fish it is still sold there at the historic fish stand. For high quality sustenance of the seventeenth century masses the importance of fish, both sea fish and sweet water fish cannot be overstated. Herring had become the abundant and affordable source of fats and protein. The vast Dutch herring fishery industry thrived as skippers preserved the fresh herring in barrels, and were thus able to stay out on the high seas for a number of days before sailing home to supply the Dutch markets. Two herring ships visible on the right hand side Vermeer's View of Delft. These are under repair at the local shipyards.
Meat
Fresh meat was sold in the Meat Hall or 'Vleeshal' at Voldersgracht, next door to the fish stand at Hippolytusbuurt. Inside, individual stands were rented out to twenty-two selected butchers. By city law, the hide of the slaughtered animal had to be displayed next to the butchered meats to show what the source of the meat had been. This meat hall building still stands. The Dutch Classicist façade that dates from 1650 was designed by Hendrik Swaef shows two sculptured cow heads. In 1870 the corn or grain market exchange was housed here, giving the building the present alternative name "Korenbeurs".
Outside the Meat Hall another ten licensed butchers were active but the total number in Delft was kept down to thirty-two. The Vermeer family had a distant connection to a butcher. In 1618, Adriaentge, daughter of Claes Corstiaensz and Neeltge Goris, and thus Vermeers father half-sister, married a butcher named Jan Thonisz who was to inherit his fathers butcher stall on Market Sq. in front of the New Church.

Grain
Unmilled grain was sold daily around and behind the Old Church area. Another grain market was held three times a week on the Havenbrug bridge at the Binnenwatersloot canal. Because of low prices, grain was imported wholesale from the Baltic sea region. Large quantities of grain were sold to beer brewers on the Koornmarkt[Grain market], although beer production in Delft had decreased as water quality in the city canals had deteriorated by the end of the sixteenth century.
Weekly markets
The general weekly markets were held on Thursdays. Poultry was sold on Choorstraat and on Poelbrug bridge. Seasonal vegetables and fruit were sold on Warmoesbrug bridge near Nieuwstraat. Fresh fruit was also sold at the city gates. Vegetables were also privately distributed by peddlers going from door to door all over town, their wheelbarrows filled to the brim. In those days wheelbarrows had one single wheel all the way in front of the barrow, thus making it a heavy job to lift and push a the fully loaded barrow.
Delft butter was famous throughout the Republic as it was of a superior quality. It was sold on Boterbrug, or butter bridge and later on in a building behind Town Hall.
Small Cattle Market (Beestenmarkt)
In earlier centuries, small livestock was sold at the Small Cattle Market (Beestenmarkt). They were then kept in temporary pens and at times a frisky animal would escape. The alleyways in the neighborhood were cordoned off to keep them within short catching distance. The narrow alleyway next to the Thins / Vermeer house also had a low wooden door to keep these beasts from roaming any further.
Textile Hall
On Oude Delft, right in the Prinsenhof building was the location of the municipal hall for selling "Saai, Greine en Stoffe", which indicate the following textiles: Saai is a lightly twilled woolen fabric with a shiny appearance, known in French as "serge". Grein is a mix of silk and wool, a mix also used by Vermeers father in weaving his luxury fabric caffa, which also contained patterns and images. In the Vermeer inventory we find a particular type of grein, called toers after the initial Turkish import. It indicates the fabric only, not a particular fashion.
Stoffe is the colloquial name for any woven fabric, including linen. In the 17th century republic cotton was already known but not yet popular.
The same porch formed the mail entrance of the Latin school. It has a Latin inscription
Alcohol Consumption & Carnal Life
Well water in the city was known to be unsafe to drink and unfit for human consumption, and thus used solely for washing purposes. The Vermeer household must have had a hand-cranked water pump situated in the lower cooking kitchen, right in the middle of the house with perhaps an additional one at the scullery out by the backyard.
Therefore, apart from the high costs of food, families had to buy beverages to drink throughout the day. From early morning to late at night the Vermeer family, like any other Delft family, had no option but to drink beer or wine in order to quench their thirst. Milk or a low percentage alcohol beer was available for the youngest, but most people drank beer or wine. The everyday life of Delft inhabitants during the seventeenth century was thus spent in a state of minor or major inebriation.
The ongoing high alcohol level in the blood must also have loosened the tongue and led to unrestrained behavior. With it came flaring emotions and the unsheathing of knives, as men of honor were ready to back up their words with weapons. Foreign visitors reported in their diaries that the Dutch were quick-tempered and often drew knives when challenged. Vermeer's father was initially no stranger to this wild behavior.
Inns and taverns were scattered all over town and the effects of alcohol on the population were a serious matter of concern to civic governments. Vermeer's father ran an inn at the Voldersgracht canal 25 - 26, and it was in this house Vermeer was born.
Beer steins can be seen in several Vermeer paintings, testifying to the regular intake of this nutritious brew. The most prominent beer stein, one with blue stripe ornaments, is seen on The Procuress, Dresden where it stands perched at the corner of a table and in danger of falling over. This precarious situation also seems to invite the viewer to keep it from falling over - a mental trick often used by still-life painters to catch a viewer's attention. A wide-necked beer stein is also seen on the table used by the Milkmaid.
Wine was the more expensive and exclusive beverage. A sleek white wine jug stands in the painting Drunk Maid Asleep at the Table, Metropolitan Museum. New York, and we see the same type of wine jug reappearing in a series of paintings: The Glass of Wine, in Berlin; Women and two Men in Brunswick and The Music Lesson in the Queens collection, London. Another one is seen in Girl Interrupted at her Music, Frick Collection, New York. This choice of wine over beer underscores the higher social class in these Vermeer scenes.
Lower class young men and women mainly met inside in taverns and inns. When the weather was clement, meetings could also take place outdoors, such as in pleasure gardens and playing fields used for ball games.
Prostitution was traditionally linked to taverns and inns, places of alcohol intake and the lowering of inhibitions. A Dutch expression went: 'An inn at the front, a brothel at the back' but this picture may have overstated the case. Although prostitution was nominally illegal, it was considered a fact of life and thus condoned by local authorities who received a protection fee in return.
In Vermeer's days a 'brothel' was a modern, accepted subject for a painting. As early as 1623, Vermeer's father's inventory included paintings of a brothel, a scene at night and an Italian piper. These three paintings may point to the Utrecht school of painters, all followers of Caravaggio, excelling in dramatically lit low-life subjects both in daylight and in nighttime scenes. Hendrick Terbrugghen, one of these Utrecht masters has indeed painted "Italian pipers" in the style of Caravaggio. His colleague Gerrit van Honthorst specialized in candlelight and procuress scenes, and later had a highly successful career in The Hague. A painting-within-a-Vermeer painting of another Caravaggist painter is Van Baburen's Procuress. This one even appears twice, in The Concert, at the Gardner museum, Boston and in Lady Seated at a Virginal, National Gallery, London. The group of paintings inherited by the Vermeer family of which these formed part, may have been an early influence on Vermeer's work.
Vermeer's Procuress (Dresden) shows an unabashed exchange of money for sex. This type of morality play presented within a painting was quite common in the early seventeenth century. In Dutch popular culture people did not mince words over bodily and sexual functions in songs, sayings and in the theatre. The Vermeer painting is quite interesting as it has complex, stage-like setup, which includes the way people look at another. It plays on he promise of sexuality, hesitation, social transgression and the greedy focus on money. This form the basis of the exchange between client, woman and procuress. A fourth person, possibly Vermeer himself is smiling at us knowingly, his glass raised, commenting on the odd ways of the world.
====== box =====
Markets in our time
Thursday is general market day in Delft on the Market square, virtually every week of the year. On Saturday the market is held close by at Brabantse Turfmarket, just south of Market square.
A large antique market is held along Hippolytusbuurt and beyond, on Saturday from mid April to the end of September.
(see web sites in Delft for updated information)

============
===== box ====
Regular Opening times for Stores
Normally, stores are closed Monday mornings. The rest of the week they are open from 9:00 in the morning to 18:00 hours. Many shops stay open Friday evenings until 21:00 hrs.
There is a Tourist Information Point a few houses down from the historic Fish stand at Hyppolytusbuurt.

===== end ====
Restaurants, Cafes and open air Terraces
A major tourist destination and University of Technology student town, Delft is bristling with sidewalk cafes serving food and drink. When warmer weather arrives these sidewalk cafes fill up, but in the cold season, restaurants and cafes are busy.
Sidewalk cafes are found on and off Beestenmarkt (1), New Church area including Vrouwenrecht and Doelenplein square at the back of the Old Church (2). Other restaurants are behind the Town Hall (3), Hippolytusbuurt canal (4) and the square by the Old Church (5). See map.
Small nicotine-stained 'Brown cafes' and larger 'Grand cafes' serve a good fare of tasty and reasonably priced hot food and also various sandwiches. The smaller restaurant type is a bar serving food and meals, called an "eetcafé".
Restaurants and other Eateries
Most Delft indoor restaurants are located in the same meandering double s-curve mentioned above beginning at Beestenmarkt, then branching off to the New Church area, winding to back of the Town hall, then leading off to Hyppolytusbuurt canal towards the Old Church square.
As in any college town there is an abundance of specialized regional restaurants in the low to mid-price range, from Greek to Italian cuisine and from Indian to Chinese fare – and actually some Dutch as well. Although The Netherlands is not internationally famous for its gastronomic culture, there are some interesting dishes to be had. Pancake restaurants, especially the big one on Market Square 32 serve typical Dutch hearty or sweet 'pannekoeken'. Grand cafes like the two behind the town hall also serve basic food at a reasonable price.
University restaurants, formerly called 'Mensa Academica' offer full hot meals for cut-rate prices of about 8 to 10 Euros at various locations in the large University district in the south of Delft outside the center.
A central one is located in the basement of the Vleeshal / Korenbeurs at the beginning of Voldersgracht, off town hall. The low entrance and the interior of the canteen are purely Spartan, but the atmosphere may nevertheless be interesting due to colorful student life.
Another even more affordable Open Table is at Jansbrug Student Club, open between 17.30 and 19.30 at Oude Delft 50-52, see www.jansbrug.nl
Take-away food of delicatessen and traiteur quality is 'Rice & Pasta to go' located at Nieuwstraat 5. One can even buy it there and munch the food inside, sitting on the window sill.
A wide selection of wonderful ice cream is available at Boterbrug.
Just across the highway at the east side of Delft is Europe's largest IKEA furniture department store, whose restaurant offers food at almost cost price in order to lure furniture-buying clients.
Food technology is the focus of the University of Technology buildings in the south of Delft and of a humongous factory situated at the northwest corner of town by the railway line. This plant was initially called the Delft Salad Oil Factory, then Calvé Delft, and is now called DSM. It is a major conglomerate operating a pharmaceutical factory and a major food production plant. Some of the factory pipes seen in the plant push many miles of pure peanut butter into millions of glass jars for the benefit of hungry Dutch children.
These odd and colorful places bring us to the doorstep of the less well-known, truly hidden areas of Delft. The next chapter points out a number of these fascinating sites you should try to visit.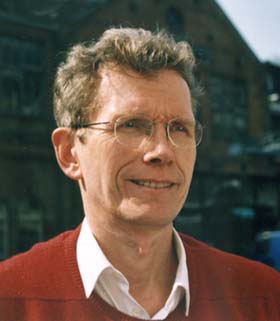 Contact information for Private Art Tours:
Menu of tours. See client testimonials.
Drs. Kees Kaldenbach , kalden@xs4all.nl
Haarlemmermeerstraat 83 hs
1058 JS Amsterdam
The Netherlands
telephone 020 - 669 8119
(from abroad NL +20 - 669 8119)
cell phone 06 - 2868 9775
(from abroad NL +6 - 2868 9775
Please note: All materials presented on this 2000+ item web site are original and therefore copyrighted. If passages are quoted (in essays, dissertations, books or other works, written or otherwise) then references must be made in the proper way. That is, the quoted passages must be attributed to the author, and the source of the material (i.e. this website) must be cited.
Published online, July 15, 2011. Updated July 12, 2016.