B
COMPLETE BOOK on Vermeer of Delft & the 17th Century city of Delft
Art history and social history by Vermeer specialist, art historian Drs. Kees Kaldenbach, Amsterdam.
Chapters:
0) Introduction
1) The fortified City of Delft
2) Artisans and the Guild of St Luke
3) Science and Technology in Delft
4) Vermeers Private House
5) Women - Courtship - Music
6) Beer - Bread - Markets
7) Hidden Corners in Delft
8) Selected Bibliography


Introduction.
Chapter 4
Entering Vermeer's Private House.
This chapter focuses on Vermeer's home life. The busy household including 11 children born to Catharina and her husband Johannes Vermeer, all lived together in the large house owned by Vermeer's mother-in-law Maria Thins. It was located at Oude Langendijk at the outer edge of the Roman Catholic quarter. Dutch traditions of pregnancy and childbirth are also discussed as delivering no less than fifteen babies into the world made pregnancy an important part of Vermeer's family life.
They lived and worked in the house at Oude Langendijk from about 1660 to Vermeer's death in 1675. We will show that the small upper kitchen was the center of his private family life, whereas the spacious fore-house was open to all who had business dealings with him.
The artist's studio was located upstairs, in the front of the house, facing northern light. While visiting this room we discuss his extraordinary vision and style. By painting and working as an art dealer, Vermeer brought in a good part of the family income, supplemented by Maria Thins' income from real estate. We will also walk around the other parts of the house and discuss items such as clothing and bedding as well as artworks Vermeer owned and sold. Here too, Vermeer remains elusive: only a few objects listed in Vermeer documents, especially in his 1676 inventory, can be seen within his paintings: a crucifix, a piece of gold-tooled leather, some Spanish leather chairs and a gilded jug.
Current social and table manners are also discussed in this chapter. After Vermeer's death Catharina became fairly poor. We also meet the black sheep of the family, her brother Willem Bolnes, a violent man who caused great anxiety and was later put away in an institution.
A Place of Heritage
Like the Rembrandt House in Amsterdam, Vermeer's private home would have been a place of pilgrimage for the art world had it not been completely demolished in the nineteenth century. On its site, the massive Maria van Jesse Roman Catholic church has been built, and the sacristy on the northern corner now occupies just about the same space as the former Vermeer house.
To make small amends, a large heritage plaque has been placed there in 2003 by ANWB, the Dutch Traffic Association, explaining about the historic site. The Vermeer house and its contents, based on Vermeer's inventory of the time of his death, has been completely digitally recreated on the Internet, by this author. For more information, see www.johannesvermeer.info.
======== box ============
The Digital Vermeer House
The digital re-creation of the Vermeer house has been a group effort of researchers including the Dutch architectural historian Henk Zantkuijl and the present author. It was realized as a team work project with the assistance of specialists and various institutions including the Amsterdam Rijksmuseum and the Delft Municipal Archives, both providing ample image material and research facilities.
This project has also yielded new facts and insights on how the Vermeer family lived in the setup of various rooms within this house.
For more information, see www.johannesvermeer.info.

====== end =======
The main source for this digital re-creation of the house is a hand-written 1676 inventory document, itemized just after Vermeer's death, that lists not only all household objects, but also provides us with the names of the various rooms in which the objects were located. This room-by-room information has been combined with the physical size, position and shape of the real estate lot, located at the small Oude Langendijk canal at the corner of the Molenpoort alleyway.
Due to his lifelong professional experience in restoring historic houses, Henk Zantkuijl was able to create a convincing architectural reconstruction drawing of floor plans and elevation drawings, taking into consideration nineteenth century maps and the image of the house on the 1672 birds-eye Kaart Figuratief view map. Subsequently, engineer Allan Kuiper of the Delft University of Technology turned these architectural drawings into a 3D model.
The present author then went through the inventory list and found objects in the Amsterdam Rijksmuseum that matched their description, and then described their function. In addition, the objects are dealt with thematically.
Visitors to the Vermeer house on the Internet can virtually walk through this house and imagine and picture family life as it went on in the heydays of his economic success between about 1660 and 1672. The rectangular plot had a total length of 33 meters (108 feet), and a width of 5,5 meters (18 feet). By Delft standards, this made it quite a spacious dwelling with a series of rooms one after another, ending in a small open courtyard.
This image shows a historic photo from an Amsterdam fore-house that has been manipulated to resemble the Vermeer fore-house. The hallway behind the fore-house was on the ground floor, not half way up the stairs as shown in the photograph.
When looking at the body of some thirty-three interior paintings by Vermeer, the viewer should be aware that they are not looking at actual rooms in Vermeer's house. In his paintings, he chose to manipulate composition, space and light, and may have used just a few existing architectural details and some furniture. He largely composed imagined spaces changing size, color, shape of maps and other objects to fit artistic needs. One example of a luxurious room is The Letter in the Rijksmuseum, Amsterdam, showing an expensive mantelpiece with an Ionic column and a marble floor. We may safely assume that seventeenth century private homes in Delft had no such floors. Realizing that Vermeer also shows fiction in his interiors, we can now take a look at this house and its owner, Maria Thins.
Catharina Bolnes, Maria Thins' daughter, and Vermeer's Wife
Catharina Bolnes (ca. 1631-1688) was born in Gouda in a well to do Roman Catholic family and moved with her divorced mother to Delft. 'Joannis' Vermeer (1632-1675) also known as Johannes or Jan Vermeer was very young indeed when he courted and married Catharina, who was nicknamed 'Trijntgen'. About a year after their 1653 wedding, the first child was born, Maria, followed three years later by a second (see box).
In or before 1660, the Vermeers - who may up to then have lived in Mechelen Inn on Markt (Market square) - had moved into Maria Thins' property at Oude Langendijk, a house that slowly filled up as an increasing number of children were born. The run of the mill seventeenth century Dutch family may have had up to four to eight childbirths, but because of infant mortality the mother – if she managed to survive all of these births at all – usually ended up with only two to four children who reached adulthood. Catharina went through an amazing fifteen births, and the Vermeer family boasted eleven children alive at the time of their father's death in 1675. At some point in time a full-time maid also joined the three adults already living in the household. For practical reasons she may have also slept in that same house. It was indeed a busy household.
========= boxed text ========
Eleven children
The first five Vermeer children were all girls. The eldest was Maria, named after her grandmother, followed by Elisabeth, Cornelia, Aleydis, who as an adult became a Beguin, an unmarried, Catholic lay caretaker of the sick (see chapter 7), and Beatrix. Vermeer's first son was born ca. 1663, duly named after his father Johannes [Junior]. Being male had its privileges; as an adult he became the beneficiary of a trust fund, and in 1689 of another special inheritance. In 1688 he himself had a son, named Johannes Antonius Vermeer, making it the third Johannes Vermeer in a row. The boy later wound up being raised by his aunt Maria in Delft. As a child he never learnt how to write.
After this first son, three more children were born to Catharina: Gertruyd, Franciscus and Catharina Jr. The next child, Ignatius was born in the political and economic disaster year of 1672. Finally Vermeer's last child whose name we do not even know, was only one year old when his father died in 1675, leaving all eleven children fatherless. During his lifetime Vermeer had already lost four other unnamed children at a very young age. This brings the total number of Catharina's births to fifteen. How childbirth was handled is described further on.
Although a fascinating visual game, it is well nigh impossible to pinpoint the children's faces in Vermeer's paintings. The eldest daughters may have modeled for the girls' heads in the Girl with the Pearl Earring (Mauritshuis, The Hague) and the one girl shown in the Head of a Girl (Metropolitan Museum of Art, New York). Catharina may have been the model for some of his cultivated ladies. Their maid, Tanneken may have been the original Milkmaid.
Birth control, frowned upon by the Catholic Church, was obviously not practiced in the Vermeer home. Nevertheless in the Republic men and women could practice forms of birth control if they chose to do so, by obtaining medicinal herbs. "If the apothecary would not provide certain herbs, a lot of children would be born." was once written by a Delft citizen.
========= end ==============
In the Dutch Republic, children were allowed space and freedom to play at home and in the streets after school. Author and physician Van Beverwyck wrote in his book 'Treasure of Health': "Children should not be kept on a tight rein, but allowed to exercise their childishness, so that we do not oppress their fragile nature by heavy things."
The Thins - Vermeer household was alive with many boisterous, noisy children. This image stands in sharp contract to the serene atmosphere of single women meditating over their letters and pearls seen in his paintings. In Vermeer we thus find two distinct universes that do not really meet. One is filled with crowds, noise and the incessant work of raising, feeding, washing and dressing adults and children. The other is the serene stillness of the inner world of paintings created in the studio. The make-believe world within most Vermeer paintings may be regarded an introspective escape to another level of human existence and experience.
Catharina remained a busy housewife who kept to the background in matters of social, commercial and artistic life. In all known documents she comes across as mild, standing in the shadow of her wealthy, headstrong and domineering mother Maria Thins and her husband, the gifted painter. After Vermeer's death in 1675 she described herself in a document as a devoted housewife, tending to the upbringing of her many children. At that time she found herself in great financial distress because of Vermeer's sudden death that coincided with a national economic depression and a slump in the sale of luxury goods.
Maria Thins of Gouda
Maria Thins (ca. 1593-1680) had been married to Reynier Bolnes, a wealthy entrepreneur, active in the bricklaying business. After their marriage failed, Maria Thins took her two daughters Catharina and Cornelia Bolnes, left her husband and packed her bags, moving to Delft. Maria was a divorcee, something quite unusual for a Roman Catholic woman at that time,
As a married couple, Johannes and Catharina may have started off in 1653 living at an unknown address, perhaps at the Mechelen Inn on Market square, but in or before 1660 they chose to move to Catharina's mother's spacious house. Maria may have started out as the proverbial mother-in-law, but Vermeer's apparent qualities in dealing with people soon made him her trusted confidant in social and other matters, as shown in numerous financial documents.
===== box =========
Divorce proceedings
In Dutch towns, serious marital problems were normally dealt with in a special office within the Town Hall, the marital affairs chamber. Institutionally, both church and state were founded on the stability of family life. It was thus important to the authorities to keep families together as long as possible as a social and financial unit. When Maria Thins pressed for separation, she presented her case of a failing marriage to the Gouda magistrates with many signed affidavits. Initially, the Gouda Town Hall officials stalled and tried to make the two parties mend their marriage. Reynier Bolnes showed signs of increasingly eccentric behavior, such as denying his wife household money for buying simple scouring and cleaning products and even necessary ingredients such as yeast. He instructed shopkeepers not to sell Maria anything on credit. As a result the reports deposited at the notary public became increasingly convincing, and a divorce was finally granted in 1641.
=====end box ===========
Having moved to Delft the three women started off by living at a home on the Vlamingstraat canal. In addition to this group there was a fourth person, Maria's brother Jan Thins, with whom Maria did not get on very well. Later Jan left and Cornelia died. Subsequently, Maria Thins and Catharina Bolnes moved to the larger house at Oude Langendijk at the corner of Molen [mill] gate alley, initially purchased by Jan. This is the house that the Vermeer family would inhabit, and in which Vermeer would create most of his masterworks.
=========== box =======
Family Wealth
Maria Thins was well off and had a strong personality, which brought her into conflict with the outside world from time to time. All through the 1640s, Maria Thins received appreciable sums of alimony from her divorced husband Reynier Bolnes. Contacts remained strained, even at the time of the death of their daughter Cornelia in 1643, when the funeral did not bring them together. In 1649 Maria received a final settlement of assets, due ever since her divorce – amounting to 15,606 guilders. In order to get an idea of the extent of this wealth, one should consider that an apprentice or journeyman would have earned 1 guilder a day while a master-artisan earned 2 guilders a day. Most of that income would be spent on the daily cost of clothes, food and drink.

===== end =====
Paintings in the Family Collection
The Vermeer-Thins household inherited various groups of paintings and these formed the initial stock for Vermeer's art trade. When Reynier Bolnes and Maria Thins separated in Gouda in 1641, their material goods were split between the two parties. Maria Thins, Cornelia and Catharina Bolnes obviously then shipped all of their personal items, including clothes and paintings to Delft.
Among the objects transferred one series of paintings are particularly interesting, as some have reappeared as paintings-within-Vermeer-paintings. Among these were The Procuress, a painting dating from 1622 by the Utrecht Caravaggist painter Dirck van Baburen This painting reappears in two Vermeer paintings, The Concert (Isabella Stewart Gardner Museum, Boston) and Lady Seated at the Virginals (National Gallery, London). In the Vermeer painting the Music Lesson (Buckingham Palace, London) we also see another painting-within-a-painting, a fragment of a history scene called Roman Charity (see box).
====== boxed text ======
Stretching Boundaries with Roman Charity
Scenes from antiquity such as the one discussed here, belonged to a group of paintings known as 'History' paintings, works at the apex of artistic endeavor. In the art of opera, as well as in history painting, artists seek to cross the boundaries of human existence. Almost anything may be expressed in opera and painting. Vermeer shows the painting Roman Charity. It featured Pero, who stealthfully offers her breast milk to her imprisoned father Cimon who is condemned and incarcerated to die of thirst and starvation. This runs contrary to common notions of how a father and a daughter are supposed to behave. An accepted subject in the realm of history painting, the scene also gave painters a pretext to show women's bodies.
==========end boxed text ============
==== box ====

A Trade Collection of Paintings
Other paintings in the Thins' divorce settlement included a Portrait of a family member, a Trumpet player, a Flute player, a Landscape with a fortune-teller, a Homo Bulla, a Marsyas being flayed by Apollo, and a history portrait of a Man who Decries the World, possibly showing Heraclitus. Most of these could very well have been history paintings from the famous Utrecht school of Caravaggio followers. In their subject matter these make a very modern set of paintings indeed and it is noteworthy that they ended up in Gouda and later on in Delft at such an early date.
To this group of Bolnes / Thins family paintings we may of course add the painting collections inherited from Johannes Vermeer's parents. At the new address Nieuwe Langendijk these two groups of paintings were merged. Some must have been intended for trade and others were probably treasured as family heirlooms.
==== end ======
====== box =======
Grandmother Neeltge, Second Hand Dealer
Economically, Vermeer's paternal grandmother Neeltge Goris' life was not a happy one. She just scraped by, subsisting as uijtdraegster or second-hand goods dealer, involved in liquidating the estates of the deceased. As paintings may have regularly formed part of these death estates, her activity may have also provided an impetus to her son Reynier's interest in dealing in second-hand paintings. Paintings from death estates were exempt from the rule that only members of the St Luke Guild were allowed to trade in paintings.
======== end =======
The weaver Reynier Jansz Vos / Van der Minne / Vermeer
In 1615, Reynier Jansz Vos / Van der Minne, then aged 24, married a girl from Antwerp by the name of Digna Balthazars, nicknamed Digna Baltens, then said to be 20 years old. Reynier sired a number of children but the only ones to survive were Gertruy and – amazingly - twelve years later, Johannes Vermeer, the hero of this book. By trade, Reynier started out as a caffa weaver; caffa being a luxury satin fabric consisting of mixed silk and wool with a design pattern. Sheep's wool was mainly imported from England and was also produced locally, but silk thread was expensive. Silk was a much-coveted fabric from the East that reached Europe via extended trading routes. He owed money to a silk merchant from 1629-1630, but was able to settle those bills.
Up to the 1550s simple patronymics (as in Jansz., in full Janszoon, which means 'son of Jan') were in wide use. When economic life became more complicated around 1600 the need for family names emerged and slowly came into fashion. Both Anthony and Jan started using both 'Vermeer' and 'Van der Minne' as a family name, perhaps referring to the ancestral name of their stepfather Claes Corstiaensz. The name Van der Minne brings us to the doorstep of the family name Van der Meer or its shorter form, Vermeer. Johannes Vermeer never tired of inventing little trademark logos to sign his paintings.
Pregnancy and child care
(For a page with full illustrations google: Kaldenbach childbirth)

Pregnancy and childbirth formed an important part of Vermeer family life. Some of Vermeer's paintings of women are now seen as depictions of pregnant women. This must however be incorrect, as there are no depictions of pregnant women at all in the art of the Dutch Republic of the seventeenth century. Visible signs of pregnancy were obviously considered indecorous and thus not fit for public depiction.
Although she indeed has a bit of a belly, it can seriously be doubted whether the Woman in Blue Reading a Letter (Rijksmuseum, Amsterdam) is pregnant. It could very well be a morning scene as she is wearing a blue satin beddejak (bed dress).

In the Republic, pregnant women were encouraged to wear loose fitting clothes, certainly not a tabbaard or a busk. In French fashion pregnant women would sometimes wear a "robe battante", a wide garment, which would effectively cover up signs of pregnancy. This fashion also points towards the tendency to hide pregnancy in France.

Child Delivery

Children in the seventeenth century Republic were delivered by a midwife, rather than a doctor. When the time came, something that took place fifteen times in Catharina's life, practical items were needed such as a place to give birth, a fire basket for drying cloth, a cradle, diapers, a tub, foot stoves, cloth rags, grease and a folding screen. The midwife also brought a number of practical items such as scissors, thread to tie the umbilical cord, soothing oils, a catheter, and an enema syringe. Of greater importance than her professional tools was the midwive's sense of calm professionalism and her self assured comportment during what was a potentially life threatening situation for both mother and child. If and when the birth went seriously wrong, she had to call in expert help and provide words of consolation. Afterwards she must have also offered emotional rescue. Statistics give ample reasons to worry: of every 1000 women giving birth, 14 died of the consequences. The survival rate for babies was generally poor although perhaps not as dramatic as in countries abroad.
According to city regulations, midwives were allowed to attend just one childbirth at a time; once a specific birth was on its way she was not allowed to leave. Pregnant women therefore tried to book the services of a midwife well in advance of the calculated birth date.
When labor began, a messenger (a husband, neighbor, maid or servant) was asked to run for the midwife, who was then obliged to come straight away. The house was prepared for childbirth by neighbors, family members or personnel. One had to gather a fire basket, cradle, diapers and the bed. Normally the husband was not present at the scene of the birth.

During delivery the woman sat either on a special delivery chair, or on a mattress. She was not in the bedstead as it was closed off on three sides and thus inconvenient. A temporary bed could be created by aligning a number of regular chairs, their backs towards the floor, on which a loose mattress was laid. This contraption was called a "shortbed" and normally the woman would be lying down on a mattress. Sometimes the woman in labor even sat on the lap of another woman, aptly called the 'lap-woman'. The midwife or alternatively her male professional counterpart, the accoucheur, was positioned either standing, kneeling or sitting between the legs of the woman giving birth. Forceps were not yet in wide use - but if used, were in the domain of surgeons or accoucheurs.

The pregnant woman's skirts were pulled high in order to keep them from getting soiled. In order to save money throughout the cold season, rooms were generally chilly in the Dutch Republic. To keep the mother from getting too cold, a blanket was spread on her lap and over her legs. The midwife guided the birth, caught the newborn and proceeded to cut the umbilical cord. She then swaddled the child in a diaper and gave it to the helpers, who checked both baby and the umbilical cord for possible problems. Finally the midwife took care of extracting the placenta, which was also checked for completeness by witnesses, thus finalizing the birth. The mother was subsequently washed and cared for and put to bed to rest.

The baby was then positioned near the fire basket, swaddled in cloth and handed over to the baby's father, who then gave the traditional money tip to the midwife. Finally others cooked and served a special festive dinner with drinks. For the subsequent months of breastfeeding a special large wicker basket was in use in which the mother and child could sit comfortably on the floor, her back well supported by the high end of the basket. This basket looks a bit like an oversized dog basket.

In Holland, education of midwives was first codified in Delft, making the Delft midwives the very first officially organized female professional group in the Republic. Their charter is shown online as part of the Digital Vermeer House, see www.johannesvermeer.info.
In the Vermeer family a distant midwife connection exists: Beatrix Gerrits was a midwife from Amsterdam who had received the large sum of twelve pounds (each worth 6 guilders) from Balthasar Gerrits, Vermeer's coin-counterfeiting maternal grandfather.

======= box ======
Trousseau
In any household with eleven children and at least three adults, many items for young children were obviously needed. Seventeenth century Delft prices for baby articles are difficult to pinpoint, but some figures are known from a town further north. On March 27, 1670 nine months prior to his marriage, one Cornelis Lourisz bought a lot of second hand goods on auction in the village of Graft in the province of what is now North-Holland. The total costs came to about 3 guilders; three days of work for a journeyman, and a day and a half of work for a master craftsman.
=====end=======
General Christian baptism
Baptism, considered the spiritual birth of a Christian, took place about a week after birth. By law, baptism could only take place within the one officially recognized religious institution, the Dutch Reformed church. This was officially defined from 1578 onwards in the Republic as a general baptism, and not as one that was specifically Reformed. Baptism books kept in churches were filled out by ministers or by town hall officials.
By the same token, marriage ceremonies in a Reformed church were also open to all Reformed church members, for a wide circle of sympathizers and even for baptized outsiders such as Roman Catholics. If people chose to do so, a civil wedding ceremony could however be held at the town hall.
Private space versus Public space
In western culture, the facades of homes shield the private from the public. We catch a fleeting glimpse when people go in or out. Due to the cool northern climate in the Netherlands, private life is largely played out indoors.
In contrast, the division in the seventeenth century between public and private spaces was more permeable. The front door of the house was constructed of two separate hinged segments. The bottom would often be kept closed in order to keep dogs and playing children out, whereas the top part would be open if weather permitted, indicating that customers, neighbors and friends were welcome. This is still known - although not used quite so often - as the "Dutch door".
People worked hard due to the all-pervasive Protestant work ethic in a market-oriented society. Regular work hours were from 6 in the morning in summer, from the sunrise in winter, to 8 in the evening.
Some shops and mills opened on Sundays as well, which suited businessmen but may have been painful for church authorities. Most people began their leisure hours on Sunday in church, followed by a visit to an inn or combining inns and outdoor sports such as bowling. Fishing was also an option. Wealthier citizens who owned guns would go to hunt hares and rabbits in the open fields.
To facilitate trade, artisans attached wooden boxes with hinged lids just below their windows jutting out into the street. Both the boxes and the small strip of about a yard of sidewalk underneath it were considered private property. One can still notice these private, cordoned off strips of property on many sidewalks of Delft streets along the canals. In Vermeer's painting the Little Street a private bit of sidewalk just in front of the house is clearly indicated by a diagonal floor tile pattern. It also has private wooden seats.
Immediately behind this Dutch front door was often a high, spacious room called the voorhuis or fore-house. Quite a common feature in the architecture of sixteenth and seventeenth century Dutch houses, tradesmen often plied their trade from their workshop in this fore-house and also sold their goods in this area. Both the private strip of sidewalk and the fore-house formed an intermediate area of meeting space, linking public life with the secluded private life of the inner kitchen and the other rooms.
Vermeer's 1676 death inventory mentions his fore-house. From about 1665 it may have showcased the large Vermeer masterpiece The Art of Painting, (Kunsthistorisches Museum, Vienna). This pictures an artist at work in his studio, busy painting a standing model, holding the attributes of Clio, the muse of history. It may have been produced as an ultimate proof of Vermeer's artistic prowess, and as a high point of his many qualities in handling paint, perspective, composition, ultimate realism and the allegorical contents.
Beyond the fore-house, family affairs were centered in the small and cozy inner kitchen, the only room kept consistently warm in winter. In the Vermeer house this inner kitchen received filtered daylight, first passing through the front windows of the fore-house and some 4 meters back through another set of interior windows, providing daylight to the upper and lower kitchens.
The Dutch were traditionally frugal when it came to heating, a fact noted in the diaries of many foreign travelers. We can only imagine what the cold and damp climate must have done in terms of mould and fungi on household items. A musty damp atmosphere in many rooms in Dutch homes must have been quite usual as well as being quite detrimental to their health.
A hallway on the left hand side of the Vermeer house provided access to both kitchens positioned one above the other. At the end of that same hallway was the entrance to the Great Hall, the finest room in the house. This hall at the back of the house was probably not used everyday, although with eleven children, the upper kitchen may have been too small at times. Treasured heirlooms were given a place of honor in this room. The 1676 inventory lists "ten portraits of the lineage of the aforenamed ms. Tins, all with bad black frames". The presence of their Roman Catholic faith is expressed in another painting listed, "a painting representing Mary the mother of Christ in an oak frame". The room also contained Vermeer's civic guard helmet and spike.
At the far end of the hallway, beyond the back facade of the house was the washing kitchen facing a small open yard where chamber pots could be stored until the carts came around to collect its contents.
Stepping into Vermeer's studio
Entering the house through the central front door, diagonally crossing the fore-house towards the left, one climbs the spiral staircase to the first floor. Passing a small landing, we finally reach the door to the painter's studio. In this two-window room at the northern front of the house, Vermeer created the painted cosmos of his interiors and the few townscapes we are so familiar with. There, in his studio, by mixing and carefully applying oils he worked his magic on canvas. It was here that so many excellent paintings saw the light of day, still fascinating us.
Coming face to face with a Vermeer painting may be a memorable visual experience and in the best of circumstances, even an event that can open the doors of perception within the viewer's mind. He succeeds in inviting and gently triggering these strange and wonderful responses in the general public, not just the jaded minds of a few experts. Vermeer continually succeeds in engaging the visual processing plants for viewers from many backgrounds across world cultures, not just once but repeatedly.
Visual Appearances:
Not What You Know is There - But What You Actually See
The paintings of Johannes Vermeer contain many fascinating characteristics:
- They seem to be radiate light from behind like a slide.
- Restrained chords of color provide harmonies in composition and design. This quality is known to painters as 'houding' (value interrelationship).
- Total absorption resembling meditation in women fully focused within their own world.
- Backgrounds that are uncluttered, clear and subdued, especially in the almost abstract blank wall areas.
- Wall charts and other square elements that turn space into breathtaking cutouts, providing negative shapes in terms of composition.
- Almost photographic and cinematic qualities that draw us into the scene, triggering our innate need for storytelling and for finding meaning in the image.
Vermeer was exceptional, possessing an artistic mind that was highly personal in observing the qualities of light. That is why he chose to avoid depicting the obvious, that which he knew to be there visually and intellectually. His vision was therefore new, clean, fresh, unmediated. Instead he focused on forms and light values as they appeared to him. He studied the effects of elements in light and shadow that he observed empirically both with his own eyes and with the assistance of optical tools such as lenses and the camera obscura.
After working through this initial phase of observation and research, Vermeer began the process of painting without making an under-drawing. One may for instance, observe this idiosyncratic encoding in the Girl with the Pearl Earring. In reproductions, we read the outline of the bridge of her pink nose against the pink of her cheek. However, if we observe very closely and turn off our visual recognition faculties, then the nose melts into the cheek and there is no demarcation line, just a continuous pinkish field. As human beings we actively transform and identify: reading a nose line even when it isn't there. We have an inner need to observe this demarcation because of the biological recognition wiring system in our brain. We therefore transform the image Vermeer has encoded for us in our own creatively enhanced way. That effect is just one tiny element in the Vermeer repertoire of representation and observation. He catches our visual attention, holding it for 10 or 20 seconds and presenting us with one of his many mesmerizing visual gems.
At the end of his career, Vermeer changed from soft rounded, tapering modulation of color fields to a mosaic system of nearly flat color fields, which he combined into a sort of tile pattern composition. A good example of this late style is the Lady writing a Letter now in Dublin. There seems to have been no clear reason for this change in style. Perhaps he was convinced that he had reached ultimate, almost photographic perfection in the works of the middle period and needed to tread a new artistic path.
========= box =======
Fame
Vermeer was reasonably famous during his lifetime, despite limited public access to his work. This fame peaked during the 1696 sale of about 20 works in Amsterdam. After this, his name disappeared for a century and a half of deep oblivion, in which his works were physically well taken care of, but were hidden behind the names of other artists. This was only rectified from the 1860s onwards thanks to the investigations of the French writer Theophile Thoré - Bürger.
In the twenty-first century Vermeer is hardly visible in Delft, althrough a number of information panels, sculptures, streets, hotels and restaurants have been named after him. The Vermeer in Delft multimedia center opened in 2006 at the location of the former St Luke's Guild on Voldersgracht.

=====end======.
====== boxed text =========
Special Delft Luminosity?
Because of the fame of its school of painters, Delft skies have been perceived by some fertile minds as possessing a special quality of diffused light and an enticing painterly luminosity. Although on some days Dutch daylight may indeed have some special qualities because of the high humidity and sometimes because of the low angle of the sun, a special kind of Delft daylight is quite hard to perceive, even by staunch believers.
====== end======
Questions
Who is this exceptional master-artist-craftsman-painter Vermeer? Can we place him in a logical way in the art landscape of his time? Is it possible for us to approach his craft, choice of subject matter and composition and style in an unbroken art history chain of influences and of causes-and-effects? Are there sources of influence in master-pupil relationships that can be cited? Can we define him in the stylistic terms used in art history books?
Vermeer incorporated and purified Dutch traditions and conventions in depicting interior genre scenes; genre being the name used to indicate scenes from everyday life. These genre paintings were developed by a wide array of Dutch artists inside and outside Delft. It would have been wonderful to be able to stand next to the master and hear his thinking about his craft; design, balance of hues, the intricacies of painting in oils, and about the elevated position of art itself. Vermeer was conscious of the mission of art, as shown in his The Art of Painting (Kunsthistorisches Museum, Vienna). Although there must have been many influences on Vermeer, three and a half centuries later they can no longer be traced. Vermeer must have studied and digested many paintings made by his contemporaries. He became familiar with many specific types of paintings – as any fine art student in his time would have done. Perhaps he appreciated and analyzed them for that which made them a good work of art; images, ideas, composition, color values, representation.
Where did he see those paintings? Most works hung in private collections to which outsiders had no ready access. He must have seen some paintings in a few private homes, many at auctions, second-hand stores, colleagues' studios and in public places and offices such as the Delft town hall. Vermeer must have also visited the daily art market and the big annual art fair in The Hague. Each painting formed a single visionary product and incorporated unique ideas, choices in color, composition, and tricks in representation devised by one artist. Looking in Delft during the 1650s for artistic influences on Vermeer, a few important names come to mind.
Pieter de Hooch
Many authors maintain that paintings by Carel Fabritius (1622-1654) and Pieter de Hooch (1629-1684) were major influences on Vermeer. He certainly knew their work and may have considered them a challenge and source of competition. A well-known juxtaposition of two works shows how De Hooch initially painted a 'Woman Holding a Balance', seen in profile holding a scale. Vermeer must have followed suit and the result of the two painters, put side by side, merits a note on the qualities of both paintings.
De Hooch shows how a woman is simply weighing something. By contrast, the work by Vermeer is a multi-layered picture with a painting-within-a-painting of the Last Judgement in the background, and therefore infused with intellectual and moral depth. When studying the scales in Vermeer we cannot even make out what she is actually weighing.
A key question is whether Vermeer actually knew, saw and studied many major works by the other Dutch painters who produced interior scenes and who are now considered to have been 'influential'. To name just a few from this wonderful pantheon of painters: De Jongh, Brekelenkam, Houckgeest, De Witte, Van Vliet, Sorgh, Koedijk, Maes, Ter Borch, Van den Eeckhout, Dou, Van Mieris, Hoogstraten. These are just a few arbitrarily picked from a list of many hundreds excellent Dutch painters who lived either inside or outside Delft, each one showing their own artistic leanings in interior views. Documents link Vermeer with just a few names. He dealt with a handful of Delft painters and with famous ones such as Ter Borch in the eastern part of the Republic. Document sources show that Vermeer seldom traveled to other cities like Amsterdam.
Vermeer's artistic mind
Vermeer may have absorbed and learned from many or nearly all of the artists mentioned here, but he walked a path of his own. As has been discussed, he was superb in producing works of wonderful simplicity and togetherness and a sense of calm and equilibrium in composition, color and subject matter. Compared to other painters of his age, his paintings are relatively bright. He made a wonderful use of perspective and had his own special brand of observed realism. Like his contemporaries Frans van Mieris and Gerard Dou, he succeeded in capturing an uncannily realistic and life-like reproduction of different materials in their characteristic texture and sheen.
He developed an entirely different and highly personal quality of observation, and then went on to create ways of translating these visual findings into paint. This was the source of new paint patterns that triggers the same kind of visual wonder of recognition in viewers. This worked not only in the seventeenth century, but for later viewers as well.
That quality of Vermeer paintings has been recognized throughout the ages. This is why his works have nearly always sold at auction for appreciable amounts. As they were worth a good deal and were re-sold continuously over the years, they merited good physical care, and were able to come down the centuries to us intact.
Annual Family Income
Presently we know of 35 to 37 surviving Vermeer works, the count depending on which scholar's word one goes by. Archival documents mention another six additional titles that once existed. Working this out using reasonable loss factors, it would be safe to assume that during his lifetime Vermeer produced somewhere between 40 and 60 paintings. Annually he may thus have sold between two and three paintings during the golden years between 1658 and 1672.
His most important clients were the wealthy couple Pieter Claesz van Ruijven and his wife Maria de Knuyt who owned some 20 Vermeer paintings. Roughly speaking, Vermeer may thus have netted between 200 and 300 guilders a year from 1658 up to 1672, when the art market suddenly collapsed because of open warfare from neighboring countries.
During those golden years, Vermeer also traded in paintings by other masters. He dealt mostly in works in the 20-guilder range, representing the middle-upper range of the market. However, the few existing documents about this show that as an art dealer he was much less active than his father ever was. It may be estimated that he netted some 200 guilders a year from the art trade up to 1672. Given the layout of his house he may have stored his trade stock in the attic of the front part of the house.

Maria Thins, Vermeer's mother in law, owned the house the family lived in and was a member of the household to be reckoned with. Wealthy by inheritance, she received a steady income from real estate. A divorce settlement brought her a lump sum of around 15.000 guilders. She also inherited money at the deaths of her brother Jan Thins (1651) and her daughter Cornelia (1661). Her combined income was in the range of 350-400 guilders a year. Over time Maria gave both gifts and loans to her daughter Catharina and to Johannes Vermeer.

Thus, in their prosperous golden years between 1658 and 1672, the total annual Thins-Vermeer family income may have been about 850 to 1500 guilders, rising far above the normal family income of 1 guilder per working day for a journeyman and 2 guilders for a well-trained professional artisan or artist. This surplus money also brought Vermeer some degree of artistic independence, in not being fettered by the pressures of the market or dictates of fashion.

There were a great number of Vermeers to be taken care of, three adults, as well as the growing number of up to eleven children to provide food, drink, clothing, bedding and schooling for. There may also have been a live-in maid most of the time. However, by 1675, there may have been fewer than 15 people living in the house, as the oldest child, Maria may have been married by then and living independently. Johannes Jr. and possibly one other child, may also have been living with other relatives, when Vermeer died in December that year. The youngest child, about one year old, was still in the cradle. Another cradle was unused, stored in the attic.

======= box =======

Wealthy Delft Painters

Delft painters who provided work for the lower end of the market sold in the range of just a few guilders a painting. The bulk of good-quality paintings fetched some 10 to 20 guiders. Vermeer rose above that level and succeeded in selling most of his works for prices from 20 to 200 per painting, which placed him in the select group of the best paid Dutch painters. Just before Vermeer's career, one successful Delft painter was the repetitive and relatively old-fashioned portrait painter Michiel Jansz van Mierevelt (1567-1641). More in fashion at that time was his Delft contemporary, Anthonie Palamedes (1601-1673) who specialized in 'gallant companies'. The exquisite flower still lifes of Willem van Aelst, (1626/27-after 1687) were also highly sought after. Interesting, but somber genre and history paintings were produced by Leonaert Bramer (1596-1674), and works in a lighter key by Corstiaen van Couwenbergh (1604-1667). Vermeer ranked in income with these very successful Delft specialists.
.
========= end =======

Bedsteads and bedding items

It may come as a surprise that the list of the names of the rooms in the Vermeer inventory did not specify a single bedroom or place to wash. It also fails to mention any bedsteads because they formed an integral part of the architectural structure of the house, and were not freestanding beds as they are today. Only one freestanding, four-legged bed was itemized and blankets were listed only in the upper and lower cooking kitchens. Beds were obviously scattered all around the house. A huge amount of bedding was required for four adults and up to eleven children. A bestead was normally boxed in on three sides, connected structurally to the beams and wainscoting of house. For privacy's sake and warmth the bedstead was closed off by a heavy curtain or double door. People usually slept sitting up in a bedstead about five feet long, as sleeping horizontally was considered dangerous to ones' health. Laying down, the blood could rush to the brain and kill the sleeper. Usually two people shared a bedstead and directly under it, as part of the wainscoting, there may have been large padded drawers in which one or more children could sleep. These children were, and still are known in Dutch as "shoved-under children".

Complete sets of bedding for use in a bedstead were very costly, and consisted of a straw mattress, a soft pad, an eiderdown, sets of linen sheets, pillows and pillowcases. Each full set of bedding cost up to a whopping sixty guilders. To preventing the straw mattress and down quilts from becoming moldy, daily airing and upkeep was necessary. Airing and then making up the many beds in the house formed a major daily chore. The Vermeer household maid, Tanneke Everpoel who we may imagine as the sturdy milkmaid, would have had to work hard to keep up the large household.

Bed linen was also an expensive item because it wore out in time and then needed to be replaced. Batches of linen may have been washed a few times a year in commercial laundries and dried on the bleach fields out of town.
Sidewalks were kept scrubbed as a part of civic duty. From a twenty-first century point of view, this outward cleanliness contrasts strongly with the seventeenth century lack of personal hygiene, as people did not wash their bodies very often.
Tha Art of Reading Books
As a result of a broad schooling policy, literacy in the seventeenth century Dutch Republic was very high across the general population. This in turn provided the foundation for Protestant religious life by preparing children to learn to read from the bible at home. It may have been usual in those days for anyone, even when alone, to read aloud when reading a book. The art of silent reading of any written text seems to have been slowly introduced in education at a later age.
From his 1676 inventory we know that Vermeer owned "five books in folio size; as well as 25 books of all kinds". Folio size books indicates a paper size of 8 1/2" x 11" or in the metric system 21,6 x 34,2 cm, making it an above average sized book. For a private individual of his day and age that was a sizable library. Whereas most Protestant families owned the Holy Bible, Roman Catholics could make do without even that as Catholic priests discouraged private bible reading.
One may presume that Vermeer owned and read books for the sake of professionally useful knowledge, to acquire socially current knowledge and perhaps for relaxation. Given his life story and the fields of interest apparent from his paintings, the titles he owned may have included Greek and Roman history, religion in general, painting, perspective and science including mapmaking. In addition, there would probably also have been some songbooks and books of sheet music.
The very precise, documentary way in which Vermeer paints maps and books as objects is seen time and again. Just as we are able to pinpoint both title and exact edition of various maps in his paintings, we can also identify a particular book in one painting. An open book is shown in the Astronomer (Louvre, Paris). The book is Adriaen Metius' 'On the Investigation or Observation of the Stars', Book III, second edition, 1621. It shows an engraving of the astrolabe invented by Metius himself. Although Vermeer may not actually have owned this book, he must have had access to it while painting the scene.
======= box =====
Gilded jug
The single most costly object found in the Vermeer household was a gilded jug. It may be the one shown in the painting Woman at Window, (Metropolitan Museum of Art, New York) where it is depicted with an additional saucer underneath, of the same material and color. In the testaments of 1657 and 1662, the gilded jug was willed by Maria Thins to her daughter Catharina as part of her inheritance.
======= end =======
Table manners & hats
One may imagine the many Vermeer children often playing out in the street because the upper kitchen, the warm, cozy center of the household, was rather small. Traditionally, children ate their meals while standing at the table, while adults sat down. We have no documents regarding the types of food consumed in the Vermeer home, but the bill from the baker points to bread having been the staple in the Vermeer home during the economic depression of 1672-1675.
For men, wearing a hat indoors and out formed an essential part of the code of good and courteous manners. In the 1733 book Welleventheid (The Art of Good Manners), published by Jacob Graal, headvises his readers how to get on successfully in Dutch society. Correct use of a hat was essential for a man. Praying at the dinner table, we read, was done bareheaded. The very first time food was offered or received at the table, one removed their hat just once. One also took their hat off when an esteemed person toasted somebody's health, when receiving such a toast, or when you were addressed directly. Hats were made out of felted animal fur. One of the sources of this raw material was beaver furs and pelts from the shores of the Hudson river near the Dutch colonies in and around Nieuw Amsterdam, present day New York.
Vermeer's Death
Economically, Vermeer hit upon very hard times when foreign troops invaded the borders of the Republic in 1672, bringing international trade to a standstill. Vermeer's patron died shortly after in 1673, further aggravating his financial basis. He even secretly collected money due to Maria in Amsterdam. In 1675 he fell into a fit of depression and frenzy, and died shortly after.
After Vermeer's death, officials came to collect a regular tax in the form of the best outer garments of the deceased. However, they did not succeed in calling in this debt and they wrote "Nothing to get", which was very unusual.
Lens maker Antony van Leeuwenhoek served as the curator of the estate. He did not act as a friend of the family, but as a neutral functionary appointed by town authorities. He was to deal with all matters pertaining to Vermeer inheritance and debt management.
Willem Bolnes spells trouble
The Thins – Vermeer family was occasionally honored by a visit from Willem Bolnes, Maria's unruly and violent son. As an adult he was described as a problem child with a "dissolute, licentious and useless life, as well as the disobedience, spite and harm that he had done to his mother". Willem must have had some form of mental defect, and made life truly miserable for the family.
In 1663 a new spell of trouble had been brewing. Both the housemaid Tanneke Everpoel and stone carver Gerrit testified that on various occasions Willem had created a violent commotion - to such an extent that many people gathered in front of the door. He had cursed his mother, calling her an old popish swine, a she-devil, and such ugly curses that, for the sake of decency, they had to be left out of the written report. Tanneke also saw that Willem had pulled out a knife and tried to hurt his mother with it. She declared further that Maria had suffered so much violence at the hands of her son, that at times she dared not to leave her room and was forced to have her food brought in. Willem Bolnes was also violent to his sister Catharina, threatening to beat her on diverse occasions with a stick, notwithstanding the fact that she was pregnant at the time.
In her deposition, Tanneke stated that she was able to prevent further violent behavior. Witness Willem de Coorde added several details, declaring that on various occasions he had prevented Willem Bolnes from entering the house: "He also had seen Bolnes thrust at his sister with a stick at the end of which there was an iron pin several times."
As a result Bolnes was locked up in a private house of correction at the enormous annual cost of 310 guilders.
Widow Catharina
In 1676, just after Vermeer's death, the family fell upon hard times. As a widow, Catharina wore black, and the inventory lists three black jackets made of a wool and silk mix called 'turks' or 'grofgrein'. To go with these jackets,the inventory also lists a long black woolen skirt.
As Catharina's income had dropped sharply, she put in a petition to stave off the nine creditors of which the baker was a major one. She declared that during and after the war year of 1672 Vermeer "had been able to earn very little or hardly anything at all". There was even a chance of Catharina going bankrupt. Her mother saw to it that Catharina would inherit the strict legal minimum of 1/6th part from Maria's estate (those goods could otherwise be immediately confiscated by the creditors) so that her grandchildren would be taken care of one way or another.
Petitioning the town authorities in her former hometown of Gouda due to her financial hardships, Catharina succeeded in releasing money kept there in trust funds. Money was always scarce. In 1678 one of the Vermeer children was wounded in an explosion in a ship coming from the town of Mechelen, Belgium. Another became quite seriously ill and their medicals bills were a heavy burden.
Catharina died at the end of 1687, after just having appointed a new guardian for her children, the notary Hendrick ter Beek van Coesfelt who lived in The Hague. She must have had strong reasons to change guardians at this point in her life. With hindsight this seems to be the only decisive action she had ever taken.
Catherina died not in Gouda but in Delft while visiting her daughter Maria and her husband Johannes Cramer at their house the Blue Hand on Verwersdijk. At the funeral, her relatives paid for the full set of twelve pallbearers that was pretty standard for any burial except that of a pauper. By that time Catharina still had still five children under the age of 25 who were still unmarried.
As we have just seen, the Thins – Vermeer home was very much a women's household. Women also play a major role in Vermeer's paintings and form the topic of the next chapter.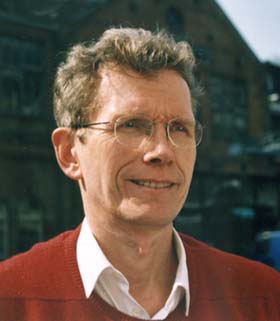 Contact information for Private Art Tours:
Menu of tours. See client testimonials.
Drs. Kees Kaldenbach , kalden@xs4all.nl
Haarlemmermeerstraat 83 hs
1058 JS Amsterdam
The Netherlands
telephone 020 - 669 8119
(from abroad NL +20 - 669 8119)
cell phone 06 - 2868 9775
(from abroad NL +6 - 2868 9775
Please note: All materials presented on this 2000+ item web site are original and therefore copyrighted. If passages are quoted (in essays, dissertations, books or other works, written or otherwise) then references must be made in the proper way. That is, the quoted passages must be attributed to the author, and the source of the material (i.e. this website) must be cited.
Published online, July 15, 2011. Update 10 July, 2016.