B
COMPLETE BOOK
on Vermeer of Delft & the 17th Century city of Delft
Art history and social history by Vermeer specialist, art historian Drs. Kees Kaldenbach, Amsterdam.
Chapters:
0) Introduction
1) The fortified City of Delft
2) Artisans and the Guild of St Luke
3) Science and Technology in Delft
4) Vermeers Private House
5) Women - Courtship - Music
6) Beer - Bread - Markets
7) Hidden Corners in Delft
8) Selected Bibliography


Updated June 9, 2016.
Introduction.
Chapter 2.
Artists and Artisans – Masters in the Guild of St Luke
In this chapter we explore the inner workings of the Delft Guild of St Luke, the professional organization to which Vermeer applied in order to be able to work as an artist, selling his own paintings and trading paintings by other artists. A number of local painters are discussed who were influential to Vermeer's artistic development: Houckgeest, Fabritius, Vosmaer, Potter, Steen and De Hooch.
Normally Dutch painters chose one of the many current artists specializations, such as portrait, landscape, or 'genre' scenes of everyday life, and later on may have tried history painting. Against all traditions, Vermeer began as a history painter, the kind of work normally at the very summit of artistic endeavor, creating large paintings in the Italian style. A discussion of the characteristics of Vermeer's middle and later works, basically genre paintings and a few townscapes, show how this work was rooted in Dutch tradition of painting. We will also show how his work differed as compared to the work of his colleagues.
Manufacturers of Delft Blue pottery were also members of this guild, and this chapter indicates how their abstract designs on tiles and pottery may have influenced Vermeer's preference for simplified shapes and outlines. Delft Blue workshops are also listed and pinpointed on a map. Finally some Delft art connoisseurs and patrons are discussed.
The Guild of St Luke
Guilds came up during the late Middle Ages as professional trade and trade protection organizations. All artisans had to enroll in a guild in order to be able to work and sell in their own trade.
Seventeenth century parents probably thought twice before sending their son out to become a painter. It was a 6-year long, costly schooling process and during that long pathway of the artist in training, little or no income was generated. The outcome was also insecure, as a boy needed an above-average natural aptitude in drawing and a gift for painting to start off with.
Johannes Vermeer's pathway to the St Luke Guild was relatively easy, as the first step of guild membership had already been taken by his father, Reynier Jansz.
Reynier had started out as a weaver of the luxury fabric caffa, a satin fabricwith a mix of yarns of silk and wool, with which he applied a highly advanced weaving technique resulting in patterns or pictorial images. Working his loom at their home at Voldersgracht (Fullers' canal) 25-26 in the building called The Flying Fox, he also earned additional income as an innkeeper within his house. In 1631 he made a bold career move and became a member of the Guild of St Luke, not as a painter but in order to get a license to trade in fine-art paintings from his home and inn.
At Voldersgracht a few steps north of Markt (Market Square) stood the well-appointed home of the Guild of St Luke, headquarters and nerve center of the town's painters and artisans with artistic qualities. It was situated just a few doors to the right of Reynier own home The Flying Fox.
Reynier began his career as an art trader with a group of oil paintings that he and his wife Digna Baltens had just inherited from two sides of their families. Reynier's paintings originated from his maternal stepfather Corstiaensz the town musician. Digna's lot of paintings came from her father, the "counterfeiter" Balthasar Gerrits, whose extraordinary life story is told in Chapter 3.
===== boxed text =====
Multimedia Vermeer Delft Center
At Voldersgracht 21 just north of Market Square was the seventeenth century home of the Guild of St Luke, the local guild for fine art painters and other creative artists. Its premises were remodeled and inaugurated in 1667 and it functioned as the guild headquarters for well over a hundred years up to the Napoleonic time when due to new system of laws all guilds were closed down. The building itself was demolished in the 1880's.
In the spring of 2006, at exactly the same historic spot, the Guild of St Luke facade has been rebuilt and inside, a multimedia experience center is open to visitors.
(author's note 2011: Open to the public. The basement is filled with true size reproductions, showbn without frames. The upstairs floors contains a small exhibition about Vermeer & light.)
====== end ==========
When it comes to historical documents, the Delft guild of St Luke from Vermeer's days has been lost in the mists of time. Virtually all of the registry papers were discarded after the guild was abolished. In 1833 a wooden coffer containing the remaining Delft guild papers was emptied and the only documents then retained were the two small Master membership books now in the Koninklijke Bibliotheek (Royal Library), The Hague. They contain the handwritten list of newly enrolled masters. It may even contain some of Vermeer's actual handwriting as he was syndic or headman of the Guild during four one-year periods in 1662, 1663, 1670 and 1671 and during those periods he may have enrolled new members.
These two Guild booklets do not mention the rules and regulations, but those rules that applied in Delft were broadly comparable to those in other Dutch towns and we are well informed about how the painters' guild was managed in nearby The Hague. There, new masters about to be tested for admission were let into the building by the Dean of the board who took 6 stuivers (pennies) per day in fee. These candidates were given a test assignment and with their own apprentice tools and materials, they had to produce a masterpiece of their craft within a given period of time. Those who failed the test had to wait, study diligently and train again after a waiting period of 58 weeks. Normally the candidate prouveling passed, as Vermeer did when he successfully enrolled on 29 December 1653. In Delft a new master had to pay an entry fee of either 3 guilders when having studied with his own father, or 6 guilders when coming in from a study period in another town. The full 12 guilders was the fee for a master born and trained outside Delft. Whereas Vermeer had to pay the intermediate sum he was unable to come up with the complete amount right away.
Guild regulations also stated the number of years an apprentice needed to study in the craft. For the art of fine painting this study period was exceptionally long at 6 full years. Guilds set and protected quality control standards and maintained craft quality and workshop practices, barring the influx of too many outside ready-made articles.
Membership was reserved to men only, with the exception of widows of deceased members who were free to continue their husbands' workshop under their own name. Widows' names were however usually not entered in the guild books. In some cases a widow might opt to marry a man who was already a master in the same professional field, especially when trying to keep a complicated Delftware workshop from closing.
Vermeer was thus required to enroll in the guild. Without membership no economic activity as an artist was permitted, neither selling his own works nor in selling paintings by other masters. It was both a matter of quality control and economic protection. The guild fully supervised and controlled this branch of economic activity on behalf of the city government.
During just one week per year, when the big open annual fair and market was held, ordinary Delft people were allowed to enter into the art trade. Only then was the sale of paintings was open to all, without restrictions. The other exception to the strict commercial rules limiting the sale of paintings, was the auction of paintings after a death occurred.
======= boxed text =======
Sale rooms in The Hague
One of the pressing problems facing the painters in the Delft Guild of St Luke was the lack of a daily saleroom facility in Delft for marketing their paintings. Lacking an outlet, some Delft painters opened up their front section of their home (the fore-house) so that prospective buyers could look at their stock of paintings. Vermeer had such a fore-house.
In nearby The Hague sales were organized on a more regular and larger scale. A daily art market existed in the grand Ridderzaal, the Count's Hall close to the Mauritshuis Museum) as well as in the White Gallery near Stadhouders gate. There the stalls for selling paintings were often managed by the painters wives. Trade was especially brisk around the time of the annual fair in The Hague.
Once a year a widely advertised grand sale was held in which Hague painters could enter their works. The 1647 sale for example boasted some 1300 paintings, which netted 8000 guilders at auction, at an average of about 6 guilders a painting. This annual sale attracted important professional art traders, but also people with money to invest such as mayors, doctors, lawyers, artists, and political figures such as Willem Boreel from Amsterdam, a one-time neighbor of Rembrandt.
Other, smaller-scale 'vendue' sales during the year were allowed, and had to be arranged with the local guild who required a full catalogue listing of all of the works to be sold, including the correct attribution to masters. Because of the large crowds of buyers and liberal beer and wine consumption, these art sales were quite popular with innkeepers, as well as with the masters of militia halls.
====== end ========
Within the group of painters in the guild one should distinguish between fine art painters, fijnschilders, such as Vermeer and de Hooch, and kladschilders, who could be regarded as adequate house painters, although most of them were also able to produce ornamental designs on doors and walls.
Generally fine-art painters formed a tightly knit group, taking care of mutual assistance in buying and selling artists materials, in valuing art works, in restoring paintings, at tipping each other off in the art trade, as well as serving as witnesses in buying and selling paintings and real estate. We also know that some painters liked to spend leisure time together. Vermeer was no exception and from the archival documents we learn that Vermeer was not the enigmatic recluse he was once thought to be, but was indeed a full and active member of a tightly knit community of Delft artists and patrons.
Most fine-art painters worked hard at their career, and some of them succeeded financially. Only a few achieved financial success when working for the court in The Hague or even for foreign courts landing important commissions and high prices.
However, most painters just scraped by. Painters could make additional income by taking on pupils, but we do not know whether Vermeer ever had one. When it comes to financial property Vermeer married into a well-off family and had one single major patron who favored him for a period of several decades, buying up half of his output. This extraordinary patron Van Ruyven has been discussed in Chapter 1.
======= boxed text =======
Creative Groups within the St Luke Guild
The St Luke's guild in Delft contained artists and artisans in what we now see as 'creative' workers. Its members included fine art painters, painting dealers, Delftware faience manufacturers, printers, engravers, sculptors in wood but also in stone or other fine materials such as ivory. Furthermore this guild included architects, tapestry weavers, embroiderers, glass makers, glass painters, glass sellers, engineers, surveyors, mapmakers, map coloring specialists, calligraphers, typeface makers, printers, book binders, and as the proverbial odd ones out, chair painters, and simple furniture joiners.
In Delft goldsmiths were grouped in a separate guild, as were the producers of large tapestries. Tapestries were purchased by the government and served as important ambassadorial gifts.
==== end ====
St. Luke's Guild at Voldersgracht was the headquarter of a formidable economic business branch, and a hub of professional contacts. At the guild a master within one trade could readily meet masters of other branches within the same guild, especially those of the rapidly expanding Delftware industry, forming a large and extremely successful group. The total number of inhabitants in Delft in 1650's varied between 45.000 and 50.000 and of this group an appreciable percentage were involved in the Delftware industry one way or another. Vermeer thus met masters from the Delftware trade on a regular basis and he may have become inspired by the use of primary colors on tiles and by the simplified outlines and strong, elementary design shapes and designs used in their products.
Guild membership brought not only benefits, but also obligations and rules. A member was not allowed to take over another member's job except for in cases of overriding need such as illness or drunkenness. A basic sick benefit system also existed, providing income and medical aid in case a member became seriously ill. Guild brothers were expected to attend the funerals of deceased members. Fines for trespassing rules were collected by a footman.
Having had this well-oiled guild system going for centuries, town magistrates felt comfortable in actually handing over day-to-day management of a guild to a board of knowledgeable and able men called 'syndics' or 'headmen'. These were elected from within the guild ranks and subsequently ratified by the city magistrates. Vermeer rose to this elevated position a number of times, starting out in the board at a relatively young age in 1662, 1663 and serving again in 1670 and 1671.
Gathering annually in Delft on October 18, the day of their patron saint St Luke, all members convened and elected their future officers. In the guild book we read that initially there were four headmen and from the 1640's onwards even six headmen. The list often included two or more painters. The names of elected members were handed in and subsequently the burgomasters (mayors) and aldermen ratified the shortlist just before the end of the year.
In order to settle important decisions, board members met for official business every four weeks on Monday at 5 o'clock. Not turning up when one should have done so cost a fine of 24 stuivers.
For a full clickable list of guild members, allowing you to read about their backgrounds and interrelationships please visit Google: Kaldenbach Obreen Delft.
Guilds were thus a proud institution in city life. In medieval times they held colorful festive religious processions on Market Square. After the Protestant takeover in the 1560s this tradition was first allowed to continue, to be repressed some years later on, as it was too reminiscent of Saint-oriented Popish religious sentiments.
======= boxed text =======
Art Supplies
Fijnschilders (fine art painters) needed artist materials. Due to the large amounts of color pigments used in faience workshops in the Delftware industry, volume of trade was high. There was a high level of expertise as well regarding these materials, both in their raw form and in milled, refined, powdered form.
Before getting to work in their studio, painters had to make a choice. They could invest their precious work time, buying raw materials and grinding them, mixing powders in oils and drying agents, storing these hand made paints in pigs' bladders. They could stretch and mount their own canvases, priming them with layer upon layer of gesso (bonded chalk), creating a smooth and stable white background for canvas paintings.
Alternatively, in order to save time and to benefit from the professional craft and expertise of others, many artists may have preferred to use ready-made artists materials. Thanks to modern techniques such as x-ray, we have come to learn more about the canvas supports Vermeer used. As most were standard commercial size, he may have bought them ready made. Ground-up pigments, ready-made paints tied-up pig bladders, liquids and various sizes of canvases could also be had off the shelf from specialized art dealers. These art supply grocers were nicknamed colormen. In Delft one such colorman was Leendert Volmarijn Alternatively a painter could shop around for raw or refined materials at the local apothecaries, who would in turn have obtained the various materials from wholesale colormen dealers in Amsterdam, Haarlem or Rotterdam. In 1664 only one Delft apothecary bill crops up in known Vermeer documents, that of apothecary Dirck de Cocq, concerning artist materials delivered to Vermeer, such as lead tin yellow and several other items. One of the famous Vermeer colors is the intense ultramarine blue made from the semiprecious stone lapis lazuli, obtained from Persia, Afghanistan and other oriental countries. By weight it was more expensive than gold.
For a present-day experience of a colorman, see the paint store at Beestenmarkt.
Painters Within Delft
Dutch painters working outside Delft have been discussed in chapter 1. Up to 1650 painters working in Delft had largely stayed outside the vibrant breezes of artistic innovation producing works that were fairly provincial in character. Delft however became the birthplace of a small but seminal revolution which occurred in 1650 in the field of perspective painting, a specialization that up to that point was still of minor local or national importance. This change concerned the manner in which views of the interiors of local churches were depicted. In the long run this change proved highly seminal. The painter who single handedly managed to break this new ground was Gerard Houckgeest.
======= boxed text =======
Houckgeest, a Breakthrough Artist
Gerrit Houckgeest (c. 1600-1661) lived in Delft from 1635-1651, entering the local Guild in 1639. He became wealthy and purchased expensive real estate: In 1642 he owned 'De Clauw' (the Claw) on Koornmarkt 8 (see GH1). Between 1644-1649 he owned 'In de Spijckerboor' (In the Drill) at the corner of (Korte) Achterom and Kettinckstraat (present location unknown). It was sold furnished for 2680 guilders. In 1647 he sold a house on Voorstraat for 4000 guilders.
He was revolutionary in selecting an uncommon angle of view in his paintings. In designing views of churches he shifted the painterly viewpoint away from the central axis to one sideways, in an oblique angle. In doing so he was challenged by a much more complicated perspective set-up. He had to work out two vanishing points, one to the left and one to the right hand side, both at the horizon line. The result looked surprisingly natural and was easy to read both for layman and expert.
Another painter of church interiors who excelled was Emanuel de Witte (1617-1692). He stands out of this group of specialists by stressing atmospheric effects of light.
===== end ======
What seems to have been characteristic of the group of Delft painters in the 1650s was a common interest in the optical effects produced by lenses. Lenses are discussed in chapter 3, on science, discussing pioneering scientists in Delft such as the local genius Antoni van Leeuwenhoek (1632-1723) who became famous for constructing microscopes and for his research correspondence with the Royal Society in London.
In using various optical devices artists analyzed the effects of distortion of images and observed changes in the intensity and contrast of light and luminosity of color. Within a few years this positive attitude towards experimentation yielded extraordinary results in a select group of Delft artists. Foremost amongst this group was Carel Fabritius, a history, perspective and still life painter (see box).
======= boxed text =======
Carel Fabritius
Carel Fabritius (1622-1654) entered the Guild of St. Luke in 1652. His startlingly modern View of Delft with a Music Instrument Seller shows a view towards the back exterior of the Nieuwe Kerk (New Church), the perspective distorted to incorporate a wide angle of some 120 degrees. This painter also became known for the high key of light (to speak in photographic terms). In his early years he had started out as a history painter, just like Vermeer did. Initially Fabritius lived (with his father-in-law?) on Oude Delft; later on the Doelenstraat near the gunpowder arsenal. It exploded with tremendous force on 12 October 1654, and his house collapsed on top of him,
"...as he was painting the portrait of Simon Decker the sexton of the Old Church, crushing Mathias Spoors his art student as well. Only Fabritius was still alive when he was excavated after 6 or 7 hours, and he died just 15 minutes after having been moved to the hospital."
A number of large wall and ceiling paintings were executed by Carel Fabritius in various Delft homes, but they are now all lost to us. One mural was created in the residence of surgeon Theodorus Vallensis (1612-1673) located at Oude Delft between Nieuwstraat and the Oude Kerk (Old Church).
The small View of Dellft with a Musical Instrument Seller (image in chapter 5) can be seen from the viewpoint on a bridge, indicated on the map.
=== end =====
======= boxed text =======
Daniel Vosmaer
Another artist who experimented with the expressive use of perspective was the landscape and townscape painter Daniel Vosmaer (1622-after 1666), who entered the Guild of St. Luke in 1650. In 1663 he produced the large canvas View of Delft from a Fantasy Loggia, which is quite fascinating as the painter shows his town of Delft although he partially fails in what he set out to do: present a convincing spatial perspective in the loggia ceiling and in its tiled floor.
This work does give us an idea of the large murals by Fabritius.
==== end =====
======= boxed text =======
Paulus Potter
Paulus Potter (1625-1654) is known as the young gifted artist who created the large and delightful painting The Bull, (now in the Mauritshuis, The Hague). In it the massive size of the group of cattle with an attending farmer is juxtaposed against the tiny church tower far away in the lower background. This and other Potter cattle paintings such as that in the Hermitage also show his preference to work in a high key (with many light filled areas), the painting radiating in an all-over luminosity as if it is a large back-lit color slide. This remarkable luminosity may have been a major influence on Vermeer during the short time Potter spent in Delft. Vermeer's View of Delft also radiates this kind of wonderful luminosity. It could be that the interior detail shown here was the first Delft interior painting
==== end =====
======= boxed text =======
Jan Steen
Jan Steen (1626-1679) is mainly known for his genre works depicting exuberant merry companies and especially family scenes getting out of hand. He worked in both a broad style for producing large paintings and also on a smaller scale in the meticulous, precise and super-flat fijnschilder manner practiced by his contemporaries Dou, Van Mieris and Metsu.
He married Margaretha van Goyen, daughter of the landscape painter Jan van Goyen from The Hague. Steen's own father realized that as a painter his son had no immediate means of supporting a wife. In the fall of 1654 he therefore found him a Delft brewery called De Roscam (The Curry comb) also known as In de Slange (In the Snake) located on Oude Delft 74 in which Jan tried his hand in beer brewing. This brought him no great economic success. Steen gave up brewing in 1657 and moved to Leiden.
An important work by Steen in the fijnschilder style, and one of the few portraits he made in Delft is the Delft Burgomaster and his Daughter, now in the Rijksmuseum, Amsterdam. It shows a view towards the Old Church tower (not leaning but straightened up here) from a vantage point of a sidewalk just opposite his house. Juxtaposed are the finely dressed mayor and his even more refined daughter sitting on their private territory, ignoring the beggar woman with her son on the public street.
The little bouquet of flowers in the windowsill could be seen as a cameo performance, emulating the famous flower painters in Delft.
===== end ======
Pieter de Hooch
Both pioneers, Vosmaer and Fabritius set new standards for a group of gifted artists including the up-and-coming genre painter Pieter de Hooch (1629-1684) who moved to Delft before 1652 and was to remain there for nearly ten years before moving on to Amsterdam. Initially he lived in the household of textile salesman Justus de la Grange at Oude Delft 161. Later he married Jannetge van der Burch in Delft (a painter's daughter, another example of the tightly knit social world of painters). In Delft, Pieter de Hooch produced mainly paintings of interiors, depicting burghers and their children or personnel, situated in light-filled rooms - or placed outside in courtyards. Shortly after 1650 there must have been just the right critical mass of artistic drive, painterly know-how together with the right formula of patronage and art market in Delft to make Pieter de Hooch part of the successful innovative movement among painters. In his room views the depiction of architecture is usually finely depicted and sometimes well lit, but his human figures are often somewhat stilted.
Later on Pieter de Hooch lived independently behind the southern Hieronymus (St. Jerome) gate, which is located between Oude Delft 145-147.
Johannes Vermeer
In this competitive atmosphere of vibrant artistic energy in creating new ways of depicting visual reality and applying perspective and optical effects, Johannes Vermeer (1632-1675) entered the scene. He returned to Delft in 1653, married and enrolled in the Guild on December 29.
Artistically, Vermeer started to paint in the grand Italian manner, using large canvases and glowing, almost Venetian-style colors to paint scenes from Roman and biblical history. This early style, which he used up to the middle of the 1650s is therefore easily recognizable and is quite apart from his later work.
The Diana painting illustrated here as an example shows the goddess at rest in a hunting scene; in just a few moments Acteon, a man ogling the nude, bathing women will be transformed into a stag. Typically for Vermeer he has selected just a quiet 'movie frame' from a story well known to those educated contemporaries of Vermeer's who knew mythological stories from Ovid's Metamorphoses. (Diana, Mauritshuis)
Back in Delft Johannes Vermeer mingled with other painters, learned from their work and soon emulated them. Towards the end of the 1650s he managed to outshine the best local painters specializing in interior scenes, notably Pieter de Hooch. Vermeer did not actually break new artistic ground but succeeded in painting interior and exterior scenes with spatial effects that were fully convincing, almost photographic and perhaps even cinematographic in character. His trademark can be easily listed here: a clear and uncluttered arrangement of the main composition elements and of crisp outlines, the audacious yet balanced use of color hues, working in a relatively high key of light, in a highly realistic, illusionist manner, showing off mastery of perspective and of depiction of the textures of all manner of materials, whether it be tapestry, porcelain, glass, silk, leather, wool or wood. Shown as a fine example is the The Glass of Wine, now in Berlin.
In 1662 Vermeer became a syndic or headman of the Guild of St Luke at the exceptionally tender age of 30 – this choice of his fellow Guild members may not have been because of his leadership or management qualities but by default. Many other fine painters of note had left Delft to search for better careers. Jan Steen had moved out after a short stay in Delft, and in 1651 Houckgeest is known to have moved to the southern provinces. Around the same time De Hooch and De Witte went north to Amsterdam to try and improve their market position. Vermeer had no reason to leave Delft as he had one wonderful client there he could count upon, Van Ruijven who ended up buying the better half of his output (see chapter 1).
As an artist, Vermeer left us no words but the testimony of the paintings themselves. Nothing is known on Vermeer's views– all we have is a very short, critical statement from 1672 when Vermeer was called on to give his expert evaluation of a group of Italian paintings. This is the only written document in which he actually speaks about art and he does not mince his words:
"The aforementioned paintings (…) are not outstanding Italian paintings, but, on the contrary, great pieces of rubbish and bad paintings, not worth a tenth of the aforementioned proposed prices…"
Those interested in recognizing Vermeer's subsequent artistic development may attempt to distinguish between his middle style, as described above and his later style. In the later style that began to evolve around 1670 up to his death in 1675, there is more evenness in color fields. Seen from close by, the un-modulated paint looks like a mosaic of tiles of more or less flat surfaces of color. For some Vermeer fans this represents the weak tail end of his output whereas others love the abstract formal qualities of this late phase. The finest example of this phase is undoubtedly the Lady Writing a Letter, now in Dublin, Ireland.
The detail shows red sealing wax particles fallen to the floor, triggering in each of us our private story on how they got there.
Vermeer paved the way for refined paintings of interiors by such colleagues as Cornelis de Man (1621-1706) who - except for making a major journey abroad - also remained in Delft as a pillar of society.
Vermeer also influenced Hendrick van der Burch (1627-after 1669) who entered the Guild of St. Luke in 1649, and moved to Leiden in 1655. However, neither can be seen as Vermeer's students.
====== boxed text ==========
Paintings Forever Lost
We are very fortunate to have knowledge of such a large group of excellent paintings made in Delft. Yet we should realize that they are the remains of a much, much larger artistic body of paintings that was once created. Paintings on canvas are fairly thin and vulnerable physical objects and thus prone to physical deterioration because of moisture, mould, and heat. They can be torn or punctured, or fall out of fashion and out of grace. Murals are also vulnerable. All of Fabritius's murals and ceiling paintings have been lost to us. Specialists estimate that the grand total loss of Dutch seventeenth century oil paintings due to the ravages of time is between 50% to as high as 90%. Imagine that number, given the hundreds of thousands of paintings still on show in major museums! Perhaps a grand total of about 10 million paintings have been produced in the Dutch Golden Age.
One may only hope that generally a high percentage of the very best works have survived. We may consider ourselves especially fortunate with the extremely small loss percentage of the works of Johannes Vermeer. With some 35 to 36 works still in existence today, we are missing only a handful whose titles are actually known to us from historical documents. There are a few early works, history paintings now lost. The most agonizing loss seems to be one painting from his later period "in which a gentleman is washing his hands in perspective room with other human figures, artful and rare, by ditto [Vermeer]."
The one painting of a concert, stolen in 1990 from Boston (the Isabella Stewart Gardner Museum) has not yet been traced up to the publication date of this book, the empty frame hanging poignantly in the room from which it has been robbed.
========= end =======
Connoisseurs and Patrons of Art in Delft
Delft was renowned for high quality of workmanship of its artists and artisans. Initially, when the rebel government's headquarters was in Delft, there was a market for high quality objects and high priced goods. People in the higher circles bought fine art objects for private use. Ambassadorial gifts in the form of paintings or pictorial tapestries were also needed. Later, when the seat of government of the Republic had been moved to The Hague, Delft was only some 10 miles away from the seat of government and thus had access to a most select clientele.
When Vermeer lived in the large Mechelen inn as a boy, one of Vermeer's neighbors was Mr. Willem de Lange (1599-1656), who probably lived at Market Square 38 or 40. A notary public and a life long friend to Vermeer's father, he witnessed and signed many of his neighbors documents. An avid collector of paintings and an art friend, de Lange also wrote and signed many documents of Delfts foremost fine art painters. As early as 1620 he is already described as "the artful young man" (den constrijcken jongman) and in his poetry album he lauded his future wife Maria as a kindred "spirit, that is hungry for art".
Many Vermeer paintings ended up in private collections Mr Pieter Claesz van Ruijven, and his wife Maria de Knuijt who were Vermeer's major patrons, buying about half of his paintings. See chapter 1.
A few Vermeer paintings were collected by the baker Hendrick Ariaensz. van Buyten, and single paintings were bought by the art dealer Johannes de Renialme who traded from various towns, and by the private individuals Cornelis van Assendelft, Cornelis de Helt and Gerard van Berckel.
Leonaert Bramer (1596-1674) was a successful local artist who lived at Koornmarkt 48. The sketchbook he made, known as 'Album Bramer' contains drawings made around 1652 of painting collections in Delft. It shows paintings from various collections including Vermeer's father Reynier Jansz and Abraham de Coge.
Delft Blue.
In the early seventeenth century, imported Chinese porcelain reached the Dutch market and became extremely popular. The VOC East India Company has imported some 3 million porcelain pieces in the period 1602-1625. Porcelain required a special sort of clay called kaolin, that is only mined in a few parts of the world.
High popular demand for porcelain led to the invention of Delft blue earthenware with a thin white coat of glaze that attempts to mimic the transparent surface qualities of real porcelain, albeit with a much thicker body. Thus the manufacture of Delft Blue became a large scale operation and economically a very successful activity. The manufacturing process was started by the master Herman Pietersz., whose workshop De Porceleyne Schotel (The Porcelain Dish) was active from 1598 – 1791, at the south side of Molslaan. Early on, this workshop was once run by Hendrick Van Gogh who had dealings with Reynier Balthens, a member of the Vermeer family.
Delft tiles and other Delftware products such as vases and plaques sold well. About 14 workshops opened between the 1690's and 1650 and about 20 more between 1650 and 1700. Delftware as we know it now began to be produced in great numbers in 1640s. The production process was very labor intensive and required a clockwork-like production process requiring many intermediate steps. Delft tiles were inexpensive and just like Dutch bricks were used as ballast on ships, thus spreading throughout the world. By 1700 there was a slump in the sales. Workshop managers complained that there were twice too many kilns compared to the sales figures. One by one, the workshops closed down.
De Porceleyne Fles is the only workshop, which has been in continuous business since the time of Vermeer. This "porcelain bottle", was founded in 1653 when Vermeer returned to Delft. Visits can still be made to the shop and workshop of "Koninklijke Delftse Aardewerkfabriek Porceleyne Fles". It is located to the south, just outside the center at Rotterdamseweg 196, tel. 015 2512 030. Their web site is
www.royaldelft.com/
On several Vermeer paintings representations of Delft Blue tiles can be seen. The row of tiles low down by the floor in the Milkmaid served a common household purpose, keeping the wall clean when the floor was wet-mopped.
Delft Blue Workshops
These are all listed alphabetically on my site. Google: Kaldenbach Delft Blue.
The Delft Blue story is an example of commercially applied technology, which required a great number of intermediate steps in a well-equipped large workshop. Other successful fields of technology in Delft such as optics are discussed in the next chapter.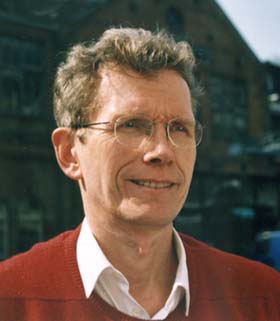 Contact information for Private Art Tours:
Menu of tours. See client testimonials.
Drs. Kees Kaldenbach , kalden@xs4all.nl
Haarlemmermeerstraat 83 hs
1058 JS Amsterdam
The Netherlands
telephone 020 - 669 8119
(from abroad NL +20 - 669 8119)
cell phone 06 - 2868 9775
(from abroad NL +6 - 2868 9775
Please note: All materials presented on this 2000+ item web site are original and therefore copyrighted. If passages are quoted (in essays, dissertations, books or other works, written or otherwise) then references must be made in the proper way. That is, the quoted passages must be attributed to the author, and the source of the material (i.e. this website) must be cited.
Published online, July 15, 2011. Updated 15 February 2017.
Research presented in November 2014 about the Amsterdam art collector Mannheimer: he almost bought the best Vermeer: The Art of Painting (now in Vienna)