Private tour of the Cruquius pumping station, the largest steam engine piston
in the world - and a discussion of the Haarlemmermeer polder it serves
Subjects: Technology, History, Art History and Architecture industrial landmark, engineering marvel. Academic tour by scholar-lecturer, art historian Drs. Kees Kaldenbach*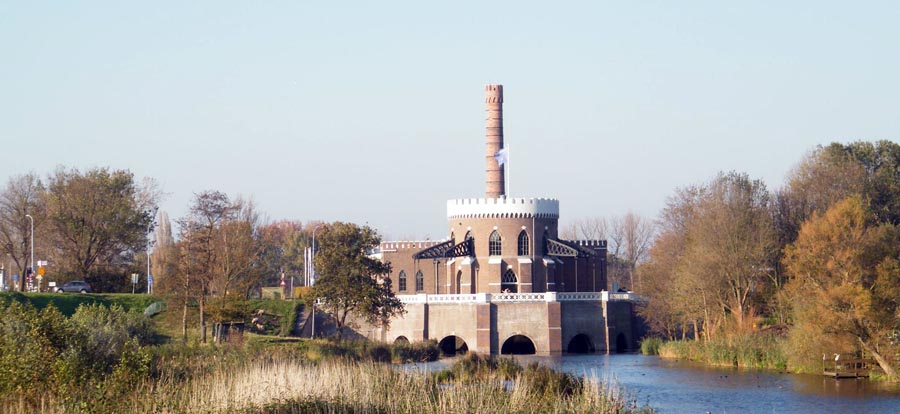 Dutch/Nederlandse version.
Choose a full day tour to Deltawerken.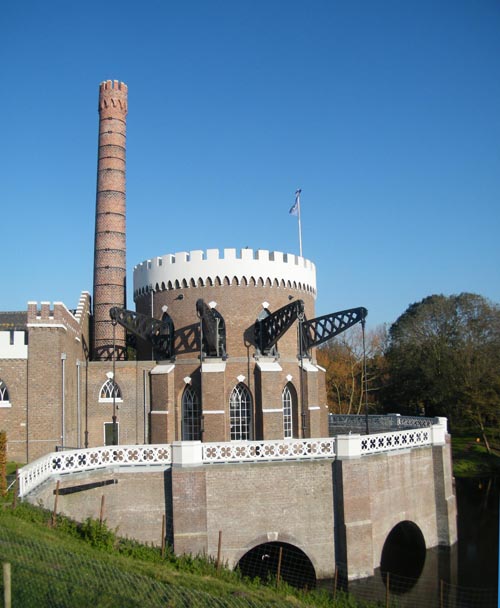 When you land by airplane in Schiphol airport, you actually land in a polder, formerly the bottom of the Haarlemmermeer lake. Three humongous steam engine pumps did the enormous job of pumping this lake dry around 1850 and surprisingly one of these engines, the Cruquius still exists (web site in Dutch). It is now a technology museum and a world heritage site. See wiki site. I will tell you about the selection process that led to ordering and building this machine. And I will tell you about the Waterwolf!
This engineering marvel has been declared an Anchor Point of ERIH, the American Society of Mechanical Engineers.
After many years of restoration the arms of this pumping station actually move again up and down (by hydraulic power, not steam power). To the right you see an image with the arms UP (thus the huge piston is DOWN). The piston itself is about the size of a truck!
The Cruquius pumping station, our educational and fun day trip, is situated southwest of Amsterdam where I live, some 15 km away and is just 1/2 hour drive away by car in perfect traffic. If you choose my car, it seats 3 or 4 adults.
Among the many industrial heritage sites in The Netherlands, this one is is one of my favourites. Other favourites are the steam engine in Halfweg (15 km West of Amsterdam), open on some weekends, and the Lemmer engine in Friesland, that one much farther away.
For science I would like to suggest the Teylers museum in Haarlem, and for medical science the Boerhaave museum in Leiden.
Combine with this tour with the high tech Calatrava bridges in the same polder.
When giving this Cruquius tour, this is my great handbook: Sea of Land, in which I also highlight another chapter, the Beemster polder (20 Km north of Amsterdam). Polders are the creation of Dutch investors, engineers, farmers, and they show you a Mondrian-like geometric landscape.
HOW TO GET THERE
The museum can be reached with public transport, bus 340 from Haarlem Station. Various options are open to you: a) You can hire a car and drive it yourself, taking me there and I will join you starting in Amsterdam and will advise you about the best route. b) We can hire a professional taxibus service at around E 70 per hour . On top of that you will pay me as the specialist guide. This is the more expensive option.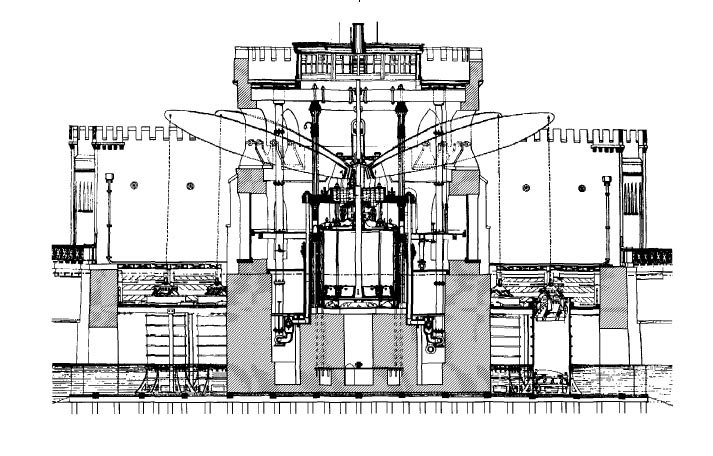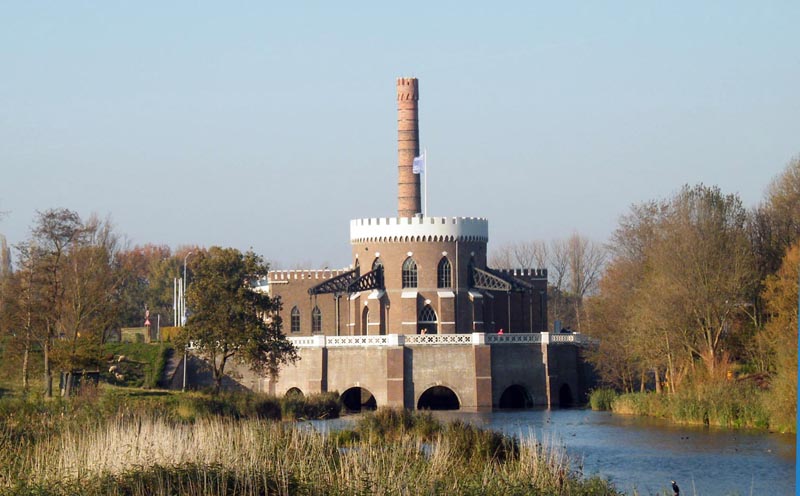 On the way back we may drive past Leiden or Haarlem (see links above).
All photos Kees Kaldenbach, 2011. High res is available.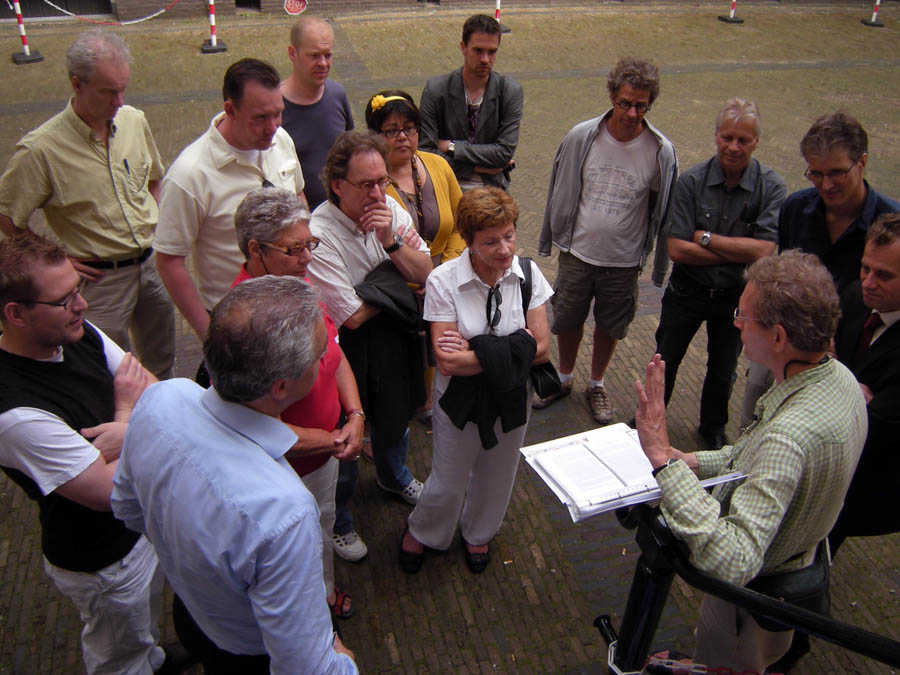 Practical matters
Tour duration: 2 to 3 hours. We may go on foot.
Read a biography.

As an art historian based in Amsterdam, The Netherlands, I can meet you in Utrecht for a personalized guided tour of art museums and the historic center.

Together we will experience the beauty and history . Enjoy yourself and learn about history while strolling and discussing the country's history, art and culture. In doing so, we may touch many bases - spanning not only fine art and architecture but also the city's history and current social issues. See client testimonials.

Read a biography.

If you want to just walk around with a very nice social companion for a day, we recommend www.friends4action.com

Starting at your hotel I will take you on a wonderful private cultural walking tour of your choice. My guided itinerary offers you accessable informative conversation in English, Dutch, or German (my French and Italian are more limited).

Drs. Kaldenbach is chairman of the Circle of Academic Tour Guides of the Netherlands and Flanders (CATON)

---

You may also arrange this VIP treatment for business contacts or friends. Our cultural tour organisation office will take care of a unique and memorable experience.

Drs. Kees Kaldenbach is your private "scholar-lecturer on culture tours" *.

*Martha Gellhorn, Travels with Myself and another, p. 182.

---

Please contact me for time and fees of the tailor-made tour you ar interested in.

These tailor made tours are available upon request - please contact me to book a date. Minimum group size: 1 person. Maximum group size is limited to about 10 persons. With a megaphone I can also manage larger groups on the streets.

---

Menu of tours

Photo by Dick Martin.

---

Endorsements

The Rijksmuseum has done me the honor of linking the main Rijksmuseum site to my website. Start at www.rijksmuseum.nl and select Collection. Then choose 'Digital Collaboration' and the 'Digital Vermeer House'.

I conduct Rembrandt walks in Amsterdam for the Netherlands Bureau of Tourism, London and New York City offices. These clients include important journalists.

The travel site www.luxurytraveler.com has devoted a main feature to my tours and walks.

Read further client testimonials.

---
About Drs. Kees Kaldenbach:
Read a biography.
Drs. Kees Kaldenbach has been featured in television and radio documentaries, including BBC2 TV, NTV Japan, Danish TV and Radio Netherlands World Service. In July 2004 he was interviewed about Den Haag artists by Tetsuya Tsuruhara for the leading Japanese newspaper The Yomiuri Shimbun. In 2004 and 2005 he acted in an advisory role to additional BBC teams. Kaldenbach has written extensively on Vermeer and 17th century Den Haag, on Vincent van Gogh and on other art history topics.
Drs. Kees Kaldenbach is your private "scholar-lecturer on culture tours".
Further information is available on his encyclopedic web site: www.johannesvermeer.info
See the TV programme on Dutch national TV on Kees Kaldenbach as masseur and art historian. NPS Nederland 2, Saturday, November 25 2006. Go to the Dutch programme Vals Plat. Then move the horizontal bar at the bottom to the desired date. The first minute starts with a clown in a car. Then my 9 minute bit of fame. Audio track in Dutch.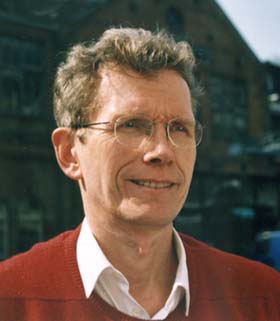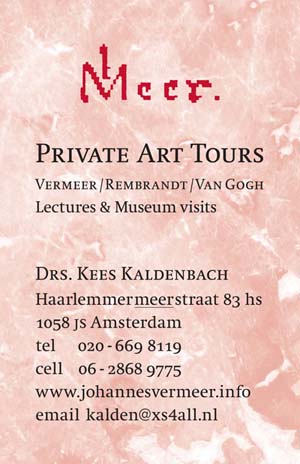 Contact information:
Drs. Kees Kaldenbach , kalden@xs4all.nl
Haarlemmermeerstraat 83 hs
1058 JS Amsterdam
The Netherlands
telephone 020 - 669 8119 (from abroad NL +20 - 669 8119)
cell phone 06 - 2868 9775 (from abroad NL +6 - 2868 9775)
Reaction, questions? Read client testimonials.

Open seven days a week.

Member of the VVV Tourist information and the Amsterdam Chamber of Commerce (Kamer van Koophandel).

Email responses and bookings to art historian Drs. Kees Kaldenbach.

This page forms part of the 2000+ item Vermeer web site at www.xs4all.nl/~kalden

Launched April 15, 2006. Updated 10 August, 2014.