Private tour of the giant Deltawerken barriers + storm surge engineering,
and a discussion of Dutch history of waterworks and water policy
New! Better menu and upgraded web page: Click here.
Subjects: Engineering, Technology, History, Art History and Architecture industrial landmarks, engineering marvels. Academic tour by scholar-lecturer, art historian Drs. Kees Kaldenbach*

We start in YOUR rental car from Amsterdam.
Above and below: hinges and arms o fthe storm surge barriers the size of the Eiffel Tower in Paris: two parts of the Maeslant barrier near Hook of Holland. Well worth a visit for engineering fans. The blue scale indicates NAP, New Amsterdam Level, the worldwide zero point for sea levels.
Client response by Tim M., August 17, 2016: "Today was great. Enjoyed our time a great deal. Thank you."

The two giant arms can float, then close and protect the city and harbour of Rotterdam from extremely high water. Right in front the world's largest ball-hinges, allowing horizontal and vertical movement. Size: Eiffel tower times two.

From the viewing platform. The largest white surface shows one of the two floating lock doors.

A lunch stop in Brouwersdam. Note the XXL beach of fine white sand.

Neeltje Jans island, an engineering marvel of gigantic proportion. Only the top of each element is now above water level.

Zierikzee, Zeeland province. A fabulous place for a final walk.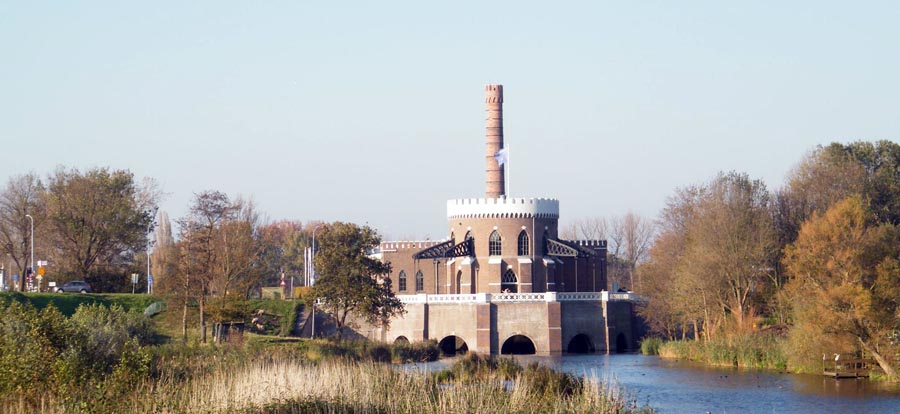 Cruquius water pump for the Haarlemmer lake, keeping your Schiphol airport dry!
Dutch/Nederlandse version.
When you land by airplane in Schiphol airport, you actually land in a polder, formerly the bottom of the Haarlemmermeer lake. Three humongous steam engine pumps did the enormous job of pumping this lake dry around 1850 and surprisingly one of these engines, the Cruquius still exists (web site in Dutch). It is now a technology museum and a world heritage site. See wiki site. I will tell you about the selection process that led to ordering and building this machine. And I will tell you about the Waterwolf!
All photos Kees Kaldenbach, 2011 and 2016. High res is available.
Practical matters
Tour duration: 9 to 12 hours. You are required to rent car and drive yourself (Dutch law forbids me to drive you around in my own vehicle ! ). I will be your history teacher and professor and my SatNav Garmin/Tomtom will get us therein the most perfect route.
Stay closer to home in a Cruquius tour near Haarlem.
Read a biography.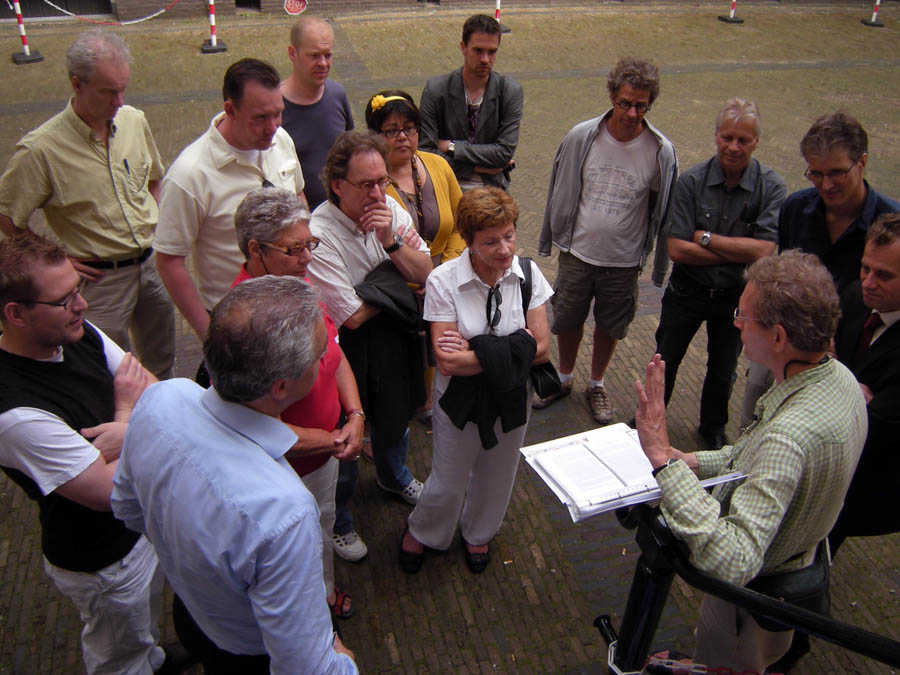 As an art historian based in Amsterdam, The Netherlands, I can meet you in Utrecht for a personalized guided tour of art museums and the historic center.

Together we will experience the beauty and history . Enjoy yourself and learn about history while strolling and discussing the country's history, art and culture. In doing so, we may touch many bases - spanning not only fine art and architecture but also the city's history and current social issues. See client testimonials.

Read a biography.

Starting at your hotel I will take you on a wonderful private cultural walking tour of your choice. My guided itinerary offers you accessable informative conversation in English, Dutch, or German (my French and Italian are more limited).

Drs. Kaldenbach is chairman of the Circle of Academic Tour Guides of the Netherlands and Flanders (CATON)

---

You may also arrange this VIP treatment for business contacts or friends. Our cultural tour organisation office will take care of a unique and memorable experience.

Drs. Kees Kaldenbach is your private "scholar-lecturer on culture tours" *.

*Martha Gellhorn, Travels with Myself and another, p. 182.

---

Please contact me for time and fees of the tailor-made tour you ar interested in.

These tailor made tours are available upon request - please contact me to book a date. Minimum group size: 1 person. Maximum group size is limited to about 10 persons. With a megaphone I can also manage larger groups on the streets.

---

Menu of tours

Photo by Dick Martin.

---

Endorsements

The Rijksmuseum has done me the honor of linking the main Rijksmuseum site to my website. Start at www.rijksmuseum.nl and select Collection. Then choose 'Digital Collaboration' and the 'Digital Vermeer House'.

I conduct Rembrandt walks in Amsterdam for the Netherlands Bureau of Tourism, London and New York City offices. These clients include important journalists.

The travel site www.luxurytraveler.com has devoted a main feature to my tours and walks.

Read further client testimonials.

---
About Drs. Kees Kaldenbach:
Read a biography.
Drs. Kees Kaldenbach has been featured in television and radio documentaries, including BBC2 TV, NTV Japan, Danish TV and Radio Netherlands World Service. In July 2004 he was interviewed about Den Haag artists by Tetsuya Tsuruhara for the leading Japanese newspaper The Yomiuri Shimbun. In 2004 and 2005 he acted in an advisory role to additional BBC teams. Kaldenbach has written extensively on Vermeer and 17th century Den Haag, on Vincent van Gogh and on other art history topics.
Drs. Kees Kaldenbach is your private "scholar-lecturer on culture tours".
Further information is available on his encyclopedic web site: www.johannesvermeer.info
See the TV programme on Dutch national TV on Kees Kaldenbach as masseur and art historian. NPS Nederland 2, Saturday, November 25 2006. Go to the Dutch programme Vals Plat. Then move the horizontal bar at the bottom to the desired date. The first minute starts with a clown in a car. Then my 9 minute bit of fame. Audio track in Dutch.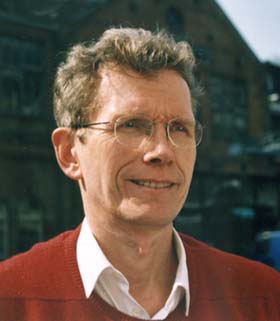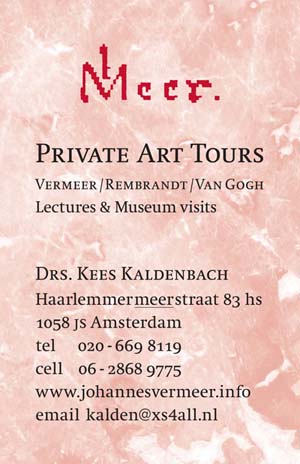 Contact information:
Drs. Kees Kaldenbach , kalden@xs4all.nl
Haarlemmermeerstraat 83 hs
1058 JS Amsterdam
The Netherlands
telephone 020 - 669 8119 (from abroad NL +20 - 669 8119)
cell phone 06 - 2868 9775 (from abroad NL +6 - 2868 9775)
Reaction, questions? Read client testimonials.

Open seven days a week.

Member of the VVV Tourist information and the Amsterdam Chamber of Commerce (Kamer van Koophandel).

Email responses and bookings to art historian Drs. Kees Kaldenbach.

This page forms part of the 2000+ item Vermeer web site at www.xs4all.nl/~kalden

Launched April 15, 2006. Updated 18 August, 2016. Update 19 February 2017.