Private walking tour in Leiden
through the historic inner city quarters
New! Better menu and upgraded web page: Click here.
Themes: Society, Local government,
Architecture,
Painting,
woolen cloth industry,
printers/publishing houses and
university institutes
Leiden, our educational day trip, is now one of the most attractive Dutch cities because of its beautiful fabric of streets, canals, mighty churches, many museums, a hill fortress and an important university.
===
"Dear Kees,
Phenomenal! Touring with you was like being friends with the top curator of a major art museum.
Your mountain of knowledge allowed you to zig and zag with our questions and flow seamlessly back into your captivating analysis.
Thank you for engaging each and every family member. It was a delight to be with you, and we feel lucky to have had the experience.
Sincerely,
Leigh and Daniel Levine and family, march 2018."
===
"In the past you have guided me through Leiden (Leyden). My reason was that I was preparing myself to write columns for Leidse Stijl with subjects on the area of culture and art. That was an initiative of NRC and Intermediair newspapers. I thought your guided tour was fantastic. Robin van Doorn"
When this country became independent from the Habsburg king of Spain in the 1570s, there was a pressing need for officials: protestant church ministers and also lawyers to set up a system of laws for the newly formed country. Leiden became the seat of the first Dutch university and has retained this prime position. Alongside Rapenburg canal a series of mansions formed the center of learning and study. Locally, great scientists made progress in natural sciences, medicine and other fields of knowledge.
The Antiquity Museum / Oudheden RMO now houses a superbly re-designed top floor of prehistoric objects, telling the story of life and work of our forefathers and foremothers. Below the other floors of RMO contain first-class collections of Egyptian objects, including the touching mummy of a small child. In the central courtyard a complete Egyptian temple has be re-erected, donated by the government of Egypt. Roman objects tell the story of life in an empire stretching to many parts of the known world. Those interested in the history of the Pilgrim fathers:
Around the Rapenburg and Pieterskerk, the biggest church there are various monuments and historic markers. Not to be missed is the Leiden Hill-fortress. Find the almost secret entrance by the bridge with the fish market.
Subjects: History, Art History and Architecture. Academic tour by scholar-lecturer, art historian Drs. Kees Kaldenbach*
Dutch/Nederlandse version.
Leiden (sometimes spelled Leyden in English), is situated in the province of South Holland, midway between Amsterdam and The Hague, at a 30 minute ride from Amsterdam.
HOW TO GET THERE
Leiden is easy to reach with public transport, by train. I hold a Dutch Railways rebate card. For this train tour I can offer you a special rebate of 40% for three separate adult railway tickets. This makes it economical for you as clients. I can join you from your hotel or from the Amsterdam train station. Various other options are open to you: a) You can hire a car and drive it yourself, and I will join you starting in Amsterdam and will advise you about the best route. b) We can hire a professional taxibus service at around E 70 per hour for about 4 to 5 hours. On top of that you will pay me as the specialist guide. This is the more expensive option.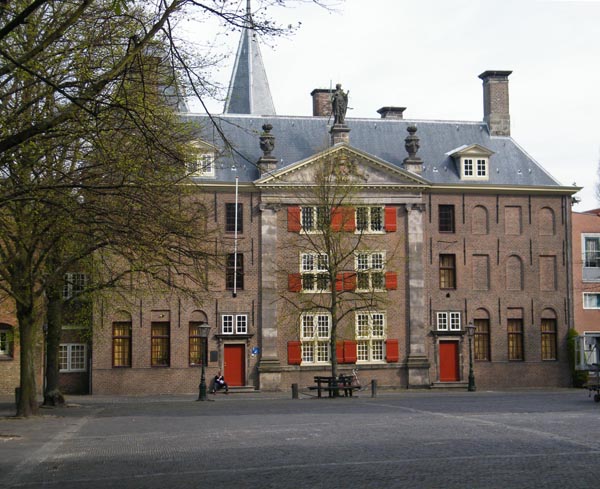 This image shows the court house situated at the former area of the Hall of the Count, notably Floris the 5th. One of the fascinating stories in Leiden is how the power of the local count diminished around 1300 - 1400 and the power of the local city government grew stronger.
Back in 1568, the newly founded Protestant state, the Republic of The Netherlands urgently needed a group of intelligent people, well trained in religion and law, and therefore a place to educate these preachers and lawyers. Leiden University was the very first to be founded in this country and since those days it has remained a major focus of learning and a center of excellence. The Rapenburg canal is now lined with a number of the institutions of the university such as the Great Hall, university institutions and the Hortus Botanicus, or botanical gardens.
Another major building houses the RMO Archaeology and Antiquity Museum in which you may explore such diverse objects as stone axes, one spectacular one, recently acquired, is a ceremonial bronze hand axe. A prize posession is a Dutch fishing net from the time of the early Pharaohs. Its Egyptian collection contains the full size temple of Taffeh, donated by the state of Egypt, and good number of mummies, among which that of a baby and various grave objects. Thus the Egyptian collection is arguably considered the fourth or fifth most important collection in the world (after Cairo, Metropolitan NYC, Louvre, Turin, Brooklyn).
Among the many other museums well worth visiting are the Ethnography museum and the Fine arts museum called Lakenhal, which exhibits paintings by Rembrandt, Dou and other masters in Leiden Fine Painting.
I will also take you to the secret street and alley where the Pilgrim Fathers lived before they sailed west to America. There are a number of sites with plaques inducating their history.
Near the railway station we find a windmill, which reminds us of the one operated by Rembrands's father and brother. Across the tracks just outside the center is the huge Naturalis, the National Museum of Natural History.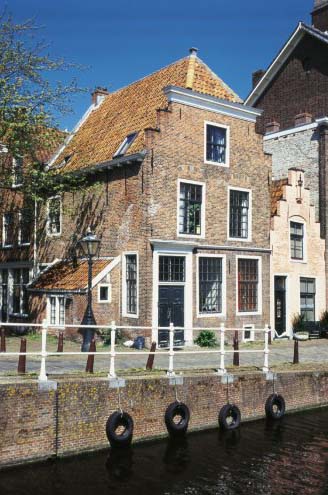 Elsewhere in Leiden we may visit large churches, small houdes, a wonderful central canal and, half hidden, a massive mound of earth on which local inhabitants could flee high waters. Scattered throughout town are the 'hofjes' or couryards for the elderly.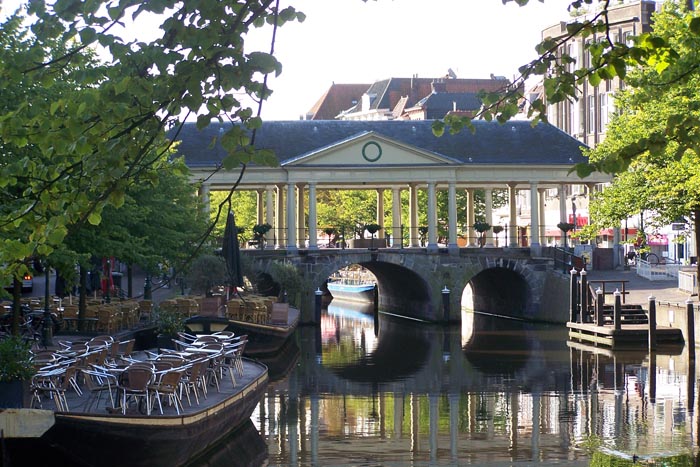 This bridge has been transformed into the Fish Market. Street market days are Wednesdays and Saturdays. Busy and fun!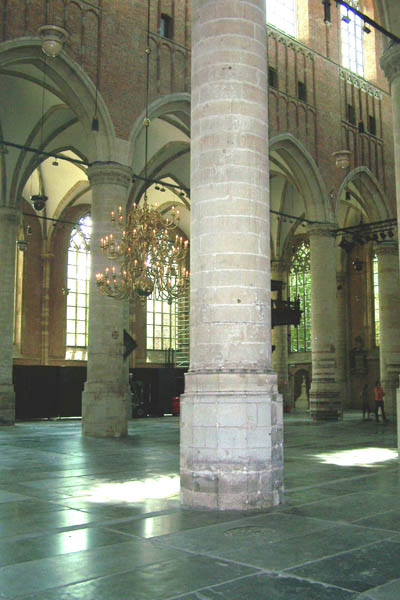 The Pieterskerk is now in use a meeting hall for the university.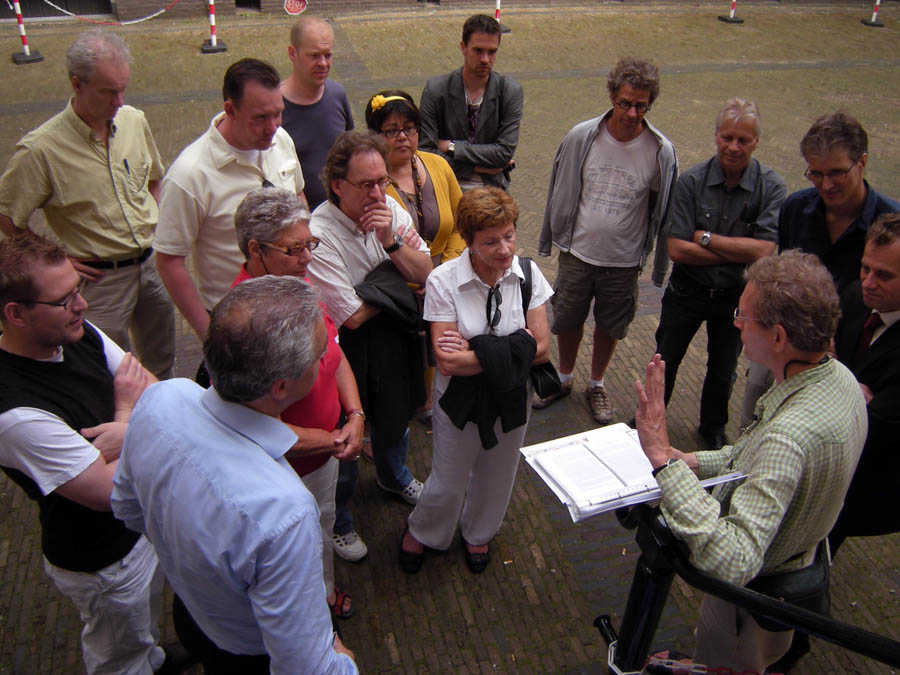 As an art historian based in Amsterdam, The Netherlands, I can meet you in Leiden for a personalized guided tour of art museums and the historic center.

Together we will experience the beauty and history . Enjoy yourself and learn about history while strolling and discussing the country's history, art and culture. In doing so, we may touch many bases - spanning not only fine art and architecture but also the city's history and current social issues. See client testimonials.

Read a biography.

Drs. Kaldenbach is chairman of the Circle of Academic Tour Guides of the Netherlands and Flanders (CATON)

Starting at your hotel I will take you on a wonderful private cultural walking tour of your choice. My guided itinerary offers you accessable informative conversation in English, Dutch, or German (my French and Italian are more limited).

---

You may also arrange this VIP treatment for business contacts or friends. Our cultural tour organisation office will take care of a unique and memorable experience.

Drs. Kees Kaldenbach is your private "scholar-lecturer on culture tours" *.

*Martha Gellhorn, Travels with Myself and another, p. 182.

---

Please contact me for time and fees of the tailor-made tour you ar interested in.

These tailor made tours are available upon request - please contact me to book a date. Minimum group size: 1 person. Maximum group size is limited to about 10 persons. With a megaphone I can also manage larger groups on the streets.

---

Complete Listing of tours

Photo by Dick Martin.

---

Endorsements

The Rijksmuseum has done me the honor of linking the main Rijksmuseum site to my website. Start at www.rijksmuseum.nl and select Collection. Then choose 'Digital Collaboration' and the 'Digital Vermeer House'.

I conduct Rembrandt walks in Amsterdam for the Netherlands Bureau of Tourism, London and New York City offices. Their clients include important journalists.

The travel site www.luxurytraveler.com has devoted a main feature to my tours and walks.

Read further client testimonials.

---
About Drs. Kees Kaldenbach:
Read a biography.
Drs. Kees Kaldenbach has been featured in television and radio documentaries, including BBC2 TV, NTV Japan, Danish TV and Radio Netherlands World Service. In July 2004 he was interviewed about Leiden artists by Tetsuya Tsuruhara for the leading Japanese newspaper The Yomiuri Shimbun. In 2004 and 2005 he acted in an advisory role to additional BBC teams. Kaldenbach has written extensively on Vermeer and 17th century Leiden, on Vincent van Gogh and on other art history topics.
Drs. Kees Kaldenbach is your private "scholar-lecturer on culture tours".
Further information is available on his encyclopedic web site: www.johannesvermeer.info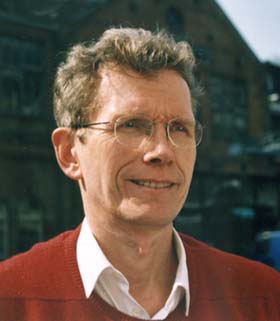 Contact information:
Drs. Kees Kaldenbach , kalden@xs4all.nl
Haarlemmermeerstraat 83 hs
1058 JS Amsterdam
The Netherlands
telephone 020 - 669 8119 (from abroad NL +20 - 669 8119)
cell phone 06 - 2868 9775 (from abroad NL +6 - 2868 9775)
Reaction, questions? Read client testimonials.

Open seven days a week.

Member of the VVV Tourist information and the Amsterdam Chamber of Commerce (Kamer van Koophandel).

Email responses and bookings to art historian Drs. Kees Kaldenbach.

This page forms part of the 2000+ item Vermeer web site at www.xs4all.nl/~kalden

Launched April 15, 2006. Updated 14 february, 2017.