The cut-throat 17thC and 18th C banking world of Amsterdam:
A tour about venture Capital, the United East India Company (VOC),
- cunning bankers with illegal fore-knowledge
- up to Casanova
-and the Dutch Indonesia Trade Firm (Nederlandsche Handel Maatschappij), one of the founders of the present day Amsterdam Bank.
Option A: A walking tour through town, optionally ending at a restaurant.
Option B: Lecture at the Rijksmuseum.

Photo by Kaldenbach, 30 september 2015.

Photo by Kaldenbach, 30 september 2015.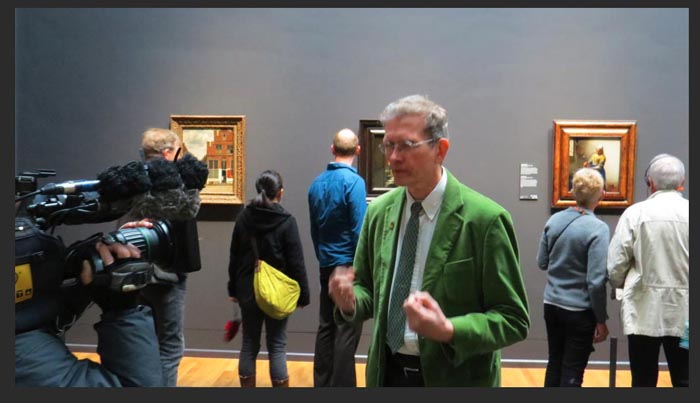 Amsterdams capitalism, a quick overflight, history. Well researched, with eye witness texts, told on the right spot in the city. Scientifically sound, entertaining, fun, a program with Drs. Kees Kaldenbach*
Dutch version.
Client comment, April 2013, A guided tour in the city with Mr. Norel, Director Corporate Cliënts of a financial institute: "We, Marcel, Geurt and I, have enjoyed your tour very much. Interesting and captivating, and cool to see the links between then and now. You were well prepared and presented the story with knowledge and passion."


CONTENTS: The common people were the low life actors behind the flight of Capitalism. The United East India Company (VOC) ship was a refuge for the lowliest educated, unmarried, poorest of the poor from all over Europe: "...alderhande vreemdelinge en uitheemse natie, als Polakke, Sweeden, Deenen, Noor-luyde, Jutte, Hamborgers, Bremers, Lubekkers, Dantsikers, Koninxbergers, Hoogduytse, Oosterlingers, Westfaalders, Bergse, Gulikse, Kleefse, en voorts allerhande Moffen, Poepen [=Buben?], Knoete, Hannekemaaijers en andere groepen die 't gras nog tussen de tanden steekt". (cit. in Gaastra 2001-2009, p. 97)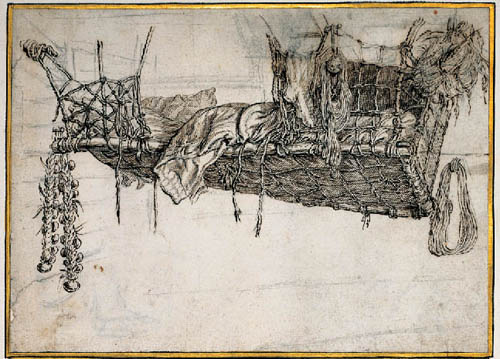 A hammock hanging belowdecks from the ceiling of a VOC ship.
Walk / Excursion
Amsterdam has a rich history with many ups and downs.
One may consider the United East India Company (VOC) of 1602 as the birthplace of modern capitalism. In one go the VOC invented a workable machinery of stock emission, paid up shares, share trade on the stock market (bourse / beurs).
The municipality of Amsterdam offered a well oiled machinery in the Exchange Bank - wisselbank and their trustworthy papers. Close by was the Goods Exchange where the papers from the Exchange Bank could be transformed into actual trade.
In the eighteenth century there was a shift towards banking and organising massive loans to foreign powers involved in making war. King Willem I started the national Nederlandsche Bank and the Nederlandsche Handel Maatschappij, which was in fact a rebirth of the VOC.
Main actors: The Dutch reformed families who called the shots after the "Alteratie" revolution in 1578 and keeping power in their hands; up to the Widow Borski, who financed and floated the Nederlandsche Bank and the Nederlandsche Handel Maatschappij.
Bank fusions in the 1960s up to now. High stakes and failings.
Option A: A walking tour through town, optionally ending at a restaurant.
This is a high level excursion on foot through Amsterdam, On the right spots I tell you riveting stories. Quotations from letters and documents of the period.
This walk will take a hour and a half. Optionally we can make a boat trip on a historic ship. We may also end up in a restaurant.

What made Amsterdam unique and effective?
We also create a tie-in with Casanova, who made a secret mission to Amsterdam on behalf of the French King and spoke to the Amsterdam bankers Pels and Hope. And with the 14-year old daughter of Hope.
And we will ask why Casanova traveled to Amsterdam. In nbetween there will be moments for discussion.
Source:
Giacomo Casanova, De geschiedenis van mijn leven, het beste uit zijn memoires, gekozen door Arthur Japin.
Click: Female history walk. Dutch version.
Polders and windmills as investments & engineering marvels and landscape miracles, in Dutch and English.

As a result of 10 months of archival study: these articles were published on 12 November, 2014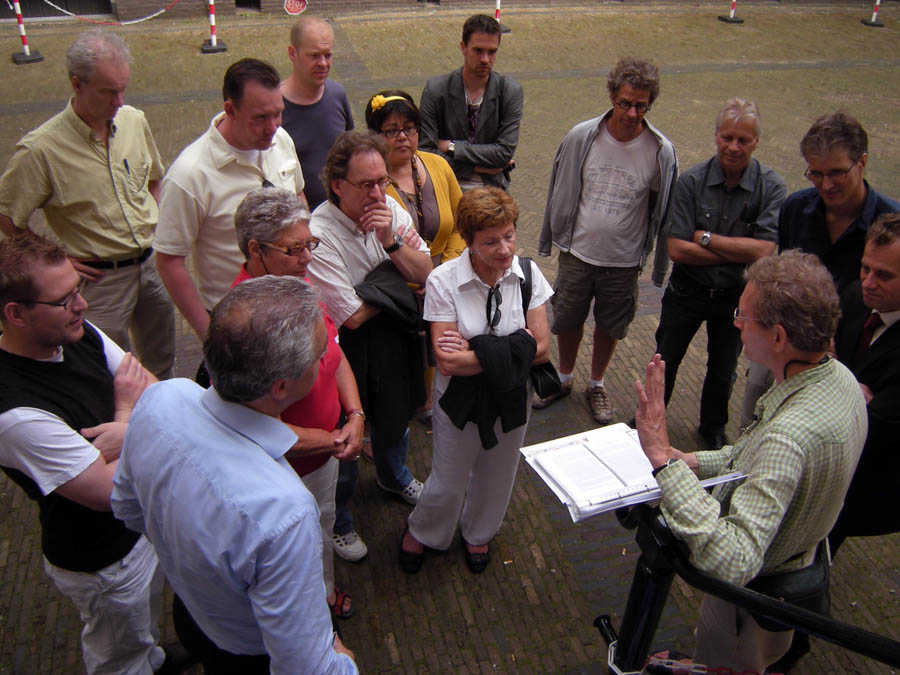 Spotting the Rich & Famous inhabitants in the Golden Age.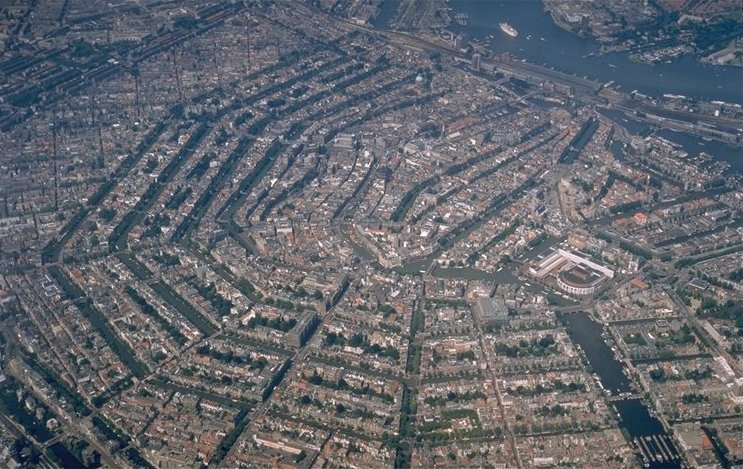 Powerpoint presentation of Amsterdam.
Powerpoint presentation of Athens.
Powerpoint presentation of Barcelona.
Powerpoint presentation of Berlin.
Powerpoint presentation of Copenhagen.
Powerpoint presentation of Florence.
Powerpoint presentation of Helsinki.
Powerpoint presentation of Istanbul.
Powerpoint presentation of Naples.
Powerpoint presentation of Rome.
Powerpoint presentation of Split.
Powerpoint presentation of Stockholm.
Powerpoint presentation of St. Petersburg, Russia.
Powerpoint presentation of Venice
Menu presentation of walks and museum visits in Towns in Holland.

Read a Kaldenbach biography.
Research presented in November 2014 about Mannheimer: he almost bought the best Vermeer: The Art of Painting (now in Vienna)
Drs. Kees Kaldenbach is your private "scholar-lecturer on culture tours" *. *Martha Gellhorn, Travels with Myself and another, p. 182.

---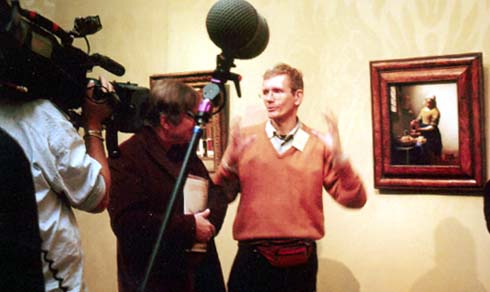 ---
Endorsements The Rijksmuseum has done me the honor of linking the main Rijksmuseum site to my website. Start at www.rijksmuseum.nl and select Collection. Then choose 'Digital Collaboration' and the 'Digital Vermeer House'.I conduct Rembrandt walks in Amsterdam for the Netherlands Bureau of Tourism, London and New York City offices. Their clients include important journalists.The travel site www.luxurytraveler.com has devoted a main feature to my tours and walks.
Read further client testimonials.
---
About Drs. Kees Kaldenbach:
Read a biography.Drs. Kees Kaldenbach has been featured in television and radio documentaries, including BBC2 TV, NTV Japan, Danish TV and Radio Netherlands World Service. In July 2004 he was interviewed about Delft artists by Tetsuya Tsuruhara for the leading Japanese newspaper The Yomiuri Shimbun. In 2004 and 2005 he acted in an advisory role to additional BBC teams. Kaldenbach has written extensively on Vermeer and 17th century Delft, on Vincent van Gogh and on other art history topics.
Drs. Kees Kaldenbach is your private "scholar-lecturer on culture tours".
Further information is available on his encyclopedic web site: www.johannesvermeer.info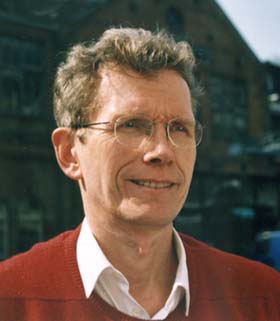 Contact information:Drs. Kees Kaldenbach , kalden@xs4all.nl Haarlemmermeerstraat 83 hs1058 JS AmsterdamThe Netherlands
telephone 020 - 669 8119 (from abroad NL +20 - 669 8119)
cell phone 06 - 2868 9775 (from abroad NL +6 - 2868 9775)
Reaction, questions? Read client testimonials.

Email responses and bookings to art historian Drs. Kees Kaldenbach.

This page forms part of the 2000+ item Vermeer web site at www.xs4all.nl/~kalden

Updated 14 Feb, 2013. Upodate 24 october 2016.