MvM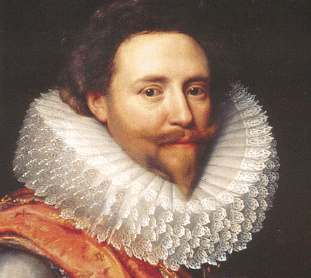 Michiel Jansz van Mierevelt ; his name is also spelled Michiel Jansz van Miereveld.
Michiel Jansz van Mierevelt (1567-1641) was born on Markt sqare in Delft as son of a goldsmith, he was precocious: at age eight he could write in calligraphy as fine as the best Delft schoolmaster. He trained in the workshop of Anthonie van Blockland, who was born 1532 in the noble family of Montfoort; see Oosterloo page 28 and Carel van Mander. After a journey in Italy, Antonie worked in the style of Goltzius and Parmigianino. Michel entered the Guild before 1613. Although he was part of the Mennonite minority, which was officially frowned upon my the majority Dutch Reformed Church, he was given important commissions. Between 1619 and 1632 the Delft magistrates ordered various portraits from him for a total of 1161 guilders. In 1620 his income was also very high, which is clear from a taxation at 20 guilders and 3 stuivers.

Sandrart states that he painted over 10.000 portaits.
With hindsight his work shows sophistication and exceptional painterly craftsmanship, but during his long career he lacked all impetus for innovation. As the years moved on he slowly became more and more conservative if not old-fashioned. This dual nature is seen in his style of brushwork and colour and in the lack of expressive quality of his works, which always remained distant, aloof and of a subdued high-class distinction. That being said from the perspective of our time, he remained an exceptionally successful and well paid artist during all of his lifetime.
In 1629 he lived in Het Gekroonde Neteldoeck (The Crowned Muslin) on Markt number 27. It stood next to Den Gulden Mortier (The Gold Mortar) at nr. 25, a house owned by his daughter Aeltgen. At first he co-owned a house with son-in-law Willem Delff on the west side of Koornmarkt, later owning it himself. In 1639 he bought a house for 2010 guilders. After becoming extremely successful as a portrait painter he moved with his workshop to the mansion Spangiën (Spain) on Oude Delft number 71. In Spangiën was a "famous painted room", the work of various artists including Hans Jordaens II. Mierevelt grew rich: he owned bonds valued at 14.500 guilders. After his death his inventory showed paintings by such masters as Cornelis van Haarlem and Carel van Mander.
Above: Detail of a portrait.
Among his many pupils were Paulus Moreelse, Anthony Palamedesz, Jan Anthonisz. van Ravesteijn, Pieter / Pauwels / Paulus Moreelse (who is not on the Delft guild list), Willem van Vliet , Klaudius Kornelisze and Hendrik Cornelis van Vliet. Possibly also Jan Daemen Cool was his student. Van Mierevelt's son Pieter and son Jan also became painters. His favourite pupil however was the orphan Pieter Gerritsz. Montfoort.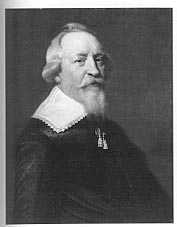 To the left: a portrait by M. van Mierevelt of his colleague, painter Cornelis de Man.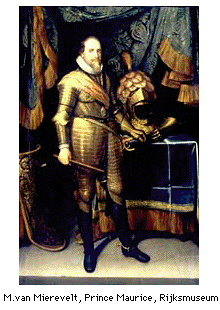 To the right a life size portrait by Van Mierevelt of Prince Maurice / Maurits of the house of Orange, 221,5 x 146 cm, Rijksmuseum, Amsterdam.
Much more info at
http://www.nga.gov/cgi-bin/pbio?21750
Note. Born in Delft, see Montias 1982, appendix A, table A1. Soutendam, Necrologium, p. 2 states that two children died at Oude Delft in 1623; in 1628 his wife died (p. 21). GAD Inv. 1670 fol. 75 of 30 August 1641 gives an inventory of the estate on 27 June 1641. Genealogische Encyclopedie, 1984, 183-184. Birth year as 1567 in All the paintings of the Rijksmuseum, p. 382 but as 1566/67 in Delftse Meesters, p. 21. Series of portraits in Montias 1980, p. 186, table 7.1. Markt address in 1629, sold for f 3,059 in Bredius Kunstler-Inventare VI p. 2161. Koornmarkt house in GAD Huizenprotocol, transcription 4245 of doc. 951, 21 feb. 1638. Initially the co-owner was the painter Willem Jacobsz. Delff. For Het Gekroonde Neteldoeck at Markt number 27 see: Goudappel, 1966, p. 67. Montias 1982, p. 121. Gulden Neteldoek is nr 25 and cannot be nr. 29 for west of Het Gekroonde Neteldoek is De Luyt. Spangiën was also called Het Wapen van Spangiën. Famous painted room see Boitet 1729. p. 788.
General literature: Jan H. Oosterloo, De Meesters van Delft, Strengholt Amsterdam, 1948.
Arnold Houbraken, De groote Schouburgh der Nederlantsche Konstschilders en Schilderessen, The Hague 1752 [2nd ed.] Book 1, page 48, 163.
This page forms part of a large encyclopedic site on Delft. Research by Drs. Kees Kaldenbach (email). A full presentation is on view at johannesvermeer.info.
Launched 16 February 2001; Last update March 1, 2017.