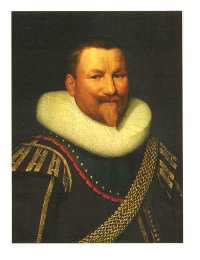 JDC
Jan Daemen Cool (±1589-1660) portrait painter, from Rotterdam. Entered Delft Guild 1614, 7 March. Address in Delft unknown; possibly a student of Van Mierevelt. Moved back to his town of birth Rotterdam in 1618. Painted in a grave, sober Dutch style of portraiture.
There he lived his life, buying himself a place into the Old Mens Home in 1652 for 1200 guilders.
Shown here to the right: the portrait of admiral Pieter Pietersz. Heyn, alias Piet Hein, copyright Rijksmuseum, Amsterdam.
Note Rijksmuseum Kunstkrant, May-June 1993: 19. Rudolf E.O. Ekkart, 'Rotterdamse portrettisten in de zeventiende eeuw' in Nora Schadee (ed.) Rotterdamse meesters in de Gouden Eeuw, Rotterdam Historisch Museum / Waanders, Zwolle1994: 56.
This page forms part of a large encyclopedic site on Delft. Research by Drs. Kees Kaldenbach (email). A full presentation is on view at johannesvermeer.info.
Launched 16 February 2005; Last update March 1, 2017. More info in the RKD site.