WvV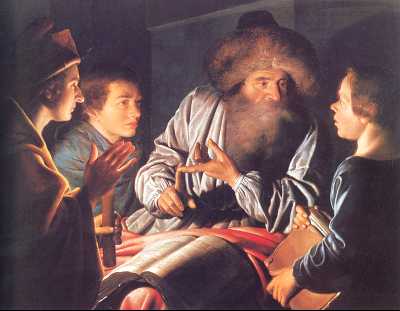 Willem Willemsz van Vliet (c. 1584-1642). History and portrait painter, also painter of church interiors. Around 1605 he may have been trained by Michiel van Mierevelt. In Guild circa 1615. He shows infuence by Utrecht Carravagists such as Van Honthorst and Peter Wtewael and by the Leiden painter Jan Lievens. Later on in his career he emphazised more classicist tendencies, subduing theatrics and action in favour of calm, timeless and stately compositions.
Couwenbergh and Bramer were other Delft painters with an active interest in Van Honthorst.
Van Vliet lived on Choorstraat around 1615 and owned extensive real estate in Delft.
He was the uncle of Hendrick Cornelisz van Vliet (1611/12-1675).
Above: Willem Willemsz van Vliet (c. 1584-1642 ) Philosophers, coll. Brodie Castle.
Below two portraits, one in a subdued style, the other in a more flamboyant mode which makes one think of Frans Hals and Bartholomeus van der Helst's banquet scenes.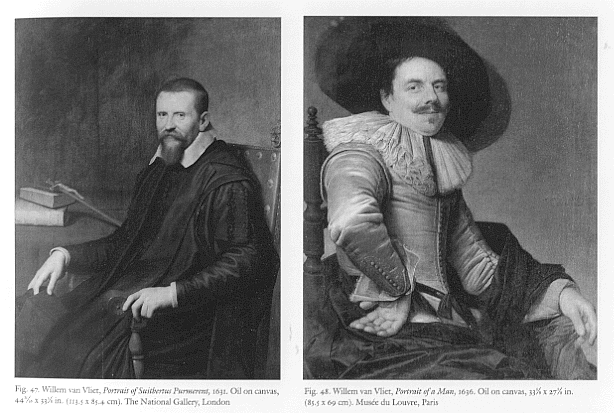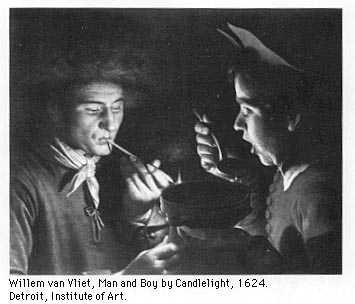 In 1626 he painted the portraits of Willem de Langue and his wife Maria van Pijnacker (below). De Langue moved in artistic circles and dealt with Vermeer. His name is often mentioned in the Delft housing register, including an important building on the east side of Oude Delft, number 202. He was buried from Brabantse Turfmarkt.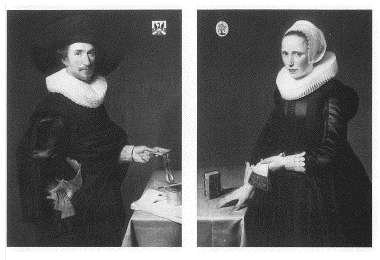 Houbraken 1753, I, p. 121. GAD, Beydals collection cites GAD Verponding no. 1632 fol. 509v. and fol. 513. Soutendam, Necrologium, p. 9. GAD Huizenprotocol lists real estate at west side of Turfmarkt ; at south side of Molsteeg ; as having a warehouse at east side of Oude Delft, south of Dirklange alley. Bredius also mentions Van Vliet as owning (living in?) Choorstraat (1615, 1618), Oude Langendijk (1619), 'bij de Temsbrugge' (1624), Choorstraat (1639), [Brabantse] Turfmarkt (1636, 1640, 1642). See RKD, arch. A. Bredius, unpublished notes from Delft archives on W. van Vliet (brought to my attention by Marten Jan Bok). Portraits in Montias 1982, appendix, table A2. Turfmarkt in Soutendam Necrologium p. 9. Oude Delft in GAD Koopbrieven Huiseigenaren, letter V, 10 August 1655. Year of death as 1644 in Boitet 1729 p. 781, claiming he was 58 years old.
This page forms part of a large encyclopedic site on Delft. Research by Drs. Kees Kaldenbach (email). A full presentation is on view at johannesvermeer.info.
Launched 16 February 2001; Last update March 1, 2017.