CvC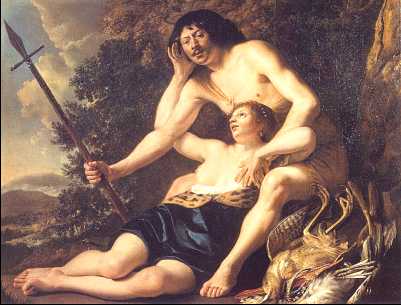 Christiaan / Corstiaen [van] Couwenbergh (1604-1667).
His father Gillis van Couwenbergh, silversmith, engraver, art dealer from Mechelen (Belgium), had entered Delft in 1606, and married Adriaantje Vosmaer, sister of flower painter Jacob Vosmaer.
Corstiaen van Couwenbergh trained with the Delft painter Van Nes and entered Guild in 1627.
Sojourned for some years in Italy. From 1624-26 he may have made a portfolio of drawings in Utrecht after the works of Van Honthorst, Ter Brugghen, Van Baburen and others. He became a history painter in the manner of the Caravaggist painter Gerard van Honthorst. Willem van Vliet and Bramer were other Delft painters with an active interest in Utrecht Carravaggist painters. One of his apparent followers is Willem Verschoor who may have influenced Vermeer's Diana.
In 1630 he married in an 'upwardly mobile' with Elisabeth van der Dussen, the daughter of burgomaster Dirck van der Dussen, who lived at the south end of Oude Delft. In 1630 they moved from Koornmarkt to an important mansion worth 12,700 guilders on the east side of Oude Delft just south of Peperstraat. In 1638 the town of Delft paid him 800 guilders for a painting for the town hall, and in 1643-1645 a total of 174 guilders for tapestry cartoons and a painting for the Drapiers Hall.
Van Couwenbergh specialized in history painting, especially in large scale classical paintings with nudes in the Italian manner which he produced for royal palaces of the House of Orange, including the Oranjezaal in Huis ten Bosch. He was prolific and became the most successful Delft artist in the 1640's.
He also received important commissions from Prince Fredrick Hendrick, for whose palace in Rijswijk he painted several works. In 1641 he deliverd a 'Venus and Adonis' for 600 guilders and an 'Offer to Venus for 400 guilders. Works such as these may have put Vermeer on the track of his Diana (Mauritshuis).
In 1648 he sold his house on Oude Delft (presumably with luxurious furnishings) for the amazing sum of 30,000 guilders. (For no obvious reason the 2001 Vermeer and the Delft School catalogue states this figure as 3000 guilders). He moved to The Hague in 1646-7, later to Cologne (Köln), leaving an interesting debts with the taxman and a wine merchant.
Image above: Venus and Mars (?) resting after a hunt, 1645, coll. Galerie d'Arenberg, Brussels.
Image below: Brothel scene.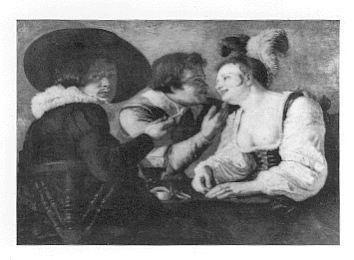 Note. RKD, Bredius archive, artist folder, citing 22 July 1630 and financial difficulties in 1648 with 1648 bakery bill of 113 guilders and a 1652 wine merchant bill of 235 guilders. GAD, Camer van Charitate, Duijt op de gulden, no. 147, Jan.-June 1641, fol. 18.; private communication by Montias, 2000. Further location from Huizenprotocol III 917. Internet archives show he buried a child in 1645. Genealogische Encyclopedie, II, p. 40. The 1643 painting in Montias 1980, p. 187, table 7.1. One painting sold for 90 guilders in 1661, see Montias Patrons/Bramer, p. 38. Worked in 1630's for Prince Frederik; in 1640's in Huis ten Bosch, The Hague. Montias 1982, p. 184. Saur XXII p. 45-49. See discussions in exh.cat. 'Vermeer and the Delft School', Metropolitan Museum of Art, New York City, 2001, p. 10 and p. 60. Arnold Houbraken, De groote Schouburgh der Nederlantsche Konstschilders en Schilderessen, The Hague 1752 [2nd ed.] Book 1, page 236.
This page forms part of a large encyclopedic site on Delft. Research by Drs. Kees Kaldenbach (email). A full presentation is on view at johannesvermeer.info.
Launched 16 February 2001; Last update March 1, 2017. More info in the RKD site.