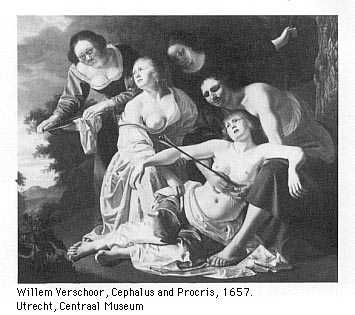 WV
Willem Verschoor (ca. 1630-1678). Probably born at Koornmarkt. Wealthy amateur history painter, of which only one painting is known. In Guild in 1653. Apparently a follower of Van Couwenbergh.
His paintings may have influenced the composition scheme of Vermeer's Diana. He also painted the wooden case of the organ in the Gasthuis church at Vlamingstraat.
To the right: Cephalus and Procris, Centraal Museum, Utrecht.
GAD, register Namen van Huizen. Date of birth from De Stad Delft 1981, II, p. 173. Koornmarkt is mentioned when his father Jan married Catherina van Bleyswijck in 1609. Diana see Sluyter in De Stad Delft 1981, page 175 and plate 173.
This page forms part of a large encyclopedic site on Delft. Research by Drs. Kees Kaldenbach (email). A full presentation is on view at johannesvermeer.info.
Launched 16 February 2001; Last update March 1, 2017.