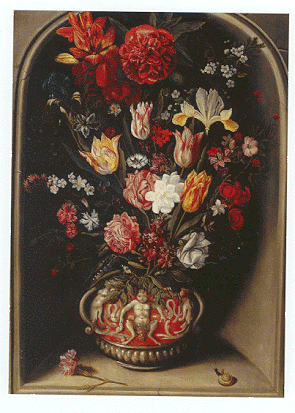 JVo
Jacob Woutersz Vosmaer (c. 1584-1641). Initially a landscape and later a floral still-life painter which may link him to Verhulst. Influenced by flower paintings of Jacques de Gheijn II (ca. 1565-1629). Born in a a well-off family. Married 1608. In Guild before 1613. He traveled to Italy before 1608, returned to Delft and he traveled there again in 1629.
He included some very rare and costly flowers in his floral paintings and sold his flower pieces widely and dear, even for as much as 130 guilders.
A well-to-do burgher, he became a captain major in the Civic Guard. In 1608 he lived on Choorstraat, in 1625 on Verwersdijk and in 1629 when he remarried he lived on Oude Delft.
Note. A. Bredius "Een en ander ... Jacob Vosmaer" in Obreen Archief, V, 1882-1883 p. 56. Deceased 30 June 1641, Prot.not. van Ophoven. Houses mentioned in GAD Beydals collection. Montias 1982 p. 125. Bredius Kunstler-inventare IV p. 1433, 1442. RKD, Bredius archive, artist folder cites 4 Dec. 1629, Not Coekebacker. Brother of goldsmith Arent Vosmaer.
This page forms part of a large encyclopedic site on Delft. Research by Drs. Kees Kaldenbach (email). A full presentation is on view at johannesvermeer.info.
Launched 16 February 2001; Last update March 1, 2017.