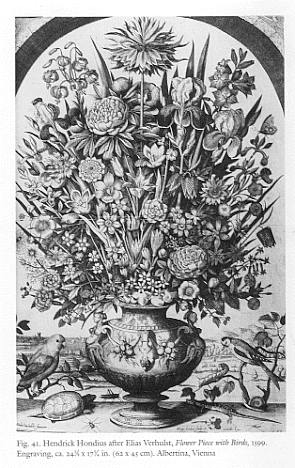 EV
Elias/Helias Verhulst (before 1570-after 1620). Painter of flower pieces around 1610-1620. Not in Guild list.
Compare Bolgersteijn and Vosmaer.
He married in 1589; Verhulst lived on the south side of Rietveld.
Diarist Van Buchell visited the house of this artist where the wife showed him paintings of "almost all types of flowers" and of shells and animals, all in vivid colour.
None of Verhulst's paintings survive but a Hendrick Hondius engraving gives us an idea of the style which was first followed by Ambrosis Bosschaert the Elder and then by Jacob Vosmaer.
Note. Rietveld source - exact archival data lost. Montias 1982, p. 55-56 reports that Arnout van Buchell (c. 1595-1671) visited a painter by the same name. Exh. Cat Delftse Meesters, p. 31 gives erroneous death year 1601 which was his father's death year. Thieme-B. XXXIV, p. 254. Buchell: see exh. cat. Metropolitan Museum of Art, 'Vermeer and the Delft School', page 40.
This page forms part of a large encyclopedic site on Delft. Research by Drs. Kees Kaldenbach (email). A full presentation is on view at johannesvermeer.info.
Launched 16 February 2001; Last update March 1, 2017.