CdM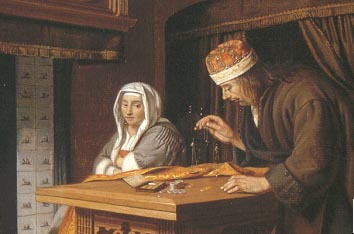 Cornelis de Man (1621-1706). Genre and landscape painter. Related to a family of clergy, and possibly also a family of jewelers. In Guild in 1642. De Man travelled in Paris, France, then to Italy where he stayed in Rome, Florence and Venice ; he returned to Delft in 1654-55, becoming headman of the Guild in 1657 at the age of 36, and then again in 1673, 1681 and 1687.
Houbraken also mentions a group portrait of Anatomy Surgeons.
Upon his marriage in 1649, lived on Wijnhaven. He purchased a house for 500 guilders and then moved to the west side of Oude Delft. In 1689 he still lived there; his sister joining him in 1694. He became Regent of an Orphanage and painted a group portrait of the Surgeons' Guild.
To the right: Detail of a Man weighing Gold, private collection.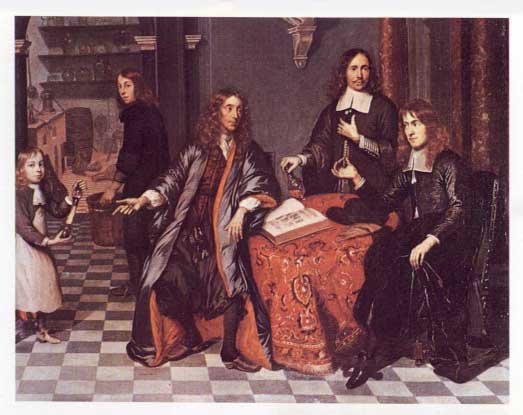 He painted this group portrait of his cousin Anthonie Cornelisz de Man (1587-1665) and his son Cornelis (died 1679) - they both ran the apothecary "De Spiegel" [the mirror] at Wijnhaven. The painting is in the museum of Krakow, Poland.
In 1706 he moved to The Hague but later on he was buried in Delft from The Crowned Pelican on Markt number 15, which he had bought in 1685 for one of his children.
This is what Van Bleyswijck, Author of History op Delft wrote in 1667 about the interior of the large upstairs room within this building in which the Guild members met for official business.
Opposite the open hearth stone mantlepiece (on which the names of the burgomasters of mayors were engraved) stood the [painting] of the President of the Guild and the six head men. The entire wall was covered with stretched linnen on which a triumphal arch was painted in perspective. Then this quotation:
"On the right hand side of the stone [=hearth ?] a section with this inscription is placed [a human figure being the personification of] the 'Art of Painting', holding a panel and paintbrushes in its hand. On the left hand side is 'Proportion' or 'Even-balance in Architecture', holding a carpenter's square and compass in its hand, as well as a stonemason's hammer, indicating 'Sculpture'. Under her feet hanging festoons made of various painters' implements, and next to it are steps to reach the space under the aforementioned Triumphal arch; under this arch one sees Mercury and Apollo standing face to face; one also sees two Busts at the corners of the parapet of the stairs: Zeuxis and Artemisia. All of this has been painted with love for the guild by Cornelis de Man; the same way Leonard Bramer has painted the eight curved [?] wooden ceiling coffers [? Dutch: welsel] with the Seven Liberal Arts, adding the Art of Painting in the eighth." [translation by Kees Kaldenbach, 2002]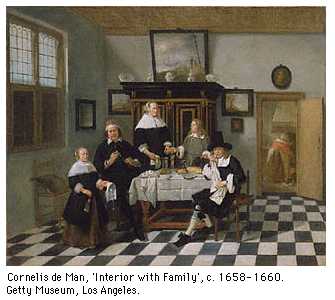 To the bottom: Portait of Cornelis de Man by M. van Mierevelt.
Note. RKD, Bredius archive, artist folder, citing 1649, 1689 and 1694 addresses. GAD, collection Beydals who cites BNK 46 fol.356, 15 march 1706: "Cornelis Willemsz. De Man, Bejaarde vrijer op 't Marcktvelt in de Gekroonde Pelikaan, op 't Choor, 16 dragers.". The house number is given in Goudappel, Namen van huizen, p. 67. GAD Koopbrieven Huiseigenaren, letter M gives 30 June 1685. Thieme-B. XVII, 557-558. Delftse meesters p. 191. Following De Stad Delft 1981, II, plate 137 both claim he died in The Hague. His corpse may have been moved from The Hague to the given address in Delft and buried from there. Painted the Surgeons Portrait; the sitters are listed in a letter next to fol. 33 in Surgeons Archive, GAD. Exh Cat 'Schatten in Delft', Prinsenhof, Delft 2002, p. 73.
See also
http://www.getty.edu/art/gettyguide/artMakerDetails?maker=340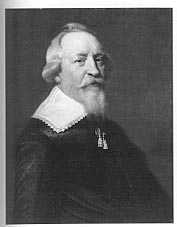 This page forms part of a large encyclopedic site on Delft. Research by Drs. Kees Kaldenbach (email). A full presentation is on view at johannesvermeer.info.
Launched 16 February 2009; Last update March 1, 2017. More info in the RKD site.