Do you need the immediate help in Holland of an efficient office manager, freelance secretary, agent or research assistant?
I am your Independent Scholar and will accept urgent complicated assignments, jobs, research engagements, various office jobs.
Also for doing desk-based reserch - or on-site search activities in firms or institutions in The Netherlands, Holland, Dutch archives including history & society, and art history. Professional research and footwork done for third parties in Dutch firms, archives and instititutions. By art historian Drs Kees Kaldenbach, Amsterdam, The Netherlands

Have work, translation, research done for you in a in Amsterdam by a pro. Hire Drs. Kaldenbach as a researcher and archival helper for your ongoing projects * books * articles* projects * film scripts * multimedia projects * outreach * historical research. See what serendipity does for you.

Active as translator as well.

Breaking news: Radio interview in Dutch, Dutch national radio, November 19, 2015.

Art historian Kees Kaldenbach is an independent "scholar in action"*

HOT NEWS 2015: Little Street location found

NEW VERMEER MANUSCRIPT AVAILABLE for publishers, 2016

Swedish sometimes sounds like Dutch

Warning against Vivaticket, Italy.

Happy customers:

"This is very exciting! I see several clues here. The most noticable is that Captain Powell's first name was Daniel; this is an important new detail because Powell was a common surname. Thank you very much. I would not have found this document on my own." Rebecca, May 2010.

"Dear Drs. Kees, Thanks very much for your email. I'm delighted that you might be able to assist. I would like to propose that I pay you an initial fee of $***, with the hope that you could accomplish much or all of the initial tasks you outlined with that amount." Judith, March 2010.
& many many more, also in 2010 and 2011 !

October 2010. A last minute job took an entire weekend. Stacks of English to Dutch paperwork needed to be prepared for a EU office in Brussels. A multi-million Euro project saved by last minute work.

2010. Thousands of pages of text. Ordered by Robert, the CEO of a large English industrial firm.
"I can thoroughly recommend Kees as a fast and accurate translator at competitive rates. In addition he has a great 'can do' attitude and is comfortable with meeting tight deadlines. He saved the day for us when nobody else would commit to the short lead time."
In Dutch: Publicatielijst in het Nederlands.
Biography of the author.
Public Speaking engagements
Two complete manuscripts offered here. One about Vermeer & Delft and the other about Mozart's life & travels in Europe.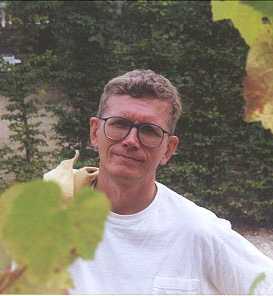 To the right: the author, al fresco, in a French vineyard---->
See the TV programme on Dutch national TV on Kees Kaldenbach as masseur and art historian. NPS Nederland 2, Saturday, November 25 2006. Go to the Dutch programme Vals Plat. Then move the horizontal bar at the bottom to the desired date. The first minute starts with a clown in a car. Then my 9 minute bit of fame. Audio track in Dutch only.
Drs. Kees Kaldenbach has been interviewed by CNN in Atlanta, and has been featured by BBC2 and BBC3, and by the Japanese, Danish and Dutch national TV networks.

---
Scholarly memberships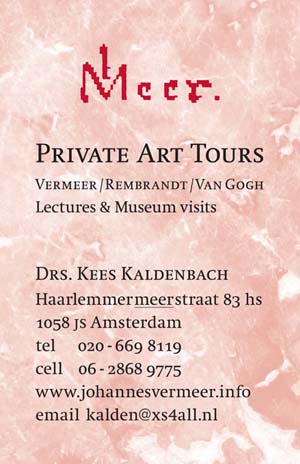 Kees Kaldenbach is owner and web master of www.johannesvermeer.info, a large multimedia Vermeer web site. This site contains the Digital Vermeer House, built in cooperation with the Rijksmuseum Amsterdam, and many other multimedia pages well worth experiencing. It is a web site without popups or ads.It is a rare and unique privilege that the Rijksmuseum has linked from the main Rijksmuseum site to this site. Start at www.rijksmuseum.nl and select Collection, after which you choose Digital Collaboration.
In 2004 and 2005 he was advisor and teacher in the interdisciplinary Summer programme at Emerson University, Castle Well (Limburg, The Netherlands) in which he taught students to build a web site on the fine art they personally had visited in Bruges and Venice.
He is member of the academic Vermeer Center, Delft Center for Art and Archaeology Technical Research (VC, Delft University of Technology / TU Delft).
He is also member of the Art History Technology Consortium (AHTC) and of the society Art Historians interested in Pedagogy and Technology (AHPT).
Currently he is a visiting member of the University of Amsterdam Gouden Eeuw Colloquium [Golden Age Colloquium] which meets once a month for lectures.
He is supporting member of the Historians of Netherlandish Art (HNA), list member of Consortium for Art and Architectural Historians (CAAH), member of the Association for Art History (AAH) and finally member of the International Society For Mathematical And Computational Aesthetics (ISMCA).
He is available for lectures worldwide. In April, 2007 he gave a series of art lectures in Atlanta, Georgia, USA and was interviewed that week by a CNN reporter in the CNN Atlanta studios. He has been hired as on-board speaker by the management of luxury cruise liners.
He is also available for for private functions and on private yachts and ships.
See articles on Kees Kaldenbach's Author's publication list in English or Publication list in Dutch.
---




Key words: Freelance research assistant? Researcher, libraries, archives, archival research, available, doing research in Amsterdam, Holland, Netherlands, Hire me as a researcher and archive assistant, doing searches, helper for your ongoing projects, facts, documents, research, fact finding, fact checking,
* books * articles * projects * film scripts * multimedia projects * historical research. art guide ; author of the largest home page on Delft artists ; Member of several academic and scientific groups, Amsterdam, Holland, The Netherlands, Kaldenbach.
- Last updated May 17, 2019 -
Research and copyright by Kees Kaldenbach. A full presentation is on view https://kalden.home.xs4all.nl and johannesvermeer.info.