Available for a book publishers right now (summer 2016): a completely finished Vermeer book manuscript, ready for print.

Manuscript size: 40.000+ words ; about 100 images, of which most are delivered to you as ready-to-print electronic image downloads, in full size - most images are completely free of reproduction rights, making it a beautiful book and a financially interesting proposition in terms of payment of copyrights.
The envisioned boxed book may contain these luxury parts
1. The book itself, results of original archival research over the last 30 years
2. Envelopes with essential archival documents in full colour and
3. Two large and outstanding maps of Delft, being
3a. one full size birds eye map, the Kaart figuratief which is as yet unpublished in full size
3b. a presentation map of ca. 100 artists and ca. 100 patrons in the seventeenth century Delft, in an updated version.
Treasures of Vermeer
by Drs Kees Kaldenbach
===========
For the future blurb:
The author presents about two-thirds of Vermeer's 36 paintings in this book. Within his choice, author Drs. Kaldenbach goes in-depth, telling unique stories and offering rarely seen treasures in archival documents, text and images.
This volume contains Kaldenbach's lifetime of original research in archives and knowledge gained by worldwide travel to art collections. This book on seventeenth century painting offers a rich array of weblinks and thereby sets a new standard.
Reprinted documents inserted in envelopes will give you the thrill of almost handling the originals from archives. The documents make this a very special book. Some are printed in full size, as is the 4-part birds-eye map Kaart Figuratief, which may be glued together into a magnificent poster. This unique document has not been available full size on the market up to now.
Vermeer's young eligible women and men are presented as embracing love and embodying desire with necessary caution, as exemplified in Emblamata books of the period.
=========
About the author
Drs Kees Kaldenbach is an independent art historian based in Amsterdam, Holland. As a leading Vermeer scholar, he has studied in archives and published original Vermeer research since 1975. This book contains many referrals to web pages, both his own and those of others. His own extensive website presents gems: the Digital Vermeer House and the Clickable Map of Seventeenth Century Delft. His scholarly publications can be found online NOTE1. A natural teacher, his extensive outreach in art is available for free at www.johannesvermeer.info. He is owner-director of Private Art Tours.
NOTE1: http://kalden.home.xs4all.nl/auth/Publications_Kaldenbach.html
=====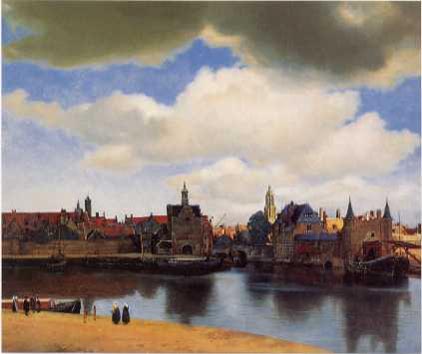 Table of contents - How to use this book
This book is thematically organized. You are free to read chapters in any preferred order. Those readers needing biography may start at chapter 7. Paintings of females are discusses in chapters 4 and 10. For information on Delft start with chapters 1, 2, 6 and 8. The thrill of virtually touching history is hidden in the envelopes: key archival documents, the only tangible Vermeer items left to us after some 350 years.
Chapter 1: Delft, a Military City;
Chapter 2: An Absolute Masterwork: The Art of Painting (Vienna)
Chapter 3. Vermeer's Paint Materials and Techniques
Chapter 4. Music, Courtship and Love
Chapter 5. Delft lens makers, Optical Experiments, Camera Obscura
Chapter 6. Artists and Artisans, Masters in the Guild of St Luke
Chapter 7. Vermeer's Houses and Family History
Chapter 8. City Institutions and Knowledge
Chapter 9. Delft Blue Industry
Chapter 10. Vermeer's Women: Poetry, Stillness
Chapter 11. Vermeer's Fame, Lost and Found
Chapter 12. Selected Bibliography
Envelope: Palpable connections to Vermeer, a giant of fine art.
Index
======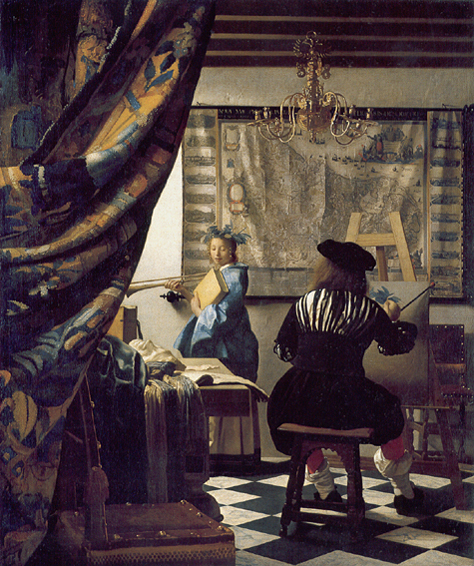 Abbreviated list of all Vermeer paintings.
NOTE: For more information, see essentialvermeer.com. Painting's dates in this book are those stated on museum web sites.
1. Diana and her Companions, The Hague.Chapter 6.
2. Christ in the House of Martha and Mary, Edinburgh.
3. The Procuress, Dresden. Chapter 8.
4. Drunken Sleeping Maid at a Table, MMA. Chapter 10.
5. A Girl Reading a Letter by an Open Window, Dresden. Chapter 10.
6. Officer and Laughing Girl, Frick-NYC. Chapter 1.
7. The Little Street, Amsterdam. Chapter 7.
8. The Milkmaid, Amsterdam. Chapter 7.
9. The Glass of Wine. Berlin. Chapter 4.
10. The Girl with a Glass of Wine. Braunschweig
11. Girl Interrupted in her Music, Frick NYC Detail, chapter 4.
12. View of Delft, The Hague. Chapter 1.
13. The Music Lesson, Windsor.
14. Woman (in Blue) Reading a Letter, Amsterdam. Chapter 10.
15. Woman Holding a Balance, Washington-DC. Chapter 10.
16. Young Woman with a Water Pitcher, MMA-NYC. Chapter 10.
17. Woman with a Lute, MMA.
18. Woman with a Pearl Necklace, Berlin.
19. A Lady Writing, Washington-DC.
20. Girl with a Red Hat, Washington-DC. Chapter 10.
21. Girl with a Flute, Washington-DC.
22. Girl with a Pearl Earring, The Hague. Chapter 10.
23. The Concert, ISG-Boston, stolen 1990.
24. The Art of Painting, Vienna. Chapter 2.
25. Study of a Young Woman, MMA-NYC.
26. Mistress and Maid, Frick-NYC.
27. The Astronomer, Louvre.
28. The Geographer, Frankfurt. Chapter 8.
If the publisher can afford including another 9 Vermeer images and payment of reproduction rights, all Vermeer paintings can be reproduced and discussed. In that case the word count would go up to 40.000 words.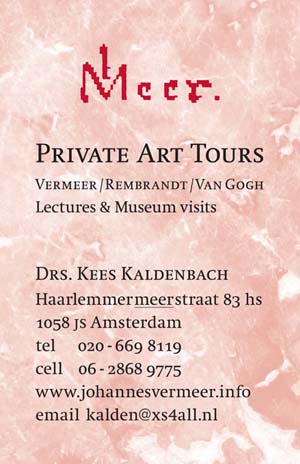 For the secondary illustrations, most materials have been chosen from the rich collections of the Rijksmuseum and Rijksprentenkabinet. All of that material is completely free of reproduction rights.
As a text example: Vermeer, Allegory of Catholic Faith (NYC)
Research presented in November 2014 about Mannheimer: he almost bought the best Vermeer: The Art of Painting (now in Vienna)
Contact the author: kalden@xs4all.nl
Updated 13 June 2016. Updated 18 July 2017.
Swedish sometimes sounds like Dutch.