Wetenschaps-tour in Amsterdam.
Ook voor academische groepen, Corporate events, Bedrijfsuitjes en familie-uitjes voor kleine groepen.
Onderwerpen: tour van wetenschaps-geschiedenis en architectuur in Amsterdam, Noord Holland. Met een geleerde reisleider. Een begeleide Academische tour door scholar-lecturer, kunsthistoricus Drs. Kees Kaldenbach*
Tijdens deze wandeltour zullen we de geleerde plaatsen ontdekken die ons vandaag opnieuw verbinden met de grote wetenschappelijke genieën uit het verleden. Onder andere:
Blaeu en andere uitgeverijen van geografische kaarten, producenten van de beste atlassen en globes.
Bartjens de rekenmeester, wiens boek op scholen werd gebruikt gedurende vele eeuwen.
Van der Heijden, de uitvinder van de stadsverlichting en de brandspuit-pomp.
Wetenschappelijke hotspots: Arti, de Academie, boek-uitgeverijen, de twee universiteiten en de voorloper van de universiteit.
Woonhuizen van wetenschappers en schrijvers, Vondel, Bredero, Reve.
Het gilde van de chirurgijns - en hun link met Rembrandt.
Scheepsbouw op de werf, de geur van hout, teer en pek. De rol van de dames van plezier bij terugkeer van de matrozen.
De eerste aandelen en de aandelenhandel, ontwikkeling van kapitalisme.
Vrouwen van Amsterdam, een overzicht over 4 eeuwen.
Rijke bewoners en de kunstenaars.
VOC in het centrum. Schokkende details en de koloniale expansie. VOC centrum, mogelijk ook WIC centrum. Opbouw van dit multinationale bedrijf. Financiering. Pakhuizen. Politiek.
Een tour of lezing met als thema Amsterdam - Bankiers - Casanova
Artis Natura Magistra de dierentuin met wetenschappelijke bibliotheek.
Tours in het Nederlands, Duits of Engels
Practical matters
.
Read a biography.
---

You may also arrange this VIP treatment for business contacts or friends. Our cultural tour organisation office will take care of a unique and memorable experience.

Drs. Kees Kaldenbach is your private "scholar-lecturer on culture tours" *.

*Martha Gellhorn, Travels with Myself and another, p. 182.

April 2011. Kaldenbach is recipient of the WikiDelft prize. Clipping from Haagsche Courant

---

Please contact me for time and fees of the tailor-made tour you ar interested in.

These tailor made tours are available upon request - please contact me to book a date. Minimum group size: 1 person. Maximum group size is limited to about 10 persons. With a megaphone I can also manage larger groups on the streets.

---

Complete Listing of tours

Photo by Dick Martin.

Visit a large architectural cultural site on Amsterdam at Startamsterdam.com

---

Endorsements

The Rijksmuseum has done me the honor of linking the main Rijksmuseum site to my website. In the search box enter 'Digital Vermeer House'.

I conduct Rembrandt walks in Amsterdam for the Netherlands Bureau of Tourism, London and New York City offices. Their clients include important journalists.

The travel site www.luxurytraveler.com has devoted a main feature to my tours and walks.

Read further client testimonials.

---

---
About Drs. Kees Kaldenbach:
Read a biography.
Drs. Kees Kaldenbach has been featured in television and radio documentaries, including BBC2 TV, NTV Japan, Danish TV and Radio Netherlands World Service. In July 2004 he was interviewed about Delft artists by Tetsuya Tsuruhara for the leading Japanese newspaper The Yomiuri Shimbun. In 2004 and 2005 he acted in an advisory role to additional BBC teams. Kaldenbach has written extensively on Vermeer and 17th century Delft, on Vincent van Gogh and on other art history topics.
Drs. Kees Kaldenbach is your private "scholar-lecturer on culture tours".
Further information is available on his encyclopedic web site: www.johannesvermeer.info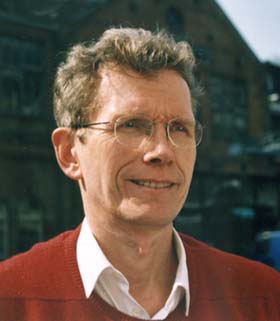 Contact information:
Drs. Kees Kaldenbach , kalden@xs4all.nl
Haarlemmermeerstraat 83 hs
1058 JS Amsterdam
The Netherlands
telephone 020 - 669 8119 (from abroad NL +20 - 669 8119)
cell phone 06 - 2868 9775 (from abroad NL +6 - 2868 9775)
Reaction, questions? Read client testimonials.

Open seven days a week.

Member of the VVV Tourist information and the Amsterdam Chamber of Commerce (Kamer van Koophandel).

Email responses and bookings to art historian Drs. Kees Kaldenbach.

This page forms part of the 2000+ item Vermeer web site at www.xs4all.nl/~kalden

Launched April 15, 2006. Updated 25 oktober, 2016.

Lid van VVV Iris bon (acceptant van de Iris kadobon) en lid van de de Kamer van Koophandel. Lid van de Gouden Eeuw Cirkel in Amsterdam.