Van Gogh's Madness, 2016 exhibition, a Private tour in the Van Gogh museum, Amsterdam
Tour by a gifted art historian
New! Better menu and upgraded web page: Click here.
Best entry at 9 AM.
Sophisticated, lucid and in-deph Van Gogh museum tour including The Paintings, Biography, Art History and Impressionism. For Small private groups, also for small Corporate events. Escorted Academic tour by scholar-lecturer, art historian Drs. Kees Kaldenbach*
Fast track entry in ALL Amsterdam museums. Avoid spending time waiting in museum queues. Enter the Van Gogh museum together with me.
===
"Dear Kees,
Phenomenal! Touring with you was like being friends with the top curator of a major art museum.
Your mountain of knowledge allowed you to zig and zag with our questions and flow seamlessly back into your captivating analysis.
Thank you for engaging each and every family member. It was a delight to be with you, and we feel lucky to have had the experience.
Sincerely,
Leigh and Daniel Levine and family, march 2018."
===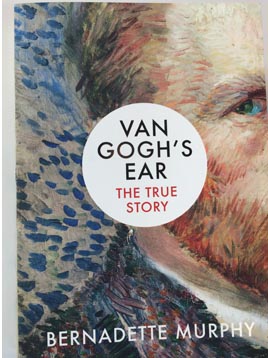 In a rage of madness, Vincent van Gogh entirely cut off his ear, wrapped it in paper and offered it at the door of the brothel, to a cleaning lady. Her name was Gabrielle, nicknamed 'Rachel', then 19 years old thus legally not allowed to be a prostitute. She was physically scarred, disfigured and Vincent may have felt sorry for her, and decided to match his own physical suffering. (source: Bernadette Murphy: Van Goghs Ear, 2016, pages 220-221). The Van Gogh Museum opened today with the Madness exhibition but does not show this latest correct information on 'Rachel' as they describe the girl as a prostitute.
Author Bailey, in The Art Newspaper gives us her full last name: "The young woman in the brothel who was given Van Gogh's ear can be revealed for the first time by The Art Newspaper as Gabrielle Berlatier, a farmer's daughter." She had just been bitten by a dog.
In this same show, the museum maintains they Vincent shot himself, with a very small pinfire handgun owned by his landlord Arthur-Gustave Ravoux. This is odd, as Vincent had just ordered art supplies from Paris. The museum fails to show a valid theory put forward by Naifeh about Vincent accidentally being shot by a 16-year old boy named René Secrétan, nicknamed 'Buffalo Bill' who often went out shooting squirrels and rabbits with his .380-caliber peashooter. René and his brother were known to torment Vincent time and again and René may have play-acted and made a fatal mistake. (source: Naifeh, Van Gogh the Life, 2012, pages 870-873).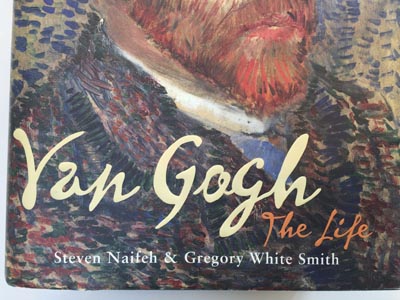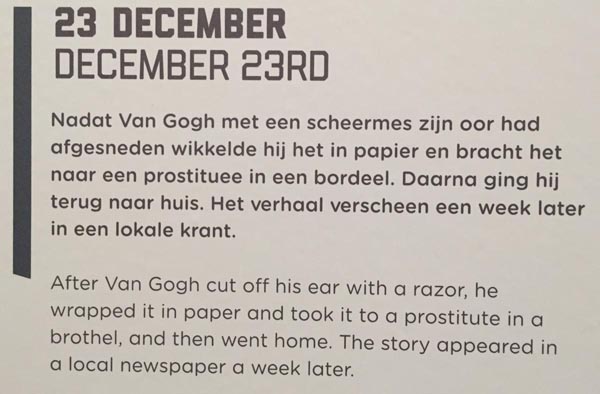 The museum declined my suggestion to updte this incorrect exhibition information! Actually, the office department sent me an emailmessage within 2 minutes of my message - stating that the museum based itself on the best possibe information and decades of study. Ha!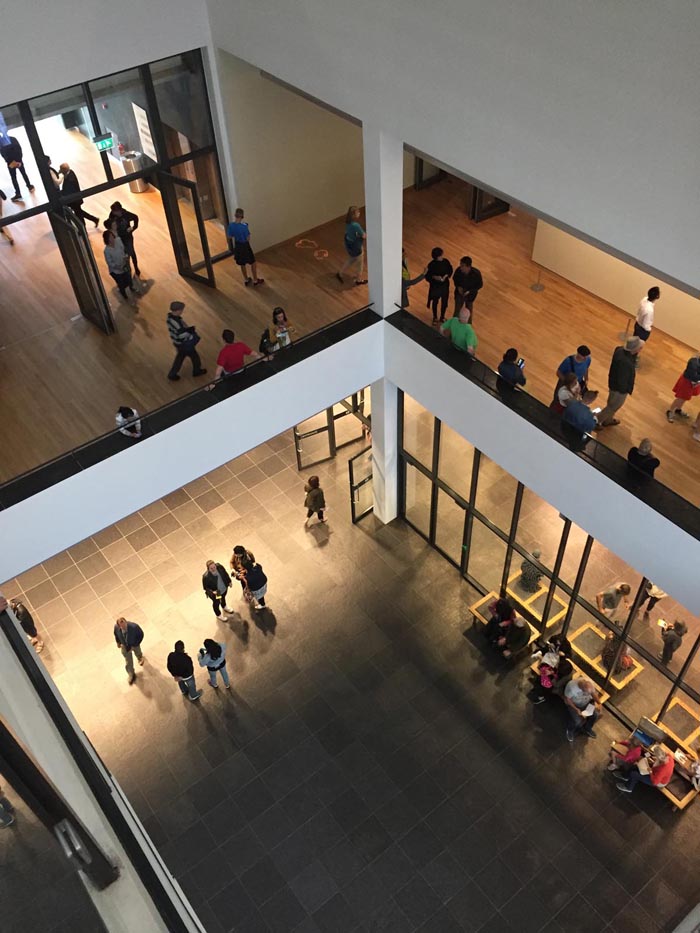 Photo of inner hall, architecture by Rietveld, the Van Gogh museum, 15 July 2016 by tour guide Kees Kaldenbach

Below: Van Gogh, Self portrait in Paris, 1886 with a halo of blue paint around his head.

Van Gogh Museum, NL Dutch
Rijksmuseum tour. The glorious national art collection.
Avoid spending time waiting in museum queues
Vermeer lectures and tours.
Rembrandt tours incl the Maria Trip portrait.
See all 330 Rembrandt paintings in full size reproductions, in about 2 hours in the Magna Plaza building behind the Royal Palace/Town Hall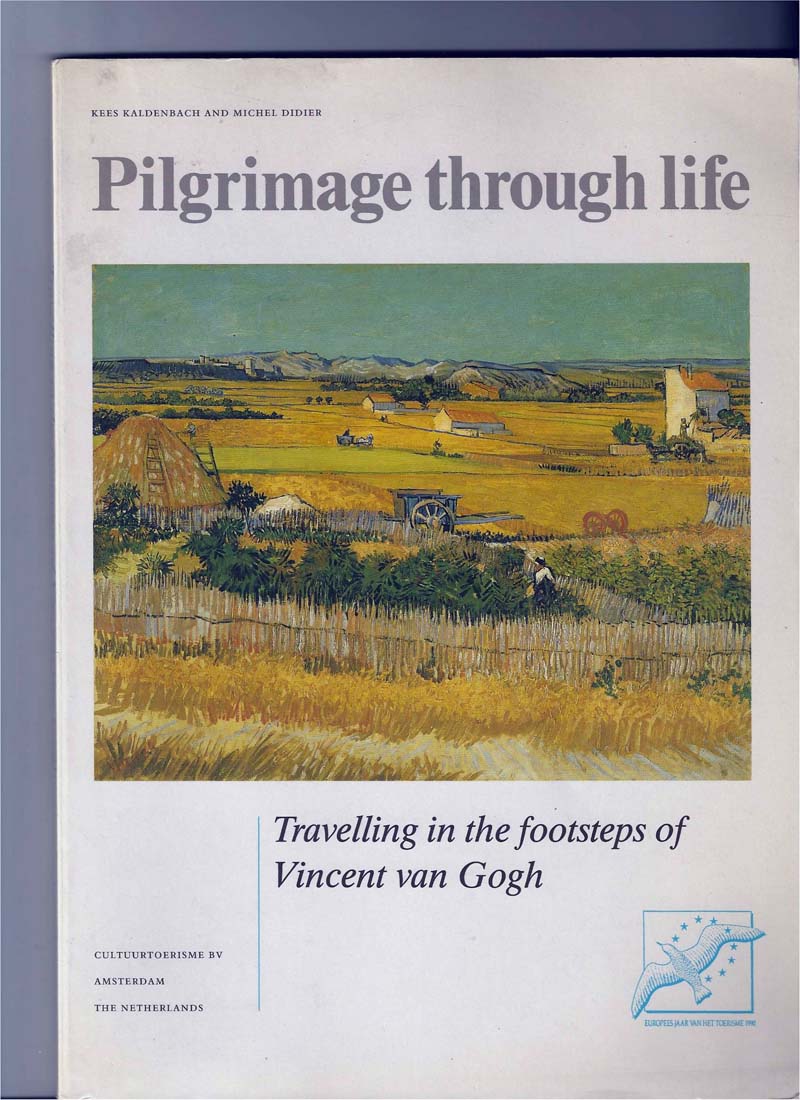 Kaldenbach: Pilgrimage Through Life: Travelling in the Footsteps of Vincent Van Gogh 1853-1890. Image on top: a fine biography I wrote a while ago, with maps and city plans from his day and age, of all places where he actually lived, with indications such as x - marks the spot. See https://kalden.home.xs4all.nl/gogh/vinc-frames-E.htm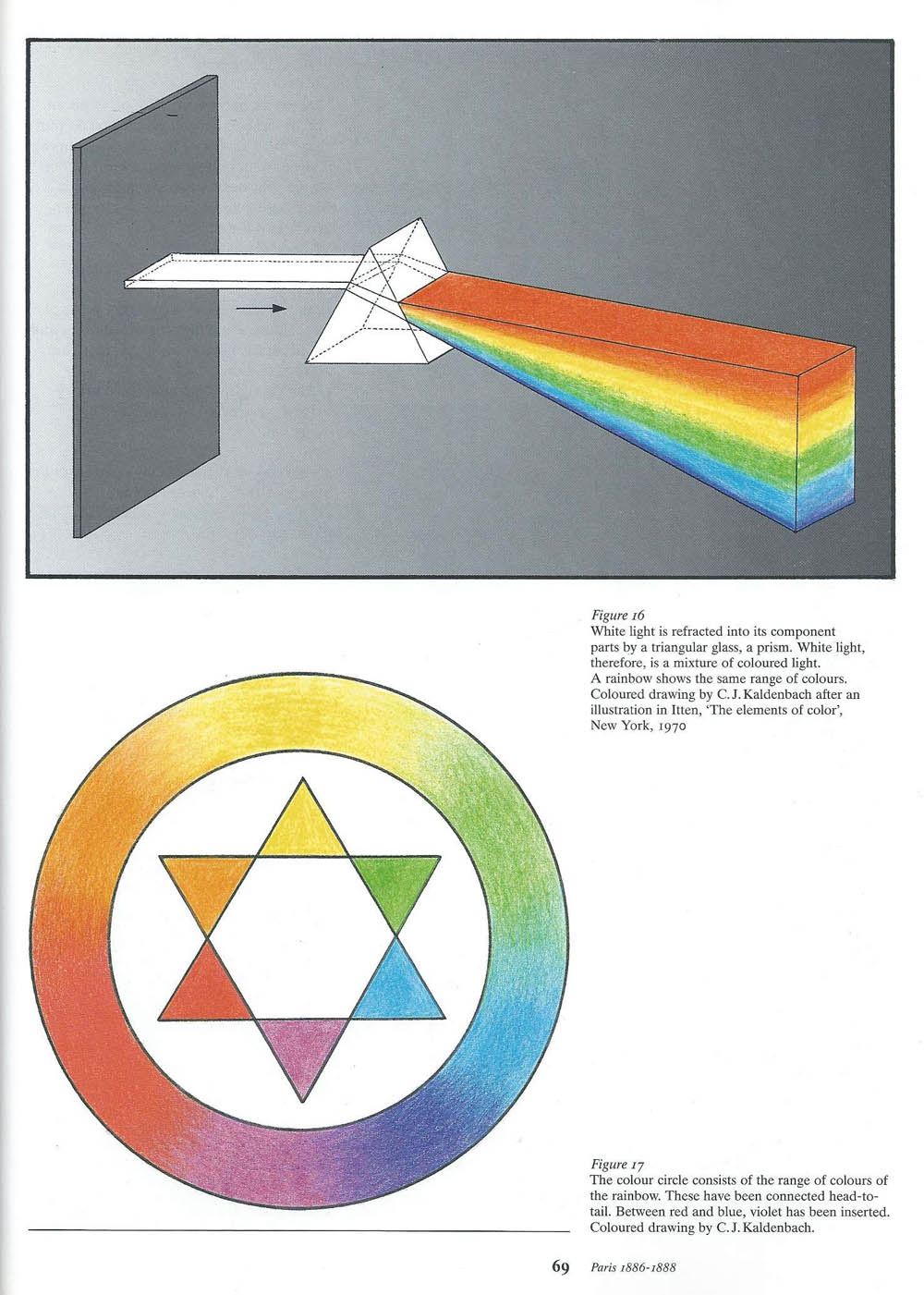 This drawing for my book was made by hand with pastel colour. There was no digital technology available to me before 1990.
Bookings through my office.
Spotting the Rich & Famous inhabitants in the Golden Age.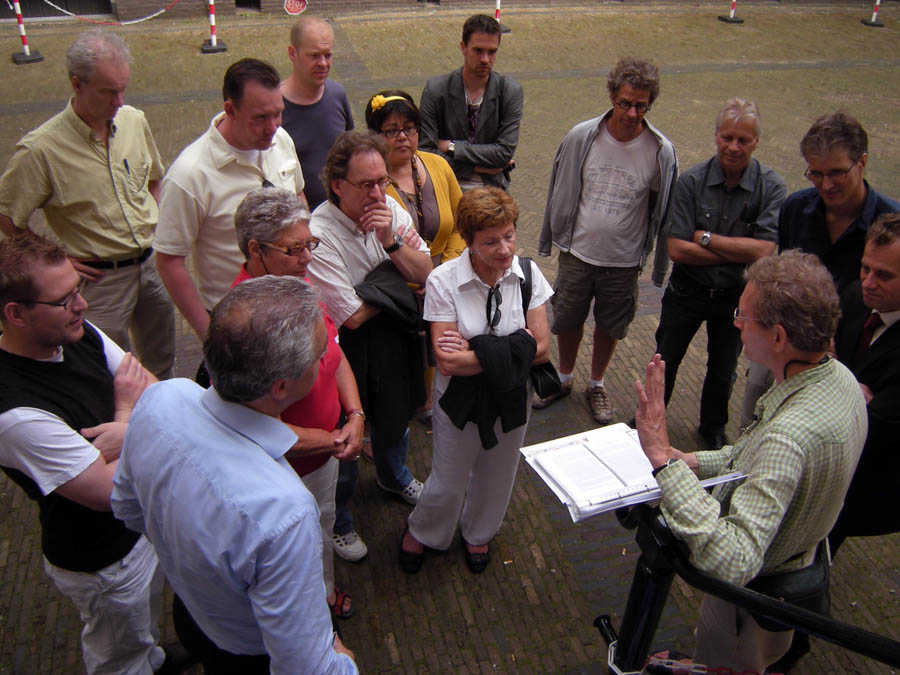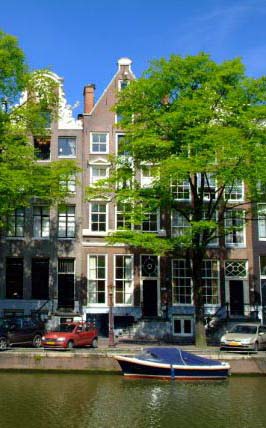 Amsterdam is the capital of The Netherlands. The beauty of the city center is the result of many centuries of careful city planning. It boasts the most wonderfully preserved group of canals and ancient canal houses found anywhere in the world. In the center we find the headquarters of the United East India Company, pivot of international trade and source of great wealth in the 17th century. Dutch painter Rembrandt, prince of painters, and prolific etcher, draughtsman also made his home here and catered to the wealthy merchants.
A number of important museums including the Rijksmuseum and the Van Gogh museum are also located here. A dozen of other museums are well worth visiting, including the Rembrandt house.
On Dam square, from which this town on the Amstel river originally got its name, is the former Town Hall, now Royal Palace. Next to it stands the late mediaeval New Church, now mainly serving as an exhibition hall. A five-minute walk going east takes us to the large Old Church in the middle of the Red Light District.
As a reference manual I use a number of hand books, including the famous d'Ailly historical handbook during the Amsterdam walks.

As an art historian based in Amsterdam, The Netherlands, I can meet you in Amsterdam for a personalized guided tour of art museums and the historic center. Great Amsterdam tours!

Together we will experience the beauty and history. Enjoy yourself and learn about history while strolling and discussing the country's history, art and culture. In doing so, we may touch a number of bases - spanning not only fine art and architecture but also the city's history and current social issues. See client testimonials.

Read a biography.

Starting at your hotel I will take you on a wonderful private cultural walking tour of your choice. My guided itinerary offers you accessable informative conversation in English, Dutch, or German (my French and Italian are more limited).

See Amsterdam in 1842 (Map with dots indicating where the high and mighty lived in Amsterdam, in the seventeenth century)

Facebook

FB: Private Art Tours, Amsterdam + Holland

FB: Academica Translations, Amsterdam

---

You may also arrange this VIP treatment for business contacts or friends. Our cultural tour organisation office will take care of a unique and memorable experience.

Drs. Kees Kaldenbach is your private "scholar-lecturer on culture tours" *.

*Martha Gellhorn, Travels with Myself and another, p. 182.

Drs. Kaldenbach is chairman of the Circle of Academic Tour Guides of the Netherlands and Flanders (CATON)

---

Please contact me for time and fees of the tailor-made tour you ar interested in.

These tailor made tours are available upon request - please contact me to book a date. Minimum group size: 1 person. Maximum group size is limited to about 10 persons. With a megaphone I can also manage larger groups on the streets.

---

Complete Listing of tours

Photo by Dick Martin.

Visit a large architectural cultural site on Amsterdam at Startamsterdam.com

Old maps on http://watwaswaar.nl

www.thingstodoinamsterdam.co.uk

---

Endorsements

The Rijksmuseum has done me the honor of linking the main Rijksmuseum site to my website. Start at www.rijksmuseum.nl and select Collection. Then choose 'Digital Collaboration' and the 'Digital Vermeer House'.

I conduct Rembrandt walks in Amsterdam for the Netherlands Bureau of Tourism, London and New York City offices. Their clients include important journalists.

The travel site www.luxurytraveler.com has devoted a main feature to my tours and walks.

Read further client testimonials.

---

Research presented in November 2014 about Mannheimer: he almost bought the best Vermeer: The Art of Painting (now in Vienna)

---
About Drs. Kees Kaldenbach:
Read a biography.
Drs. Kees Kaldenbach has been featured in television and radio documentaries, including BBC2 TV, NTV Japan, Danish TV and Radio Netherlands World Service. In July 2004 he was interviewed about Delft artists by Tetsuya Tsuruhara for the leading Japanese newspaper The Yomiuri Shimbun. In 2004 and 2005 he acted in an advisory role to additional BBC teams. Kaldenbach has written extensively on Vermeer and 17th century Delft, on Vincent van Gogh and on other art history topics.
Drs. Kees Kaldenbach is your private "scholar-lecturer on culture tours".
Further information is available on his encyclopedic web site: www.johannesvermeer.info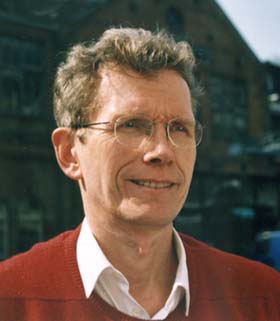 Contact information:
Drs. Kees Kaldenbach , kalden@xs4all.nl
Haarlemmermeerstraat 83 hs
1058 JS Amsterdam
The Netherlands
telephone 020 - 669 8119 (from abroad NL +20 - 669 8119)
cell phone 06 - 2868 9775 (from abroad NL +6 - 2868 9775)
Reaction, questions? Read client testimonials.

Open seven days a week.

Member of the VVV Tourist information and the Amsterdam Chamber of Commerce (Kamer van Koophandel).

Email responses and bookings to art historian Drs. Kees Kaldenbach.

This page forms part of the 2000+ item Vermeer web site at www.xs4all.nl/~kalden

Launched July 15, 2016. Updated 2 april, 2019.