Opera buff & Classical Music buff tour in Amsterdam
A tour starring the major locations of the Amsterdam Opera and Music Theatre scene, and the Royal Concertgebouw Orchestra. History. Anecdotes. Let music come alive.
With the Rembrandtplein theaters, the Napoleonic theatre on the Amstel, the dazzling Tuschinski Art Deco theatre, the extravagant Bungehuis (built by Bunge of the Wagner society), the illegally placed bronze statues of Jordaan cafe operatic singers (stile Napoletano) at Elandsgracht, the Dylan boutique hotel, formerly the main theatre. The world famous Concertgebouw, the Carré theatre, jetset in the Amstelhotel... and much more. On foot, or on bike, or by car/taxi.

To the right: Maria Callas leaving the Amstel hotel in 1959 accompanied by her private dresser and her husband Giovanni Meneghini. Photo source: http://mariacallasphotogallerie.blogspot.nl/2010/11/blog-post_27.html
Dutch/Nederlandse text.
The Amsterdam Operatic history.
Well researched, with eye witness texts, told on the right spot in the city. Factually sound, entertaining, fun, enticing, a tour with Drs. Kees Kaldenbach*

This opera tour may cover these hopspots: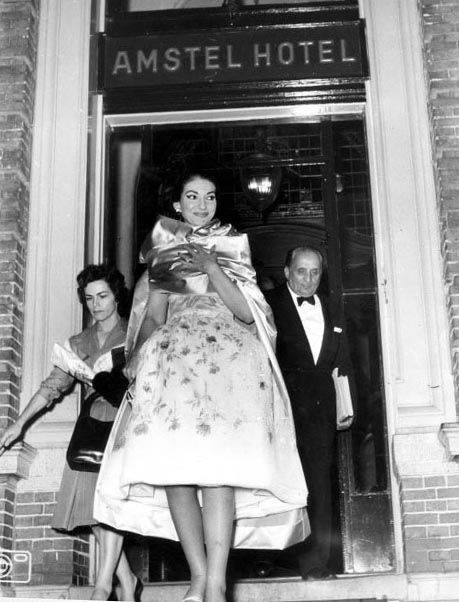 * The Music Theatre (Muziektheater, Stopera) in Amsterdam, and the problematic building history that sterted in 1955 and was only realized in 1986, sandwiching a new Town hall with the new Opera. Exterior only. Perhaps a chance of interior visit.
* The Rembrandtplein theaters, its heyday and its dark World War 2 period.
* The Napoleonic era theatre on the Amstel, an inconspicuous and often overlooked building.
* The dazzling Tuschinski Art Deco theatre, built to give the working class man a royal movie performance. We will discuss the facade and the grand hall.
* Art Deco style Bungehuis (built 1932-1934 by J.C. Bunge, the tycoon of the Wagner society) for the University of Amsterdam.
* The grass-roots set of lifesize bronze Opera singer sculptures, initially illegally placed by the Jordaan inhabitants and later legalized by the city, of Jordaan cafe singers (stile Napoletano) at Elandsgracht, Jordaan.
* The Dylan hotel, formerly Amsterdam Theatre, scene of a large 1772 fire in which dazzling jewels were stolen from a rich noble lady running for her life in panic.
* The world famous Concertgebouw, with its perfect acoustics. "Deep throat" bits of information about stars - from staff members who wish te remain incognito. Exterior only.
* The Carré theatre theatre that started out as a Circus building with Lippizaner horses, with a long history of opera, theatre, shows, concerts. Exterior.
* Jetset residing in the Amstelhotel... looking at the exterior and Grand hall. Will we take a luxury cup of coffee or tea to end this tour with a bang?
and much more.
Dutch/Nederlandse text.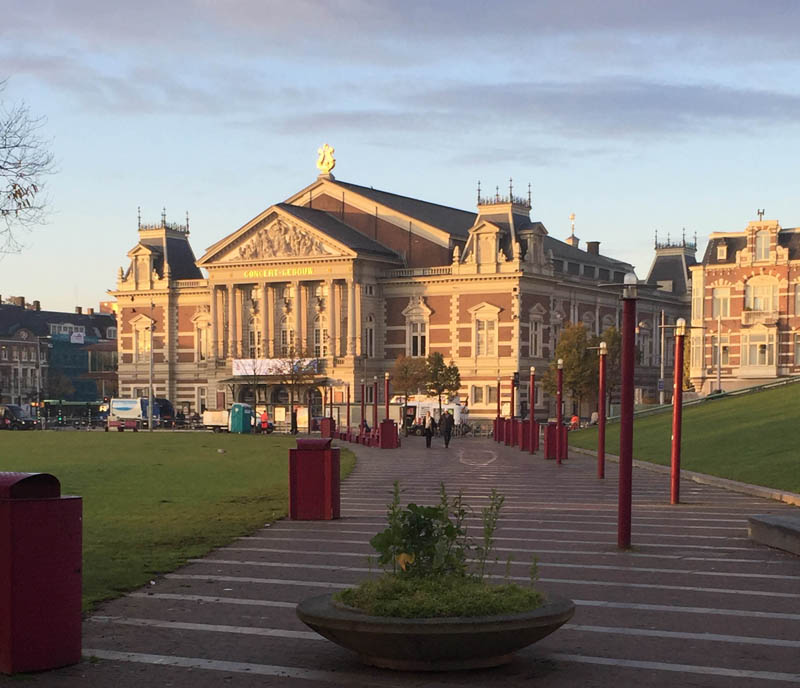 Concertgebouw building at Museum Square, October 2016.

Same, just after construction, in 1888.

Concertgebouw, with 1974 permanent seats. Just after the opening months, the position and angle of the seating behind the orchestra was corrected in order to get an even better acoustic result. Athe plain architecture of a box-within-a-box even shields the traffic noises of trucks and trams outside.
Amstel Opera

The Opera at Amstel river now has these golden letters: Nationale Opera en Ballet
The building, nicknamed Stopera after the STadhuis attached to it, boasts no less than 1594 seats! One of the great opera auditoriums in the world.
I can take care of a VIP entry into this Opera building. This is an in-depth excursion of high quality, covering a good deal of the centre of Amsterdam. Best done by foot or more efficiently by bicycle, tram, taxi. On a variety of locations you will hear tales about operatic events - and quotes from people from that day and age.

This tour given by art historian Drs. Kees Kaldenbach, of Private Art Tours, Amsterdam. Kaldenbach has been featured on both Dutch national and international television including NPS Dutch National TV, BBC2. BBC3, Japanese TV. and was interviewed in the CNN studios in Atlanta, Georgia.
Language: English, German (Deutsch), Dutch (Nederlands)
A walk on the Women of Amsterdam theme
walk on the Rich and the Painters theme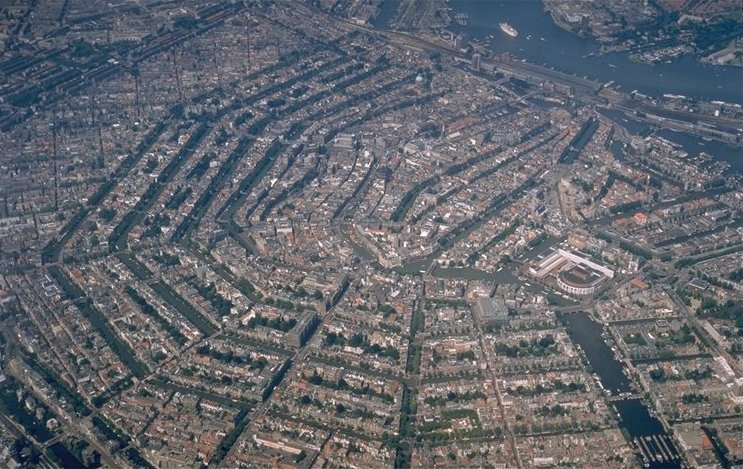 Spotting the Rich & Famous inhabitants in the Golden Age.

Powerpoint presentation of Amsterdam.
Powerpoint presentation of Athens.
Powerpoint presentation of Barcelona.
Powerpoint presentation of Berlin.
Powerpoint presentation of Copenhagen.
Powerpoint presentation of Florence.
Powerpoint presentation of Helsinki.
Powerpoint presentation of Istanbul.
Powerpoint presentation of Naples.
Powerpoint presentation of Rome.
Powerpoint presentation of Split.
Powerpoint presentation of Stockholm.
Powerpoint presentation of St. Petersburg, Russia.
Powerpoint presentation of Venice
Menu presentation of walks and museum visits in Towns in Holland.

As an art historian based in Amsterdam, The Netherlands, I can meet you in Amsterdam for a personalized guided tour of art museums and the historic center.
Together we will experience the beauty and history. Enjoy yourself and learn about history while strolling and discussing the country's history, art and culture. In doing so, we may touch a number of bases - spanning not only fine art and architecture but also the city's history and current social issues. See client testimonials.
Read a Kaldenbach biography.
Starting at your hotel I will take you on a wonderful private cultural walking tour of your choice. My guided itinerary offers you accessable informative conversation in English, Dutch, or German (my French and Italian are more limited).
See Amsterdam in 1842 (Map with dots indicating where the high and mighty lived in Amsterdam, in the seventeenth century)
Research presented in November 2014 about the Amsterdam art collector Mannheimer: he almost bought the best Vermeer: The Art of Painting (now in Vienna)
---
You may also arrange this VIP treatment for business contacts or friends. Our cultural tour organisation office will take care of a unique and memorable experience.

Drs. Kees Kaldenbach is your private "scholar-lecturer on culture tours" *.

*Martha Gellhorn, Travels with Myself and another, p. 182.
---
Endorsements
The Rijksmuseum has done me the honor of linking the main Rijksmuseum site to my website. Start at www.rijksmuseum.nl and select Collection. Then choose 'Digital Collaboration' and the 'Digital Vermeer House'.
I conduct Rembrandt walks in Amsterdam for the Netherlands Bureau of Tourism, London and New York City offices. Their clients include important journalists.
The travel site www.luxurytraveler.com has devoted a main feature to my tours and walks.
Read further client testimonials.
---
About Drs. Kees Kaldenbach:
Read a biography.
Drs. Kees Kaldenbach has been featured in television and radio documentaries, including BBC2 TV, NTV Japan, Danish TV and Radio Netherlands World Service. In July 2004 he was interviewed about Delft artists by Tetsuya Tsuruhara for the leading Japanese newspaper The Yomiuri Shimbun. In 2004 and 2005 he acted in an advisory role to additional BBC teams. Kaldenbach has written extensively on Vermeer and 17th century Delft, on Vincent van Gogh and on other art history topics.
Drs. Kees Kaldenbach is your private "scholar-lecturer on culture tours".
Further information is available on his encyclopedic web site: www.johannesvermeer.info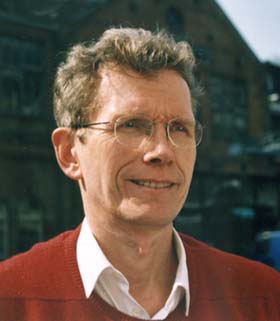 Contact information:
Drs. Kees Kaldenbach , kalden@xs4all.nl
Haarlemmermeerstraat 83 hs
1058 JS Amsterdam
The Netherlands
telephone 020 - 669 8119 (from abroad NL +20 - 669 8119)
cell phone 06 - 2868 9775 (from abroad NL +6 - 2868 9775)
Reaction, questions? Read client testimonials.

Open seven days a week.

Member of the Amsterdam Chamber of Commerce (Kamer van Koophandel).

Email responses and bookings to art historian Drs. Kees Kaldenbach.

This page forms part of the 2000+ item Vermeer web site at www.xs4all.nl/~kalden

Updated September 14, 2012. Updated February 17, 2017.