Private tour of the historic cheese town of Alkmaar + windmills and polders
New! Better menu and upgraded web page: Click here.
Subjects: History, Art History, landscape design and Architecture. Academic tour by scholar-lecturer, art historian Drs. Kees Kaldenbach*
Dutch/Nederlandse version.
Alkmaar, our educational and fun day trip, is situated in the province North Holland. Alkmaar is a quiet, dreamy little town 30 Km north of Amsterdam and happens to be my town of birth, where I grew up. We will go there by train.
If Haarlem looks like a friendly and sleepy town, Alkmaar is even more quiet and quaint. You may like to take a boat ride in summer, Ducking your head under the very low bridges as you pass under them. Friday is a great day in summertime.
Excitement abounds during the Friday cheese market in summertime. The great mediaeval gothic church St Laurens is also open then. Just like Haarlem, Alkmaar has some nice old age pension courtyards (hofjes) and it is particulary rich in quiet canals and wonderful streets.
Visit the small stores full of atmosphere in the narrow Fnidsen street near the Cheese market.
Around Alkmaar are a number of nice historic windmills: Molen van Piet,a grain mill, open on Friday Molen; het Rode Hert, another grain mill, open to visitors, and very close to four other windmills.Another mill for water pumping is near Stompetoren village
In 16th century history Alkmaar was the first Dutch town to successfully fight off the Spanish troops. These troops intended to restore order and to quell the Protestant revolutionaries, and thus Alkmaar stood at the cradle of national Dutch statehood and indepencence. One claims that "Victory begun in Alkmaar".
One weekend per year in summer do join the the great Folk event with 2000+ dressed-up historic actors is Kaeskoppenstad. Cheerse-head-town. You have never seen anything so wild in your life! Mad women, farmers with geese, religious fanatics, medical doctors telling you to step aside... revolutionaries and beggarwomen with horrible skin conditions.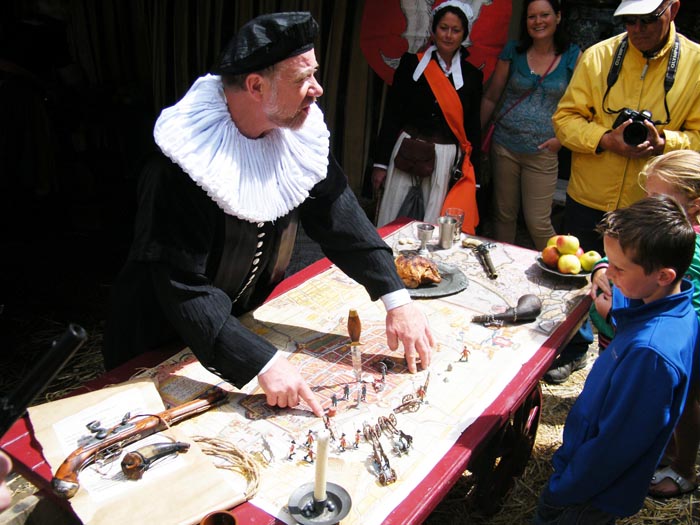 Planning the uprising agains the Spanish troops.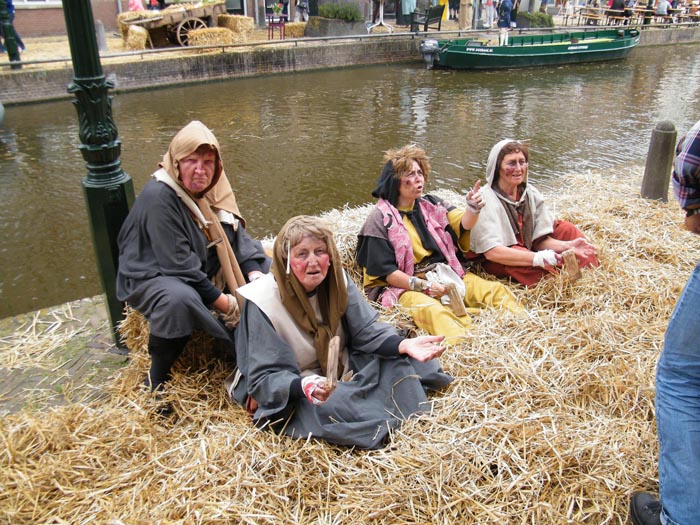 If you come close they will grab you with their contagious deseased claws..
Alkmaars main pride (and its "claim to fame") are key developments of the art of engineering. Just outside Alkmaar the very first polder was constructed and a set of strong industrial windmills and other engineering projects. I will be happy to tell you about that technological development during this city trip!

The beauty of the Alkmaar city center is the result of small-scale organic growth. It boasts a wonderfully preserved group of canals and a great number of ancient canal houses and monuments. In the center we find the Cheese market square, and a quaint Friday morning spectacle in springtime and summertime. Teams in white overall suits and colored hats vie with each other in moving big trays of cheese across the market square.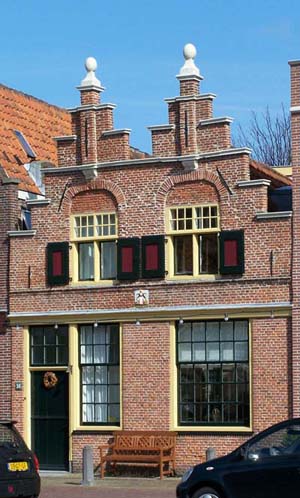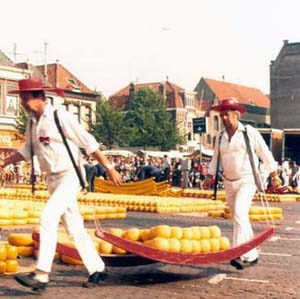 The Alkmaar history and art museum is worth a short visit as it owns the largest Saenredam painting in the world, showing a church interor in the world and also a small but fine mannerist painting by Cornelis Cornelisz. Buijs.
The museum is situated just off the massive late mediaeval Great Church of St. Lawrence (Laurentius) which may or may not be open to the public. One of the highlights of this Alkmaar trip is the strange story about how the 1566 religious iconoclasm in Alkmaar unfolded.
The former ramparts have been turned into a park landscape with an ice house and a windmill.
A boat ride may be part of a pleasurable day out. Watch out for involuntary decapitation - you may lose your head and life when passing under many of the very low bridges!
On the way we may visit other groups of windmills near Alkmaar. Some mills function as water pumps, other were designed for milling grain. We can also drive by Volendam, Marken and Edam, internationally famous as harbor and cheese towns. Or we can visit the UNESCO listed Beemster polder.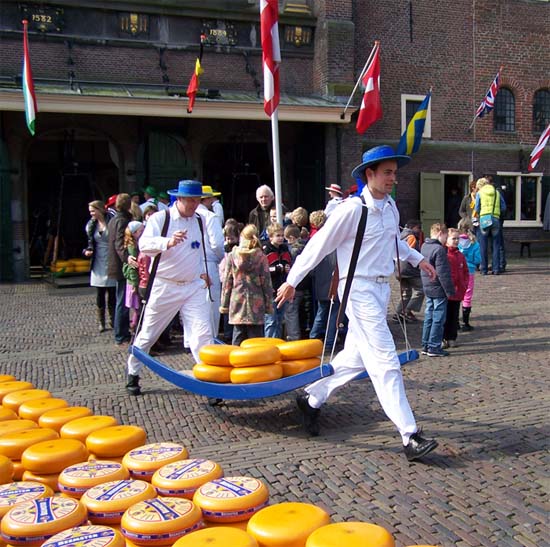 In Alkmaar the competing teams of cheese carriers hoist low, curved platforms full of flat cheeses - each cheese weiging between 11 and 14 kilos. Here the blue team gathers speed and they will stop for no-one, crying out "Ho!" and making other grunting noises. Each team is identified by their colored hats binding together their macho animal nature - but their male energies are also strictly controlled by market masters and other officials. Breaking the rules will cost them a fine.
Alkmaar cheese market volume of turnover of cheeses used to be VERY large in former centuries. Way back then, the cheese market lasted for four days a week and lingered on well into the late late hours up to midnight.
If you like folk festivals, the Kaeskoppenstad weekend festival one time per year in June presents about 1000 actors, all dressed up, playing roles such as doctors, drunks, farmers, butchers, fishwives, madmen, traders, taxmen... Incredible!
Good combination: Polders and windmills as engineering marvels and landscape miracles, text in Dutch and English.
A full page about Cheese economy, cheese industry tour.
HOW TO GET THERE
Alkmaar is easy to reach with public transport, by train. I hold a Dutch Railways rebate card. For this train tour I can offer you a special rebate of 40% for three separate adult railway tickets. This makes it economical for you as clients. I can join you from your hotel or from the Amsterdam train station. Various other options are open to you: a) You can hire a car and drive it yourself, and I will join you starting in Amsterdam and will advise you about the best route. b) We can hire a professional taxibus service at around E 70 per hour for about 4 to 5 hours. On top of that you will pay me as the specialist guide. This is the more expensive option.

July 2013: Ricardo N and his wife Francis S. live in New York City and are full-time NYC art aficianados, travelling the world and visiting most of the fine art centers in Europe.
In June-July 2013 they toured for three full days with Drs Kees Kaldenbach.
Ricardo: "I would rate you as terrific. It is a great treat being with you - You saved my life in showing me the Mauritshuis collection - I thought it was completely closed!"
Francis N.: "Kees is outstanding... he has a very rare gift among any the great number of professional tour guide we met in our lifetime... in presenting a deep and very specific art history knowledge, and in combining this with passion and and easy going presentation.
My husband and I have spent our lives in the art world of NYC and the West Coast. We have rarely met such a wonderful guide. Kees is an outstanding fountain of visual knowledge and historic insight. He truly is top class within the field of Western art history!"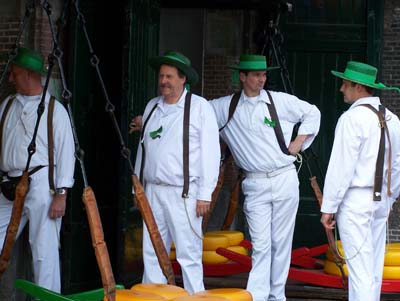 The green team is taking a break after hoisting cheese.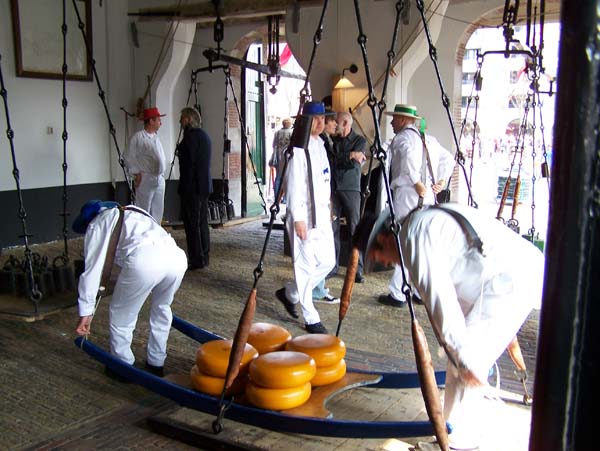 The blue team lowers their load of 8 flat cheeses, weighing about 104 kilos in total.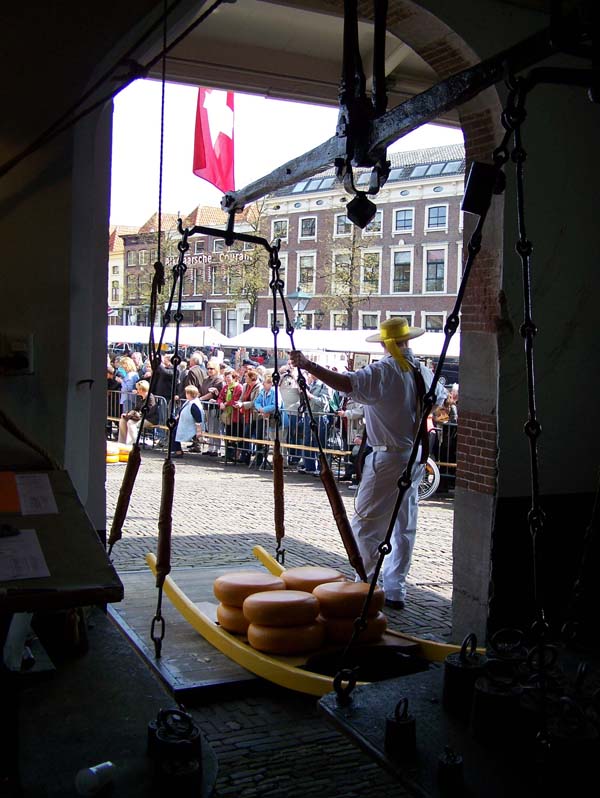 A Yellow team member is viewing life...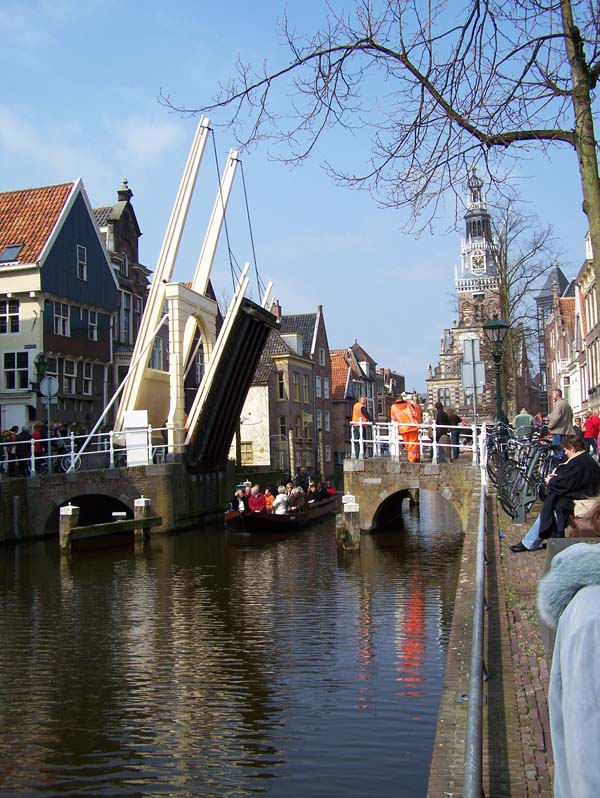 A boat ride may be part of the day out. To the left you see "The house with the Cannon ball" one of the two remaining mediaeval wooden houses in Alkmaar. Because of fire hazard most wooden houses were scrapped over the ages. These days both Alkmaar and Amsterdam have only two of them left.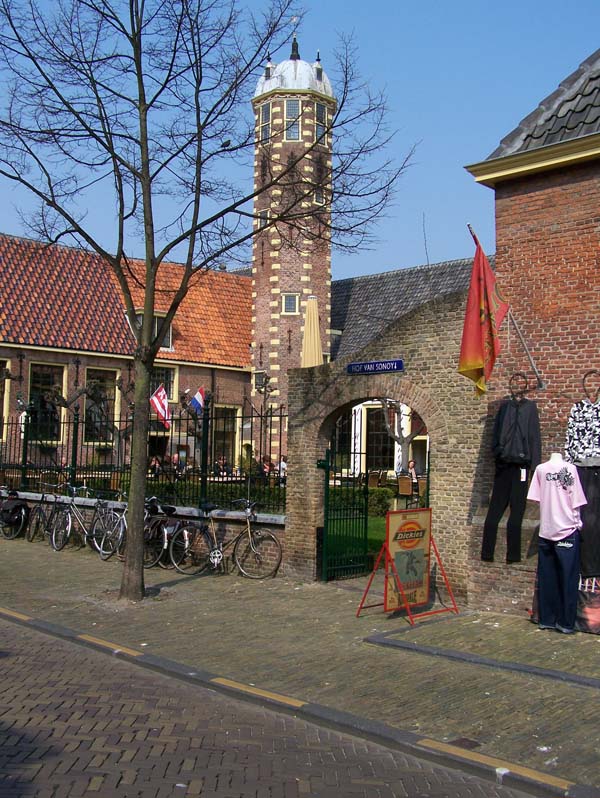 Hof van Sonoy. Mr Diederik van Sonoy was the strong ringleader of the Protestant insurgents agains the Spanish King. He seized a local convent and kicked out the nuns. The next owner added this slender tower. One may now visit it and dine on top, to the dismay of the waiters who have to walk up and down stairs all day.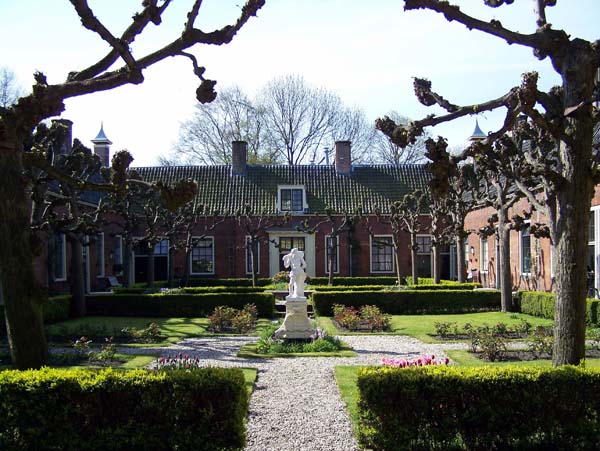 One of the enclosed courtyards for the housing of old age men and women is that called Wildeman. It was specifically built to give elderly women a place to live, and the founder stipulated that people of various faiths should live together there in harmony, Protestants and Roman Catholics. Male visitors were however discouraged.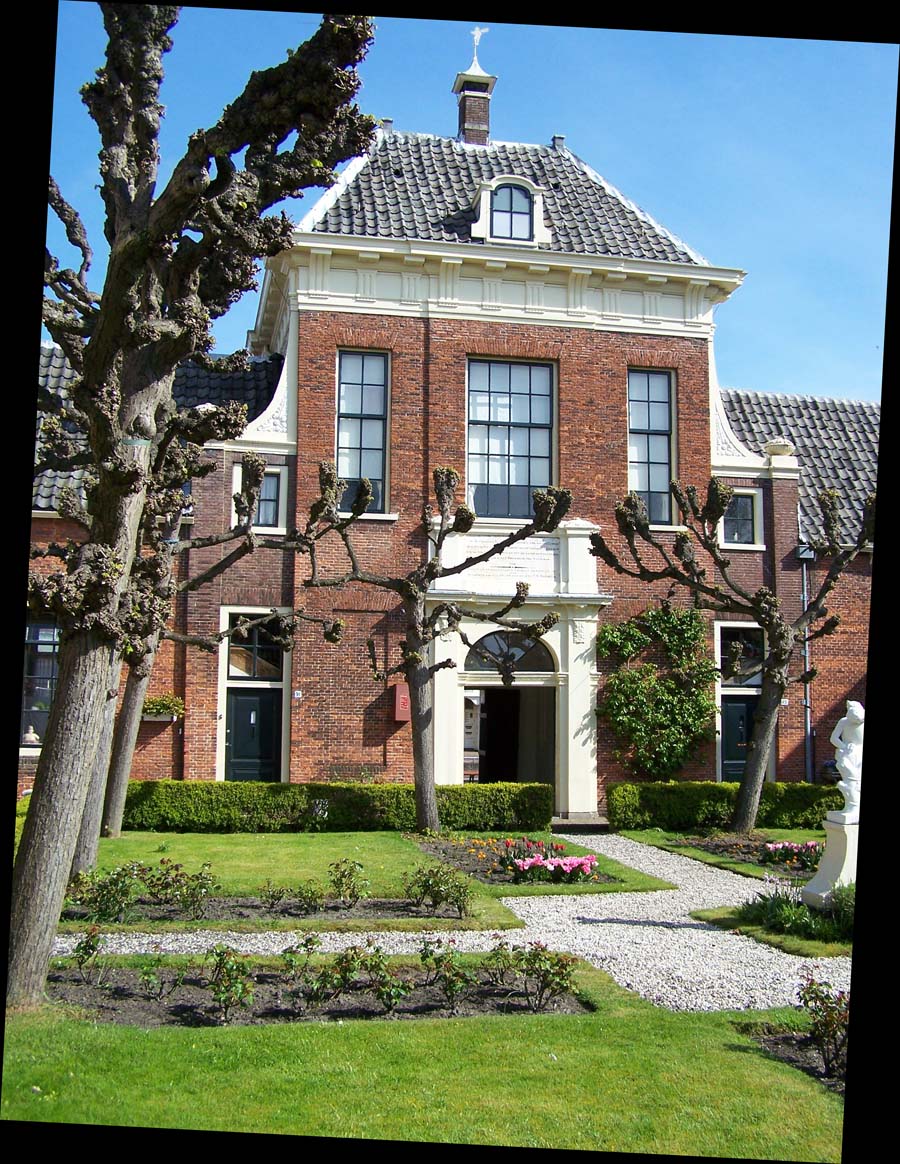 The board meeting room is situated above the gate of the Wildeman courtyard, photo in April 2008. In the haydays the board managed the finances and took care of food, heating, law and order.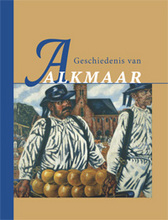 This tour is based on a wide range of historic information published in the latest major history book on Alkmaar. Read my review of this book in Dutch: Geschiedenis van Alkmaar.
All photos (except for the small one at the right hand top) are copyright Drs Kees Kaldenbach, April 2008.
Market days are Fridays (cheese market) and Saturday (general).

As an art historian based in Amsterdam, The Netherlands, I can meet you in Alkmaar for a personalized guided tour of art museums and the historic center. I was born in Alkmaar and lived there until I was 23 years old after which I moved to Amsterdam. Since then I returned every month or two.

Together we will experience the beauty and history . Enjoy yourself and learn about history while strolling and discussing the country's history, art and culture. In doing so, we may touch many bases - spanning not only fine art and architecture but also the city's history and current social issues. See client testimonials.

Read a biography.

Starting at your hotel I will take you on a wonderful private cultural walking tour of your choice. My guided itinerary offers you accessable informative conversation in English, Dutch, or German (my French and Italian are more limited).

---

You may also arrange this VIP treatment for business contacts or friends. Our cultural tour organisation office will take care of a unique and memorable experience.

Drs. Kees Kaldenbach is your private "scholar-lecturer on culture tours" *.

*Martha Gellhorn, Travels with Myself and another, p. 182.

---

Please contact me for time and fees of the tailor-made tour you ar interested in.

These tailor made tours are available upon request - please contact me to book a date. Minimum group size: 1 person. Maximum group size is limited to about 10 persons. With a megaphone I can also manage larger groups on the streets.

---

Menu of tours

If you want to just walk around with a very nice social companion for a day, we recommend www.friends4action.com

---

Endorsements

The Rijksmuseum has done me the honor of linking the main Rijksmuseum site to my website. Start at www.rijksmuseum.nl and select Collection. Then choose 'Digital Collaboration' and the 'Digital Vermeer House'.

I conduct Rembrandt walks in Amsterdam for the Netherlands Bureau of Tourism, London and New York City offices. Their clients include important journalists.

The travel site www.luxurytraveler.com has devoted a main feature to my tours and walks.

Read further client testimonials.

---
About Drs. Kees Kaldenbach:
Read a biography.
Drs. Kees Kaldenbach has been featured in television and radio documentaries, including BBC2 TV, NTV Japan, Danish TV and Radio Netherlands World Service. In July 2004 he was interviewed about alkmaar artists by Tetsuya Tsuruhara for the leading Japanese newspaper The Yomiuri Shimbun. In 2004 and 2005 he acted in an advisory role to additional BBC teams. Kaldenbach has written extensively on Vermeer and 17th century alkmaar, on Vincent van Gogh and on other art history topics.
Drs. Kees Kaldenbach is your private "scholar-lecturer on culture tours".
Further information is available on his encyclopedic web site: www.johannesvermeer.info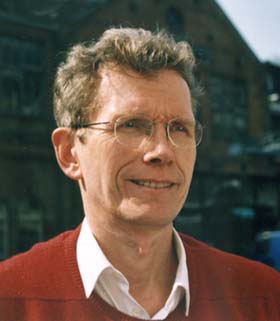 Contact information:
Drs. Kees Kaldenbach , kalden@xs4all.nl
Haarlemmermeerstraat 83 hs
1058 JS Amsterdam
The Netherlands
telephone 020 - 669 8119 (from abroad NL +20 - 669 8119)
cell phone 06 - 2868 9775 (from abroad NL +6 - 2868 9775)
Reaction, questions? Read client testimonials.

Open seven days a week.

Member of the VVV Tourist information and the Amsterdam Chamber of Commerce (Kamer van Koophandel).

Email responses and bookings to art historian Drs. Kees Kaldenbach.

This page forms part of the 2000+ item Vermeer web site at www.xs4all.nl/~kalden

Launched April 15, 2006. Updated 14 february, 2017.