PH1- PH2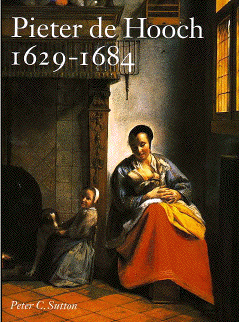 Pieter de Hooch (1629-1684). Genre painter and painter of 'kamergesigten' (= room views).
Studied in Haarlem under Nicolaes Berchem (according to Houbraken) or in Rotterdam under Ludolf de Jongh. In 1651 he lived in Leiden in the home of linen / woolen cloth salesman Justus la Grange / aka Justus de la Oranje. Pieter arrived in Delft before 1652, joining Justus' household on Oude Delft number 161 (see PH1) as painter and servant (dienaar). Justus had residences in Leiden, Delft and around The Hague. The term servant may imply that Pieter exchanged paintings for receiving room and board. In an inventory of Justus la Grange paintings of 1655 there were 66 paintings, of which 4 by Lievens and 11 by De Hooch. By that year Justus was close to financial ruin.
In April 1654 Pieter lived in Rotterdam - perhaps in his fathers house - when his marriage to the Delft lady Jannetge (Anna) van der Burch was posted, the sister or stepsister of Hendrick van der Burch. In 1652 he had already co-signed a document with Van der Burch.
Pieter entered the Guild quite late, on 20 September 1655 which may indicate that for a number of months here and there he was illegally active as a painter in Delft. He was only able to down-pay 3 guilders out of the 12 due.
Pieter is said to have had an influence on Vermeer. If that is so then many other influences should be taken into consideration: Koedijk, Maes, Ten Borch, Van den Eeckhout etc.
Pieter was influenced by De Jongh and by Cornelis Saftleven.
De Hooch later lived in an enclosed courtyard reached through the southern Hieronymus Gate, leading to an alleyway between Oude Delft 145-147 (see PH2 on my Artists and Patrons map of Delft).
There seems to have been a fruitful atmosphere of competition with Johannes Vermeer, Vermeer 1, Vermeer 2, Vermeer 3, Vermeer 4, Vermeer 5.
He moved to Amsterdam in 1660 or 1661 where he flourished, painting sitters in high society's rooms. This may have been sparked by Van Bassen's earlier courtly series of grand interior rooms.
Visit another site with his paintings.
Note. Sutton, De Hooch, documents on p. 145-147. RKD, Bredius archive, artist folder cites many docs. on Justus. Haak, Gevelstenen, 1996. More in Montias, Milieu, 1993. See also a fine book by Peter C. Sutton on Pieter de Hooch.
For the Southern Hieronymus gate see Haak 1996, p. 75. There is a commemorative plaque at Oude Delft number 161. The alleyway next to nr. 145 is narrow and about 40 meters long. At the very end there were three (closed) doors towards the north, west and south in 2000 but then major reconstruction started. Observation by the author, 2000.
Arnold Houbraken, De groote Schouburgh der Nederlantsche Konstschilders en Schilderessen, The Hague 1752 [2nd ed.] Book 2, page 34 mentions 'Pieter de Hooge'. He painted interior views and companies of young men and women, or women with needlework, executed with a lack of perspectival knowledge. Student of N. Berchem. Liedtke 2001, p. 132.
This page forms part of a large encyclopedic site on Delft. Research by Drs. Kees Kaldenbach (email). A full presentation is on view at johannesvermeer.info.
Launched 16 February 2001; Last update March 1, 2017.