BvB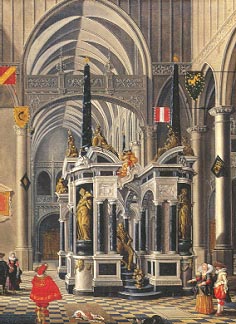 Bartholomeus van Bassen (ca. 1590-1652). He had a dual career as architect and painter of architectural perspectives, notably of church interiors. Successful; one painting of his was estimated at 150 guilders. Moved from Flanders to Delft. May have been a student in Antwerp of Pieter Neefs I and Hendrick van Steenwijck (sr and jr). Entered in Delft Guild 1613. Gerrit Houckgeest may have been his student. He lived in a house on Kromstraat, which he leased when he moved to The Hague in 1622. Kept his Delft house up to 1626 when a number of his works were entered in a lottery.
He was rather well off, had wealthy clients in The Hague..
He got commissions from the Court of the Princes of Orange to whose taste he catered by painting impressive high ceilinged society's rooms. This may have in turn sparked De Hooch series of grand interior rooms of his Amsterdam period.
Note. Bol, Bosschaert (1960) 40 gives the listed years. Montias 1993, p. 89 reports he was born around 1590. Genealogische Encyclopedie I, 23 gives the house number. Ett 1975, p. 55. On 20 September 1640 Balthasar sold the house on Cellebroersteech for 500 f. (NA 1976) Private communication by Montias, 2000.
E. Buysen, Haagse schilders in de Gouden Eeuw, Hoogsteder The Hague / Waanders Zwolle, 1998, p. 86.
This page forms part of a large encyclopedic site on Delft. Research by Drs. Kees Kaldenbach (email). A full presentation is on view at johannesvermeer.info.
Launched 16 February 2005; Last update March 1, 2017. More info in the RKD site.