GH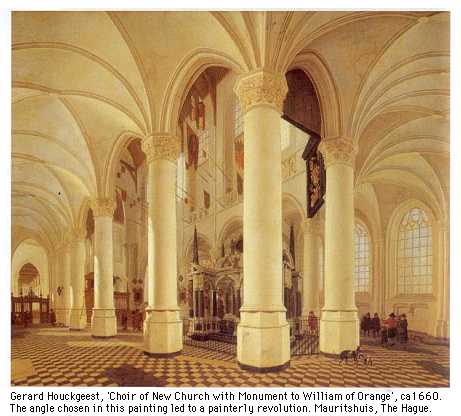 Gerrit Houckgeest (c. 1600-1661).
Born in The Hague where his uncle Joachim Houckgeest was a portrait painter. Gerrit may have studied with Bartholomeus van Bassen and became a painter of architectural perspectives, notably church interiors. In 1640 he made tapestry designs, possibly for the Van der Gucht workshop.
He married with a Delft woman from an influential family, Helena van Comstrijen.
A wealthy gentleman, he probably had already worked for the Court of the Princes of Orange and for the Staten Generaal, the national government in The Hague.
He was the great innovator in the Delft art scene. His new diagonal viewpoints sparked new activity among Delft artists, the wonderful painting now in Hamburg, Kunsthalle being the spark which started this important artistic direction. To the right an example of this specialism, a panel from the Mauritshuis measuring 65.5 x 77.5 cm, showing the New Church with the impressive grave of Willem de Zwijger (William of Orange, the Silent).
Gerard or Gerrit Houckgeest's last name, for those who wish to be professional about presenting his work, is pronounced "Hoekgeest", rhyming with 'Book-Waste'.
Houckgeest was also an engraver and pattern maker for tapestries. He lived in Delft 1635-1651, wealthy as a result of his marriage to Helena van Cromstrijen. Entered Guild before 1639. In 1642 he owned De Clauw (the Claw) on Koornmarkt number 8. Between 1644-1649 he owned In de Spijckerboor (In the Drill) at the corner of (Korte) Achterom and Kettinckstraat. It was sold with furniture for "664 pound Flemish+17B" which in this case equals about 2680 guilders. But in documents the Pound Flemish was also used as a slang language for Guilder, so there is no certainty. In 1647 he also sold a house on Voorstraat for 4000 guilders.
Moved to Bergen op Zoom after 1650.
Note. RKD, Bredius archive, artist folder, docs. 3 Jan. 1630; 5 Dec. 1642; 23 Dec. 1644; 26 Mar. 1649. 2680 guilders '664 pond vlaams+17B In this case it seems acceptable to use the formal rate 1:6 and not the figurative rate 1:1. Analysis after a private communication mr. M.J. Bok, 2000. Ett 1975 p. 113. Thieme-B. XVII, p. 557-558.
This page forms part of a large encyclopedic site on Delft. Research by Drs. Kees Kaldenbach (email). A full presentation is on view at johannesvermeer.info.
Launched 16 February 2009; Last update March 1, 2017. More info in the RKD site.