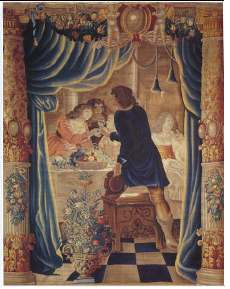 MvG
Maximiliaan van der Gucht (1603-1689). Not on Guild list. Connected with the Spierinx tapestry workshop, he worked (and lived?) in the Agnietenklooster, alias Spierinxklooster, on the last block of Oosteinde, south side, near Oostpoort (East Gate).
His tapestries or tapisserie show a liberal all-over sprinkling of flowers (in Dutch: 'gezaeyde ofte gestroyde Bloemen') instead of pictorial scenes which were the specialty of his colleague Spierinx.
Above: a large wall tapestry which may well have been designed by Corstiaen van Couwenbergh.
A set of Van der Gucht tapestry cushions and wall tapetries adorned the burgomasters room and other rooms in the Town hall. Above a luxurious set of tablecloth and upholstered chairs, now in the Deutz court, which may well have been made by Van der Gucht.
In 1634 he made a series of tapestries for Frederik Hendrik.
In 1640 Gerrit Houckgeest is known to have made tapestry designs for a set of tapestries for the States General, possibly made in the Van der Gucht Workshop.
1661 he was ordered to produce a series of tapestries and pillows with tulip-designs for the States of Holland. Some pillows are still in the Delft Prinsenhof museum. In combining a set of tapestries, table cloths, chair coverings and pillows he made a total interior design effort.
The artist Albert Eckhout (c. 1610-1666; exh. Mauritshuis 2004) has made paintings which served as tapestry designs shortly after 1666.
Below: a set of tablecloth and chair coverings in a floral pattern from a Gouda or Delft workshop. If it is Delft then the workshop of Maximiliaan van der Gucht (1603-1689) would be a candidate.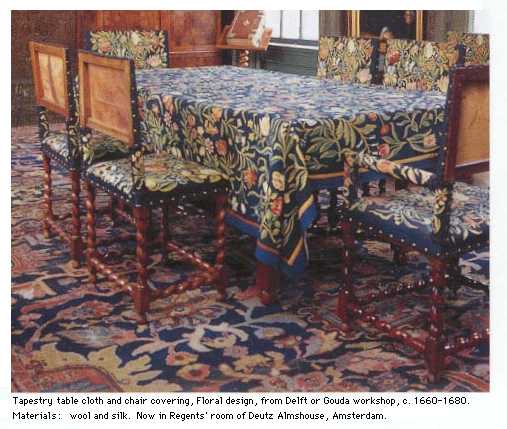 See his business dealings with Heerman Witmond.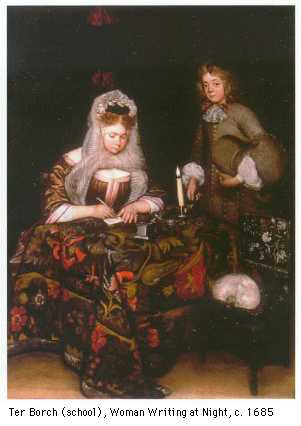 Note. Ysselsteyn, vol. 1 (1936). Soutendam, Necrologium, p. 25-26 mentions Spierinxklooster, which is identical to the Agnietenklooster. Visser, 1969, p. 132 mentions a chair with his original 1662 cloth covering, still in a Delft collection. A de Groot, 'het Stadhuis' in De Stad Delft, cultuur en maatschappij van 1572-1667, Vol I, p. 49. Exh.cat. Museum Prinsenhof Delft, 1981.
This page forms part of a large encyclopedic site on Delft. Research by Drs. Kees Kaldenbach (email). A full presentation is on view at johannesvermeer.info.
Launched 16 February 2009; Last update March 1, 2017. More info in the RKD site.