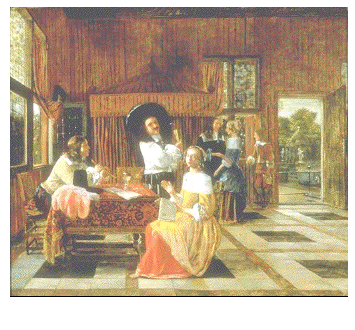 HvB
Hendrick Cornelisz van der Burch / Burgh (1627-after 1669).
Genre painter, influenced by his brother in law De Hooch and by Vermeer. In Guild 1649; then to Amsterdam 1649 and Leiden; entered Delft Guild again 1664.
Born in Honselaarsdijk, near Delft, he was the son of a candle maker. In Guild during 1649-c.1655, leaving for Leiden, but returning to Delft after 1664. He lived on the west side of Oude Delft and became Pieter de Hooch's brother-in-law in 1654. Their two names appear together often in notary documents. In 1652 he co signed a document with De Hooch. Van der Burgh moved to Leiden in 1655. Later on in Amsterdam.
Above a painting from a museum collection in the state of Utah, USA.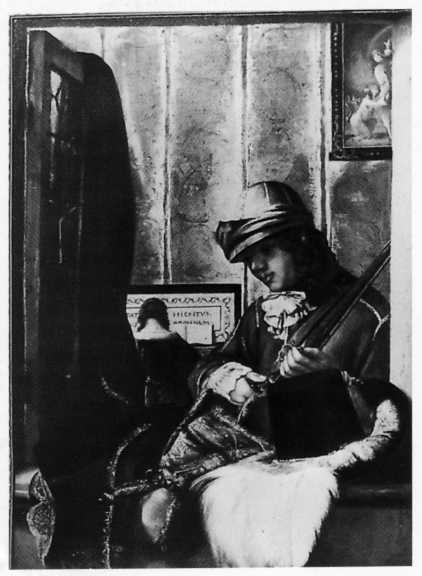 Above The Soldier, a painting attributed to Hendrick van der Burgh, location unknown. The total is shows a trompe l'oeil pretending to be a view from the outside looking in through an opened window. A soldier is leaning in the opening. In the far background is a woman playing a clavichord which stands against a high wall with gold-tooled leather strips.
Note. GAD, Oud Notarieel Archief DII E 134, 6 May 1701, Hendrick van der Burch and Huibertje van Vliet, sale of one of two homes on the west side of Oude Delft. Year of death as "1666 or later" in Exh. Cat Delftse Meesters, p. 132 and 170. Saur gives death as after September 1668 but All the paintings of the Rijksmuseum gives death as 'after 1669'. For another H. Van den Burgh who died 1640 see Montias 1980, note 4. (Whether he was a brother in law - 'probably' according to Liedtke 2001, page 131)
This page forms part of a large encyclopedic site on Delft. Research by Drs. Kees Kaldenbach (email). A full presentation is on view at johannesvermeer.info.
Launched 16 February 2001; Last update March 1, 2017.