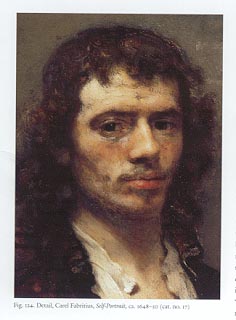 CF
Carel Fabritius (1622-1654). History, perspective and still life painter. In Guild in 1652. His sister in law Maria van Pruyssen also painted in Delft.
He trained in Rembrandt's studio in Amsterdam.
See my book review of a book on Fabritius with large high quality images
In 1676 Antoni van Leeuwenhoek was appointed to deal with Vermeer's estate and debtors. "Vermeer's estate at this time, however, was bankrupt and it was a difficult, thankless chore to be fullfilled. Moreover, an examination of the Kamerboek der Stad Delft for the years 1675, 1676 and 1677 reveals no other instances in which Leeuwenhoek fulfilled this role. Leeuwenhoek may have stimulated Vermeer's interest in optics but it is unlikely that Leeuwenhoek introduced Vermeer to the possible applicability of optics to artistic representation. This interest was undoubtedly initiated by Carel Fabritius." (source Arthur K Wheelock, jr.,. Perspective, Optics and Delft Artists Around 1650. Garland, New York and London, 1977, page 285.)
Initially Fabritius lived (with his father-in-law?) on Oude Delft; later on Doelenstraat near the gunpowder arsenal. It exploded on 12 October 1654, the collapsing house causing the artist's death as well as that of his student Mathys Spoors, who lived on Oude Delft.
"..gelyk zyn naam ook in de Stads gedenkschriften op het jaar 1654 den 12 October by het springen van het buskruidmagazijn gemeld staat, nevens zijn Schoonmoeder en Broeder, mitsgaders Simon Decker, koster van de Oude Kerk, met wien hij bezig was uit te schilderen, ook Mathias Spoors zijn Discipel welke all zeer derelijk, door het instorten van het huis, onder het puin zyn geplettert en gesneuvelt. In Fabritius alleen was nog in leven, na dat hy nevens de anderen na't verloop van 6 of 7 uuren onder 't puin dat hem overstolpt has wierd gesleept..." and he died 15 minutes after having been moved to the Gasthuis.
Oosterloo reports that at the very moment of the gunpowder explosion Fabritius was painting in his studio, and three persons were also there: his mother in law; Simon Decker, the sexton of the Old Church ; and Mathys Spoors, one of his pupils.
Loose bits of information:
See his lesser known brother Johannes Fabritius.
In 1675 several of Fabritius's paintings were listed in Vermeer's inventory.
His widow Agatha van Pruyssen testified that Fabritius had been "in his lifetime painter to his Highness the Prince of Orange."
Van Hoogstraten (1678) writes about the illusionistic murals which Fabritius crafted in Delft in the house of " the art-loving late Dr Valentius and elsewhere", Valentius being the latinized name of Dr. Theodorus Vallensis. Liedtke 2000, page 64-65 states that these murals wer made between 1652 and the artists's death in 1654.
Fabritius also did murals in the Delft brewery named 'The World Upside Down" owned by Nicolaes Dichter.
Cornelis de Helt, cooper and innkeeper, did own a Vermeer and may have also owned a 'Fabritius in a box'.

To the left: Carel Fabritius: Mercury and Argus - Los Angeles County Museum. Visit another site with his paintings.
Rocus van der Vin asked De Witte to teach his own son Pieter van der Vin. Rocus also owned a portrait by Fabritius showing Rocus and his wife. (Liedtke 2000, 121).
Note. Brown, Fabritius, 1981, 22 shows he lived on Doelenstraat close to the painter Egbert van de Poel: see also Montias 1982 Appendix A, page 150, number 18. Also in Soutendam, Necrologium, p. 10. Year of birth erroneous in De Stad Delft 1981, vol II, numbers 186, 227. More on Fabritius in Liedtke 2000 p. 65. Arnold Houbraken, De groote Schouburgh der Nederlantsche Konstschilders en Schilderessen, The Hague 1752 [2nd ed.] Book 3, page 337.
This page forms part of a large encyclopedic site on Delft. Research by Drs. Kees Kaldenbach (email). A full presentation is on view at johannesvermeer.info.
Launched 16 February 2001; Last update March 1, 2017.