MvP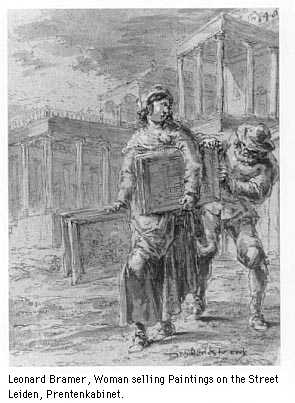 Maria van Pruyssen (1628 - died?). She was a female painter living in Delft, according to Kloek. She was sister in law to Carel Fabritius. In 1653 her father Lambert van Pruyssen, sculptor in ivory, from Haarlem, left an estate with thirteen of her paintings, including three portraits. By that time Maira, twenty-five years old is insane and residing in the St Joris Gasthuis (Hospice).
Female painters were not enrolled in the Guild but they did play a role in producing paintings in the lower price range - of up to a few guilders a piece. They were also employed to peddle these or other paintings in the street. Known female painters in Delft are Cornelia de Rijck, Maria van Oosterwyck and her assistant Geertje Pieters. Then we find Maria van Pruyssen. Of this group Maria van Oosterwyck has the off position of a highly paid 'art amateur' who was really painting on a professional level.
Note: Christopher Brown, Carel Fabritius, Oxford, 1981, p. 149, 152. Els Kloek, Vrouwen en kunst in de republiek, een overzicht, Hilversum 1998, p. 159. GAD internet archive does not yield information.
This page forms part of a large encyclopedic site on Delft. Research by Drs. Kees Kaldenbach (email). A full presentation is on view at johannesvermeer.info.
Launched 16 February 2001; Last update March 1, 2017. More info in the RKD site.