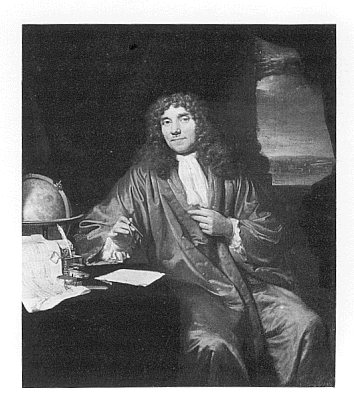 AvL
Antoni van Leeuwenhoek (1632-1723) was famous for his microscope lenses and his research correspondence. Around 1653 he bought 'Het Gouden hoofd' (The Golden Head), a house at Hippolytusbuurt no. 7 for which he paid 5000 guilders.
In 1676 he was appointed to deal with Vermeer's estate and debtors. "Vermeer's estate at this time, however, was bankrupt and it was a difficult, thankless chore to be fullfilled. Moreover, an examination of the Kamerboek der Stad Delft for the years 1675, 1676 and 1677 reveals no other instances in which Leeuwenhoek fulfilled this role. Leeuwenhoek may have stimulated Vermeer's interest in optics but it is unlikely that Leeuwenhoek introduced vermeer to the possible applicability of optics to artistic representation. This interest was undoubtedly initiated by Carel Fabritius." (source Arthur K Wheelock, jr.,. Perspective, Optics and Delft Artists Around 1650. Garland, New York and London, 1977, page 285.)
Van Leeuwenhoek was not the only lens grinder in Delft. "In 1664 and 1665 Christiaan and Constantijn Huygens II, who, like their father, were fascinated with optical problems, were in communication with Johan van Wyck, a manufacturer of lenses in Delft." (source Arthur K Wheelock, jr.,. Perspective, Optics and Delft Artists Around 1650. Garland, New York and London, 1977, page 284.)
To the right a portrait painting of Van Leeuwenhoek by Jan Verkolje. The same portrait was also issued by the artist as a print. Copyright Rijksmuseum, Amsterdam.
The original house and door of the Van Leeuwenhoek house at number 7 have disappeared. The present day (year 2000) plaque is on the wrong house ; it should be to the left side of the entrance of the present day 'Deen' store. Another commemorative plaque is at the corner of Oude Delft and Boterbrug.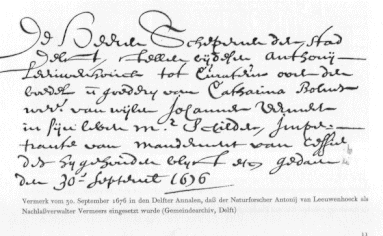 To the right: Decision dated 1676, by the Lords Aldermen of Delft, to install Antony van Leeuwenhoek as curator of the Vermeer estate of Catherina Bolnes.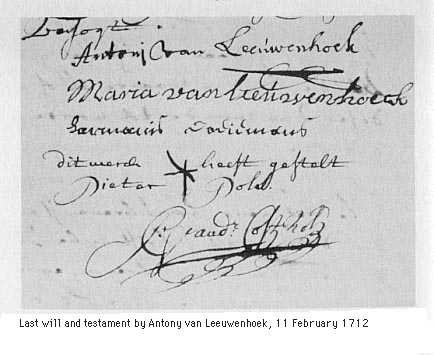 Czar Peter the Great of Russia visited Delft in 1697 and there Van Leeuwenhoek showed him the blood circulation in the tail of an eel. Harvey had already formulated this circulation theory in 1628.
Note. Research by Marten Jan Bok, 1999. The Leeuwenhoek signature is from a book issued by the Delft historical society Delfia Batavorum: Facetten van Delft, Gedenkboek van het Genootschap Delfia Batavorum 1935-1985, H.K.L. Houtzager, red.
This page forms part of a large encyclopedic site on Delft. Research by Drs. Kees Kaldenbach (email). A full presentation is on view at johannesvermeer.info.
Launched 16 February 2001; Last update March 1, 2017.