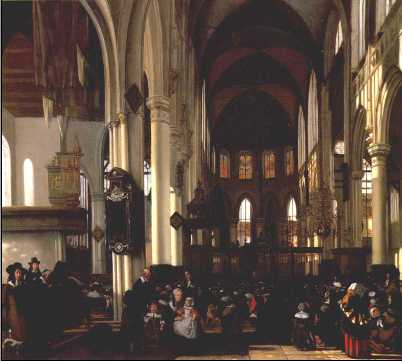 EdW
Emanuel de Witte (1617-1692). Born in Alkmaar he joined the Alkmaar Guild in 1636 and the Delft Guild in 1642, becoming a perspective painter, trained by Evert van Aelst and under the influence of Van Houckgeest. His addresses include Choorstraat (1642 - an upstairs room, paid for by teaching young van der Vin, the landlords' son); then a rental for 192 guilders a year on Markt (1647-49)
In November 1649 De Witte sold two paintings at half value to Pick in order to settle a gambling debt.
Later on he had a rental on Nieuwe Langendijk (1650). The latter house was connected to an achterhuis (annex) and stable on St. Ursulastraat. Note the similarity to the location of the building in Vermeer's The Little Street at Nieuwe Langendijk nrs 22-26. It cannot be the same building because in the 1660's there was no direct route from the front building at number 22 or number 26 to the separate back house. De Witte moved to Amsterdam in 1651. Houbraken includes heart breaking detail about his later life and death by suicide. Liedtke 2000 mentions the source Manke who states the note "vertrokken" (moved away) in the Guid book may be dated to c. 1650. This should however be 1651.
Image above: Emanuel de Witte (1617-1692) Interior of a Meeting in the Oude Kerk, Delft. c. 1660-1665. Private Collection.
Visit another site with his paintings.
Three addresses are mentioned in Thieme-B. XXXIV, 257. Manke, Emanuel de Witte, 1963,15 gives no address. GAD: no source either in Huizenprotocol 1650-1850. For the lay out of Nieuwe Langendijk see Kaldenbach 2000. Two address are confirmed by a communication from Montias, 2000: "Emanuel de Witte, 6 February 1647 (NA 1994), rents house on the Marckt for one year." Emanuel de Witte, 21 February 1650 (NA 1980), rents house on Nieuwe Lange Dijck for 140 f. a year (for three years ?) confirmed in Bredius Kunstler-Inventare V p. 1831, 1832. Teaching the landlord's son in lieu of paying rent in Montias 1982 p. 164-165. Arnold Houbraken, De groote Schouburgh der Nederlantsche Konstschilders en Schilderessen, The Hague 1752 [2nd ed.] Book 1, page 282. Gambling debt in Liedtke 2001, p. 107.
This page forms part of a large encyclopedic site on Delft. Research by Drs. Kees Kaldenbach (email). A full presentation is on view at johannesvermeer.info.
Launched 16 February 2001; Last update March 1, 2017.