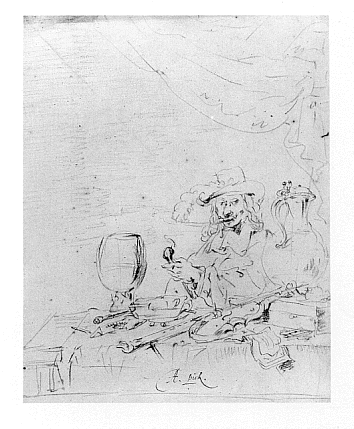 APi
Adam Pick (c. 1621 - d. before 1666). Landscape painter, painting dealer; also wine merchant and innkeeper. Son of a rich brewer, Pick was trained by Evert van Aelst. Probable sojourn in Italy, after which he joined Guild in 1642.
He was active in Delft until 1653, living on Markt in 1645. At present only one signed painting is known. Some of the sketches in the Bramer album (assembled 1642-1654) were made from paintings in his collection.
In November 1649 De Witte sold two paintings at half value to Pick in order to settle a gambling debt.
In 1652 he sold his house on Oude Langendijk for 7000 guilders. For the exact position of this house see the chart in the section on the Johannes Vermeer house.
In 1654 he rented a house (location unknown) for 300 guilders a year. Montias mentions his inn as The Big Vat. If this equals De Toelast then it could be on Kromstraat, in the middle of the north side, see Corstendonck. Another Toelast is strangely reported at the address Langendijk, according to Oosterloo. The latter reports an interestin love life, an income as a wine merchant and activity a noble captain in the service of the Majesty of Denmark [Edele, Manhafte Captain in dienst van Sijne Co. Majesteyt van Denemerken].
Right: Drawing by Bramer of a (now lost) paiting by Pick,
GAD Huizenprotocol 246/167; 1089 3v 160, 234. Soutendam, Necrologium, p. 10. Thieme-B. XXVI, p. 588. Dates of birth and death from De stad Delft, exh cat. 1981, II, ill. 216. On 30 April 1652 (NA 1999), sells his house on the Oude Langendijk for 7,000 guilders; private communication by Montias, 2000. Montias 1982 p. 167. Bramer see Plomp 1986, p. 81-82. General literature: Jan H. Oosterloo, De Meesters van Delft, Strengholt Amsterdam, 1948: 121. Gambling debt in Liedtke 2001, p. 107.
This page forms part of a large encyclopedic site on Delft. Research by Drs. Kees Kaldenbach (email). A full presentation is on view at johannesvermeer.info.
Launched 16 February 2001; Last update March 1, 2017. More info in the RKD site.