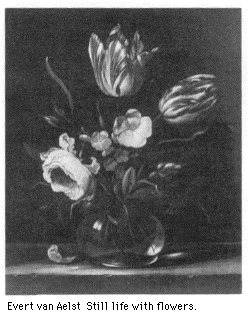 EvA
Evert van Aelst (1602-1657). Still life painter, notably of armor, flowers and fruit. Born in Delft. Entered the Delft Guild of St. Luke (henceforth referred to in this series of discussions as "the Guild") in 1632.
In the collection of Judith Willems van Vliet (? -1650) we find a "stilleven van Evert van Aelst". This is a remarkable description as the word 'stilleven' (still life) was not frequently used.
In 1643 he left a painting on consignment with art dealer and innkeeper Reynier Vermeer, father of Johannes Vermeer.
Oosterloo cites many Delft collections with his paintings and their prices. He seems to have made smaller paintings for low prices. Seem to resemble those of De Bergh and Jan de Heem. Inexpensive painter, according to Montias, selling paintings for between 7 to 20 guilders. (Montias 1989, 78). Drank a lot of alcohol in inns and died poor, leaving debts, being the tenant of the tailor Guilliaem Palmedesz.
Teacher of his brother's son Willem van Aelst, and of Emanuel de Witte, Isaac Denies and Adam Pick. Address unknown.
Note. Use of alcohol and poverty at end of his life in Bredius, Oud Holland 6, 1888, p. 291. See also Montias 1982, p. 130, 176. Montias 1993, p. 122-123. Saur 1992, I, p.439. General literature: Jan H. Oosterloo, De Meesters van Delft, Strengholt Amsterdam, 1948: 85-86. Arnold Houbraken, De groote Schouburgh der Nederlantsche Konstschilders en Schilderessen, The Hague 1752 [2nd ed.] Book 1, page 228. Liedtke 2001, page 96.
Research by Kaldenbach. A full presentation is on view at www.xs4all.nl/~kalden/. When visiting Holland, join Private Art Tours.
Launched 16 February 2001; last update February 18, 2009.