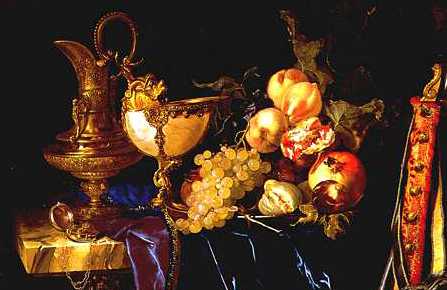 WvA
Willem van Aelst (1626/27-after 1687). Born in Utrecht, son of the notary Jan van Aelst. Still life painter, trained by his uncle Evert van Aelst, influenced by the floral still lifes of Jan Davidsz de Heem (1606-1683/84). In Guild in 1643.
Sojourned in France for four years in and Italy for seven years (around 1645). Both Willem van Aelst and still life painter Otto Marseus van Schriek were court painters to Ferdinand II de Medici, grand duke of Tuscany. This duke awarded Willem with a gold medallion for merit. Houbraken tells an amusing tale of flaunting this medal in a row with an Amsterdam Burgomaster.
Upon his return Willem van Aelst lived on Oude Delft number 169 in the Wapen van Savoyen (Savoy Arms) between 1656 and 1657, then moved to Amsterdam.
His paintings fetched over 100 guilders, thus he belonged to the elite group of still life painters (with Maria Van Oosterwyck) In 1666 one of Willem's flower still life is known to have been estimated at 250 guilders and at an 1687 auction another painting fetched 400 guilders. In 1674 Willem was taxed based upon his wealth of 4000 guilders. Known mean prices for his paintings were 131 guilders (in the period 1650-1679), 110 guilders (after 1680).
Painted banners for the town of Delft in 1629 and 1641.
See a reported amorous story in Amsterdam featuring Maria van Oosterwyck.
My pinpoint on the historic map in Delft is erroneous.
Note. Birth year 1626 given in Still lifes, 1999, p. 172, claiming he settled in Amsterdam in 1656. The birth year 1627 is stated in All the Paintings of the Rijksmuseum and Bouquets from the Golden Age, Mauritshuis 1992. GAD Beydals collection comments on his year of birth which is usually given as 1625/1626: at Van Aelst's betrothal at Amsterdam on 31 D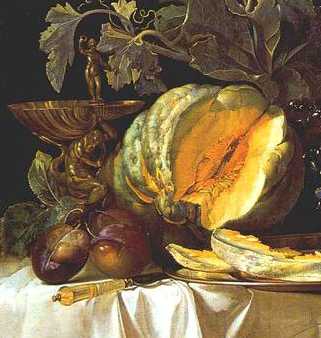 ecember 1678 he claims to be 52 years old. Montias 1980 p. 341 (Table A2) gives death year as 1679 - erroneous? - no source is cited. Montias 1981 p. 201 also states 1627-1679. GAD Koopbrieven Huiseigenaren, lade 275, A I 439, 23 feb. 1627, mentions him as authorized to sell the house 'Wapen van Savoyen' (Savoy Arms), Oude Delft 169. Again mentioned 13 April 1639. Nine years after his death the 'Wapen van Savoyen' was sold in 1666 for 13.000 guilders. This building now houses the Delft Municipal Archives, the 'Gemeente-Archief Delft'. Vital dates taken from Saur,vol. I, 1991, p. 441-442. Visser 1969 p. 80-84. Death year in From Rembrandt to Vermeer, Grove Dictionary of Art paperback edition, p. 1.Wealth see Bredius, 'Enkele gegevens over Willem van Aelst', in Oud Holland 1937, p. 267 and Chong and Kloek, Exhibition Cataloge The Dutch Still Life, page 94.
Houbraken describes his high prices and his liking of alcohol. Arnold Houbraken, De groote Schouburgh der Nederlantsche Konstschilders en Schilderessen, The Hague 1752 [2nd ed.] Book 1, page 228-229.
Images show details from two paintings by Willem van Aelst, both from the Palazzo Pitti, Florence. The one with the melon is from 1652, the one above is dated 1654,
This page forms part of a large encyclopedic site on Delft. Research by Drs. Kees Kaldenbach (email). A full presentation is on view at johannesvermeer.info.
Launched 16 February 2005; Last update March 1, 2017. More info in the RKD site.